Spotlights
Similar Titles
Kitchen and Bath Designer, Kitchen Designer, Bath Designer, Interior Designer (with a specialization in kitchen and bath design), Residential Designer (with a focus on kitchen and bath spaces), Interior Decorator (specializing in kitchen and bath interiors), Space Planner (specifically for kitchen and bath spaces), Kitchen and Bath Consultant
Job Description
Certified Kitchen and Bath Designers (CKBD) Certified Kitchen Designers (CKD) and Certified Bath Designers (CBD) specialize in the design, planning, and execution of residential kitchens and bathrooms, and prove advanced knowledge of technical and personal communication skills required to succeed as a design specialist.
Job Responsibilities
Client Consultation: Meet with clients to understand their needs, preferences, and requirements for their kitchen and bathroom spaces.
Design Development: Create functional and aesthetically pleasing kitchen and bath designs based on client input and industry best practices.
Space Planning: Plan the layout and organization of kitchen and bathroom spaces, considering factors like traffic flow, storage, and accessibility.
Material and Fixture Selection: Assist clients in choosing appropriate materials, cabinetry, fixtures, appliances, and finishes for their kitchen and bath projects.
3D Modeling and Visualization: Use design software to create 3D models and visualizations, allowing clients to see how the final design will look.
Product and Material Sourcing: Research and source kitchen and bath products and materials from suppliers and manufacturers.
Code and Safety Compliance: Ensure that the kitchen and bath designs comply with building codes, safety regulations, and industry standards.
Cost Estimation: Provide clients with cost estimates for the kitchen and bath projects, including materials, labor, and other expenses.
Project Management: Oversee the implementation of kitchen and bath designs, collaborating with contractors, builders, and other professionals.
Skills Needed on the Job
Design Skills: Proficiency in creating functional and aesthetically pleasing kitchen and bath designs, considering layout, storage, lighting, and ergonomics.
Spatial Visualization: Ability to visualize and communicate design concepts in 3D, including using design software to create accurate renderings and models.
Material Knowledge: Familiarity with various materials used in kitchen and bath design, such as cabinetry, countertops, tiles, flooring, and fixtures.
Technical Aptitude: Understanding of construction methods, building codes, and safety regulations related to kitchen and bath design projects.
Communication: Excellent communication skills to understand clients' needs, present design ideas, and collaborate effectively with contractors and suppliers.
Customer Service: Providing exceptional customer service to ensure client satisfaction and address any concerns throughout the design process.
Project Management: Ability to manage projects efficiently, set timelines, and coordinate with various stakeholders to ensure successful project execution.
Typical Roadmap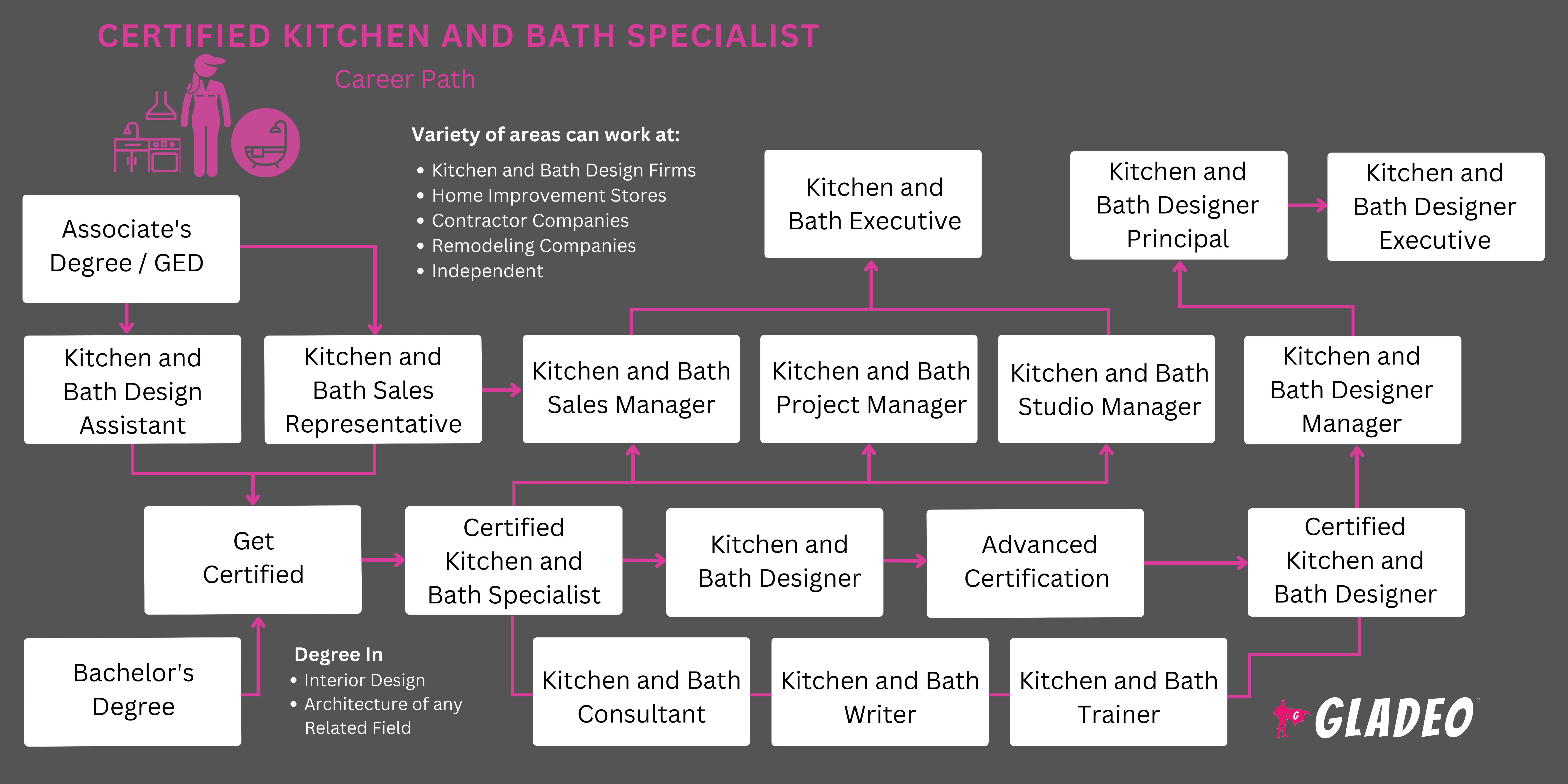 Newsfeed Featured Jobs Online Courses and Tools