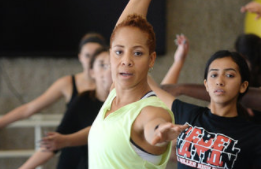 Nicole Robinson
Dancer, Teacher, Choreographer and Dance Education Advocate
About
Nicole Robinson is a dancer, teacher, choreographer and dance education advocate from Riverside, CA.  She is a graduate from California State University, San Bernardino with a degree in Kinesiology.  She holds a Master of Arts in Dance Education from California State University, Long Beach.   
Nicole is a strong advocate for providing dance education opportunities to under served populations.  She has dedicated her time in education to providing high quality dance training at no cost.  Nicole began the A. B. Miller Dance Program in 1995 and established the A. B. Miller Conservatory of Dance in 2011. Under her direction, the A. B. Miller High School dance program has received numerous grants and support in its mission to increase diversity in dance.  She is the dance specialist for the Fontana Unified School district leading professional development projects and workshops for teachers grades K-6 and is the lead teacher for the FUSD Dance Collaborative which provides dance education for students in grades PK-8 grades.   In 2015, she was named California League of Teachers' Teacher of the Year for Region 10 and was named the 2017 Carlston Family Foundation Teacher of the Year.   
She has served as a team lead for the California Standards Revision Committee in Dance and is a teacher leader for the California Arts Project.  Currently, Nicole is the co-president for the California Dance Education Association which is the state wide professional organization for California dance educators.