Spotlights
Similar Titles
Actuarial Analyst, Actuarial Associate, Actuarial Consultant, Actuary, Consulting Actuary, Health Actuary, Pricing Actuary, Pricing Analyst, Product Development Actuary, Retirement Actuary
Job Description
Actuaries use statistical and financial analysis to assess the costs associated with risk and uncertainty. They may also work with clients to mitigate these costs through specially designed policies, and/or develop predictive tables to assess the potential of risk-associated costs in the future.
Rewarding Aspects of Career
Positive employment outlook
Good job security
Opportunity for professional growth and advancement
Intellectual challenge and engagement with mathematics
2016 Employment
23,600
2026 Projected Employment
28,900
The Inside Scoop
Job Responsibilities
Data work: accumulate statistical data and other resources for analysis
Analytical work:

Assess/predict the economic cost of foreseeable events (e.g. sickness, accident, etc.)
Plan and implement policies and business strategies to reduce costs, minimize risk, and maximize profits
Formally present assessments and proposals with visual aids, and graphic representation of statistical calculations (e.g. charts, tables, etc.)

Computer-work: most of an actuary's tasks are completed on a computer, primarily with database and modeling software
Teamwork: actuaries usually work in collaboration with other professionals from relevant fields such as accountants, financial analysts, and market research analysts
Skills Needed on the Job
Soft Skills
Analytical skills
Problem-solving skills
Communication and Interpersonal skills
Technical Skills
Mathematics
Microsoft Access
Microsoft Excel
Data managing: SQL
Programming languages: VBA and C++
Different Types of Organizations
Insurance companies (different fields, e.g. health insurance actuaries, life insurance actuaries, property and casualty insurance actuaries, pension and retirement benefits, enterprise risk actuaries)
Private corporations
Consulting agencies(e.g. auditing the work of actuaries at other companies or performing actuarial tasks for a company that does not have an employed actuary)
Government agencies (e.g. evaluating/predicting the effects of changes to social security and other government benefits)
Colleges and Universities
Banks and investment firms
Expectations and Sacrifices
Rigorous, time-consuming examination and certification process

General rule: each actuarial exam requires about 150 hours of studying/hour of the exam
That said, most actuarial employers support actuaries pursuing certification by covering exam fees and textbooks, and/or providing paid leave for study weeks

May work longer hours as a trainee
Current Industry Trends
Experts believe calculating tasks will shift from being conducted through Excel, to the cloud
Cost–cutting is an increasingly expected function of actuaries
What kinds of things did people in this career enjoy doing when they were young...
Enjoyed math class
Interest in business studies/concepts/news
Participated in business competitions (e.g. DECA)
Education and Training Needed
Basic Requirements
Bachelor's degree in an analytical field (e.g. mathematics, actuarial science, statistics),
Expect to study topics such as economics, applied statistics, and corporate finance, as well as perhaps computer science/programming languages, and how to use databases and spreadsheets

Actuaries should learn how to use Excel, VBA, and possibly SQL, SAS, R, Python, Tableau, or Power BI
Requirements for Certification
Actuaries have to be certified, a process that first requires training with mentor actuaries
In training, you'll learn how to compile data, do research, and write reports. You may be assigned to other sections to learn about marketing, underwriting, and product development, too
Many Actuaries-in-Training do internships in their desired area of specialization, such as health, life, pension, and casualty
The Casualty Actuarial Society and Society of Actuaries provide associate and fellow certification requiring exams and seminars. These certifications can take years on their own (up to 7 just to reach the associate level!)
Some employers only hire candidates who've completed a certification, or they might help new hires by offering paid study time and bonuses for passing exams
After certification, workers must maintain their certs via continuing education
Note, Pension Actuaries may require both Department of Labor and Department of the Treasury Joint Board for the Enrollment of Actuaries licensure
*Each association specializes in specific fields in which an actuary may operate
Certification requires completing a VEE requirement (validation by educational experience) consisting of coursework in economics, finance, and statistics as well as passing a series of exams and attending seminars
Many employers seek trainee actuaries who have already passed one or two exams before completing their undergraduate education
Associate certification is usually achieved in 4 to 7 years, and an additional 2 to 3 years are necessary for fellowship certification
Requirements for Career Advancement
Job performance and attainment of certification
Developing skills through professional workshops, conferences, and additional computer, writing, software courses
Fellowship certification allows an actuary to attain supervisory/managerial positions
Top Educational Institutions
Click here for the top programs.
Things to do in High School and College
Enroll in plenty of math, accounting, finance, statistics, analytics, economics, and computer programming language courses
Don't forget to hone your verbal, written, and presentation skills!
If your school doesn't offer courses in Excel, VBA, SQL, SAS, R, or Python, consider self-study or standalone, online short courses
Volunteer as a budget officer with school clubs or other organizations
If pursuing your college degree, apply for Actuarial intern jobs to gain work experience and potentially qualify for future full-time employment
Talk to working Actuaries to ask which skills to focus on developing and advice on getting hired
Craft a compelling LinkedIn profile and stay connected with people in your network
Typical Roadmap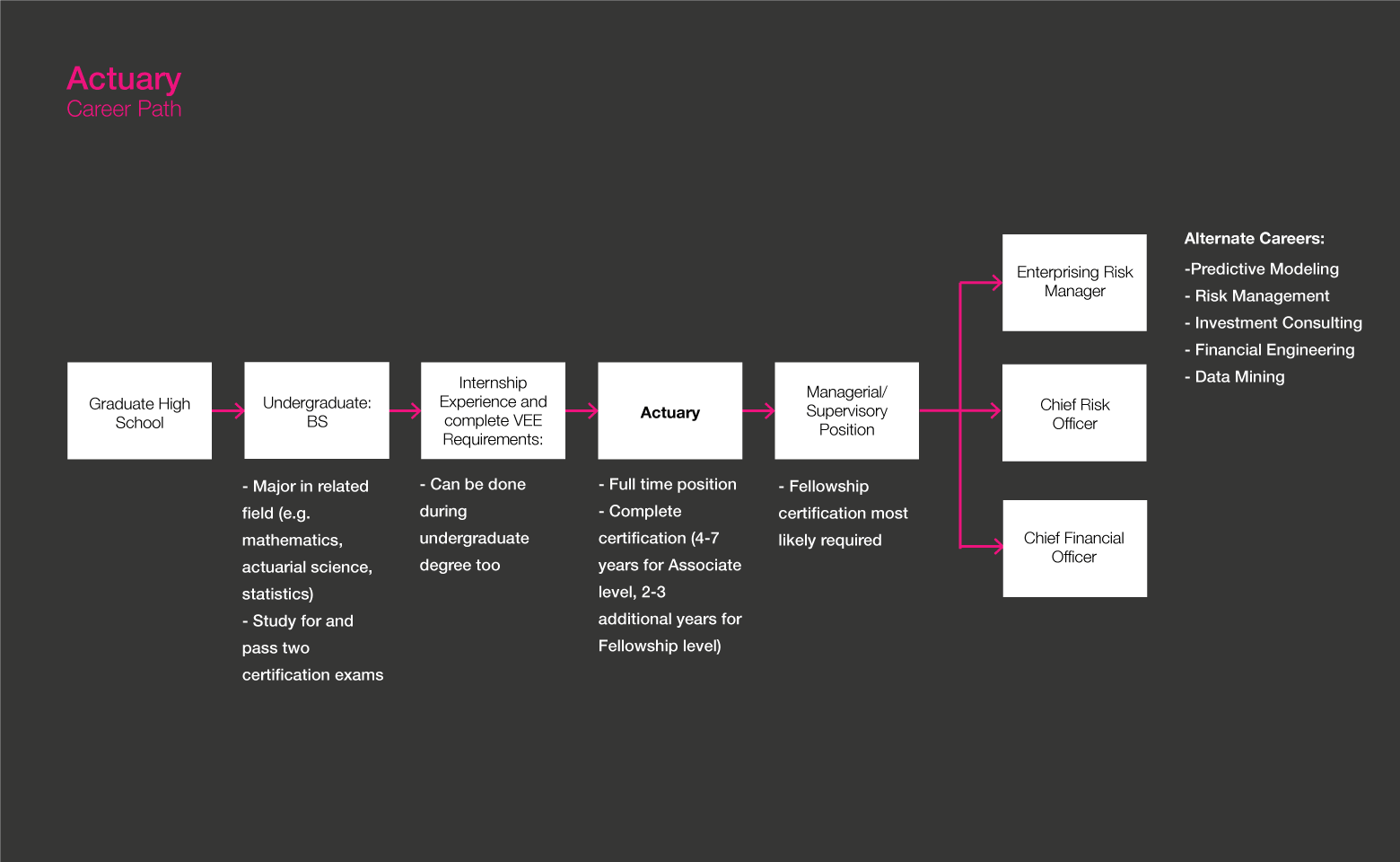 How to land your 1st job
Actuarial internships are a great place to start on your path to becoming an Actuary
Consider seeking out employers who will let you study for certification and licensure while working and getting paid
Use job portals like eFinancialCareers, Financial Job Bank, CAS, SOA, Indeed, Simply Hired, Glassdoor, and the Association for Financial Professionals' job board to find opportunities
Expect to start in junior positions such as Actuary Associate, Analyst, or Student
Search for keywords in job ads and include them in your resume to help it get past automated tracking software
Be honest and upfront about your qualifications and background. Focus on job skills and experiences that relate to the job you're applying for
Add hard data on your resume while also showing how you made a difference
Check out Actuary resume examples online to get ideas for your own
Have someone else review and edit your resume and any other application materials for accuracy and clarity
Alert your network that you're seeking Actuary positions. Let former teachers, supervisors, and co-workers know in advance if you want them to be on your references list
Study interview questions so you can think about how you'll answer during interviews
What it really takes to make it and succeed
Stellar work ethic, self-motivation, and perseverance to conduct hours and hours of independent study

Advanced skills in organization and communication to analyze risk and advise clients appropriately
Recommended Resources
Websites
American Academy of Actuaries
American Society of Pension Professionals and Actuaries
Be an Actuary
Casualty Actuarial Society
CFA Institute
Conference of Consulting Actuaries
LOMA
National Academy of Social Insurance
Society of Actuaries
https://actuarialstudentblog.wordpress.com/
https://www.actuaryonfire.com/
http://www.thetravelingactuary.com/actuarial-blog
YouTube Channel: EllelleActuary https://www.youtube.com/channel/UCvN_MUDrIFJOQAVT1UhkPEw
http://www.beanactuary.org/?language=english
http://www.actuarialoutpost.com/about (social networking site for actuaries)
Professional Associations
CAS: http://www.casact.org/
SOA: https://www.soa.org/member/
Books
Plan B
Predictive Modeling
Risk Management
Investment Consulting
Financial Engineering
Data Mining
Newsfeed Featured Jobs Online Courses and Tools