Spotlights
Similar Titles
Agricultural Systems Specialist, Conservation Engineer, Engineer, Product Engineer, Product Technology Scientist, Project Engineer, Research Agricultural Engineer
Job Description
Agriculture is a trillion-dollar business and a huge part of our nation's economy. It's also much more complex than most people realize. There are numerous machines, equipment, power supplies, irrigation systems, and facilities to take care of, requiring the skills of an Agricultural Engineer. 
Agricultural Engineers apply engineering principles to improve the sustainability and productivity of processes, equipment, and systems. This includes environmental management, to reduce pollution and harmful effects on ecosystems. They also help integrate automation and robotics into agribusiness operations, study soil fertility and nutrient content, estimate potential crop yields, and optimize food processing methods. 
In short, though they work in a relatively small career field, their insights, knowledge, skills, and services are invaluable to society! 
Rewarding Aspects of Career
Improving agribusiness processes to benefit owners, consumers, and the environment
Being part of a massive sector that's vital to the economy and the food supply chain
Working in a lucrative, specialized niche with great career opportunities
Impacting the financial health and stability of rural communities 
2023 Employment
1,200
2033 Projected Employment
1,200
The Inside Scoop
Job Responsibilities
Working Schedule
Agricultural Engineers work full-time jobs, typically with nights, weekends, and holidays off. Overtime may be needed to meet deadlines. Occasional travel and exposure to inclement weather may be necessary. 
Typical Duties
Work with farmers, seafood farmers, forestry professionals, and food processing teams on various projects
Meet with employers, clients, contractors, developers, city representatives, and fellow engineers to review projects, goals, timeframes, and costs
Create proposals, presentations, graphics, budgets, and reports for projects
Use computer-aided drafting programs to design agricultural equipment, irrigation systems, climate control systems, facilities, sensor devices, layouts, parts, etc.
Work with artificial intelligence and geospatial systems to improve and automate processes
Design methods to alter and maximize where sun, rain, and wind affect fields and structures
Assist with creating more efficient climate control and refrigeration systems, facilities for food and crop processing and storage, animal housing, land reclamation projects, and more
Provide guidance and oversight for new construction projects (such as electric-power distribution systems, irrigation, or flood control systems), new mechanical systems, or production plant operations
Offer expert advice regarding water quality issues, pollution management, and resource utilization
Additional Responsibilities
Quality test machines and equipment for performance and safety
Conduct site visits and offer consultations 
Train and mentor team members, as needed
Maintain good relations with local farmers, agribusiness owners, industry associations, and related organizations or agencies
Create or present educational materials to farmers or farm co-ops to enhance sustainability 
Research and develop new technologies and potential capabilities
Stay up to date on manufacturers' manuals, federal and state regulations, industry changes, and technological advancements
Attend professional organization events to share information and learn from others
Skills Needed on the Job
Soft Skills
Activities Coordination 
Analytical 
Attention to detail
Business acumen
Collaboration 
Creativity
Critical thinking
Decisive
Deductive and inductive reasoning
Detail-oriented
Independent
Monitoring 
Objective
Organized
Patient
Perceptive 
Problem-solving
Reading comprehension 
Safety-oriented
Strong communication skills
Visualization 
Technical Skills
Engineering and technology 
Familiarity with applicable federal and state regulations
Knowledge of fabrication and manufacturing
Knowledge of the agricultural sector 
Mechanical aptitude
Operations analysis
Risk assessment principles
Strong science and math skills
Different Types of Organizations
Governmental agencies
Educational institutions
Consulting service and engineering agencies
Expectations and Sacrifices
The work of Agricultural Engineers is vital for helping agribusinesses improve efficiency and become more sustainable. The national economy—and all food consumers—depend greatly on the success of such businesses. 
Surrounding rural communities are also deeply affected by how well local farms and agribusinesses are doing. Meanwhile, local citizens in general often take a keen interest in environmental and food safety issues. Suffice it to say, Agricultural Engineers carry a lot of responsibility on their shoulders! 
Current Trends
The agricultural sector is continuously impacted by climate and environmental factors that affect crop production, exacerbate costs, and may result in economic losses. Agricultural Engineers do their best to assist these businesses as they try to adapt to changes. Part of this includes helping them be more "climate-smart" by incorporating sustainable, environmentally-friendly equipment, machines, systems, and processes. 
Agricultural Engineers assist with designing and adopting automation and robotics technologies; leveraging the power of data-gathering sensors and the Internet of Things; creating more climate-resilient infrastructures and better water management strategies; helping build robust food safety protocols; and devising strategies to reduce waste and create circular economies.
What kinds of things did people in this career enjoy doing when they were younger…
Agricultural Engineers may have shown early interest in science, nature, plants and animals, or building and tinkering with things. Many grow up in rural areas and are exposed to farming and gardening at a young age. Others simply love STEM-related activities and want to apply what they learn to improve the world around them! 
Education and Training Needed
Agricultural Engineers generally need an ABET-accredited bachelor's in agricultural engineering, agriculture, agricultural operations, biological engineering, or related fields
Many students opt to pursue a dual bachelor's/master's which can save time and money
A master's may not be needed but can make you more competitive and may qualify you for a higher starting salary or position
Common master's degrees for this field include a Master of Science in Agriculture or a Master of Engineering 
Per O*Net, 69% of workers in this field have a bachelor's, 12% have a post-baccalaureate certificate, and 12% have a master's 
 A lot of college programs partner with local businesses to offer internships and cooperative experiences to develop practical skills 
Students should gain a strong understanding of the agriculture sector and the variables which impact it
Common college courses include:
Agricultural Electronics and Control
Agri-Industrial Applications of Electricity
Farm Tractors and Power Units
Food Process Engineering Technology
Geographic Information Systems for Resource Management
IT for Agricultural Systems
Management of Agricultural Systems
Processing and Storage of Agricultural Products
Spatial Technology for Precision Agriculture
Technology for Environmental and Natural Resource Engineering
Water and Soil Management
Optional certifications include:  
A license isn't needed to get started, but there are state licensure options to consider later in one's career
Professional Engineering (PE) licensure leads to greater scopes of responsibility 
A PE must pass two exams:
            - Fundamentals of Engineering (FE) - to be certified as an Engineer in Training (EIT) or an Engineer Intern (EI)
            - Principles and Practice of Engineering (PE) exam
Things to look for in an University
Students should seek colleges offering majors in agricultural or biological engineering
Look for programs that have internships or other opportunities where you can gain practical experience, especially related to agriculture credit management 
Always compare the costs of tuition and other fees. Review your options for scholarships and financial aid
See if the program has any partnerships with companies that hire grads! 
Take note of graduation and job placement statistics for alumni 
Things to do in High School and College
Sign up for HS classes in biology, chemistry, physics, advanced math (algebra, geometry, trigonometry, and calculus), environmental studies, computer programming, drafting, business, shop, and writing
Ask a teacher or counselor about school-related agriculture programs you can participate in
Volunteer for school activities where you can learn to work effectively as a team and manage projects 
Look for internships, cooperative experiences, or part-time jobs while in college
Write down the names and contact info of people who can serve as job references 
Study books, articles, and video tutorials related to different aspects of Agricultural Engineering. Think about any areas you might want to specialize in!
Start drafting your resume early and keep adding to it as you go, so you don't lose track
Consider doing ad hoc courses via Coursera or other sites to learn more about agribusiness
Request an informational interview with a working Agricultural Engineer
Join professional organizations to learn, share, make friends, and grow your network (see our list of Resources > Websites)
Typical Roadmap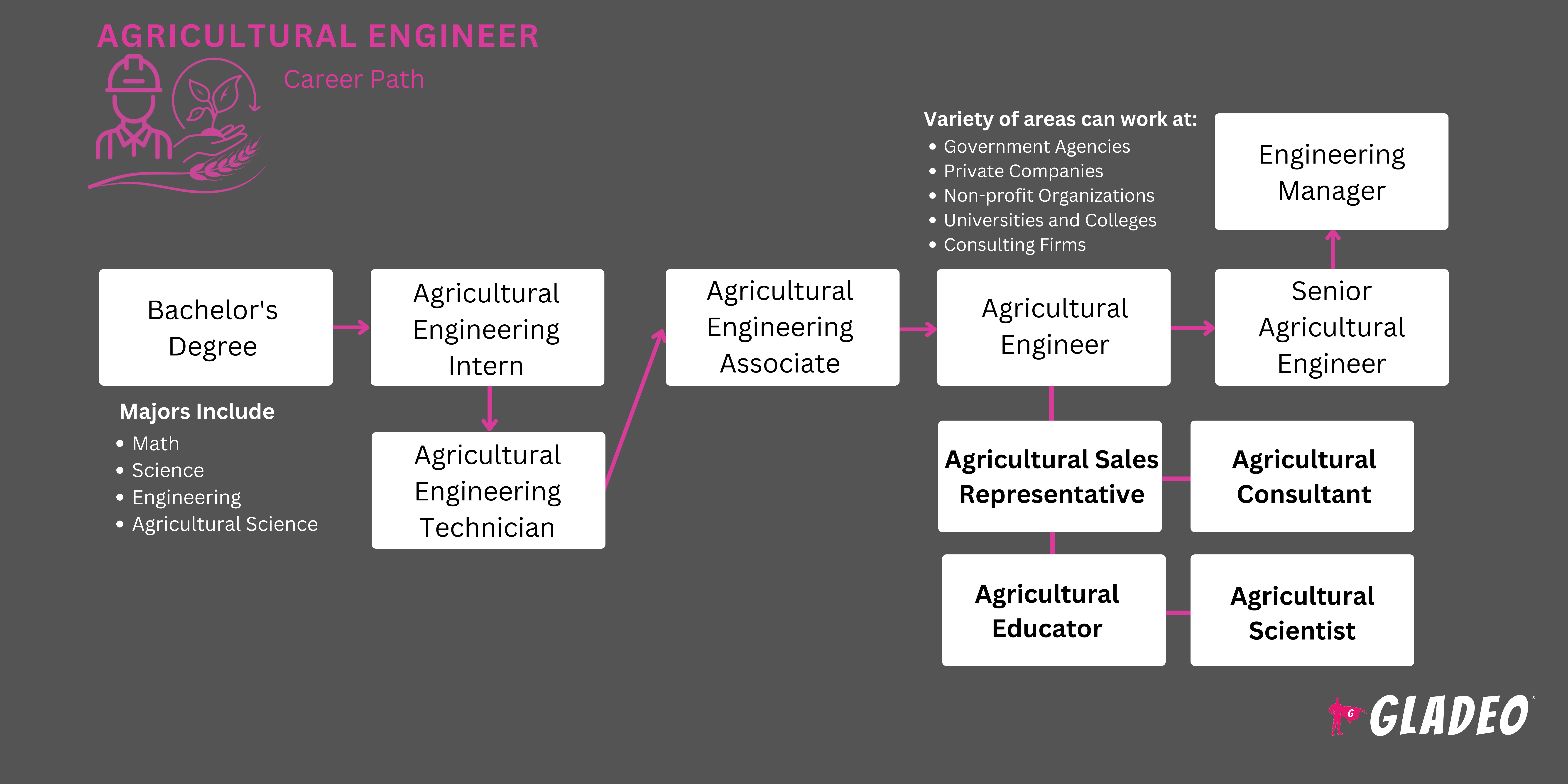 How to land your 1st job
Check out job portals like Indeed.com, LinkedIn, Glassdoor, Monster, CareerBuilder, SimplyHired, or ZipRecruiter
Also look at AgCareers, AgHires, Farm Job Search, EcoFarm, Farm and Ranch Jobs, USDA Jobs, and related sites
Consider relocating to a rural area where there are farms and agribusinesses
Let your network know you're looking for work. Most jobs are still found through personal connections—plus, this is not a big career field! 
Ask your instructors, former supervisors, and/or coworkers if they're willing to serve as personal references. Don't give out their personal contact information without prior permission
Check out some Agricultural Engineer resume examples and sample interview questions such as "Which techniques have you used to extract toxic elements from the soil?" or "How do you communicate with stakeholders to change perspectives on organic varieties of existing crops?"
Practice doing mock interviews with your school's career center (if they have one)
Dress appropriately for interviews and show your enthusiasm for and knowledge of the field 
How to Climb the Ladder
Communicate regularly with leadership and stakeholders to ensure objectives and timeframes are clearly defined and achievable. Don't make promises you can't keep!
Use your industry knowledge to anticipate and mitigate issues before they become problems
Speak with colleagues working in other agribusinesses to exchange information and tips (when possible. Some information may be proprietary or otherwise restricted)
Solve tough challenges for your employer. Add tangible value by boosting efficiency, productivity, and sustainability
Have a contingency plan to respond to critical issues quickly and decisively
Study trends and advances in applicable technologies, equipment, and processes
Participate in professional organizations like the American Society of Agricultural and Biological Engineers. Keep learning and expanding your knowledge base and skills
Collaborate effectively with team members and develop strong relationships with local farmers, agribusiness owners, and other stakeholders in the community
Don't be shy! Speak with your boss about career progression
Knock out a specialty certification such as the American Society for Quality's Certified Reliability Engineer or the American Society of Agronomy's Certified Crop Advisor and Certified Professional Agronomist
Complete a graduate degree such as a Master of Science in Agriculture or a Master of Engineering
Earn your Professional Engineering license
Consider applying to work for a larger organization with more advancement opportunities
Recommended Tools/Resources
Plan B
Agricultural Engineering is a vital but relatively small field. The current job outlook from the Bureau of Labor Statistics does not suggest much growth in the coming years. This means that to find work, you may have to wait for a currently-working Agricultural Engineer to retire!

If you're curious about related career options, consider the below similar occupations: 
Agricultural or Food Scientist    
Architectural and Engineering Manager    
Biofuels Production Manager
Civil Engineer    
Conservation Scientist
Environmental Engineer    
Farmer/Rancher
Hydrologist    
Industrial Engineer    
Mechanical Engineer
Newsfeed Featured Jobs Online Courses and Tools