Spotlights
Similar Titles
Brand Inspector, Consumer Safety Inspector (CSI), Food Inspector, Food Safety and Inspection Service Inspector (FSIS Inspector), Food Sanitarian, Grain Inspector, Inspector, Seed and Fertilizer Specialist, Shipping Point Inspector, Crop Inspector, Livestock Inspector, Agricultural Quality Control Inspector, Horticultural Inspector, Agriculture Inspector
Job Description
When we're stuffing food in our mouths, rarely do we think about whether or not it's actually safe to eat. There's a certain level of assumption that "somebody" already made sure our food is up to par and ready to be consumed. And it's true—there are people whose job it is to ensure that what we eat meets certain basic safety standards. Those people are called Agricultural Products Inspectors! 
Agricultural Products Inspectors visit facilities where food is produced and packaged. They conduct thorough inspections and ensure that workers and business processes follow strict food-related safety and grading guidelines. When a product or process fails to align with compliance standards, inspectors help the business understand the issue so they can rectify the problem quickly and work can continue. They inspect everything from meat, dairy, poultry, and fish to fruits, vegetables, grains, and even tobacco, testing for quality assurance and signs of contamination, disease, or pests. Agricultural Products Inspectors may also issue "grades" to products or ingredients based on Food and Drug Administration (FDA) or Department of Agriculture (USDA) standards.
Rewarding Aspects of Career
Keeping consumers safe from potential exposure to harmful germs or substances in their food

Helping producers and packagers comply with complex standards so they can stay in business and keep food supplies flowing

Working in an industry that's feeding society
2021 Employment
13,630
2031 Projected Employment
0
The Inside Scoop
Job Responsibilities
Working Schedule
Agricultural Products Inspectors work full-time in various settings, from labs, farms, and livestock areas to packaging and warehouse sites. Lengthy travel is often required, and sometimes they must work nights or stay overnight in an area that's far from their home. 
Typical Duties
Review business practices against

Good Manufacturing Practice

standards

Inspect

agricultural commodities

such as "cereals, coffee beans, sugar, palm oil, eggs, milk, fruits, vegetables, beef, cotton, and rubber" to verify they are safe for consumption or other use by public consumers

Assess and enforce compliance with federal and state health and safety guidelines 

Examine products to ensure accurate labeling of weights, dimensions, quality, grade, and other descriptors; utilize measuring tools such as scales and calipers

Closely review preparation and packaging processes

Work with producers to create or adjust production standards related to meat, poultry, fish, and various ingredients 

Work with USDA Produce Inspectors, as needed

Choose samples to inspect for quality, general appearance, and overall condition

Create reports based on findings; suggest corrective actions when needed, and conduct follow-ups to measure if correction actions resolved the issue

Work with technicians to discuss food ratings or recommendations; prepares draft certificates
Additional Responsibilities
Conduct field experiments or offer guidance to farmers and workers related to growing crops, managing animal safety and health, safe handling of food and hazardous or unsanitary materials

Analyze soil and animal genetics

Share observations and recommendations with stakeholders

Do spot checks of raw items and fresh produce upon delivery to warehouses or groceries stores; confirm suitable temperatures of storage cooling areas

Assess suggested expiration dates to determine if the appropriate shelf life is being considered
Skills Needed on the Job
Soft Skills
Analytical 

Attention to detail

Business acumen

Compliance-oriented

Cooperation

Critical thinking

Decision-making

Dependability

Empathy

Independent

Integrity

Investigative

Monitoring

Organized

Persuasive 

Physical stamina

Problem-solving

Resourceful 

Safety-minded

Stamina
Technical Skills
Familiarity with biotechnology, advanced farming/packaging practices, crop and soil science, meteorology, crop physiology, propagation, and

husbandry 

Familiarity with food production and

food quality assurance 

Knowledge of arithmetic, statistics, biology, basic chemistry, and physical/chemical analysis 

Knowledge of data mining and model building

Knowledge of FDA and USDA guidelines

Knowledge of government regulatory documentation related to agriculture, packaging, handling, distributing

Knowledge of tools and equipment for testing agricultural products

Understanding of food poisoning,

food-related disease control

,

antimicrobial resistance

, and common foodborne germs (i.e.,

Norovirus

,

Salmonella

,

C. perfringens

,

Campylobacter

,

Staphylococcus aureus

,

toxoplasma gondii

,

E. coli

,

C. botulinum

,

listeria

, and others 

Understanding of job site sanitation and safety practices
Different Types of Organizations
Farms and crop production and processing facilities 

Private research and development facilities 

Local, state, and federal government agencies

Wholesale trade companies 
Expectations and Sacrifices
Agricultural Products Inspectors often have busy schedules and may travel frequently. They have to be extremely familiar with all applicable laws and guidelines, and ready to enforce them during inspections (but with the goal of helping businesses stay in compliance so they can keep producing food). While most businesses understand the need for compliance, there may be times when employers get frustrated or even hostile, so inspectors need patience and persuasive skills. 
Most of the time, Agricultural Products Inspectors will work in relatively comfortable areas, but there can also be long periods of standing, walking around, or driving long distances. They sometimes work outside around animals or crops in the heat or cold, or inside where they may be exposed to cold storage rooms, loud machinery, fumes, dust, chemicals, or unpleasant elements requiring the wear of personal protective equipment. 
Current Trends
The Covid pandemic of recent years has negatively impacted the global food industry and changed the way workers have to perform duties in order to prevent the spread of highly transmissible germs. There's also been an array of supply chain problems causing unusual disruptions in shipments, which can cause food items to spoil en route to their destinations. In 2022, an alarming 70% of food retailers claimed that "supply chain disruptions are negatively impacting their business, up from 42% the year before."
Meanwhile, the agriculture industry has faced unprecedented issues due to climate factors that continue to affect crops and overall food quality. Scientists offer solutions "in the form of science-based farming practices—that can buffer farmers from climate damage and help make their operations more resilient and sustainable for the long term." 
What kinds of things did people in this career enjoy doing when they were younger…
Agricultural Products Inspectors are analytical and compliance-oriented, which are traits they may have carried over from childhood. They may have been sticklers for having a tidy room or keeping things well-organized. In school, they might have excelled in math, science, or chemistry—or simply been interested in agriculture and where the food we eat comes from! They tend to be pragmatic and inquisitive individuals who care deeply about their work and want to do things by the book! 
Education and Training Needed
Some Agricultural Product Inspectors get started with a high school diploma or GED along with sufficient relevant work experience (such as in food processing or packaging)

Another way to get into the field is by earning either an associate's or bachelor's degree with a suitable major. Common majors include agricultural science, agricultural business, animal science, and biology

Note: Sources vary about the typical level of education needed to get started. Some sites, like

OwlGuru

, suggest that most inspectors get hired with a high school diploma. However,

Zippia

notes that only 10% of workers in this field have just a high school diploma, while 16% have an associate's, 64% hold a bachelor's, and 7% have a master's. 3% have "other degrees"

Having a bachelor's or higher may make you more competitive for better-paying jobs

Agricultural Product Inspectors will receive a certain amount of On-the-Job training to ensure familiarity with rules and regulations related to their specific positions. Duties can vary from one employer to the next!

Depending on your degree major, common courses may include:

Agricultural chemicals 

Agricultural economics

Agricultural law

Agriculture industry

Animal health 

Biology

Commodities

Crop production 

Dairy business

Livestock production

Plant and animal science

Sanitation procedures 

Statistics 

Educational programs often feature internships or cooperative education opportunities. Students are highly encouraged to take advantage of these!

A driver's license is needed so inspectors can travel to facilities where they will conduct inspections
Things to look for in an University
Decide if you'll attend a program on-campus, online, or via a hybrid method (i.e., a mix of both)

Look for programs that feature ag-related internships or co-op experiences

Research which schools offer scholarships or tuition discounts to help offset your out-of-pocket costs! 
Things to do in High School and College
In high school, students should dive into chemistry, biology, and math classes

Enroll in any ag-related school programs or activities, such as

4-H

Apply to state or federal agriculture programs like USDA's

AgLab

or summer programs such as

AgDiscovery

Apply for part-time jobs, internships, or apprenticeships where you can gain real-world experience on farms, food warehouses, packaging centers, or grocery store produce or meat/deli sections 

Reach out to working Agricultural Products Inspectors to request an

informational interview

. See if you can shadow them on the job for a day!

Watch YouTube videos about inspection work (for example, Michigan Department of Agriculture's

Produce Safety Inspection for Farm Owners

)

Check out job postings ahead of time to learn about common qualifications needed. For example, a

recent entry-level job ad

lists the following qualifications: 

Applicants must have education, training and/or experience demonstrating competence in each of the following areas:

Knowledge of inspecting agricultural commodities such as poultry, eggs, or fruits and vegetables.

Knowledge of math such as addition, subtraction, multiplication, division, percentages, or decimals.

Knowledge of record keeping.

Knowledge of applying laws, rules, regulations, standards, policies and procedures.

Knowledge of using an automated information system to enter, update, modify, delete, retrieve/inquire and report on data.

Possession of a valid Driver's License (not suspended, revoked or canceled, or disqualified from driving).
Typical Roadmap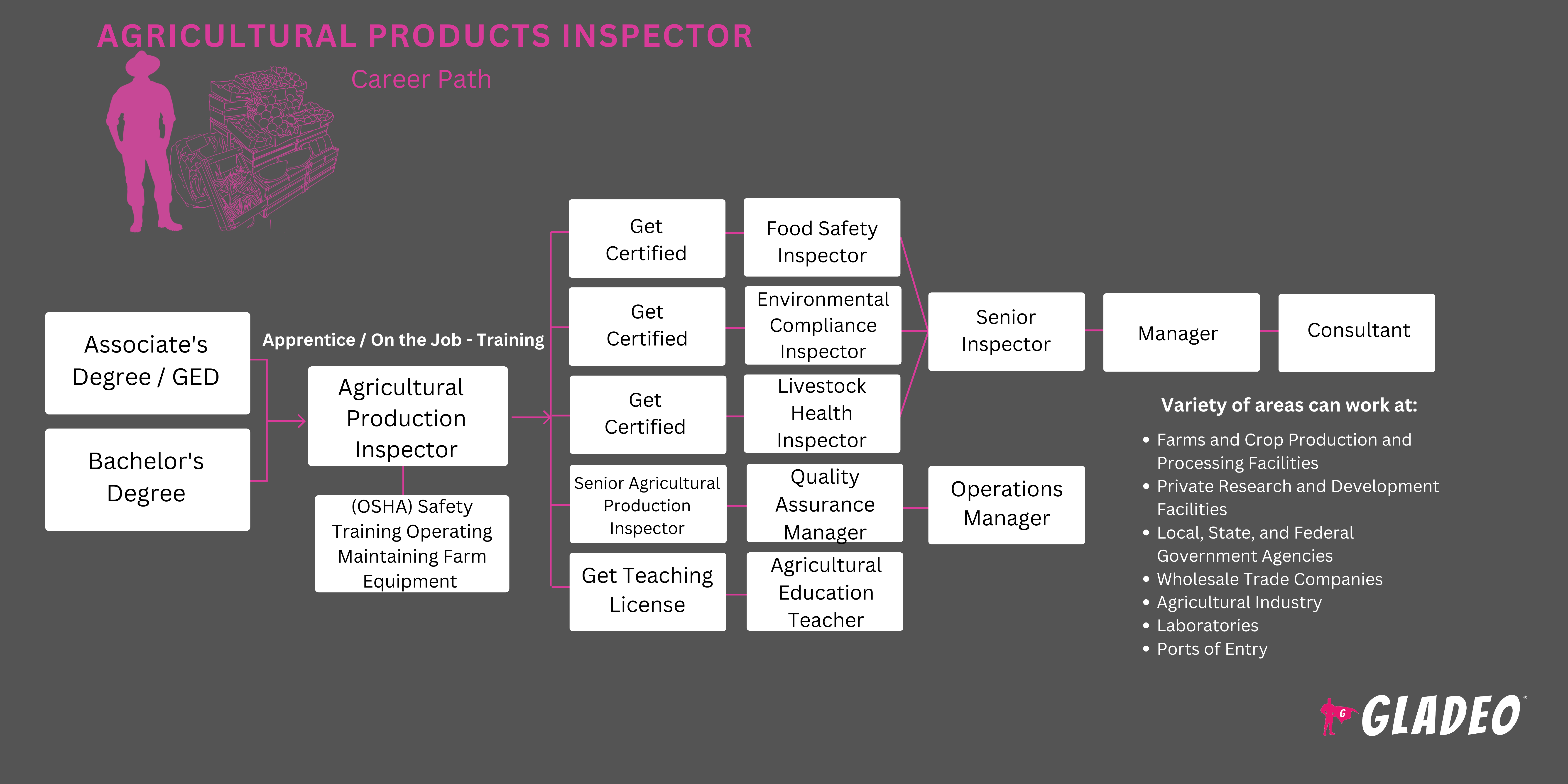 How to Land your 1st job
Sources vary about the level of education needed to get started, but a high school diploma or GED is the minimum. An associate's or bachelor's should significantly boost your credentials against the competition, especially if you major in agricultural science, agricultural business, animal science, or biology

Having related work experience will help make you more competitive, for example working on a farm, food processing or packaging facility, or even a grocery store or restaurant! If you don't have much experience, then be open to taking part-time gigs, seasonal work, or internships. These will beef up your resume!

Agricultural Products Inspectors often work for the state or federal government, so check out job portals like

Indeed.com

, but also the

USDA Careers page

,

FDA's job and training page

, and

USAJOBS

Some federal ag jobs require taking a

Civil Service Exam

, such as

Agricultural Commodity Graders

. Those positions may be good entry points from which you can later work your way into inspector jobs

If you want to gain private industry experience before applying as a state or federal-level inspector, check out these ag-related job boards: 

Landing a job as an Agricultural Products Inspector is easier if you have some

social capital connections

in the industry. Reach out to anyone you've worked with previously in an ag-related job or internship, as well as your college instructors or program managers

Review

Agricultural Products Inspector resume templates

and be sure your bullet points feature dollar amounts and stats, and are impact-driven 

Federal jobs may require a

federal resume format

Talk to previous supervisors or teachers and ask if they're willing to serve as personal references. Get their permission first before giving listing them as contacts

Familiarize yourself with FDA and USDA terminology that you can use during interviews
How to Climb the Ladder
Inspectors must have the right mix of compliance orientation and persuasion. The goal is to help businesses comply, not punish them for making mistakes. To climb the ladder you'll need to hone your skills in both areas

Be proactive about keeping up with industry changes, including updates to USDA, FDA, and other agency regulations

Talk to your supervisor about advancement opportunities. Ask if there are courses, certifications, or advanced degrees that will help make you a stronger asset and qualify you for promotions 

Set the bar high and hold companies accountable, but with the mindset that you're there to help them improve so they can keep producing safe food products for consumers

Always put safety first and set an example for others to follow! Wear personal protective clothing, masks, gloves, or whatever gear you need to comply with OSHA, CDC, and other applicable health and safety standards

Study industry publications and engage in professional associations (see our

Recommended Tools/Resources

section)

If necessary to advance, switch to a larger employer (for example, moving from a local job to a federal one)
Recommended Tools/Resources
Plan B
Working as an Agricultural Products Inspector can be a tough gig. Farm owners, and agricultural processing and packaging businesses aren't always excited to get inspected, and may become frustrated when inspectors write them up or have to shut down work until a problem is fixed. There's often a lot of travel and there are loads of ever-changing regulations to keep apprised of. 
If you're interested in reviewing some related occupations, we recommend the following alternatives! 
Agricultural and Food Scientist

Agricultural Engineer

Agricultural Products Grader  

Agricultural Technician

Conservation Scientist and Forester

Construction and Building Inspector

Environmental Science and Protection Technician

Farmer, Rancher, and Agricultural Manager

Fish and Wildlife Manager

Food Processing Equipment Worker
Newsfeed Featured Jobs Online Courses and Tools