Spotlights
Similar Titles
Environmental Engineer, Air Quality Engineer, Air Quality Specialist, Environmental Compliance Engineer, Emissions Control Engineer, Environmental Health and Safety Engineer, Clean Air Specialist, Air Quality Analyst, Environmental Consultant (with a focus on air quality), Air Pollution Control Specialist
Job Description
An Air Pollution Control Engineer, also known as an Environmental Engineer or Air Quality Engineer, is a professional responsible for developing and implementing strategies to monitor, assess, and control air pollution.
Job Responsibilities
Air Quality Monitoring: Conducting air quality monitoring and sampling to measure pollutant levels and identify sources of emissions.
Emission Inventory Development: Developing comprehensive inventories of emissions from various sources to assess their impact on air quality.
Regulatory Compliance: Ensuring compliance with environmental regulations and permits related to air quality and emissions.
Emission Reduction Strategies: Designing and implementing strategies to reduce emissions from industrial processes, vehicles, and other sources.
Air Quality Modeling: Utilizing air quality modeling software to simulate and predict pollutant dispersion in the atmosphere and assess potential impacts.
Environmental Impact Assessments: Participating in environmental impact assessments to evaluate air quality impacts of proposed projects and recommend mitigation measures.
Pollution Control Technology Evaluation: Evaluating and selecting appropriate pollution control technologies and systems.
Data Analysis: Analyzing air quality data and interpreting results to make informed decisions and recommendations.
Research and Development: Staying updated on emerging air pollution control technologies and conducting research to improve pollution control methods.
Public Outreach and Education: Engaging in public outreach and education initiatives to raise awareness about air quality issues and promote sustainable practices.
Skills Needed on the Job
Environmental Regulations: Thorough understanding of local, state, and federal environmental regulations related to air quality and emissions.
Air Quality Monitoring: Proficiency in using air quality monitoring equipment and interpreting data.
Emission Reduction Techniques: Knowledge of pollution control technologies and their application to reduce emissions.
Air Quality Modeling Software: Familiarity with air quality modeling software to simulate and predict pollutant dispersion.
Data Analysis: Strong analytical skills to interpret air quality data and draw conclusions.
Technical Writing: Ability to prepare technical reports, environmental impact assessments, and permit applications.
Project Management: Effective project management skills to plan and execute air quality improvement projects.
Problem-Solving: Creative problem-solving abilities to address air quality challenges effectively.
Interdisciplinary Collaboration: Collaboration skills to work with other professionals, such as scientists, engineers, and policymakers.
Communication: Excellent communication skills to convey technical information to diverse audiences, including public outreach and education efforts.
Environmental Health and Safety: Knowledge of environmental health and safety principles and practices.
Attention to Detail: Careful attention to detail to ensure accurate data collection and analysis.
Ethics and Professionalism: Adherence to ethical standards and professionalism in dealing with environmental challenges and stakeholders.
Typical Roadmap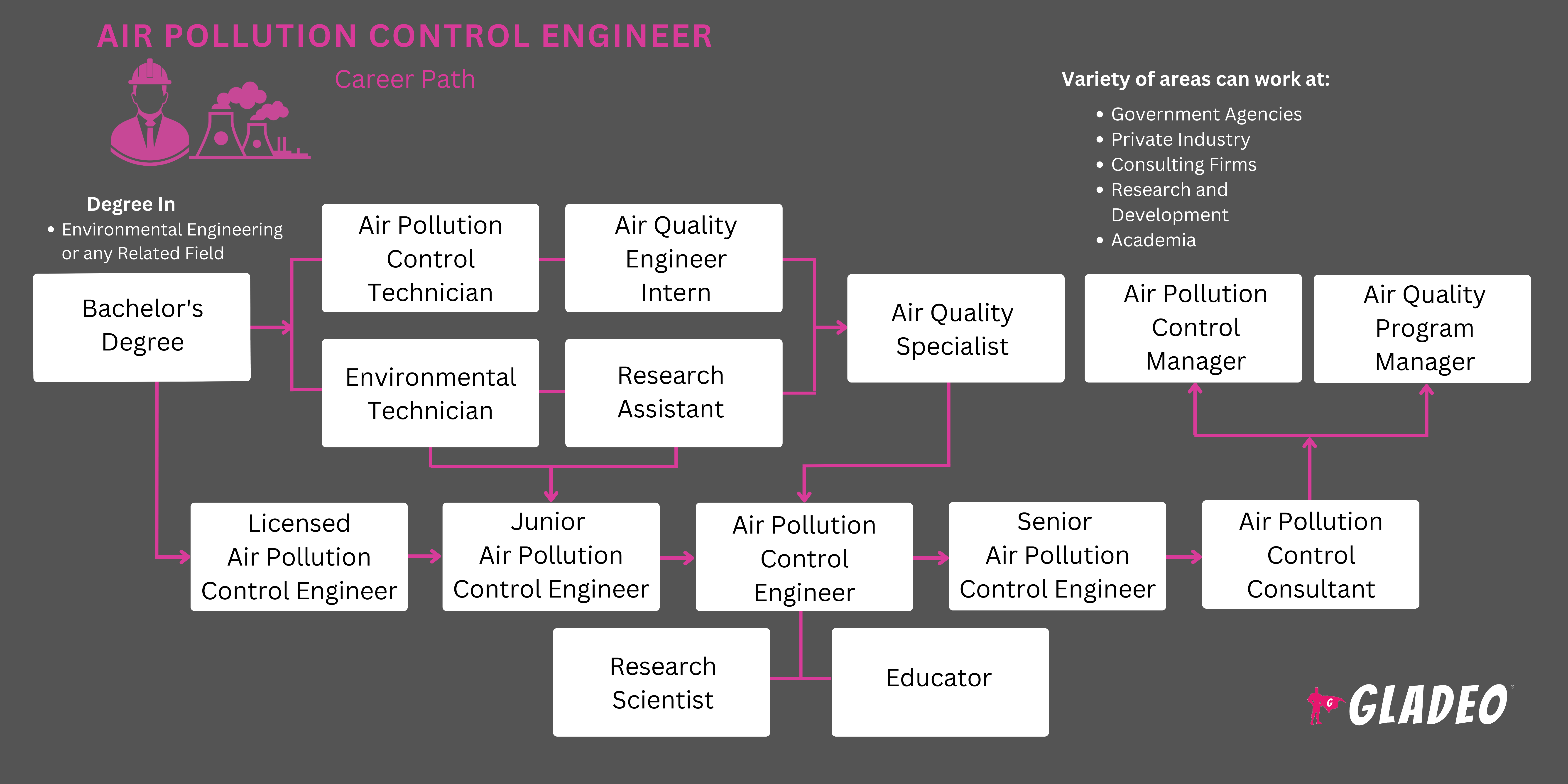 Newsfeed Featured Jobs Online Courses and Tools