Spotlights
Similar Titles
Aircraft Electrical Systems Specialist, Aircraft Technician, Aviation Electrical Technician, Aviation Electronics Technician, Avionics Electronics Technician, Avionics Installer, Avionics Systems Integration Specialist, Avionics Technician, Electronic Technician
Job Description
As their job titles imply, Aircraft and Avionics Equipment Mechanics and Technicians fix aircraft including jets and helicopters and associated equipment. Some may focus solely on engines or hydraulics, due to the complex natures of the parts. There is a wide range of tools and instruments used for assessing parts for wear and tear, checking for cracks, corrosion, and other serious defects around the entire airframe, then conducting routine maintenance, repairs, and function tests, as needed. 
 
There are many subcategories in this broad field, including Airframe and Powerplant general mechanics, Inspection Authorized mechanics, certified repairmen, specialized avionics technicians who work on electronic instruments, and Designated Airworthiness Representatives tasked with certifying a craft's readiness to fly. With nearly 220,000 aircraft in the general aviation and for-hire carrier fleets combined, clearly there's plenty of work to do for qualified Aircraft and Avionics Equipment Mechanics and Technicians, no matter what area they specialize in!
Rewarding Aspects of Career
Working in a critical, fast-paced environment
Keeping pilots, crew, and passengers safe by ensuring aircraft readiness
Learning invaluable skills which can be used throughout the world
2019 Employment
160,000
2029 Projected Employment
167,300
The Inside Scoop
Job Responsibilities
Working Schedule
 
Aircraft and Avionics Equipment Mechanics and Technicians work full-time, typically 8 hours a day, with overtime or weekend shifts very possible. 
Typical Duties
 
Aircraft mechanics:

Perform diagnostic checks on various systems 
Inspect and test for signs of damage or defects
Conduct applicable repairs on parts and components
Remove and replace nonfunctional parts
Follow step-by-step written maintenance and repair manual technical procedures
Test new or repaired parts to ensure proper installation and functioning within parameters

Avionics technicians:

Using electronic instruments to conduct tests
Review flight test data; diagnose problems based on interpretation of data
Use hand and power tools to assemble components and install instrument panels and software
Perform routine maintenance according to FAA schedule and as needed
Repair/replace parts that aren't working properly 
Test systems and parts to ensure proper installation and functioning 

Additional Responsibilities

Maintain detailed work logs
Review technical manuals for changes and updates
Conduct tool and equipment inventory
Ensure tools are calibrated as applicable
Practice all safety protocols to mitigate workplace mishaps
Skills Needed on the Job
Soft Skills
Analytical 
Attention to detail
Calm under pressure
Coordination
Evaluation and problem-solving skills
Integrity
Hand and finger dexterity
Observant
Persistent
Realistic
Sound judgement
Strength and stamina
Strong reading skills
Team player
Time management 
Technical Skills
Analytical/scientific software 
Computer aided manufacturing 
Database query programs 
Enterprise resource planning 
Equipment maintenance and repair
Inventory management software
Spreadsheets 
Technical manual databases
Different Types of Organizations
Aerospace manufacturing    
Governmental agencies/Military 
Defense contractors
Scheduled & Non-scheduled air transportation and support activities    
Expectations and Sacrifices
Aircraft and Avionics Equipment Mechanics and Technicians work outdoors on airfields or inside hangars. Work can be arduous both physically and mentally, but attention-to-detail cannot ever lag. These workers are responsible for ensuring the safety and flight-worthiness of aircraft each day. The lives of not only the pilots, crew, and passengers are at stake, but also the lives and property of everyone on the ground below that craft's flightpath. Work must be up to specs at all times, even when the pressure is on to meet deadlines. 
 
Duty locations may require travel to airports or military installations, so drive commutes might be long depending on where you live. Many workplace hazards exist, from loud noises to exposure to chemicals, heights, and vibrations. Protective equipment must be worn to mitigate injury, and safety protocols will be strictly adhered to to avoid mishaps. Workers also need to be mindful of lifting procedures, when carrying heavy objects. 
Current Trends
Aircraft and Avionics Equipment Mechanic and Technician jobs aren't expected to outpace the national average of all career fields, and various factors can impact the air traffic sector. Nevertheless, there will always be openings for highly-qualified workers who can replace employees that retire or move on to other work. 
 
In fact, there is some disagreement as to how many skilled workers are going to be needed in the next decade, with Blue Sky News publishing an article, Aviation Industry Trying to Fix Mechanic Shortage, that points out forecasts by Boeing suggesting the industry won't have enough trained workers entering the field in the coming years. 
What kinds of things did people in this career enjoy doing when they were young...
Aircraft and Avionics Equipment Mechanics and Technicians love to tinker and fix things. They likely were always into projects that consumed hours of their time as they hunkered down and kept at their assigned task until whatever it was worked exactly the way they wanted it to! "Good enough" is rarely in their vocabulary; they are perfectionists who probably received training early on about how to follow technical procedures to the letter, maybe even to the point of being a bit obsessive about it. 
 
Despite being very hands-on, they almost certainly loved reading books and magazines, either fiction or nonfiction. They can readily work on teams but are also comfortable to be on their own for extended periods, troubleshooting, investigating, maintaining, and repairing equipment either for work or as a hobby. Solitude is no problem for them, because their minds are engaged in the work at-hand. 
Education and Training Needed
A high school diploma or GED is needed; avionics techs usually get an associate's degree, but a bachelor's is not needed
Avionic techs can become certified on specific work, and can also earn Aircraft Electronics Technician certification via the National Center for Aerospace & Transportation Technologies

In some cases they also need a radiotelephone operator license via the Federal Communications Commission 
Additional certs are available for advanced specialization such as flight instrumentation

The Federal Aviation Administration approves "14 CFR Part 147" Aircraft Maintenance Technician Schools around the nation, leading to certification

These certs enable holders to also take various FAA exams for bodywork (Airframe mechanics) and engine work (Powerplant mechanics) after 30 months of work experience or less in some cases
Certs are renewable only if applicable work or education was done in the past two years
Those with both certs earn an "A&P" rating
A&P mechanics can upgrade to Inspection Authorization rating after 3 years

Some workers get started with OJT or via military enlisted tech school training and duty experience during their base assignments
Things to look for in a program
According to O*Net, 60% of workers hold a post-secondary certificate and 25% have an associate's. 12% are working with only a high school diploma or equivalent
Since a four year degree is not needed, workers may not attend a full university but might go to a community college or vocational training program instead
If you do consider short programs at four-year universities, make sure to compare costs against community colleges. Universities charge significantly more tuition and fees for classes that are very similar to the ones taught as smaller schools
Aircraft Maintenance Technician School programs should be approved by the Federal Aviation Administration 
Find professional and student organizations that offer practical, hands-on training opportunities
Look for schools that can assist with tuition funding
If you're a Veteran, look for military-friendly schools that have VA benefit experts who can help you navigate the processes 
Things to do in High School and College
Decide exactly which area you want to work in. Are you more interested in being an aircraft mechanic or avionics tech? Which parts or systems do you want to specialize in? 
Get as much practical experience as you can, through part-time employment, shadowing workers, self-study, and taking applicable classes in high school
College or vocational programs, including FAA-approved programs, will outline the exact classes you'll need to get qualified for entry-level positions
As you gain work and academic experience, keep detailed records and use the information to build your draft resume
Seek out knowledge gaps that you need to fill in order to qualify for specific jobs
Dive deep into the FAA requirements, in particular Title 14 of the Code of Federal Regulations (14 CFR, part 65)
The military has many applicable career fields and can offer paid, extensive training and work experience that will qualify you for later civilian positions
Look for any apprenticeships available in your area to gain valuable practical exposure to the field
Talk with working Aircraft and Avionics Equipment Mechanics and Technicians to find out which paths they took to prepare for their jobs. Ask if there's anything they recommend that you should do (or avoid!)
Read as much as you can (check out Aviation Maintenance Magazine) and watch videos to get a visual idea of the duties you'll be performing 
Typical Roadmap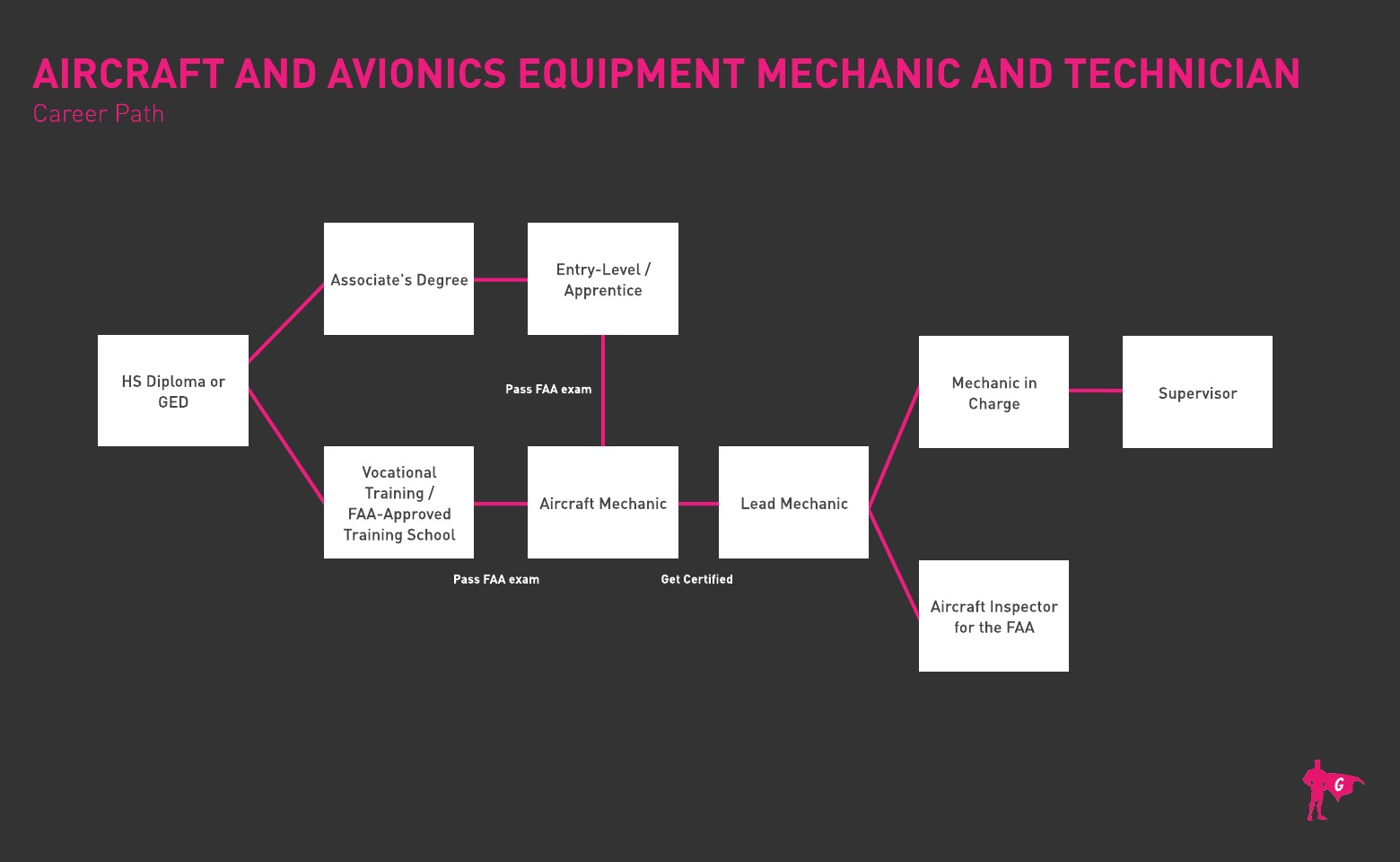 How to land your 1st job
Getting that first job is always the hardest, but completing a reputable training program will help boost your odds
If you have related work experience or have done an apprenticeship, that will make you even more competitive 
Certifications might not always be possible to get prior to having work experience, but if you're able to get them done in advance, go for it!
List hard data and statistics on your application, and provide as much detail as possible so that hiring managers will get a clear picture of your qualifications
Comb through job ads and hunt for specific keywords and requirements listed. Make sure you address each of those within your resume
Though this is a broad career field, it's smaller than you think, so make sure you behave professionally in school and earn a good reputation long before applying for jobs
Find openings by letting your professional network know when you're looking, and scour job portals like ZipRecruiter, SimplyHired, JSfirm, Indeed, Monster, and Glassdoor. Some of these let you upload your resume, so employers can find you
You can also search via LinkedIn, which lets you fill out an in-depth profile so recruiters can see what you've got
Check out military enlisted career fields in the Army, Navy, and Air Force if you want paid training and a job waiting afterwards
Keep your social media squeaky clean in case hiring managers are peeking!
My Interview Practice lists real-world questions and answers to help prep for interviews 
How to Climb the Ladder
Perform your duties to the best of your abilities, and enhance those abilities through continual learning and practice
Focus on mastering the skills you need to, but keep an eye on the future and learn about aspects of the job that your supervisors or bosses handle 
When the time is right, complete advanced certifications such as inspection authorization to qualify for more specialized work and increased responsibilities
Use downtime to study technical manuals or learn something new
Let your employer know you value your current position and are interested in long-term growth opportunities and willing to put in the effort to qualify for them
Ask for mentorship and give it to others, too. Train new members thoroughly on tasks
Set high standards for yourself, demonstrate leadership potential, and be the example for others to follow
Look for ways to improve processes and save time and money without cutting corners
Maintain the utmost integrity and exhibit a strong work ethic
Don't complain without offering a workable solution 
Build strong rapport with your colleagues, supervisors, and management and earn their respect
Become a go-to expert and find ways to garner recognition both within and outside of your organization
Recommended Resources
Websites
Aeronautical Repair Station Association 
Aircraft Mechanics Fraternal Association
Aircraft Owners and Pilots Association
Aviation Maintenance Magazine
Federal Aviation Administration
International Association of Machinists and Aerospace Workers 
National Business Aviation Association
National Center for Aerospace & Transportation Technologies
Professional Aviation Maintenance Association 
AviNation: https://www.avinationusa.com/#view-magazine
Books
Plan B
If you've thought about becoming an Aircraft and Avionics Equipment Mechanic or Technician but then decided "no thanks," don't worry! There are lots of similar occupations listed on BLS's Occupational Outlook Handbook and O*Net Online that you can consider, including: 
Aerospace Engineering and Operations Technicians
Automotive Service Technicians and Mechanics
Electrical and Electronics Engineering Technicians
Electricians
Electro-mechanical Technicians
Heavy Vehicle and Mobile Equipment Service Technicians
Industrial Engineering Technologists and Technicians
Mechanical Engineering Technicians
Medical Equipment Repairers 
Robotics Technicians
Ship Engineers
Newsfeed Featured Jobs Online Courses and Tools