Spotlights
Similar Titles
A&R Manager, A&R Representative, A&R Coordinator, A&R Consultant, A&R Director, A&R Specialist, A&R Agent, A&R Scout, A&R Supervisor, A&R Associate
Job Description
Ever wonder how new musicians get discovered by record labels? It's usually through a combination of artists promoting their work and labels scouting to find the most talented acts. These music industry recruiters are known as A&R (artists and repertoire) Executives! 
Every record label or music publisher has an A&R department tasked to find and develop the careers of recording artists. Within this team, A&R Execs serve as the scouts who go out and bring back talent that can earn money for the company. Like other types of talent scouts, their job is to do reconnaissance by surfing through social media and popular music sites where new artists upload their tracks. They also comb through trade magazines and hit the clubs to catch live acts that are generating a lot of buzz. 
A&R Executives decide which artists are a good fit for their label, then make first contact and talk artists through the steps of signing a potential deal. In some cases, musicians already have a manager who can represent them with the A&R Exec on the legal terms of a contract. Execs stick with their clients to help develop their careers, while also continuing to find new bands to sign.
Rewarding Aspects of Career
Helping to discover and sign new music artists 

Working with up-and-comer talent and building strong relationships

Contributing to the overall growth of the music industry
The Inside Scoop
Job Responsibilities
Working Schedule
A&R Executives may work part- or full-time. Their duties involve overtime for travel, visiting nightlife establishments where bands play, and holding after-hours meetings with potential clients. Some report

attending gigs

"four to five nights every week!"
Typical Duties
Stay up to date on current music trends

Develop and maintain and good "ear" for music 

Monitor music streaming platforms and follow influential artists 

Pay attention to which artists may be underrecognized

Be familiar with their employer's (i.e., the record label's) preferred genres and their best-selling talent

Listen to demos submitted to their label

Reach out to artists that could be a good fit for the label

Attend live events such as concerts and open mics to watch acts in-person and see how they perform on stage (and how the audiences respond)

Schedule meetings with potential talent and their managers

Offer deal memos to establish initial business relationships prior to formalizing deals

Discuss details of

record deals

(i.e. binding legal contracts)

Help set up dates and locations for signed artists to get into recording studios

Offer creative input and critiques of artists' songs and album concepts 

Plan out album release schedules

Track record sales

Assist with developing artists' careers 

Suggest and setup collaborations between artists to boost sales and exposure
Additional Responsibilities
Skills Needed on the Job
Soft Skills
Creativity

Desire to help artists succeed

Diligence

Enthusiasm

Goal setting

Initiative

Monitoring

Multitasking

Networking

Patience

Persuasive 

Quality assurance

Resourcefulness 

Strong communication skills 

Time management
Technical Skills
Business, marketing, and promotion skills 

Deep familiarity with the music industry, concerts and tours, merchandising, and other revenue-generating activities 

Familiarity with

legal contracts

Knowledge of music trends

Understanding of music and musical performances

Basic understanding of

music recording studios

and equipment

Knowledge of digital marketing, social media, and YouTube monetization
Different Types of Organizations
Record labels and other music producers
Expectations and Sacrifices
Record labels can't exist without artists to record and perform music that's going to sell albums and concert tickets. And it takes the hard work and ongoing efforts of A&R Executives to find, sign, and nurture such acts. The tasks require a lot of research and listening to bands, trying to find a sound that matches the label's genre(s) and has the potential to connect with listeners. 
With record sales down due to the advent of streaming platforms and the escalation of digital music pirating, many A&R departments have scaled back on staff due to budgetary cuts. Those left with jobs have to work that much harder and with less of a safety cushion when it comes to finding talent that'll bring in the bucks. Expectations run high, and execs may have to sacrifice some sleep—because they've got to get out there and hustle! 
Current Trends
Record sales may be down, but the U.S. music industry is still raking in major dollars. Per Zippia, the "annual revenue of the global recorded music industry" was $25.9 billion in 2021. But the most successful acts are pulling in vastly more income from concert touring than anything else. 
For example, Business Insider noted that the popular rock band U2 made 95% of their earnings from touring, with less than 4% from streaming and album sales. That's another reason why A&R Executives need to snag performers with charisma and dedication. They need talent they can rely on to get on stage consistently (and on-time), perform live night after night, and sell tickets and merchandise.
What kinds of things did people in this career enjoy doing when they were younger…
A&R Executives were probably music buffs and audiophiles growing up. They may have also sung, played an instrument, or had musical ambitions, as well. Like other industry insiders, they likely stayed well-informed about the behind-the-scenes happenings, perhaps through reading music-related magazines or scrolling endlessly through blogs.
Education and Training Needed
There's no set educational path for A&R Executives, but at a minimum they need a high school diploma or GED

These execs don't need a college degree, but having one doesn't hurt, either. Some workers in this field major in music, business,

music business

, or marketing/digital marketing

A certificate is a faster, more affordable way to gain some academic credentials without going the full degree route. For example,

UCLA Extension

campus offers a 10-class Music Business certificate for "aspiring music industry executives, producers, managers, songwriters, and publisher"

The main training needed is real-world industry experience. Most A&R Executives start out hustling in entry-level positions or as interns at the record label
Things to look for in an University
Since a degree isn't needed, it's up to you whether to take college classes or not. Helpful classes may include music, business,

music business

, sales, marketing, design, and digital marketing

If attending a college program,

compare costs

of tuition, room and board, and scholarship opportunities

Look into

federal financial aid

for students to see what you qualify for

Decide which is best for you—traditional on-campus program, online, or hybrid (a mix of both)
Things to do in High School and College
A&R Executives can prepare by taking music and marketing classes in high school

In college, it may help to take classes in contract law, too!

Volunteer for school activities where you can practice soft skills, including written and verbal communication skills, leadership, project management, and presentation 

Apply for part-time sales jobs to get some real-world experience in the art of persuasion

Listen to plenty of new and emerging artists on Spotify, Tidal, Apple Music, Pandora, and other streaming services 

Read all you can about the music industry, via magazines and sites like

Mojo

,

Pitchfork

,

Rolling Stone

,

Billboard

,

The Quietus

,

Under the Radar

,

SPIN

,

The FADER

,

Consequence of Sound

, and others

Watch YouTube channels like

Music Hustler

to learn more about the industry 

Check out the bios of

rising A&R Execs

, as well as more

established ones

Attend local music events! Support and make connections with local bands and see if any have managers who've interacted with A&R reps

Learn what advice A&R Executives

give to artists
Typical Roadmap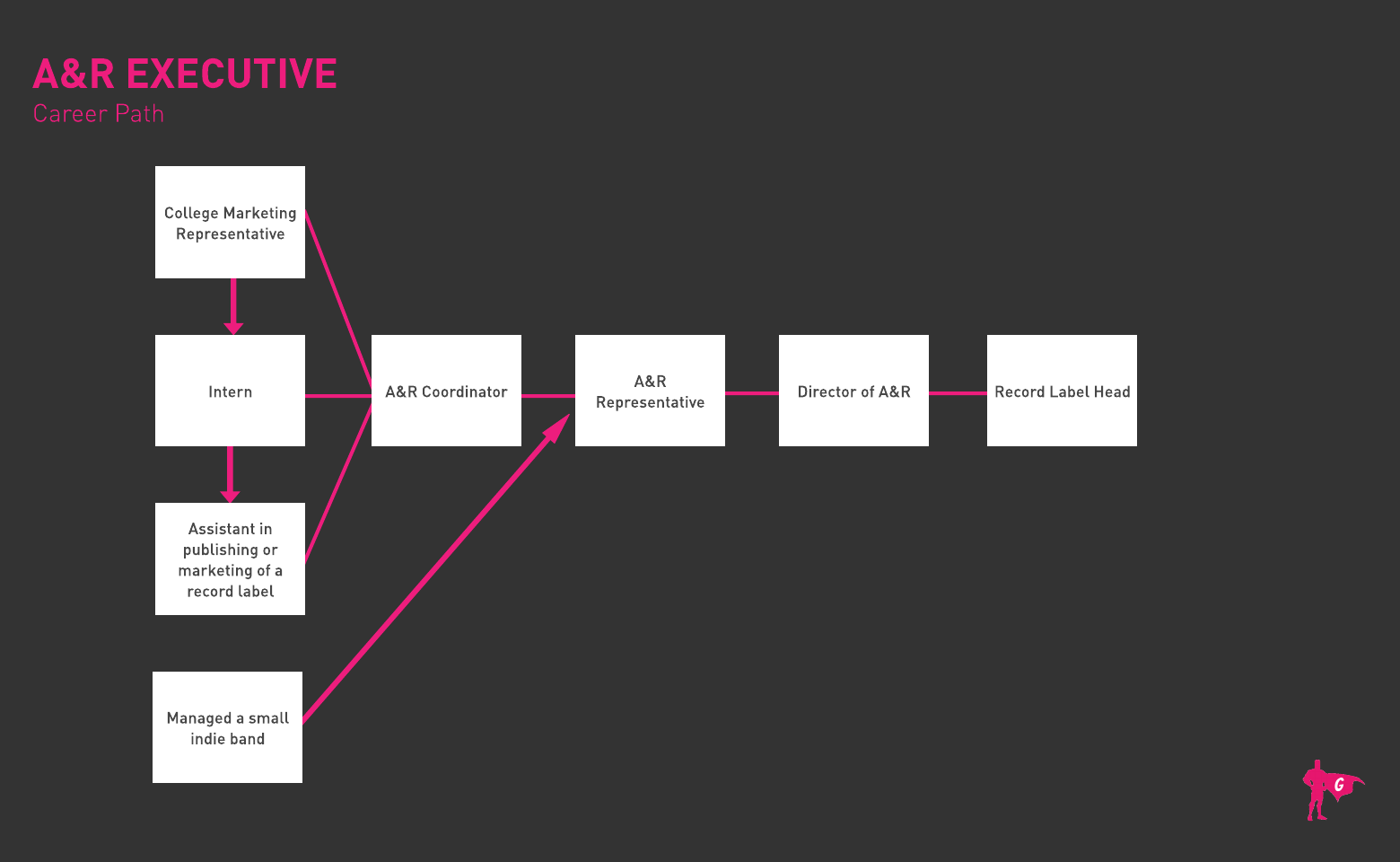 How to Land your 1st job
A huge factor in what makes an A&R Executive successful is their own motivation and determination. It's hard to break into the industry and many people simply give up too soon or don't put in enough effort in the first place

Most A&R Executives work their way up from other positions at the record label or music producer. Some may spend years with an employer before getting promoted to an executive role

Consider start out with a small indie label before shooting for a major label

Set up notification alerts on

Indeed.com

and other job portals to get alerted when music-related jobs and internships come up

Read job posts carefully and make sure to work relevant keywords into your application

Internships are a common way to get started in the industry but they are not always paid (and interns often get stuck doing the stuff no one else wants to do)

Reality check:

Internships

in the music industry can be tough and unglamorous. But if you're in a situation where you can afford to work without pay for a while—and you have the patience and willingness to be someone's lackey—then an internship may be the fastest route to get in!

You'll gain some practical work experience while "paying your dues" and getting exposure to the industry from the inside   

Having a certificate may help you land an internship!

UCLA Extension

campus offers a 10-class Music Business certificate for "aspiring music industry executives, producers, managers, songwriters, and publisher"

Check out

"A Day in the Life of: Music Label Intern"

on YouTube

Music industry jobs may be confined to very specific geographic locations. In other words, you might have to move to a new state to find work! 

Rent.com notes that the

best cities for musicians

are Glendale, Los Angeles, and San Francisco, CA; Boston, MA; Pittsburgh, PA; Atlanta, GA; New York, NY; Seattle, WA; Minneapolis, MN; and Washington DC

Attend music conferences and events where industry representatives will be present

nd keep track of application deadlines

Stay in touch with your former supervisors and teachers who can serve as references

Let your enthusiasm for the music industry shine! Employers want to see evidence of your soft skills, academic qualifications, and devotion to the business
How to Climb the Ladder
The best way to move up is to find and sign talent that sells albums and makes money for the label

Build your reputation as a results-driven professional who gets things done while being responsible, respectful, and inspiring

Demonstrate sincere caring for artists you sign and their career progression

Find ways to forge creative collaborations that can increase exposure for new bands and give established acts a boost  

Read books, review website resources, and watch videos to get ideas that'll keep your record label fresh and relevant as consumer tastes in music evolve   

Earn a bachelor's or master's degree or complete additional training/advanced certifications

Stay ahead of the curve when it comes to trends in music and the platforms used to reach audiences (streaming services, social media, etc.) 

Mentor others and offer to help aspiring record label employees

Be active in industry-related organizations. Attend events, network, and build

social capital
Recommended Tools/Resources
Professional Organizations
Websites and Magazines
Books
Plan B
It's nearly impossible to waltz into an A&R Executive role without some serious music industry credentials under your belt. But there are numerous industry-related careers to explore, either as a launch pad or to stay in permanently. Here are just a few:
Artist Relations 

Booking Agent

Business Manager

Campus Representative

Concert Promoter

Consumer Researcher

Entertainment Attorney

Field Merchandiser

Licensing Representative

Marketing Coordinator
Newsfeed Featured Jobs Online Courses and Tools