Spotlights
Similar Titles
Design Architect, Architectural Planner, Project Architect, Specifications Writer, Architectural Engineer
Job Description
Architects plan and design building and structures, such as private residences, office buildings, theaters, factories, hospitals, and museums.  
Rewarding Aspects of Career
"Architects are often called upon to bring order to a disparate set up ideas and desires. Designing a building is incredibly complicated and requires the work of many people, sometimes over many years in the context of different economic, social, political forces. In this kind of environment, after sometimes many years of hard work, to see a building you designed come to fruition is so exhilarating. It is so gratifying to create something out of nothing and make a client's vision a reality in a way that they can not conceive of themselves." Christina Cho Yoo, AIA, PE, Architect and Professional Engineer, Atelier Cho Thompson
2016 Employment
128,800
2026 Projected Employment
134,300
The Inside Scoop
Day in the Life
Architects discuss with clients the objectives, requirements, and budget of a project. In some cases, architects provide various predesign services, such as feasibility and environmental impact studies, site selection, cost analyses and land-use studies, and design requirements. Architects must help conceptualize the program and devise formal solutions for the client.
In developing designs, architects must create compelling spaces all the while serving a functional need, following building codes, zoning laws, fire regulations, and other ordinances, such as those requiring easy access by people who are disabled.
Computer-aided design and drafting (CAD) and building information modeling (BIM) technology have replaced traditional drafting paper and pencil as the most common methods for creating designs and construction drawings. Still, being able to sketch is an important skill that architects should cultivate to effectively communicate with clients during meetings or with consultants in systems coordination.
​​

Architects also may help clients get construction bids, select contractors, and negotiate construction contracts.
As construction proceeds, architects may visit building sites to ensure that contractors follow the design intent, keep to the schedule, use the specified materials, and meet work-quality standards. The job is not complete until all construction is finished, required tests are conducted, and construction costs are paid.
Job Responsibilities
Seeks new work by marketing and giving presentations

Consults with clients to determine requirements for structures

Estimates materials, equipment, costs, and construction time

Selects materials and equipment and/or coordinate engineering & specialty consultants to do so

Prepares, designs, and structures specifications

Directs workers who prepare drawings and documents

Prepares scaled drawings of the project

Prepares contract documents for building contractors

Manages construction contracts

Visits worksites to ensure that construction adheres to architectural plans
Skills Needed on the Job
Verbal and written communication

The ability to represent your ideas in diagrams, drawings, renderings, and presentations

Computer drafting and modeling skills

Technical understanding of construction and engineering systems
Different Types of Organizations
Architectural firms

Universities – planning office or as professors

Museums

Research Organizations

Product design companies

Design directors for corporations or retail stores

Real estate developers

Staging companies
Expectations and Sacrifices
Long Hours: Culturally architects are known to work long hours as they feel like design can always iterate and become better. They also are oftentimes the prime consultant working right under a client on projects, and this role requires them to oversee all other specialty consultants' work.
Compensation: Typically, architects do not get compensated to the level that other professionals with a similar amount of schooling may get. However, most architects often say they love how their training affords them to see the world and be creative with whatever task may be put in front of them.
Current Trends
New areas of practice include ideation, design strategy, and public interest design.
What kinds of things did people in this career enjoy doing when they were younger…
Draw

Legos

Daydream

Make things out of random things

Interest in different cultures & travel
Education and Training Needed
As Architecture combines science and art, many Architects complete a 5-year Bachelor of Architecture program

Note, many colleges offer degrees in Architectural Studies, but they may not be nationally accredited by the National Architectural Accrediting Board (NAAB). As a result, the graduate might have to complete a master's to qualify for state licensure. The Bureau of Labor Statistics points out that "two-thirds of states require that architects hold a degree in architecture from one of more than 120 schools of architecture accredited by NAAB"

Apart from a NAAB-accredited degree, students may also pursue a Master of Architecture (M. Arch) or a PhD
States also require Architect hopefuls to complete a paid internship of up to 3 years, generally with a firm approved by the AXP — Architectural Experience Program (administered by the National Council of Architectural Registration Boards)
Following the internship, workers must pass the Architect Registration Examination
The educational requirements never stop, with continuing education needed in most states to maintain licensure. These requirements may include workshops, classes, conferences, and self-study
Requirements of getting licensed
Getting licensed varies by jurisdiction; however, below are the general steps. For more information about specific jurisdictions, go to NCARB.
Intern Development Program (IDP)

Pass ARE (Architecture Registration Examinations) licensing exams

Get an initial license

Get certified

Continuing education requirements
Education Stats
1% with High School Diploma

5% with Associate's

49% with Bachelor's

32% with Master's

8% with Doctoral/Professional
Things to look for in an University
Some schools are known for being very hands-on about building while others are known to be more conceptual. Some architecture departments are housed in the same building as the landscape architecture, urban design, or art departments. Depending on your personal bent, you should choose a school that suits what kind of architect you would like to be.
Top Educational Institutions
Top 10 Architecture Undergraduate Programs for 2018 
Cornell University
California Polytechnic State University, San Luis Obispo
Syracuse University
Virginia Tech
University of Southern California
Rice University
University of Texas, Austin
Southern California Institute of Architecture
Pratt Institute
Rhode Island School of Design
Top 10 Architecture Graduate Programs for 2018
Harvard University
Columbia University
Cornell University
Yale University
Massachusetts Institute of Technology
University of California, Los Angeles
University of Pennsylvania
University of California, Berkeley
University of Southern California
Washington University, St. Louis
Things to do in High School and College
As soon as you know you're interested in studying Architecture, start looking at college program requirements. Many schools are competitive and want candidates with sufficient background to succeed in their rigorous courses
Make sure to lay a strong foundation for your college work by taking high school classes related to art, AP 3D Art and Design, photography, graphic design, math, and physics
In terms of math, you'll need to study most of the branches, including geometry, algebra, calculus, and trigonometry. Physics is also crucial for understanding the various forces that come into play
Don't wait to get started on a portfolio to show schools and prospective employers. The portfolio doesn't have to be entirely architecture-related

For example, to apply to Cornell's undergraduate program, the requirement is, "The portfolio should contain several examples of freehand drawings including sketches as well as fully developed work. In addition to drawing, a range of artistic media needs to be demonstrated, but each applicant should emphasize the work where their skills and passion are expressed most strongly. Painting, printmaking, sculpture, photography, video, woodworking, and other crafts can convey artistic experience and aptitude."
Typical Roadmap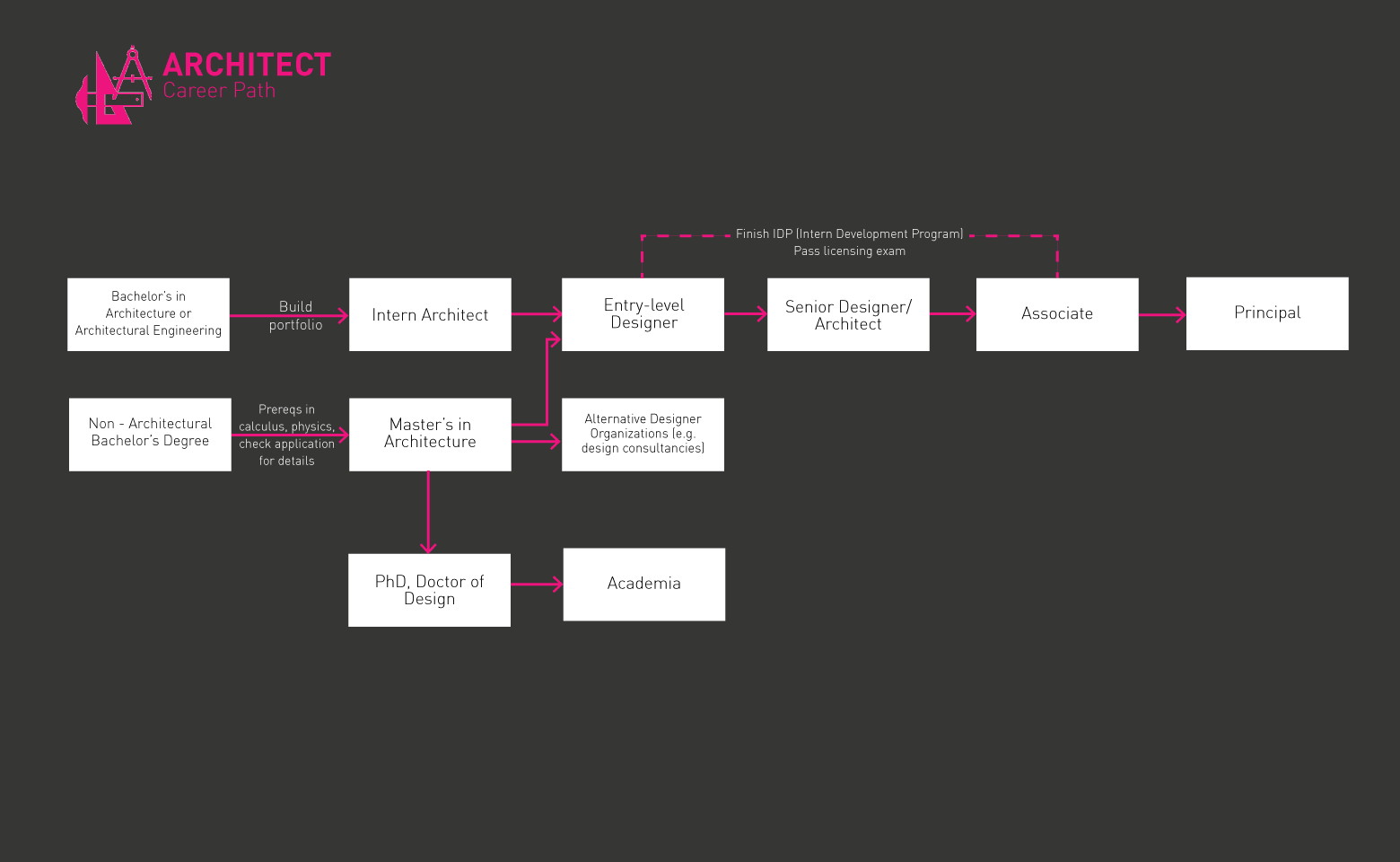 How to Land your 1st job
As mentioned in the Education section, Architects must complete a long internship before being eligible to take the Architect Registration Examination and apply for licensure
Internships are done via the Architectural Experience Program (AXP) administered by NCARB — the National Council of Architectural Registration Boards. AXP "provides a framework to guide you through building competency in a broad range of areas and documenting your work. You can start reporting experience as soon as you graduate from high school."

The AXP requires the completion of 3,740 hours of reported work experience along with 96 key skills (falling under six distinct categories) to be developed
Half of the experience must be gained via practice done under the supervision of a licenced architect (i.e., during the internship, which can last up to 3 years)

AXP Internships opportunities can be found online via Indeed.com, or by checking out articles such as Black Spectacles' 5 of the Best Architect Internships You Should Apply to This Summer
After you've completed your internship, passed your Architect Registration Examination, and gained your state licensure, then it's time to look for positions on job portals such as ZipRecruiter, Indeed, Glassdoor, and others
There are different types of Architects, such as Technical Architect, Planning Architect, Site Architect, and Design Architect, so look for postings that match your background and qualifications
Let your LinkedIn network know you're licensed and looking for openings
Contact references to inquire if they are willing to recommend you or write letters of reference
Create an online portfolio to showcase your work as well as your personality and style
Before doing interviews, get ready by reviewing Architect Interview Questions and Answers
How to Climb the Ladder
Keep abreast of the latest technologies in the industry.

Attend industry events.

Keep in touch with your network of designers and architects.

Keep your LinkedIn profile updated.

Try to become an expert in a certain type of design or with a certain valuable program.

Get AIA licensed and LEED accredited
Recommended Tools/Resources
Websites
Organizations:  AIA (American Institute of Architects), National Council of Architectural Registration Boards (NCARB), Architectural League of New York, Van Alen Foundation, Storefront for Art and Architecture, Architecture for Humanity
Blogs:  Dezeen, ArchDaily, Archinect, DesignBoom
Magazines:  Architectural Record, Metropolis, Dwell, El Croquis, Detail, Mark, Fine Homebuilding, CLOG, Domus, Casabella, Architectural Review
Books
Plan B
Key transferable skills
Design thinking – how to systematically and creatively come up with a solution to a problem

Graphic representation

Presentation skills

How to build things and think through how details may come together
Alternate careers:
Universities – planning office or as professors

Museums

Research Organizations

Product designer, Industrial designer

Production Designer (film and television sets)

Design directors for corporations or retail stores

Real estate developers

Staging companies

Architecture professor
Quotes
"People often have a love-hate relationship with architecture. Many architects are known to work long hours for less pay than other professionals. Architects like the idea of designing but the realities and challenges of pushing through a project are often grueling and frustrating. However, once those hurdles are overcome and a project is built, there are few things as gratifying as seeing the culmination of many years of hard work right in front of you." Christina Cho Yoo, AIA, PE, Architect and Professional Engineer, Atelier Cho Thompson
Newsfeed Featured Jobs Online Courses and Tools