Spotlights
Similar Titles
Art Coordinator, Art Department Head, Art Supervisor, Artistic Director, Arts Administrator, Arts Manager, Creative Director, Creative Guru
Job Description
Art directors oversee the creation of visual material for advertisements, print publications, product packaging, film productions and other outlets. They may look over specific elements, such as design concepts, original or stock artwork, layouts and the stylistic components of written materials. Art directors also oversee the work of staff members, such as writer, designers, or artists. They may also create budgets and deadlines, collaborate with other departments like copywriting or production and communicate with clients over the course of a project.
"Every day will be different. Some days will be meeting heavy, other days I will forget to stand up away from my computer. I concept advertising campaigns, create outdoor boards, design print ads, books, websites, web banners and everything else in between. " Vikki McDonald, Freelance Graphic Designer and Art Director
Rewarding Aspects of Career
Gives artists creative freedom and ability to work with designs
Provides independence to people who like to work on their own and make decisions
Great for those who love working indoors
High salary
"Seeing my work out in the open and knowing other people can see it. It's like your mum putting your drawing on the fridge but a thousand times better. " Vikki McDonald, Freelance Graphic Designer and Art Director
The Inside Scoop
Job Responsibilities
Determine how best to represent a concept visually
Decide which photographs, art, or other design elements to use
Develop the overall look or style of a publication, an advertising campaign, or a theater, television, or film set
Manage graphic designers, set and exhibit designers, or other design staff
Review and approve designs, artwork, photography, and graphics developed by other staff members
Talk to clients to develop an artistic approach and style
Coordinate activities with other artistic and creative departments
Come up with detailed budgets and timelines
Present designs to clients for approval
Skills Needed
Excellent aesthetic judgment
Strong leadership skills to oversee the work of other artists
Creativity and superb communication to develop products that meet clients' needs
Ability to prioritize work and manage deadlines
Different Types of Organizations
Self-employed
Advertising company, marketing firm, or related service
Newspaper, periodical, book, or directory publishers
Motion picture / video operation
Specialized design services
Expectations/Sacrifices Necessary
Not many opportunities to solve problems mentally, which can be difficult for certain personality types
Hard career to get into - a considerable amount of work related skill, knowledge, and experience is required, which will take up a large chunk of time and effort
Long hours- expect to work more than 40 hours per week, especially during a project deadline
Current Industry Trends
Surreal scenes
Travel photography
Ultra-Violet over Millennial Pink
Transparency in fashion
Mixed metals within the home
Continued speech recognition and progress on AI-based creative tools
What kinds of things did people in this career enjoy doing when they were young...
Arts and crafts
Playing indoors
Leading get togethers / playtime activities
Standing out in art classes
Employment Security
Employment of art directors is projected to grow in the next decade as they will continue to be needed to oversee the work of graphic designers, illustrators, photographers, and others engaged in artwork or layout design
Employment of art directors is projected to decline in the publishing industry over the next decade as traditional print publications lose ground to other media forms; rather than focusing on the print layout of images and text, art directors for newspapers and magazines will increasingly design for web and mobile platforms
2016 Employment
90,300
2026 Projected Employment
95,200
Education and Training Needed
Art Directors should have a bachelor's degree in a suitable field such as art, design, or photography
Most Art Directors have substantial related work experience and On-the-Job training prior to applying
A Master of Fine Arts isn't necessary, but can certainly boost your credentials. An MBA or Master's in Arts Administration may also be helpful, as these can showcase your leadership and management credentials
O*Net Online states that 74% of Art Directors have a bachelor's and 17% have a master's degree
If you opt not to pursue either an MFA or MBA, some standalone management courses or a management certificate could be a useful substitute
You might also sign up for an Arts Administration Internship, such as offered by Fredonia
A portfolio—a collection of an artist's work that demonstrates his or her styles and abilities—is essential; managers, clients, and others look at artists' portfolios when they are deciding whether to hire an employee or contract for an art project

  

 

 

 

 
Things to look for in a program
"Age of institution, quality of education, access to equipment."  Vikki McDonald, Freelance Graphic Designer and Art Director
Requirements
Employers are looking for candidates that are proficient in:
Adobe Systems Adobe Acrobat (document management software)
Adobe Systems Adobe AfterEffects (Video creation and editing software)
Adobe Systems Adobe Dreamweaver (Web page creation and editing software)
Adobe Systems Adobe Director (Video creation and editing software)
Adobe Systems Adobe Fireworks (Graphics or photo imaging software)
Things to do during high school/college
High School
Sign up for art class to develop an eye for color and design
Stock up on courses related to art, writing, business, marketing, public speaking, and leadership
Test the waters and build skills in electives like website design, graphic arts, commercial art, and photography; if these are unavailable at your school, check out a local two-year college
Develop strong writing and speaking skills in English and speech classes; communicating ideas clearly is a must
Volunteer for activities and events that involve planning, organizing, leadership, and management
College
Develop portfolio
Join art and design related clubs
Take courses in related fields to gain a broad spectrum of knowledge
Take a public speaking course as well as writing courses
Seek out leadership roles
Build sense of confidence and independence by constantly stepping outside your comfort zone to gain more skills and experience
Complete art and design related internship
Find paid or volunteer opportunities with local arts and culture centers; get connected to the local arts scene and develop your reputation as someone who works hard, knows their business, and can be counted on to deliver!
Typical Roadmap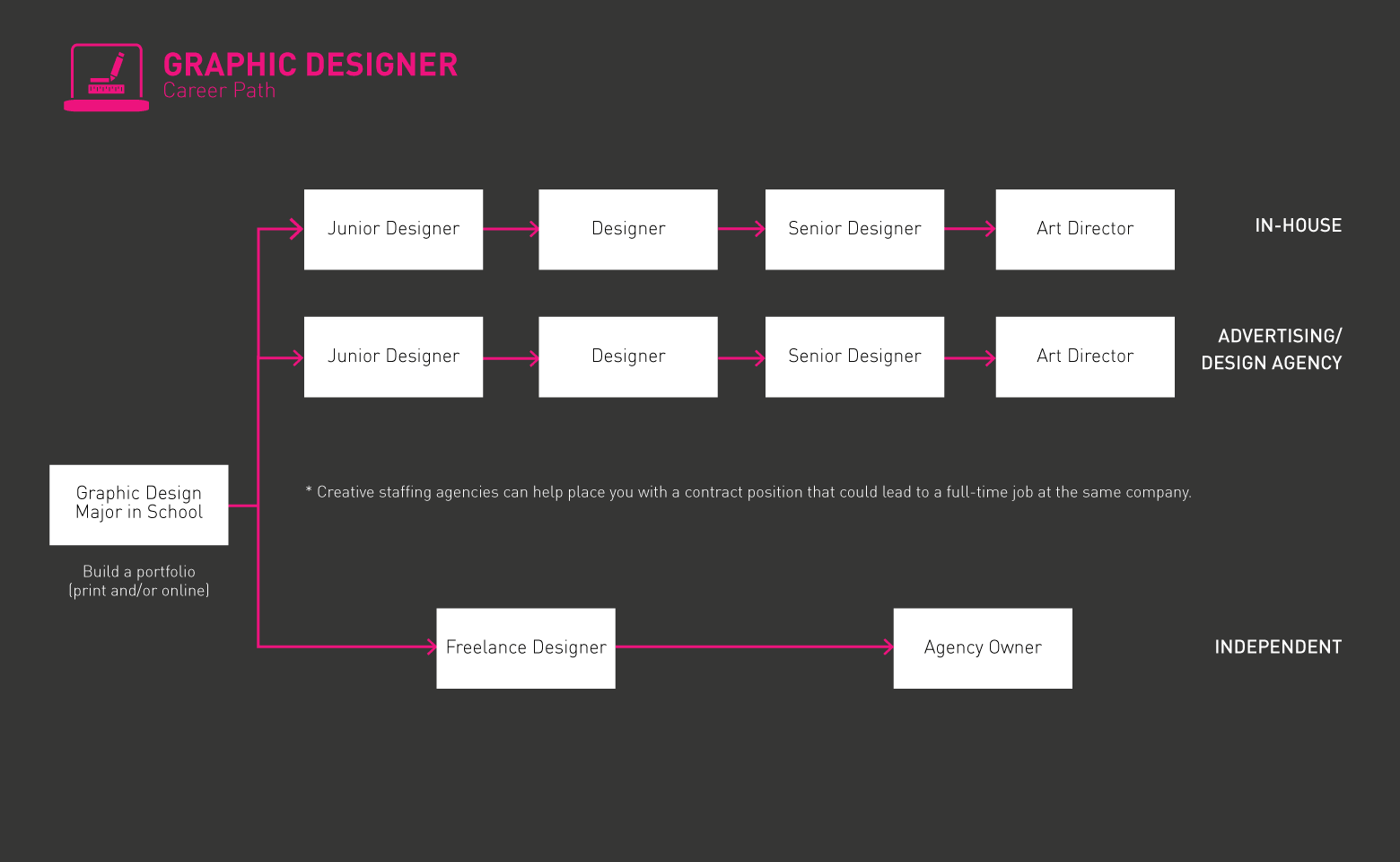 How to land your 1st job
Not many Art Directors are self-employed! However, there are plenty of jobs available with PR firms, magazines, newspapers, design agencies, and film industry companies, too
Complete all of your academic requirements and try to earn honors along the way
List details of prior relevant work experience and extracurricular activities on your resume. Include statistics and dollar figures to prove how you added value
Stay connected with your network of past professors and supervisors so they can put in a good word for you via a letter of reference or telephone call
Scour the job portals such as Indeed.com and sign up for alerts so you don't miss anything
Check out the websites of specific organizations you want to work with; they might have openings that aren't listed anywhere else
Carefully scan job posts to ensure you meet all listed qualifications. Highlight keywords and phrases so you can add them to your resume, as applicable. It'll help you get through any automated tracking software!
Be prepared for interviews! Review sample Art Director interview questions, practice mock interviews, and make sure to dress the part of the director!
Keep portfolio updated and include in application process
Make connections at internships and within university program
Gain experience as a graphic designer, fine artist, editor, or photographer, or in another art or design occupation for at least five years - maintain good references
Stay up-to-date on industry trends and continue developing skills, especially within Adobe Acrobat programs
What it really takes to make it and succeed
Desire to brainstorm ideas
Passion for pop culture, or at least desire to tune into it
Team managing skills
Ability to work under tight deadlines
Patience to deal with difficult clients
Recommended Resources
Websites
Art Directors Guild
AIGA
Promax
The One Club for Creativity
Books
Words of Advice
"Find the weakest element of your design, and make it the strongest." Vikki McDonald, Freelance Graphic Designer and Art Director
Newsfeed Featured Jobs Online Courses and Tools