Spotlights
Similar Titles
Real Estate Portfolio Manager, Property Portfolio Manager, Real Estate Investment Manager, Real Estate Asset Strategist, Property Investment Analyst, Real Estate Fund Manager, Real Estate Portfolio Analyst, Property Asset Supervisor, Real Estate Investment Officer, Property Portfolio Strategist
Job Description
In real estate, an Asset Manager is responsible for the process of buying, managing, then eventually selling off various properties for their employer's profit. In many cases, properties are held for several years, until the time is right to sell. The goal is buying them at the lowest cost possible, fixing them up, then waiting for their market value to increase! 
 
A big part of the job is keeping up with news and staying aware of market trends or issues that could impact the value of an investment property. Real Estate Asset Managers may have different levels of autonomy when it comes to buying. Their employers are the actual owners so naturally those employers may want to be part of the decision-making process. 
 
An Asset Manager might also pull double duty, serving as the investor's real estate agent and offering advice about prices. As with investing in anything, Asset Managers' main goals are to grow their client's portfolios and to make money for them. They aren't Property Managers and don't deal with daily issues like plumbing problems for rental units, but they may work closely with PMs to ensure an asset's value is maintained. 
Rewarding Aspects of Career
Ensuring properties are well kept and hold their value
Working with investors on profitable ventures
Boosting the overall economies of communities
Keeping contractors employed and tenants securely housed 
The Inside Scoop
Job Responsibilities
Working Schedule
Real Estate Asset Managers work full-time with the potential for long hours or after-hours work. They may need to make frequent site visits to view properties, meet with contractors, owners, agents, or residents. It is not uncommon for meetings to occur outside of typical workday hours. 
Typical Duties
Reviewing properties for sale and deciding on purchases
Considering current and potential values, growth opportunities, zoning issues, traffic patterns, and other issues with long-term impact
Buying residential or commercial properties or working with agents to conduct the transactions
Reviewing contracts, HUD statements, and closing documents 
Coordinating with contractors and other third-party companies for repairs or renovations work that boosts the property's value
Hiring property managers to oversee day-to-day management of rentals and office leases
Keeping track of expenses and looking for ways to keep them down
Meeting owners, investors, lenders, employers, or other stakeholders to discuss strategies, goals, and risk management
Ensuring properties are being well-maintained and used for their intended purposes
Reviewing or revising lease and rental agreements to mitigate liabilities
Mitigating the risk of losses due to damage by ensuring proper insurance coverage
Understanding applicable legal and tax regulations related to investments
Maintaining a diverse asset portfolio with a good mix of residential and commercial properties, including rental homes, condos, apartments, leased offices, or vacation rentals 
Reviewing portfolios and identifying holdings to sell 
Additional Responsibilities
Keeping track of markets to maximize profits when selling and to save when buying
Watching the news to stay on top of trends that impact buying and selling prices
Generating reports forecasting revenue or losses, citing applicable market research
Skills Needed on the Job
Soft Skills
Ability to work independently
Keen organizational skills
Objectivity 
Patience
Persuasive 
Negotiating
Resilience and composure 
Resourcefulness 
Skills for coordinating and instructing activities
Sound judgment and decision-making
Strong communication skills, including writing and public speaking
Technical Skills
Financial acumen
Good math skills 
Familiarity with housing markets
Strong research skills 
Knowledge of MLS listings
Understanding of applicable local, state, and federal laws and tax matters
Familiarity with real estate management software, such as SARRA or Yardi Breeze
Different Types of Organizations
Banks
Governmental agencies
Insurance companies
Investment trusts
Mortgage brokerages
Non-profits
Private corporations
Real estate and property management organizations
Self-employed businesses
Expectations and Sacrifices
Real Estate Asset Managers are obligated to maintain properties for their employers, who own the properties but delegate authority to their trusted managers. As assets, these properties are expected to turn a profit, so it's up to the managers to make that happen by being careful about what properties to buy, how much to pay, and when to sell for maximize returns. Suffice it to say, there's potential for stress! Asset Managers must be on the ball and up-to-date on economic factors that could impact profits. 
 
Once a property is added to a client's portfolio, the manager has to ensure it is well taken care of, and gets all the work needed to keep it safe, attractive, and primed to hit the market when the time comes. While these assets are being held, they are generally rented out or leased to tenants, which comes with the added stress of ensuring those persons are treated well by property managers but also held accountable for any damages done. Rental and lease incomes need to flow on time, problems must be reported and resolved in a timely manner, and contracted workers have to be closely vetted. All these duties might require overtime or after-hours meetings. Naturally, there's also a lot of travel involved, as managers drive from site to site. 
Current Trends
Real estate is an ever-changing market, with numerous factors impacting housing prices in individual communities, states, and nationally. Economic fluctuations can drive property prices up or down significantly. When prices are down, it is a good time for investors to buy new property relatively cheaply; when prices are up, it's a good time to sell and cash in! 
 
Real Estate Asset Managers are aware that many younger workers are putting off buying homes and therefore need to rent homes. That's the perfect time to invest in properties that can be rented out, essentially having someone else paying the mortgage via monthly rent. When the house finally sells, there is a huge profit for the investors. 
 
Following mortgage rates and buying when rates are low is a good practice, and current rates are at record lows. Meanwhile, the COVID-19 pandemic has shifted work practices, causing some investors to look for commercial real estate options other than offices. Medical and life science properties have now become a hot new sector for Asset Managers to dig into. 
What kind of things did people in this career enjoy doing when they were younger…
Real Estate Asset Managers must have a diverse set of skills to excel. For starters, it pays to be comfortable buying and selling physical properties, which are unlike other types of sales. The stakes are high, meaning there's much more risk that some people don't feel at ease with. Nerves of steel and a very practical work ethic are required, and those are traits that may have been developed early on in one's childhood. 
 
Asset Managers may have done well in school, been team leaders, organized activities, and seemed outgoing and very proactive. They're movers and shakers who don't mind putting in the hours to make things happen. At the same time, they must be objective, calculating, and unemotional in their decision-making processes. Some may have had early exposure to entrepreneurial opportunities, or made such opportunities for themselves instead of waiting for something to happen!
Education and Training Needed
At least a high school diploma or GED is needed to get started
Usually a bachelor's or master's in Accounting, Finance, Real Estate, or Business Administration is necessary unless one has other outstanding credentials

Asset Managers who buy and sell property will need a state-issued license
If dealing with public housing, a federal certification may be necessary

Some employers may also require previous work experience in property management or real estate sales

Real estate agents must be 18 years old, pass applicable real estate courses and an exam, and pass a possible background check to obtain licensure 

Other formal training depends on employer-specific requirements, for example specialized professional or trade association training programs, such as ones offered by:

BOMI Asset Management Courses
Community Association Managers International Certification Board 
Community Associations Institute
Harvard's Real Estate Investment Certificate
Institute of Real Estate Management Courses
National Association of Residential Property Managers
NYU School of Professional Studies' Real Estate Asset Management Certification
Udemy's Real Estate Asset Management 101
Things to look for in a program
It's important to find an accredited school that offers reputable programs in real estate, accounting, finances, or business administration
Focus on courses related specifically to real estate asset management, versus other aspects of real estate (unless you will also become an agent or property manager)
It's good to know the other aspects, but asset managers have unique duties
If attending in-person, look for programs that offer hands-on practical experience
Seek out school- or program-related scholarships or tuition discounts
Check out their admittance and graduation rates, diversity stats, and reviews or complaints from current and former students 
Look for any professional and student organizations offering learning opportunities 
Ask schools and programs about career assistance such as job fairs, job placement, resume writing, interviewing, and other services
Things to do in High School and College
Most high schools won't offer real estate courses, but you can still take math, accounting, writing, public speaking, and business classes
In college, you'll obviously load up on topics related to your major, but if your major isn't real estate then sign up for real estate management, finance, real estate law, appraisals, contract management, home inspections, blueprint reading, and construction technology
Get practical experience under your belt by volunteering with Habitat for Humanity and taking part-time jobs or internships in construction to get an insider look at properties
Start working on your resume early and add information about new skills, achievements, and relevant work experience as you get it
Do your homework and learn about local zoning, building guidelines, traffic flows, and other practical matters that impact the market 
Talk with working Real Estate Asset Managers, including self-employed ones
Ask questions, take notes, and learn as much as you can about the wide range of property types out there and which make the best (or worst) investments!
Watch educational videos and take certification courses
Learn about state licensure requirements, if applicable
Become very familiar with building owner and building tenant rights
Join industry associations like the Urban Land Institute (ULI), the Commercial Real Estate Development Association (NAIOP), International Council of Shopping Centers (ICSC), and Young Real Estate Professionals (YREP).
Focus on learning asset-level skills, such as how to read rent rolls, interpret the real estate pro-forma, analyze deals and market data, and make recommendations based on financial information.
Typical Roadmap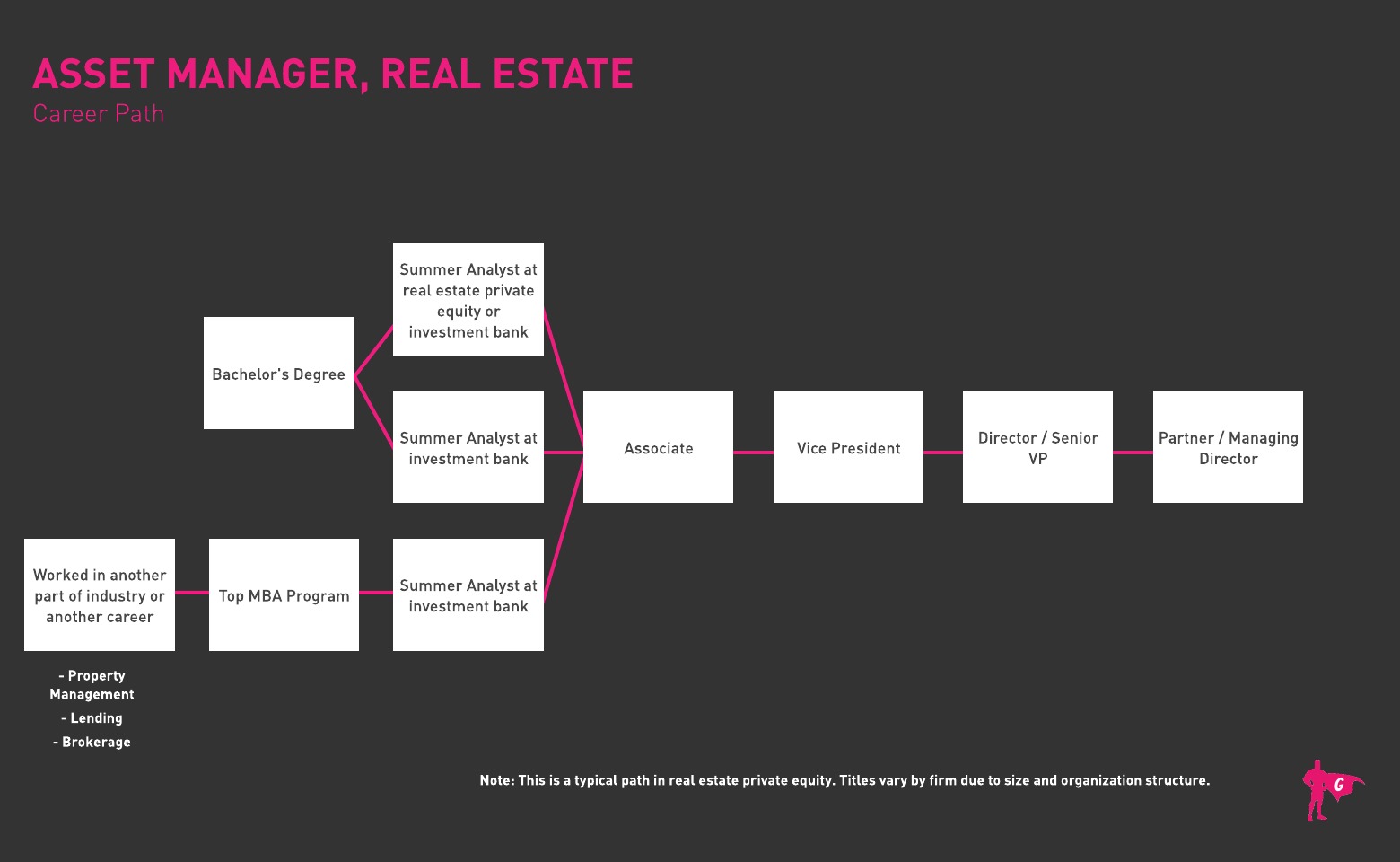 How to land your 1st job
Gain as much practical real estate experience as possible before applying
Ideally you should have your bachelor's and/or relevant certificates knocked out, in addition to related work history. Some example certs or courses include:

BOMI Asset Management Courses
Harvard's Real Estate Investment Certificate
Institute of Real Estate Management Courses
NYU School of Professional Studies' Real Estate Asset Management Certification
Udemy's Real Estate Asset Management 101
MIT's Commercial Real Estate Analysis and Investment Course

If you intend to also buy and sell properties as an agent, make sure to get licensed as soon as possible
Search for job openings through your network, and by signing up for alerts on employment portals like Indeed, Monster, and Glassdoor
Keep your LinkedIn profile up-to-date and publish a few posts about the industry, in case any recruiters are peeking
Find sample Real Estate Asset Manager resumes templates online
Review job postings carefully and customize your resume for each job you apply to
Dress right for your interview and make a great first impression 
Make sure you know your industry terminology and are ready for an interview!
Read sample interview questions so you can prepare responses ahead of time
How to Climb the Ladder
Master the skills needed to do the job before moving on to advanced training
Take advanced and specialized courses and get certifications to boost knowledge
In some cases, a master's degree can help you rise in the ranks
Making money for your clients is a sure-fire way to speed up your career
Be professional and diligent in all your dealings; ensure your behavior is above reproach and ethical at all times
Cultivate strong community relations with those you interact with, from owners to contractors and property managers
Treat workers with respect but hold them accountable to compliance and high work standards. Poor workmanship impacts sale prices later
Hustle and stay proactive. Do your research before making a decision, but do it efficiently and with a sense of timeliness, before others snatch up properties you might want
Participate in professional organizations, write articles, and make a name for yourself in the sector as someone who is competent and knows how to earn 
Recommended Resources
Websites
BOMI International
Community Association Managers International Certification Board 
Community Associations Institute
Institute of Real Estate Management
NAIOP – Commercial Real Estate Development Association
National Association of Realtors
National Association of Residential Property Managers
Books
Plan B
Real Estate Asset Managers bear a huge burden, and can face the ire of owners if their portfolio isn't profitable enough. If you want to try something with potentially less stress, check out similar occupations listed in BLS's online Occupational Outlook Handbook:
Administrative Services and Facilities Managers
Appraisers and Assessors of Real Estate
Construction Managers
Lodging Managers
Real Estate Brokers and Sales Agents
Newsfeed Featured Jobs Online Courses and Tools