Spotlights
Job Description
This is NOT the assistant to the director. Assistant Director (AD) is somewhat of a misnomer. The AD is usually hired by the producer, director, or unit production manager to make sure the director has all the elements in place to complete their vision while also ensuring that the principal photography (aka "shooting") is completed on budget and in a timely, efficient and safe manner.
Rewarding Aspects of Career
Good pay once you make it into the union (Directors Guild of America).
Getting to work on shows and films that people know and watch.
Never a dull day!
"There is not one day that is the same.  I have the opportunity to work with many different people and various projects.  I get to see the fruits of my labor rather quickly after shooting the TV show or feature film." Alicia Cho, 2nd 2nd AD
The Inside Scoop
Sample Day in the Life
(This excerpt is from a day in the life of a 2nd 2nd AD on an episodic TV production.)

*Episodic TV refers to television shows where nothing happening in one episode significantly impacts later episodes. It is unlike serial TV (like soap operas) where if you haven't watched the previous episode, it is harder to understand what is going on in the current episode.
 
"Monday mornings are usually an early start to the week.  I go into my "office," which often varies from day to day (studio lot or on a location).  I look over the call sheet when I come in, which is a one sheet summary of the scenes shooting today, background actors, principal actors, crew members and their respective call times.  I also read the "sides" (script pages for the day's work).  
 
I grab the background actor vouchers and check them in.  I make sure all the background actors are present and get them ready by taking them to wardrobe, hair and makeup.  I make sure it happens in a timely matter and that the director and other creative heads do a final check and approve the look of the background actors.  I have a staff of production assistants to facilitate this process.  Some days there may be 5 background actors and other days there may be 500 background actors.  ADs direct background actors on their movements according to the camera frame and also direct their role in the scene.  I work closely with all department heads to make sure they have everything needed for the scene.  I also inform the principal actors of any major changes or to communicate any the notes the director may have for them."
 
- Alicia Cho, 2nd 2nd Assistant Director
Skills Needed on the Job
Problem solving and flexibility: Every day something will come up that is unexpected. Must solve the problem quickly and calmly.
Time Management
Communication skills
Patience
Endurance to stand on feet for 12+ hours.
Ability to manage different types of people (creative, actors, producers, blue-collar)
Multi-tasking, ability to quickly adapt to different locations, people
Attention to detail (paperwork includes production reports which summarizes daily costs for  the production which are submitted directly to the studio)
Ability to lead and manage large groups of people: ADs lead the entire crew to make sure everything is running smoothly. ADs also have to direct the background actors; if there is a scene where there are 150 background actors, the AD must direct them on what they should be doing.
The Chain of Command and Job Responsibilities
(in descending order of the AD department hierarchy)

1st AD
Reports to the director, producer and production manager.
Before the shoot: 1) Breaks down the script and creates the schedule according to location availability,  budgetary constraints, cast availability and script coverage.  2) Hires the Assistant director staff  3) Scouts locations and goes over logistics with department heads and director.
During production: 1) Responsible for keeping filming on schedule by driving it forward 2) Controls discipline on the set, supervises the other Assistant Directors, and oversees the preparation of the daily 'call sheet' 3) Responsible for health and safety on set or location.
2nd AD
Creates the daily call sheets and production schedule.
Manages the backstage: Liaises with actors, putting cast through make-up and wardrobe.
Supervises the 2nd 2nd AD/ third assistant director, assistant director trainees.  
Directs background actors (extras).
2nd 2nd AD
On a large or complicated production, the 2nd 2nd AD works under the 2nd AD in performing their tasks.
Production Assistant (PA)
Lowest level in the film's hierarchy.
Duties vary from getting coffee for the director to shuttling crew around.
At this level, you will learn how a production works so even though there will be a lot of grunt work, you will be learning a lot.
Advice: Work hard, be resourceful (don't say "no" or "I don't know"), be respectful and know your place.
Pay: $100-250 per day (minimum wage + overtime).
*Daily call sheet: piece of paper issued to crew and cast informing them where they should report for shooting for that day, contact information of cast/crew, which scenes are being shot and the location of each scene.
Differences between TV/Film and Union/Non-Union
TV/Film
While working in television is more consistent and gives you the instant gratification of seeing a completed product several weeks after shooting as opposed to months or sometimes years later for a film, it can become redundant when you are working with the same actors and the same crew with the same general storylines all the time. Also the speed of television is much faster than film and there is much more pressure to move at a certain pace. In film, you can move from project to project and usually get to shoot in a lot more locations.
 
Union/Non-Union
 
Union ADs are a part of the DGA, Directors Guild of America and they must work on union productions. These ADs have established themselves - the union regulates practices, establishes a minimum payment and work schedule an AD can work. The union provides healthcare. Members pay dues yearly and must follow strict guidelines. You can find more information at www.dga.org.  
 
Non-union ADs are not part of any union. It is easier to get a job as a non-union AD but these productions are not protected by the union regulations which means they are NOT guaranteed certain benefits (minimum pay, work schedule, healthcare benefits). Non-union productions are usually productions that are digital, reality, or shows/films that are lesser known and not as widely distributed (i.e. For TV, broadcast or cable; for film, multiple theaters).
Expectations/Sacrifices Necessary
Long working hours (12+ hours a day) and sometimes harsh weather conditions (may have to shoot in the desert when it is cold).
Freelance work (must hustle to find work for yourself)
Hard to get a foot in the door.
Work with various types of people/egos. You are working with actors/artists and also blue collar type workers as well.
Current Industry Trends
Due to tax incentives, film and TV production are in many other locations other than NY and LA (Atlanta, New Orleans, Santa Fe, Boston). 
What kinds of things did people in this career enjoy doing when they were young...
Bossed people around. :) 
Extremely organized.
Loved films/TV and wanted to be part of the process of making them.
Organized events and parties for their friend's birthday party or family trips/reunion.
Director Guild of America Rate Card
$3056/week as a 2nd AD (union) 
Education Needed
Film school is not required, but attending a school and living in a city that has an active film environment is important. Obviously there is Los Angeles and New York City. Other ones that are not as known are Austin, TX and Atlanta, GA.  I've seen people who are high school graduates to graduate degrees in an assistant director position.  Also, many come from a military background. 
However, an associate's or bachelor's degree in film, cinema studies, or a similar field is recommended because you can network with other creatives and expand your network
Many film schools such as New York Film Academy offer short, intense training programs lasting a year or two, as well as offering a full degree programs
Additional ad hoc certifications can bolster your credentials, such as the New School's Documentary Media Studies Certificate
In addition to educational requirements, many 1st ADs (Assistant Directors) have years of experience working on film or television sets, dealing with cast and crew. Some get started in theatre productions or through studio internships
Consider applying for the Directors Guild of America's Assistant Director trainee program
Assistant Directors may also need training on various health and safety issues, as well as state, local, federal, international, and studio policies regarding filming and human resources
Things to do in High School and College
Stock up on courses in art, English, writing, design, and photography
Join audiovisual clubs to get hands-on experience
Start making your short films for YouTube or Vimeo. Look for friends and community members who want to join your projects!
Borrow or rent video cameras, sound gear, and lighting equipment as you save up to buy your own kit
Get familiar with video editing techniques and software, plus special effects software 
Advertise your freelance filmmaking services in the local area or online 
Launch an online portfolio to showcase your skills and work
Apply for film internships until you land one!
Study books, articles, and video tutorials (see our list of Resources > Websites)
Attend film festivals and film school open events
Interview a working Assistant Director or watch video interviews
Join professional organizations to learn about trends and grow your network 
Reputable Film Schools
American Film Institute
Boston University College of Communication 
Chapman University's Dodge College of Film and Media Arts
Columbia University School of the Arts
Florida State University College of Motion Picture Arts 
Full Sail University
LA Film School 
Loyola Marymount University School of Film and Television
Motion Picture Institute of Michigan 
New York Film Academy
NYU/Tisch School of the Arts 
San Diego State University School of Theater, Television and Film
Seattle Film Institute 
UCLA School of Theater, Film and Television
UCLA Extension - Entertainment Studies
USC School of Cinematic Arts 
University of New Orleans Film and Theatre
University of Texas at Austin Department of Radio-Television-Film 
Typical Roadmap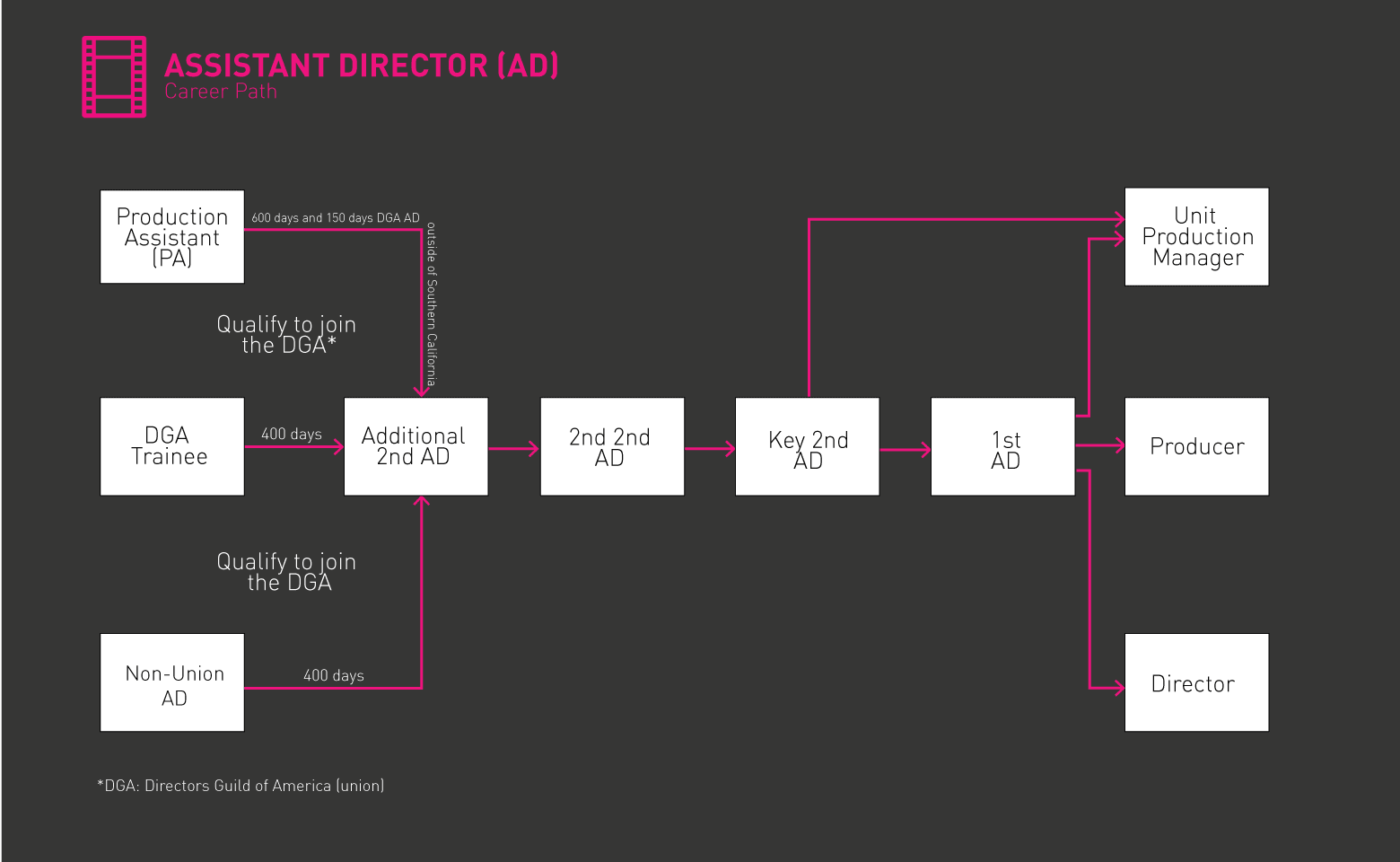 How to Land your 1st job
1st job will be a Production Assistant.

Check film commission sites for all states to find out what is shooting.  They will also have the production office number. Contact the office and ask if they are looking for interns.  Be persistent but not annoying.  
Use your alumni and personal network to find anybody that will be willing to give you internship.  Any experience showing that you are serious about working in entertainment will only strengthen your resume.  

It's actually not that difficult to break into film if you are willing to intern for a while, work hard to keep up with contacts, and not be afraid of rejection.
In order to qualify to join the DGA (the union), you must have the following:

600 days as a production assistant and 150 days as a DGA assistant director outside of Southern California (no less than 75 was work on commercials)
400 days as a non-union AD.
400 days as a DGA trainee (LA - ww.trainingplan.org, NY - www.dgatrainingprogram.org) In order to get into the DGA training program, must apply and be chosen (only 13 are chosen each year).
Pay initiation fee ($6112 in 2013 – 2nd Assistant Director Category)

If you have enough experience, apply for the Directors Guild of America's (DGA) Assistant Director trainee program. Note, that the acceptance rate is low, as there aren't many openings
Move to where the most movie and TV jobs are! Per BLS, the states with the highest employment for these jobs are California, New York, Texas, Florida, and Georgia
Ask your professors, supervisors, and peers if they'll serve as personal references 
Talk with your film school or college's career center for help with resumes, mock interviews, and job searches
What it really takes to make it
Persistence, patience, confidence, self-promotion and hard work ethic are keys to making it as an assistant director.
In order to stay competitive, the key is to always stay on your toes on every project. You are not always guaranteed to be working on that show the next season or even on the next day.
Treat everybody with respect because you never know where your next job recommendation will come from.  It may be from the last person you expect.  
Stay current with the productions that are going on and who are on staff. 
Words of Advice
"First and foremost you MUST have a passion for film and the process of making films. The politics, the egos, the extremely long hours are real and make it a tough business but if you are passionate about it, it is exciting. Being an AD is not a job, it's a lifestyle." – Alicia Cho, 2nd 2nd Assistant Director
Plan B
Key transferable skills: multi-tasking, problem solving in a high-pressure environment, managing large groups of people.
Alternate careers: creative executive for a studio/production company, production executive, event planning.
Newsfeed Featured Jobs Online Courses and Tools