Spotlights
Similar Titles
Baseball Coach, Basketball Coach, Coach, Cross Country Coach, Football Coach, Gymnastics Coach, Soccer Coach, Softball Coach, Track and Field Coach, Volleyball Coach
Job Description
From Little League to professional sports leagues and the Olympics, America—and the rest of the world—loves its sports and athletic competitions! Players and other types of athletes require a wide range of skills and training to perform well. At the high school level and beyond, this is especially crucial. 
Personal trainers are often brought in to help these athletes get in peak physical condition. But in terms of how they move and participate in their respective sports or events, it takes an Athletic Coach to help them reach their potential! 
Part-instructors, part-motivational speakers, and coaches are subject matter experts in whatever sport or competition they work in. Many are former athletes themselves which help them relate to their players. They know precisely what it takes to hone a given player's abilities, as well as how to forge a united team that can play to each others' strengths. 
Depending on their specific roles, Athletic Coaches may offer one-on-one advice, formulate team strategies, and oversee intensive training drills for players to practice. They also watch how the opposition plays in order to find weaknesses that can be exploited. Some pull double-duty, serving as talent scouts who attend games to look for exciting new prospects.
Rewarding Aspects of Career
Working behind the scenes in a sport you love

Helping youth athletes reach their fullest potential

Contributing to games and events that entertain fans
2021 Employment
244,299
2031 Projected Employment
293,100
The Inside Scoop
Job Responsibilities
Working Schedule
Full-time positions are common but many Athletic Coaches only work part-time and have other jobs. Work schedules may include non-traditional hours such as nights or weekends. During busy seasons, coaches can expect to work overtime. Frequent travel may be required. 
Typical Duties
Plan training and practices for players or other athletes that will boost their strength, speed, agility, endurance, and other qualities needed

Demonstrate proper exercise techniques and correct poor form 

Monitor players to look for strengths that can be built up and leveraged, as well as areas for improvement

Take notes and make videos of players' performance to assess progress

Forge strong teams that play to each other's strengths and complement each other

Watch other teams and customize strategies based on their strengths and weaknesses

Offer motivation and encouragement during training and prior to games or events

Call plays during games and provides continuous guidance as the game unfolds 

Substitute players as needed 

Help athletes understand the importance of proper rest, hydration, nutrition, and good behavior 

Watch for signs of excessive fatigue, injury, or other problems 

Model and enforce proper sportsmanship, teamwork, and compliance with rules

Keep tabs on student-athlete academics, health and wellness, finances, and personal problems they may be facing

Perform scouting and recruiting functions, as necessary. Attend high school games and events to look for potential recruits 

Meet with recruits, parents, spouses, and/or agents to discuss and negotiate opportunities such as scholarships, contracts, and financial incentives 

Discuss recruitment options and make recommendations to stakeholders
Additional Responsibilities
Make travel arrangements as needed 

Provide performance reviews and give praise and constructive criticism 

Ensure athletes wear appropriate sports gear and take care of equipment

Stay up to date on changes to rules, best practices, and new technologies

Attend training camps, clinics, and try-outs

Engage in public relations through the media or other outlets

Supervise and lead assistant coaches and other staff

Oversee budgets and fundraising. Ensure gear, equipment, and other items are ordered and stocked 
Skills Needed on the Job
Soft Skills
Analytical

Budget-conscious 

Calm under pressure

Compassion

Competence 

Compliance mindset

Consensus-building (i.e., group buy-in)

Curiosity

Detail-oriented

Enthusiasm 

Excellent communication skills 

Flexible 

Focus

Goal-oriented

Initiative

Methodical 

Motivated

Observant

Organized

Patient

Persuasive 

Positivity 

Reliable 

Resourceful

Respectful

Sound judgment and decision-making

Stamina

Time management 

Trustworthy
Technical Skills
Intimate knowledge of applicable sports and their rules

Knowledge of athlete contracts and scholarships

Ability to provide effective motivation and feedback 

Knowledge of high school and college academics

Knowledge of sports rules and sport management 

Good eye for spotting talent

Leadership and management skills

Negotiation skills
Different Types of Organizations
K-12 schools

Colleges and universities

Professional sports and athletics organizations 
Expectations and Sacrifices
Athletic Coaches wear many hats and must make difficult decisions that can deeply affect the lives and careers of young athletes. They often develop close bonds with the players and teams they help develop, sometimes over a period of years. Some days, athletes might get frustrated or upset with a coach who is just doing their job. 
It can be tough to keep everyone motivated and in good spirits when people are tired, sore, hot, cold, wet, or feeling dejected because of an illness, injury, or a game or event not going the way they'd hoped. No matter how the athletes feel, it's up to the coach to take good care of them and be the leader who keeps them going…and who makes the call to take them out of a training session, game, or competition, when necessary. 
Current Trends
Coach Vern Gambetta once said, "I'm a specialist in being a generalist." Today, that sentiment is as true as ever! Athletic Coaches must focus on their core tasks but as the world gets more complex, so do their roles. They may need to offer increasingly individualized attention to players, work towards building better relationships, and be more attuned to generational differences. 
And as everything seems to be recorded and shared online in the 21st Century, Coaches must be extremely mindful of the things they do and say, and how those could be taken out of context. Speaking of modern culture, Coaches have access to better digital tools to help them capture, analyze, and track athletes' performances in order to provide feedback for improvement. 
What kinds of things did people in this career enjoy doing when they were younger…
Athletic Coaches usually played or participated in the same sports they will later coach. However, some were simply avid fans with a passion for a particular sport or activity. In addition to developing their subject matter expertise, they typically cultivated their leadership qualities in their formative years, as well, perhaps because they were given family, school, or work responsibilities early on. Coaches tend to be highly motivated and optimistic people who strongly empathize and advocate for their players and teams. These are qualities they may have gained through various life experiences.  
Education and Training Needed
Athletic Coaches don't always need a college degree, but most do hold a bachelor's or master's

Per

O*Net

, 17% of coaches have an associate's degree, 49% have a bachelor's degree, and have a 19% a master's 

Common majors include:

Sport and coaching science

Sports medicine

Sport management

Sports and recreation management

Kinesiology

Note, many majors feature a specialization in coaching option

Coaches study a wide range of subjects, such as physiology, kinesiology, exercise, sports science, sports medicine, sport management, physical education, nutrition, marketing, and organizational leadership

Coaches often acquire their specific knowledge of a sport through prior involvement as an athlete 

Most positions require

CPR/First Aid

and other safety/coaching-related training

Those who work for public schools may need to obtain a state-specific certification. If they are also teachers, they must pass licensing requirements

College/university coaches must often get certified by the

National Collegiate Athletic Association

or

National Association of Intercollegiate Athletics

Specific sports like golf, volleyball, and tennis have their own certification programs (Check our list of Resources > Websites for more links)
Things to look for in an University
Look for programs where that offer opportunities to gain practical experience working with athletes

Check out what a program's alumni are up to. How many are working (or have worked) as coaches after graduating? 

Consider the cost of tuition, discounts, and local scholarship opportunities (in addition to federal aid)

Think about your schedule and flexibility, when deciding whether to enroll in an on-campus, online, or hybrid program. In-person programs may be more beneficial for some aspects of study, such as kinesiology or working with students in the field
Typical Roadmap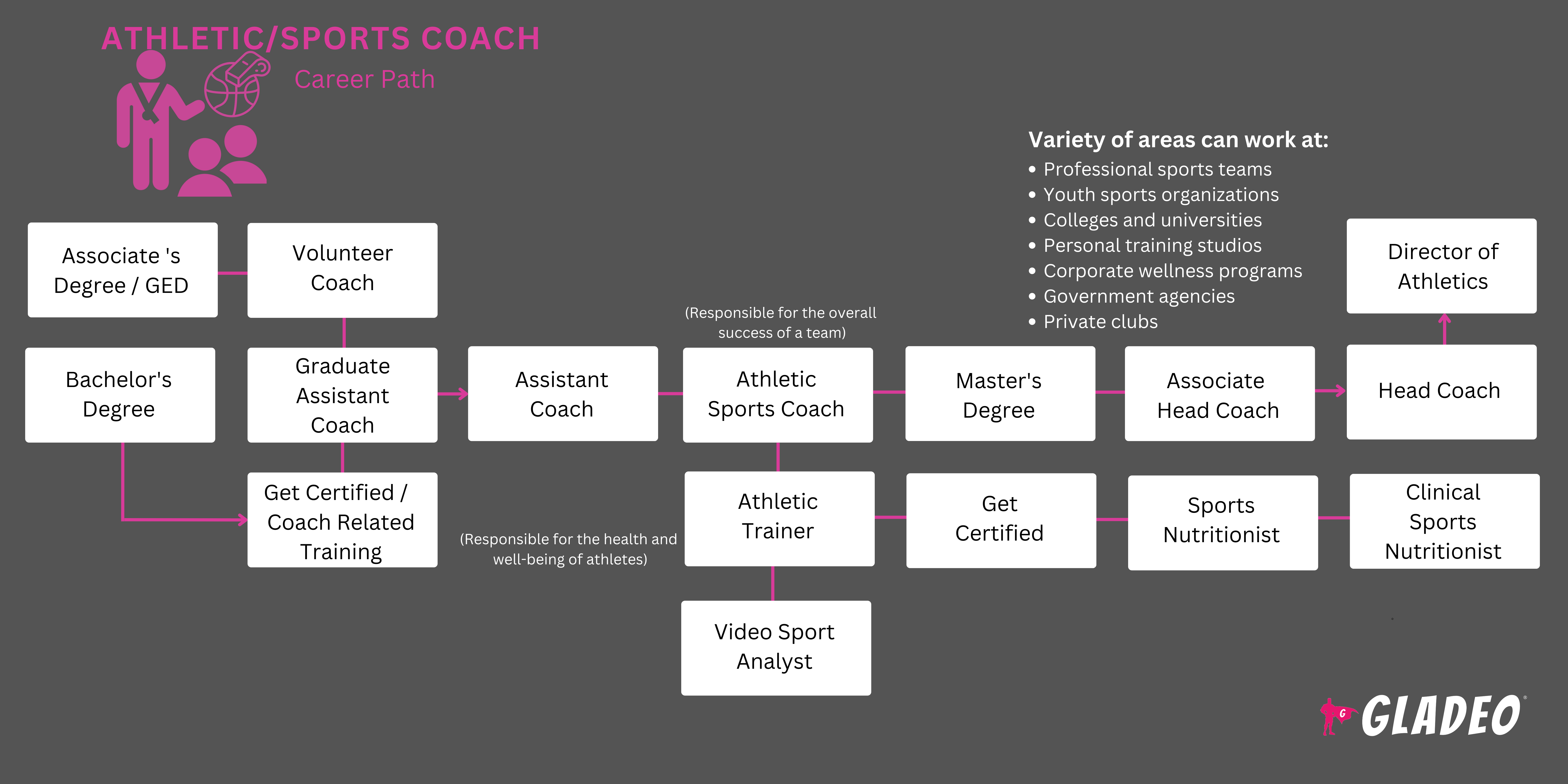 How to Land your 1st job
Coaches must gain some sort of related work experience before they can get hired for the most important positions. Start by volunteering as a coach for local teams then apply to graduate assistant or assistant coach positions  

Network your tail off! Many coaching jobs are not posted, but instead advertised through word of mouth or are done via internal hiring processes. 

Ask local Athletic Coaches to ask how they landed their jobs. Tell them you're willing to volunteer in exchange for a chance to learn

Be ready to pass a background check, if needed

Try to get an internship while in college, and build strong relationships with the people you work with

Review job portals such as

Indeed.com

. Also, check out the career pages on the websites of local school districts and colleges. Be ready to start small and work your way up! Note, volunteer roles may not be listed on job boards, so you might also check out any youth sports clubs in the area or try Craigslist

Consider relocating to an area where there are more opportunities. Per the Bureau of Labor Statistics, the states with the highest employment level of coaches are California, New York, Texas, Florida, and Ohio

Talk to your career center or program manager for help locating job openings. Many programs serve as pipelines to employers! 

On your resume, make sure that you highlight any experience you have with actually playing the sport you want to coach. Keep track of statistics, too!

Check out some

sample resume templates

Decide who would make the best personal references. Ask for permission to share their contact info

During interviews, make sure to demonstrate your in-depth knowledge of the sport. Review

sample interview questions

to practice your responses
How to Climb the Ladder
Athletic Coaches need experience to get hired…and a proven track record of success to get promoted!

It can take years of working as a high school coach or college assistant coach to qualify for a head coach role

Whatever your college level is, be ready to take it to the next level. If you have a bachelor's, consider signing up for a master's

Ask your employer if there are specialized certifications or skills that need you to obtain in order to benefit them and qualify for advancement

If moving from high school to a college level, get certified by the

National Collegiate Athletic Association

or

National Association of Intercollegiate Athletics

Take good care of the players under your care. Treat them with respect and help them hone their skills and develop their careers and fan base

When needed, make sure athletes are keeping up with their academics and staying out of trouble

Earn the trust of player spouses, parents, agents, and other stakeholders

Negotiate fair contracts that are a win for everyone

Help athletes recognize the value of what they get to do for a living, so that they don't take things for granted and will strive to meet group goals 

Build effective teams that can withstand the stress of constant training, travel, and tough competitions 

Set a high standard of integrity and sportsmanship

Stay up to date on trends, industry changes, and new technologies that can help improve performance

Participate in professional organizations and grow your reputation as a competent leader
Recommended Tools/Resources
Plan B
The road to becoming an Athletic Coach isn't always a straight path. For those who make it, sometimes the job requires wearing more hats than they expected! If you're interested in a related career field with different responsibilities, consider some of the below options: 
Athletes and Sports Competitor

Athletic Trainer

Dietitians and Nutritionist

Fitness Trainers and Instructor

K-12 Teacher

Occupational Therapist

Umpires, Referees, and Sports Officials
Newsfeed Featured Jobs Online Courses and Tools