Spotlights
Similar Titles
Biomedical Electronics Technician, Biomedical Engineer, Biomedical Engineering Technician, Biomedical Equipment Technician (BMET), Biomedical Technician, Engineer, Process Engineer, Research Engineer, Research Scientist
Job Description
Biomedical Engineers work in a broad field that currently has a relatively small number of workers. Collaborating with scientists and chemists, they help make cutting-edge medical IT, devices, and equipment used in modern hospitals and clinics around the world. They also work on life-saving artificial organs and replacements for other parts of the human body such as knee joints. 
 
There are different areas of specialization, including Bioinstrumentation, Biomaterials, Biomechanics, Clinical engineering, Rehabilitation engineering, and Systems physiology. As you can see, there is plenty of opportunity for diversity in this sector. However, they all share a common purpose of creating technology to assist people. 
 
As with any mechanical or electrical device, there will always be requirements for maintenance, diagnostics, repairs, and tech support. Biomedical Engineers help to ensure the items they create function properly and safely. There's a considerable amount of research and design involved, as well as tons of technical writing and presentation preparation. Once created, products must be marketed and sold to buyers, so there are teams who focus on this aspect of the field, too. 
Rewarding Aspects of Career
Having a direct impact on patients' life spans and overall quality of life
Continually contributing to the advancement of medical technologies
Gaining experience with the business side of the healthcare profession
Potentially inventing items for patenting
2018 Employment
19,800
2028 Projected Employment
20,500
The Inside Scoop
Job Responsibilities
Working Schedule
Biomedical Engineers work full time, with occasional overtime required in some cases. For instance, when there is a high demand or urgent need for the production of a certain product, schedules may require working extra hours to meet deadlines. Also, employees must ensure they're always current with changes affecting their field. This can require significant reading and research outside of "office hours." 
Typical Duties
Designing hardware and software for various medical uses
Conducting detailed research related to biology and chemical processes
Working with or managing teams and other engineers
Assessing the designs of biomedical components to be used inside patients
Conducting operational testing and analyzing findings
Complex technical writing and diligent records keeping
Performing sensitive calibrations using technical equipment
Training peers or subordinates on processes
Additional Responsibilities
Assisting buyers and providing training on the proper use of products
Developing alternative energy solutions
Inventory management 
Skills Needed on the Job
Soft Skills
Articulate speaking
Strong technical writing skills
Able to advise and instruct others through verbal and written guidance
Analytical problem solving
Methodical 
Objective 
Patience and persistence 
Focused on quality assurance 
Goal-orientation; ready to tackle challenges
Planning and organizational skills
Research and troubleshooting skills
Team-orientation
Empathy dealing with patients
Technical Skills
Creative, especially in design areas
Ability to read and comprehend complex technical texts
Deep understanding of biology and applicable engineering and technology 
Knowledge of software applications, in particular those related do:
Medical, analytical, and scientific 
Computer-aided design 
Development environment 
Object/component oriented development 
Strong math skills, including calculus and statistics
Ability to create compelling presentations and reports
Focus on practical, real-world solutions versus theory
Different Types of Organizations
Companies making medical equipment, medical supplies, or auxiliary items 
Healthcare industries
Pharmaceuticals
Higher education institutes
Research and development groups
Military/governmental agencies and contractors
Social welfare organizations
Expectations and Sacrifices
Biomedical Engineers bear the weight of enormous responsibility. Unlike physicians who may see specific patients on occasion, Biomedical Engineers create devices implanted permanently inside patients! The effectiveness and proper functioning of such devices can impact the quality of life of those individuals. Meanwhile, malfunctions or other unexpected problems can have serious, even life-threatening consequences. 
 
Workers in this field must go to great lengths to ensure their research is accurate, and that they've developed solutions that will work as designed. They have to anticipate issues and train buyers on use, maintenance, and what to do in case of trouble. An organization's entire reputation is on the line when a product or service is released into the world, so when things go wrong, engineers get scrutinized. Thus they need to be patient, have a tough skin, and be ready to answer questions at any time. 
Current Trends
Curiously, the Bureau of Labor Statistics only predicts a 4% job growth outlook for Biomedical Engineers over the coming decade. This is slightly below average. However, changes are certainly expected within the field itself, as technology continues to evolve at an increasing pace. As tech advances, opportunities open. For example, 3D printing is becoming an area of increased focus in the Biomed world. Meanwhile, smart technology continues to bind us to an ever-widening network of connected devices, so this is another area being explored. 
 
A further consideration impacting the future outlook for Biomedical Engineers is the increasing life expectancy rate for citizens. As populations live longer, the need for products will continue to expand. However, advanced aging can affect the ability to perform certain surgeries to implant certain items. This may potentially drive research into new paths to seek non-surgical alternatives to existing products. 
What kinds of things did people in this career enjoy doing when they were young...
Biomedical Engineers were likely always curious about both biology and technology, and how the two can function together. They may have been fond of science fiction books and films featuring futuristic characters such as cyborgs and androids. Indeed the science fiction genre has long been at the forefront of predicting ways that humans will intersect with man-made devices such as computers or robotic equipment. 
 
In their younger days, Biomedical Engineers may have also drawn inspiration from real-life pioneers in the field. They might even have had a family member who relied on a biomedical device for survival. In addition, there could also have been an interest in military and warfare topics. The military has long been a supporter of advanced technologies designed to enhance the performance of troops, as well as to empower survivors of serious wartime injuries. This is why many veterans consider civilian jobs in this critical field. 
Education and Training Needed
Biomedical Engineers generally have at least a bachelor's bioengineering or biomedical engineering
Per O*Net Online, 53% of Biomedical Engineers have a bachelor's, 30% have a master's, and 7% have a PhD
Common courses include chemistry, physics, biology, math (algebra, geometry, trigonometry, calculus), drafting, mechanical drawing, computer programming, bioengineering, biomedical engineering, fluid and solid mechanics, circuit design, and biomaterials
Note, biomedical engineering college programs should be accredited by ABET

In-person programs should include plenty of laboratory work. Lab experience can also be obtained via Biomedical Engineering internships

Biomedical Engineers can become licensed Professional Engineers if they want to gain a valuable credential to help land better jobs
Certain jobs may require additional certifications, such as ETA International's Biomedical Electronics Technician cert
Things to look for in a program
Programs should be accredited by ABET (the Accreditation Board for Engineering and Technology)
Review the program's ties to industry, as well its job placement rates for graduates
Check with the school's career counseling services for ways it helps students find jobs
Biomedical Engineering can involve hands-on work, making certain on-campus experiences beneficial. However, many students need a flexible online format. Consider your intended area of specialization when deciding on an on-campus or online program
Things to do in High School and College
Prepare for college by taking science classes, including biology, chemistry, and physics
Don't forget to build a strong math foundation in algebra, geometry, trigonometry, and calculus

Experience with drafting software, mechanical drawing, and programming will come in handy

Study current topics, but build a rock-solid understanding of core concepts
Seek out internships/co-ops that offer practical experiences
Join relevant groups dedicated to the field; several universities host engineering clubs and organizations
Devote time every day to polishing your technical reading and writing skills
Remember that there is a sales and marketing element to some areas in this field, as well as a strong customer service component
Practice your public speaking and presentation technique
Volunteer at clinics or locations where patients may rely on biomedical technologies
Stay ahead of the curve by reading industry materials and joining national and international professional organizations, such as: 

American Institute for Medical and Biological Engineering
American Society of Biomechanics
American Society for Engineering Education, Biomedical Engineering Division 
American Society of Mechanical Engineers, Bioengineering Division
Association for the Advancement of Medical Instrumentation
Biomedical Engineering Society

European Society for Biomaterials 

European Society of Biomechanics 
IEEE Engineering in Medicine and Biology Society 
Institute of Biological Engineering 
Institute of Physics and Engineering in Medicine 
International Federation for Medical and Biological Engineering
International Society of Biomechanics
International Society for Prosthetics and Orthotics 
International Union for Physical and Engineering Sciences in Medicine 
PLoS Medicine
Society for Biomaterials
Typical Roadmap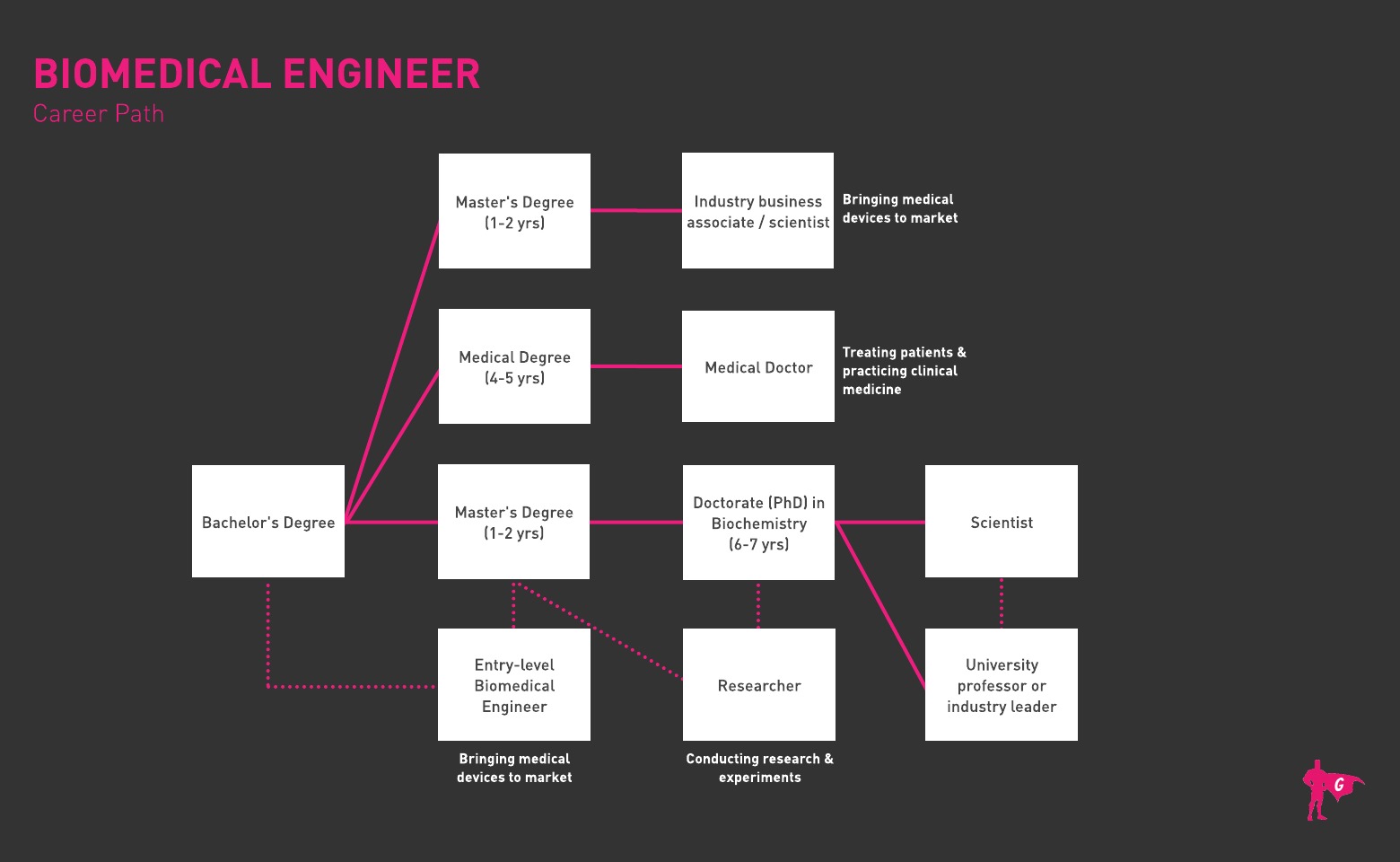 How to land your 1st job
Roughly 11% of Biomedical Engineers work in the areas of pharmaceuticals and medicine manufacturing; 7% work at colleges or universities
BLS projects increased job opportunities in certain areas such as biomedical research, biotech R&D, energy, food production, and environmental protection
To get a job as a Biomedical Engineer, you'll need to have your undergraduate studies completed
Though not required for most entry-level positions, a master's can certainly put you ahead of the competition
Try to complete an internship or work experience related to the field, in order to gain as much practical experience as possible
List all of your work and academic experiences on your resume, focusing on those relevant to the position you're applying for
When possible, incorporate as much hard data as you can squeeze in, such as numbers, statistics, etc.
Don't forget to mention any volunteer or extracurricular activities that demonstrate skills applicable to the career field, even if they aren't specific to the biomedical industry
Make your application perfect and error-free, and ensure you respond to all required items listed on the job posting
Consider investing in a professional resume writing service or at least an editor
If you have not done a job interview in a while, practice by doing mock interviews 
Tailor your resume/cover letter to the organization you're applying to. Demonstrate how your experiences and values align with their needs and goals
Ask instructors who can speak about your applicable qualifications to write letters of recommendation or to serve as references 
Scour job boards such as Indeed, Monster, Glassdoor, LinkedIn, and any industry-specific or college-sponsored portals
Ask your college what services they offer to help place you in a position
Update your LinkedIn profile. Recruiters and hiring managers may take a peek at it, as well as your other online profiles...including social media!
How to Climb the Ladder
To get ahead or have increased responsibilities such as leading teams, you'll likely need a graduate degree

Your graduate area of study should be based on the specific job you want, so plan for the long-term. Some worker obtain an MBA, while others go to medical school

Study the positions and duties of those you work for. Find a person who is doing what you'd like to do and ask them to mentor you
Don't be shy! Let your organization know you are focused on your current job, but interested in future career-broadening opportunities
Excel at tasks you're given; offer solutions when citing challenges and obstacles
Pay your dues and put in the overtime when required
Never cut corners but do look for ways to improve process efficiency and efficacy
Join professional organizations (see our list above)
Stay up on trends with an eye on pending breakthroughs and advanced technologies
Be a professional trainer, relied on to teach others how to perform difficult tasks 
Comply with internal and external policies; maintain the utmost integrity on-and-off duty
Recommended Resources
Websites
Accreditation Board for Engineering and Technology
American Association for the Advancement of Science
American Board for Certification in Orthotics, Prosthetics and Pedorthics
American Chemical Society
American Institute for Medical and Biological Engineering
American Institute of Chemical Engineers
American Society for Engineering Education
American Society for Healthcare Engineering
American Society for Microbiology
American Society of Agricultural and Biological Engineers
BioMed Central
Books
Plan B
U.S. News & World Report lists Biomedical Engineer as the #8th Best Engineering Job, based on salaries, job growth, employment rate, and other factors. But low projected job growth figures may push some to explore other routes. The Bureau of Labor Statics cites a few similar occupations you want to look into:
Agricultural Engineers
Architectural and Engineering Managers
Biochemists and Biophysicists
Chemical Engineers
Electrical and Electronics Engineers
Materials Engineers
Mechanical Engineers
Physicians and Surgeons
Sales Engineers
O-Net offers a few that BLS doesn't list:
Logistics Engineers 
Photonics Engineers   
Manufacturing Engineering
Newsfeed Featured Jobs Online Courses and Tools