Spotlights
Similar Titles
Brand Partnerships Manager, Brand Integration Director, Strategic Partnerships Director, Partnership Development Director, Business Development Director, Brand Alliances Director, Sponsorship Director, Brand Collaboration Director, Marketing Partnerships Director, Brand Engagement Director
Job Description
What's more fun than buying something from your favorite brand? Buying something from two of your favorite brands—at the same time! Brands team up for all sorts of collaborations these days. It's one of the fastest ways to expand a potential consumer base and enhance existing products or services. 
From Taco Bell's Doritos Locos Tacos to the dynamic duo of Nike and Apple, successful brand partnerships can ignite sales like nothing else. But it takes savvy business leaders and marketers to figure out which collabs will work…and which could epically backfire (we're looking at you Forever 21 and Atkins!). 
A seasoned Brand Partnerships Director knows how to develop strategic business agreements that will profit and enhance both brands, potentially for many years! They're in charge of the departments and processes that find and negotiate such lucrative deals, then market the finished goods. Depending on the size of the company, they may be very hands-on or might delegate most tasks to other team members. 
Rewarding Aspects of Career
Discovering exciting new brand relationships  

Introducing dual-branded products and services to the market

Spurring economic growth, thus helping to ensure employment opportunities
The Inside Scoop
Job Responsibilities
Working Schedule
Brand Partnerships Directors work full-time. Their duties involve overtime for travel and meetings with potential brand partners and marketing teams. 
Typical Duties
Thoroughly understand the company's current range of products and services

Oversee research and marketing departments responsible for brand collaborations

Build a pipeline of new partners, including

branded content

and deals with

YouTubers

and social media influencers 

Do market research into customer bases, including

niche markets

Cultivate limited or long-term strategic relationships with other brands

Nurture existing brand partner relationships and mitigate or resolve conflicts 

Propose creative upsells and terms to renew existing partnerships that are working

Attend design and marketing concept presentations and proposals for dual-branded products and services

Approve pitch desks meant for external audiences (i.e. brand partners)

Establish quarterly and annual revenue goals and help ensure they are met

Review sales figures and offer ideas for maximizing profits and growing revenue

Lead the implementation of feasible business solutions when problems arise

Provide status updates to company leadership on new products/services 

Use customer relationship management systems, as needed
Additional Responsibilities
Approve copy for press releases. Discuss updates with media via interviews 

Help to educate consumers on new product/service features and capabilities

Attend industry trade shows and read industry-related news

Stay up to date on the latest in branding and marketing
Skills Needed on the Job
Soft Skills
Attention to detail

Collaboration

Creativity

Energy

Enthusiasm

Entrepreneurial mindset

Goal setting

Initiative

Leadership

Networking

Organized

Persuasive 

Proactive

Problem-solving

Prospecting

Quality assurance

Relationship building

Resourcefulness 

Strong communication skills 

Teamwork

Time management
Technical Skills
Business, marketing, and sales acumen

Knowledge of direct sales and social media 

Deep familiarity with the specific industries involved

Familiarity with intellectual property rights and legal agreements 

Knowledge of social trends
Different Types of Organizations
Companies and corporations which sell products or services to the public
Expectations and Sacrifices
There's no magic crystal ball that marketers use to predict what will be popular or not. However, there is market research, which is increasingly sophisticated thanks to digital tools and the vast amount of big data available. Brand Partnership Directors must understand and use all available resources to determine which companies they should cozy up with. Fortunes can be made—or lost—from a single alliance. 
When energy drink maker Red Bull teamed up with mini action camera company GoPro, both sides won big (Red Bull reportedly raked in "hundreds of millions of US dollars in revenues" in the first six months of the partnership, while GoPro "generated US$32.26 million in profit by the end of that year." The two brands complimented each other perfectly, with both appealing to many of the same target consumers. 
However, some deals fall apart due to unforeseen circumstances, such as LEGO's decades-long collab with Shell which collapsed after Greenpeace protested the gas giant's Arctic drilling plans. Brand Partnership Directors have to think several steps ahead to anticipate a possible backlash from the public, especially in an increasingly politicized market environment where consumers demand social and environmental responsibility from the brands they buy from.
Current Trends
Consumers have always been finicky, but in today's era of digital connectedness, news travels faster than ever. A single miscalculation can make or break a company virtually overnight, which is why brands go to such great pains to understand their target buyers and try to cater to them. 
But when a brand partners up with another brand, it can't really control its partner's actions. Thus, both brands assume a tremendous reputational risk when they collaborate, because any poor public perception of one can tarnish the rep of both. 
As mentioned above, brands are keenly aware of how the public grades them based on social and environmental actions. A positive example from 2021 is Budweiser's decision to skip paying millions for a Super Bowl ad and reallocate the funds "to a purpose-driven effort" in support of COVID-19 vaccine awareness (through a partnership with the Red Cross and Ad Council).
What kinds of things did people in this career enjoy doing when they were younger…
Future Brand Partnership Directors may have loved graphic design and social media when they were younger—and probably always will! They might have also been in awe of great commercials and marketing campaigns that inspired them to get into the business. 
While most consumers probably don't think much about the "behind-the-scenes" of brands and branding efforts, the people who get into this field often paid attention to such details, reading news about lucrative deals between brands. 
They might have also been film, music, or sports fans intrigued by the amounts of money that celebrities haul in through brand endorsement collabs and investments (such as tennis star Serena Williams' ambassadorship deal with Tonal at-home gym equipment maker).
Education and Training Needed
Brand Partnership Directors usually have a bachelor's in a field such as marketing, advertising, business, public relations, or communications

Many hold MBAs with a specialization in marketing 

Since there is no single degree that applies to brand partnerships, graduates can augment their undergrad coursework with certificates

For example, if you majored in business but didn't take enough marketing classes, you could earn a certificate in marketing…or vice versa

You can also take self-study ad hoc courses such as Udemy's

The Complete Guide to B2B Partnerships Masterclass

. However, these will not have the same clout with employers as attending a college course

Real-world industry experience is key for reaching such high-level positions. Most directors start out in entry-level sales or marketing positions or as interns

In addition to marketing prowess, they should develop strong business management skills through their formal education and honed through real-world work experience

Courses in design, social media, social trends, intellectual property rights, and legal agreements can help round out the academics
Things to look for in an University
Look for schools that can boast of prominent alumni in the business world

Decide if you'll attend a traditional on-campus program, online, or hybrid (a mix of both)

Consider and

compare costs

of tuition, room and board, and scholarship opportunities

Look into

federal financial aid

for students to see what you qualify for
Things to do in High School and College
First, learn all you can about the industry you want to start in. Brand Partnership Directors must understand their own business before they can assess the right collaborations with other businesses 

In high school, future Brand Partnership Directors should take plenty of business, marketing, math, and design classes

In college, whatever your major is, make sure it is rounded out enough through electives to develop: management skills; creative design skills; business, marketing, and sales acumen; knowledge of social media and associated trends; familiarity with intellectual property rights and legal agreements; and familiarity with current social and environmental issues 

Volunteer for school activities where you can practice soft skills, including written and verbal communication skills, leadership, project management, and presentation 

Apply for part-time sales or marketing jobs to get some real-world experience

Ask working Brand Partnership team members if you can do an informational interview to learn about their day-to-day work

After finishing your bachelor's, earn a certificate that can bolster your college major (unless you plan on jumping into a master's)

Take some self-study ad hoc courses such as Udemy's

The Complete Guide to B2B Partnerships Masterclass

to learn the basics. These won't count for college credit, but can still help you learn more about the work

Keep a draft resume that you can add to as you gain experience
Typical Roadmap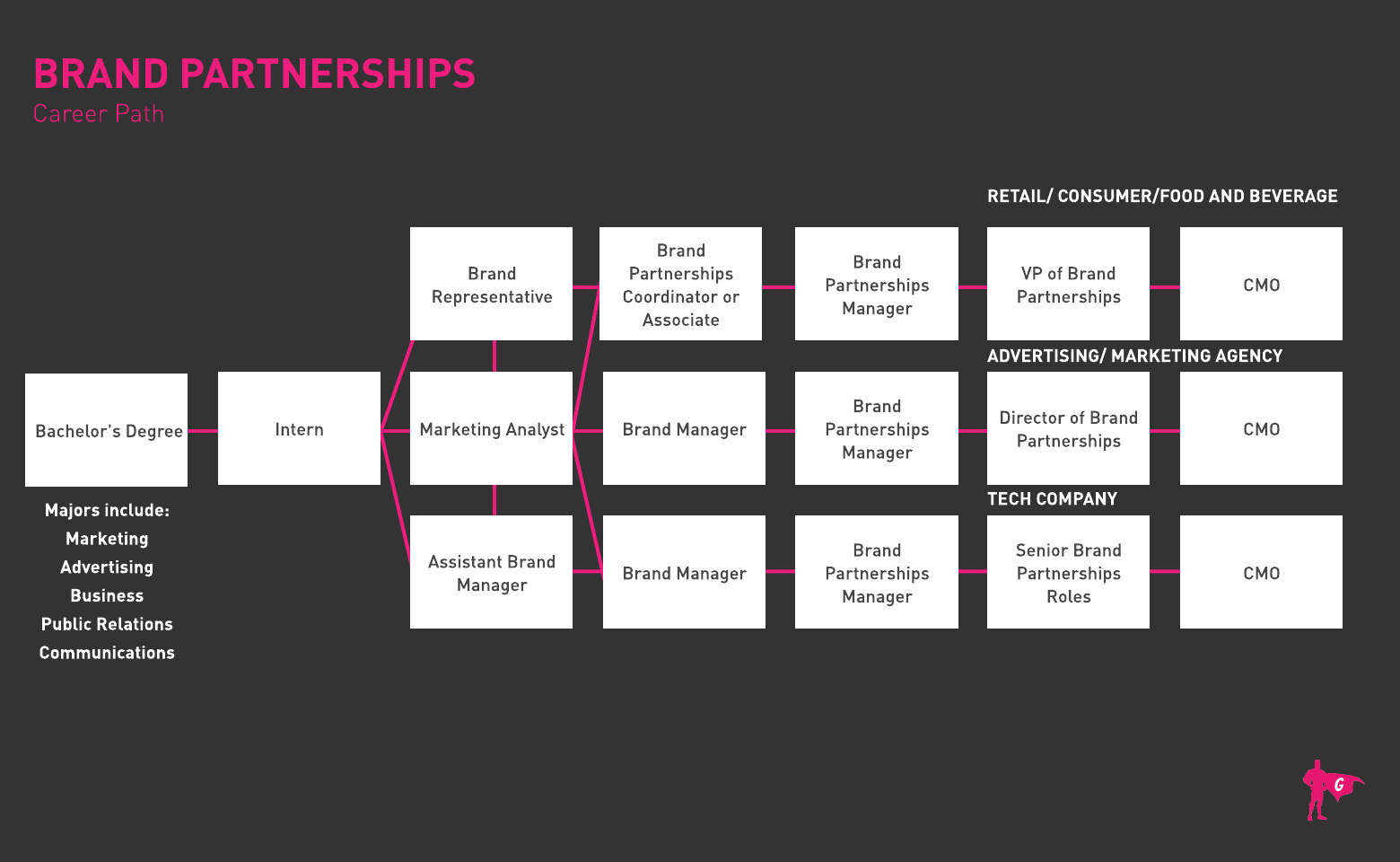 How to Land your 1st job
Brand Partnership Directors don't start at the top. They have to work their way up from other positions, often in the sales and marketing departments

Some may spend years with an employer before getting promoted to a director role

Consider starting out with a smaller company before shooting for a major one

Set up notification alerts on

Indeed.com

and other job portals to get alerted when marketing-related jobs and internships come up

Internships are a common way to get started. You'll gain practical work experience while getting exposure to the business    

Attend marketing conferences and events where industry representatives will be present

Keep in touch wit

h your old teachers and supervisors who can serve as references

Check out

Brand Partnership Director resume templates

and sample

Brand Partnership Director interview questions

 

Make sure your resume is error-free, engaging, and filled with stats and impact

Be familiar with the company you're interviewing with. Study their products or services, look at their history, values, and mission, read the bios of their leadership, and be ready to explain how you see yourself fitting in and contributing

Apply your marketing skills to yourself. Think about what you can do to convey the image of success during interviews

Let your enthusiasm for your particular industry shine and have a few partnership ideas in mind in case you get asked. You don't want to be put on the spot and have nothing!
How to Climb the Ladder
The best way to move up is to earn the company revenue! 

Do your current job to the best of your ability and always demonstrate accountability and responsibility in leadership positions 

Build your reputation as a forward-thinking, results-driven marketing professional who is motivated and dependable 

Ensure your work aligns with the company's values and progresses its vision and mission

Forge strong, creative, lucrative relationships with brand partners 

Stay engaged with social trends and technological developments 

Always keep learning by reading books and articles, talking with peers, and taking classes to keep current skills sharp and to develop new ones

If you don't already have one, consider doing an MBA or other master's, or complete some advanced certifications

Mentor new managers and supervisors. Help them understand the brand's short- and long-term business goals 

Stay engaged with industry-related organizations like the American Marketing Association by attending conferences and events, giving talks, writing articles, and building your

social capital
Recommended Tools/Resources
Professional Organizations
Books
Plan B
In a world where companies like Apple and Microsoft can exist with market caps of over $2 trillion each, it's easy to see why branding and marketing are so important. That's why there are dozens of unique career paths within the field, other than managing brand partnerships. Below are just a few of the fast-paced, exciting options for you to explore: 
Brand Marketing Manager

Business Manager

Consumer Researcher

Content Marketing Director

Corporate Communications Director

Demand Generation Manager

Director of Digital Marketing

Director of Email Marketing

Field Merchandiser

Licensing Representative

Marketing Coordinator

Marketing Research Director

Product Marketing

Social Media Marketing

Website Marketing Manager
Newsfeed Featured Jobs Online Courses and Tools