Spotlights
Similar Titles
Casting Manager, Talent Casting Director, Casting Coordinator, Casting Associate, Casting Agent, Casting Supervisor, Casting Consultant, Casting Executive, Talent Scout, Casting Producer
Job Description
A casting director is brought onto a project to take charge of finding, auditioning and casting actors for TV shows, movies, commercials, theatre productions and so forth. Their job, in essence, is to populate the worlds being created by script writers, directors and producers.
Rewarding Aspects of Career
"When you truly get to feel like you're making an actor's dream come true, that's amazing. When you see your name at the end of a movie in the credits, that's always exciting too" - Jen Rudin
The Inside Scoop
Day in the Life
"A day in the life of a successful casting director often involves getting ready for a casting session, sometimes a casting session will be scheduled with actors for me from 10 a.m. to 1 p.m. and then I'll schedule lunch from 1 p.m. to 2 p.m., then I will have a casting session from 2 p.m. to 6 p.m. That's really a marathon day of casting.
Some days are spent prepping and some days are spent casting, so if you're prepping for a casting session you're working from the office, scheduling the actors and getting everything organized. Or you're on the phone with the director choosing the audition scene, all of that is prep work.
Then when you finally have this beautiful audition date scheduled, you print out the schedule and go run the auditions. I tend to schedule two actors every 15 minutes, that way it's ongoing. There's always an actor waiting to come into the room, there's never any downtime.
It takes a village to run a casting session, so it's not just me. Sometimes I have audition readers that read with the actors in the audition room, sometimes I have people that are just designated to be in the waiting area helping the actors sign in. Sometimes I have the writer or the director in the room with me for the audition, in which case I have to create a team. Sometimes it's just me and my casting associate and maybe she's on the computer scheduling the appointments for the next day, I'm running the cameras and directing the actors and then there's an actress who's reading with the actors who are coming in to audition. So there's a lot of people in the room.
Oftentimes my casting associate is uploading to the website that we use, uploading the auditions so that she can send them to our colleagues. We're really multitasking as much as possible. I also always have to have my phone on because sometimes the client calls and there's a change. Sometimes the gender will change on the character we're casting and we'll have to cancel actors… It's really, really busy." - Jen Rudin
Skills Needed
Good communication and observational skills
Diplomatic, able to balance various visions and ideas
Love of people
Respectful
Highly organized
Good memory
Able to keep up on current media and entertainment trends
Being instinctual, tasteful and having a strong artistic perspective
Intuitive understanding of psychology
Able to network
Able to use basic technology (I.E. operate a camera, taking phone calls, scheduling and other secretarial work)
Passion for the work being done
Different Types of Organizations
In-house casting directors are typically under contract and can only do jobs for the studio they work for due to otherwise conflicts of interest, but can have other benefits that come with positions at the company they work for.
Independent casting directors are more open as far as who they can work for, but the job becomes more self-run and commission-based. Workload and pay can depend on the jobs they are able to acquire. Major companies that have their own staff casting directors can and do still hire freelance casting directors to help manage a large, even hectic workload if multiple projects are casting at once, but those independent hire-ons are still overseen by the in-house casting directors.
Expectations/Sacrifices Necessary
Entry-level positions in casting as assistants pay entry-level salaries on a weekly or daily basis, and there is not much money to be made until well into the career. The workload can also be intense depending on the amount of auditions coming in for the roles a company is hiring for, and most work goes until the job is done, facilitating long hours.
Current Industry Trends
More diversity casting, as can be seen through TV shows like ABC's "Black-ish," Fox's "Empire" and Netflix's "Orange is the New Black," as well as on Broadway through plays like "Hamilton."
What kind of things did people in this career enjoy doing when they were younger…
Watch lots of TV, movies, plays, etc.
Take part in school drama programs
Enjoy learning who were the actors behind characters.
Education and Training Needed
Casting Directors usually hold a bachelor's in a field such as Film and Television, acting, theater, fine arts, business, or communications
Many got their start through casting internships or informal apprenticeships, gaining real-world experience and meeting key players such as directors, producers, agents, and actors
Casting Directors should be familiar with a wide range of production types, from motion pictures and television shows to documentaries, music videos, commercials, and even print ads
They need to learn the process of finding actors using talent agencies or through advertising casting calls, including calls for background extras
Casting Directors also need to know how to carefully (but quickly) review audition materials to vet candidates they can call for a round of in-person readings. They must have a knack for spotting talent and selecting the right talent for the parts in question
It is important to understand applicable policies or laws that protect candidates' rights and safety and to ensure every qualified candidate is provided a safe, fair opportunity within a professional setting
Some technical knowledge is helpful, such as a basic understanding of video camera and sound equipment and general computer skills 
The Casting Society of America advertises educational opportunities such as a mentorship program, an immersion program in partnership with Syracuse University's Department of Drama, and a certification program through Casting Society Cares

Courses include:

History of Casting
Departments & Positions
Roles & Responsibilities
Documentation & Paperwork
The Casting Process
Types of Roles
Types of Auditions
Session Etiquette
Booking Guest Stars & Co-Stars
SAG-AFTRA - Scale Rates, Contracts, & Clearances
Notifying the Appropriate Teams
Types of Paperwork: Deal Memos, Contracts, Cast Lists, Budgets, & Other Paperwork
Things to do during high school/college
Stock up on courses in English, writing, speaking, business, communications, psychology, and law 
Study the art of negotiations so you can advocate for candidates with producers or directors 
Watch a variety of production types, including films, TV shows, commercials, etc., and pay attention to the differences in casting choices
Cultivate your patience and people skills so you can be the center of calm and objectivity during hectic casting sessions!
Get in the habit of making connections and growing your network!
Read about the key players you may interact with, such as directors, agents, producers, other casting professionals, legal teams, HR and payroll departments, and performers
Become familiar with unions and how their rules apply to performers and their agreements (for instance, SAG-AFTRA's Global Rule One)
Apply for casting internships or other entertainment sector internships to gain exposure to how things work  
Read nonfiction books and articles about the most powerful "celebrity makers" and talent managers
Get familiar with the largest talent agencies in the entertainment game, such as APA, CAA, Gersh, ICM Partners, Paradigm, UTA, and WME
Answer a casting call yourself! Pay attention to the wording in the ad. Try to land a few auditions to see how the process works from the other side  
Work as an extra and ask questions of other extras! Many have been in the industry for years and have valuable insights 
Interview a working Casting Director to learn how to break into the field
Work with independent filmmakers on smaller projects. Volunteer if they don't have a budget to cover your salary!
Join professional organizations to expand your network as you learn and build your reputation 
Decide which degree major best suits your goals. If needed, consider boosting your academics with a program from the Casting Society of America 
Typical Roadmap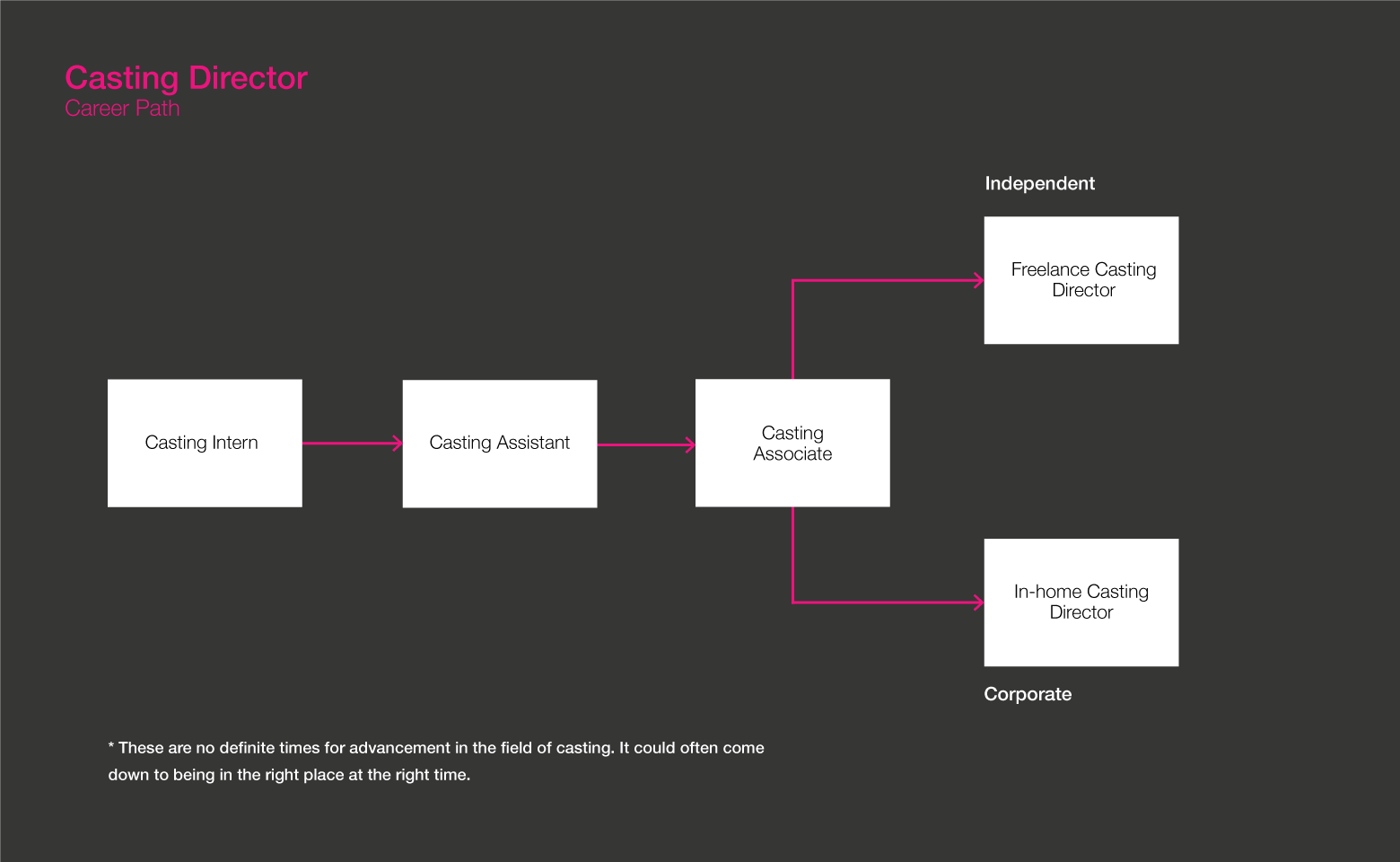 How to land your 1st job
Work as an assistant or intern in an office under an established casting director or talent agent.

Look up casting directors, likely in New York or Los Angeles, and send them a letter or email seeing if they are looking for extra assistance.
Getting job interviews are easier via connections or otherwise 'word of mouth' connections, particularly if you do not have much experience with casting jobs going in.

At the same time, many professionals in other branches of the entertainment industry like actors, directors or producers can pivot into being casting directors if they desire and vice versa.
Move to cities where there are more job opportunities related to filmmaking, such as Atlanta, Georgia; Los Angeles, California; Albuquerque, New Mexico; Austin, Texas; Chicago, Illinois; and New York, New York
Attend filmmaking events to gain exposure and meet new people
Ask teachers of relevant topics if they have insights, tips, or connections to help you find work
Keep in touch with professors, former bosses, and co-workers who might serve as personal references 
Practice your interviewing skills through mock interviews and by reading Casting Director interview questions and answers ahead of time
Review Casting Director resume templates to get ideas for formatting and phrasing. Learn the lingo and integrate it into your application materials. Be sure to include hard data, such as dollar figures and statistics 
Keep on networking and building contacts, including during the job interview process
Recommended Resources
Professional Associations
Books
Documentaries
Casting Listings and Websites
Plan B
Due to the general knowledge of and experience with the entertainment industry one accumulates while working as a casting director, one can generally become anything else in the business if they want to pivot out of casting. Casting directors can become actors, directors, writers and more, but many choose to become producers. The jobs have similar organizational skill requirements, and many casting directors may perform jobs similar to producers for and receive producer credit already on independent projects that otherwise do not pay particularly well.
Words of Advice
"Watch a lot of TV, start your rolodex of actors in your mind who you are inspired by, go to the movies, go to the theatre, go on IMDB and start looking up cast lists. It should really just be a passion for knowing who's playing what role in what project." - Jen Rudin
Newsfeed Featured Jobs Online Courses and Tools