Spotlights
Similar Titles
Commercial Makeup Artist, Hair and Makeup Designer, Makeup Artist, Prosthetic Makeup Designer, Special Effects Makeup Artist, Special Makeup Effects Artist, Beautician, Cosmetologist, Hair Dresser, Hair Stylist, Hairdresser, Hairstylist, Stylist
Job Description
Makeup Artists are critical behind-the-scenes workers who ensure musicians, media personalities, and stage and screen actors all look the way they need to before appearing in front of a camera or audience. This might include adding touches to enhance certain features or to produce some special effects such as wounds, scars, or the appearance of a younger or older age. 
 
Doing Hair and Makeup is a very subtle art that requires a certain flair and a refined taste for beauty styles. These masters of makeup possess both in-depth knowledge about cosmetics plus the skills to wield the necessary tools to apply them. They work closely with photographers, directors, and clients to get a look just right and must be poised on standby to alter or touch-up areas when needed. 
 
Anyone can technically become a Hair and Makeup Artist, but the best do seem to have a natural gift for it. An essential requirement is to have passion and commitment. Unlike many jobs where you might work at a static location every day, Hair and Makeup Artists must often travel from one site to another. Those working on film sets might have to abandon a normal daily schedule or work environment to work with celebrities on location and out of trailers! 
Rewarding Aspects of Career
Working in the entertainment industry and encountering celebrities 
Learning skills well beyond the scope of traditional hair and makeup careers
Travel opportunities for artists who work with musicians on tour, on film sets, or with on-scene new reporters 
"I love being able to meet new and interesting people and making them feel good. People fascinate me." Tammy Yi, Celebrity Hair and Makeup Artist
2019 Employment
4,700
2029 Projected Employment
5,300
The Inside Scoop
Job Description
Working Schedule
Hair and Makeup Artists often work flexible schedules with variable hours, including nights, weekends, and holidays. Work might involve frequent travel and stays away from home. Typical days vary from relaxed periods to hectic ones.
Typical Duties
Clean and tone skin and apply makeup professionally
Use makeup to enhance or minimize features
Work with costume and set designers
Review work details ahead of time to ensure all required items are stocked and on-hand
Consult photographers, directors, and clients regarding hair and makeup needs for particular events, shoots, or scenes
Aid with makeup removal
Order additional items such as beards, wigs, or special prosthetics
Be on standby during live shows or filming to adjust areas and provide touch-ups
Hair and Makeup Artists may specialize in the following categories:

Commercial, print, or editorial modeling, for fashion shoots, commercial advertisements, or runways 
Department store counters
Bridal events
Headshots for actor closeups
Film and TV
On-camera personality, including news anchors or show hosts
Theater makeup designers, who may or may not be required to stay on set during shows if the cast does its own makeup after seeing the designs
FX: Special effects makeup, which typically requires far more advanced and specialized training
Additional Responsibilities
Stay up-to-date on fashion trends
Maintain a makeup kit filled with applicable brushes, tools, and products
Know your work schedule and always be on time
Keep clients relaxed and comfortable sometimes for long periods 
Keep track of character appearances and changes during shooting
Set and work within budgets 
Review drawings or photos to assist with planning and application 
Show clients what products you will be using on them
Skills Needed on the Job
Soft Skills
Ability to work independently
Artistic
Cooperative
Customer service
Dependability
Endurance to stand on your feet for long periods
Normal color vision
Patience 
Persistent 
Resilience and composure under pressure
Resourcefulness
Steady hands and good hand-eye coordination
Strong communication skills, including active listening 
Superb attention to detail
Time management
Technical Skills
Knowledge of a wide range of hair and makeup products, tools, and application techniques
General understanding of product ingredients and skin types
Experience with lighting and photography
Basic familiarity with accounting and calendaring platforms, databases, photo imaging programs, spreadsheets, and office software 
Different Types of Organizations
Advertising agencies
Media production companies
Motion picture and video Industry
Performing art companies
Television broadcasting
Expectations and Sacrifices
Hair and Makeup Artists are key players for an extensive range of endeavors. Without their timely efforts, reporters, celebrities, entertainers, and models can't do their jobs. That's why Hair and Makeup Artists are expected to be fully prepared and always on time. Sacrifices revolve around demanding schedules, being away from home a lot, traveling to remote locations, and working long hours, including nights, weekends, and holidays. This type of work appeals to those who love a hectic lifestyle, but it can become a challenge over time. 
 
Sometimes it's tough working with new clients, especially celebrities and models who might have trouble suppressing their ego or controlling their frustration levels during a long session in the makeup chair. Another issue is that some clients have allergies to certain cosmetic products, so you must be mindful and ensure their safety and comfort by asking clients (or their agents or managers) about things to avoid. 
 
At the end of the day, it is the Hair and Makeup Artist who runs the risk of bearing blame if something goes wrong. Despite the pressure, it's always rewarding to see a client's smiling face when you've done your job correctly, and they show their appreciation! 
Current Trends
Anyone can enter the fast-paced world of Hair and Makeup, but it currently tends to be a female-dominated occupation. However, increasingly men are taking advantage of opportunities to join in on the fun. This career field appeals to artists and creatives of all types, especially those who love fashion and beauty. Just remember that starting up can get expensive as you build a makeup kit filled with quality products. 
 
With the rapid growth of the entertainment and fashion industries, the market is expanding fast. Indeed, there are more ways to enter this field than ever before! From fashion shoots to TV broadcasting to bridal events, there's no shortage of demand for professional, experienced Hair and Makeup Artists. As a result, workers will never get bored since they can relatively easily transition from one area to another with a bit of additional training. Competition is fierce, but for those with passion for their jobs, there is plenty of work to go around in this rewarding industry. 
What kind of things did people in this career enjoy doing when they were younger…
Most future Hair and Makeup Artists probably enjoyed spending hours doing their own hair and makeup or that of friends and family. They may have grown up watching tutorial videos or obsessing over fashion and glamor magazines and advertisements, paying close attention to the styles and looks of their favorite personalities. Many might have even kept track of the many different looks of celebrities, comparing how they look on film or TV to their public appearances. 
 
At heart, they are visual artists who prefer to use living human beings as their canvas, painting faces and molding hairstyles as temporary works of art to be captured on film or in photos, or perhaps only seen for a few hours during a play or concert. 
Education and Training Needed
Backstage notes that Hair and Makeup Artists don't always require a license or certification to work. Many are self-taught, learning through endless hours of practice
Requirements vary by state:

A few states require Makeup Artists to attend formal training and get licensed
Other states require an esthetician license after completion of an esthetician program
Still other states require completion of a full cosmetology program
Those who work on film or TV may need a cosmetology license, while those who do special effects makeup will most likely need to attend a course or seminar

A major aspect of becoming a professional Hair and Makeup Artist is to practice as much as possible. Many workers begin their practical hands-on experience at department store retail makeup counters, often as freelancers. When possible, offer to assist professionals as much as you can
Another key element of the informal portion of your training is to diligently study the work of artists you admire or want to emulate 
Many artists learn from watching YouTube tutorials from pros like Alissa Ashley, Karima McKimmie, and Taylor Wynn 
Formal training is not always required, but it can demonstrate an advanced degree of professionalism as well as training new artists on techniques they might not be able to learn on their own
Beauty and cosmetology schools are the best way to seek formal training. Though some are online, remember it'll take real-world practice to master this craft
Students should decide if they want to attend a long or short course. New York's Make Up For Ever Academy offers a six-month program covering beauty, fashion, TV and film, and stage and artistic topics, as well as intensive one-to seven-week courses
Things to look for in a program
Hair and Makeup Artists don't need a college degree, but formal education and training can give your career a boost and help you land better jobs
Check with your state's specific requirements to see if it requires any formal education or licensure for the work you want to perform
Ideally, your beauty or cosmetology school should have a strong reputation for customer satisfaction. You should also review their Better Business Bureau profile and Google Business feedbacks 
Look closely at costs! Standalone schools such as Paul Mitchel's Ultimate Makeup Academy can be relatively inexpensive or they can be over $10,000 such as the Art of Makeup School
Esthetician program costs can also range widely. Be sure to check the total costs, including all tuition, books, supplies, and other materials needed
Full cosmetology programs are the most expensive, but again, most states don't require attending these
Accreditation isn't necessary for these types of schools, but some go through the process anyway in order to qualify to receive government-funded financial aid from students. If you can get financial aid, do so! 
Think hard about the pros and cons of attending online versus in-person training. Learning online can be effective for certain things, but some topics are best learned live. It's important to be exposed to a variety of living, breathing customer types so you can learn how to deal with all those different personalities and moods! 
Things to do in High School and College
Hair and Makeup Artists must train as early as possible to become true masters of their craft. Use your free time to practice on yourself, friends, and family members
Along with being an expert on hair and makeup, you must hone your people skills and develop a knack for customer service
Craft your "work persona" and develop your listening and verbal communication skills, as well as your ability to persuade clients to try new things or to soothe those who are feeling agitated 
Take high school courses like public speaking, psychology, and, if available, behavior management 
Visit department stores and talk with artists at retail counters. Ask their advice and try to learn from their mistakes and successes
Continue to add to your makeup kit, and buy the best products you can afford (or get friends to offer you anything they aren't using)
Check out Camera Ready Cosmetics' How To Build A Pro Makeup Kit (For Under $1000) or Makeup by L'oreal's Building Your First Makeup Kit? Here's Every Product You Need
Host makeup parties and seek volunteers who will let you practice and experiment on them.
Start freelancing when you're good enough to charge for your work. Take lots of before, during, and after photos to add to your budding portfolio (but remember to ask permission first!)
Diversify as much as possible and learn about different skin tones and characteristics as well as allergies or other possible dermatological reactions to certain products 
Typical Roadmap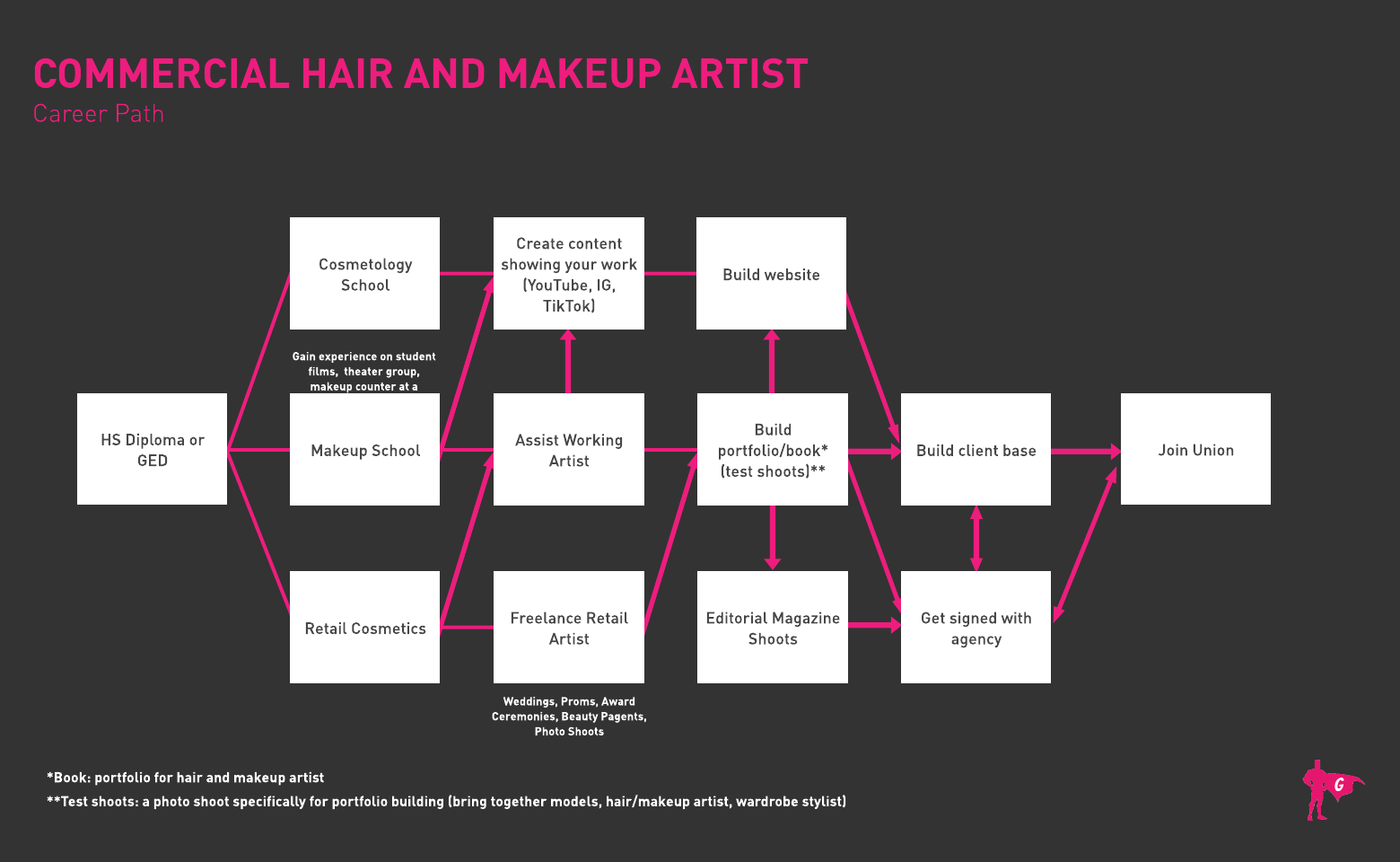 How to land your 1st job
Your first paid job will most likely be an assistant to an established makeup artist. However, even before your first paid job (besides working at makeup counters), you will have to create your portfolio and that will most likely require you to do "tests". Tests are photo shoots specifically for portfolio building where you bring together models, a hair/makeup artist, a wardrobe stylist and a photographer. Everybody can use the photos for their portfolio. So what that means is, you have to network! 
Formal training and licensure isn't always needed, but if your state requires it then get that knocked out ASAP
Even if you're not required to do formal training, it can still look great on an application and potentially put you ahead of the competition
On your application, list details about your professional work experiences, as well as formal education, volunteerism, and any positive reviews or feedbacks
Scan traditional employment portals like Indeed and Glassdoor, but also look on sites such as Craigslist for smaller local opportunities
Read job posts thoroughly and make sure you meet all the listed qualifications. Keep track of general requirements. If you can't find any openings that you qualify for, review those ads and try to fill the educational or work experience gaps by any means possible
Be persistent! Reach out to everyone you know who might have a lead on a job, including any teachers if you take courses. Ask people in the field about openings, post your work online, and ask your network to let you know if they have any tips
Be enthusiastic and confident during interviews, even if you feel a bit intimidated. You must convey to potential employers that you know how to handle yourself under pressure!
How to Climb the Ladder
A Makeup Artist's reputation means everything! Whether you have plenty of educational experience or not, you must treat clients well, earn positive feedback, and establish a solid professional reputation as early as you can
Live where the work is at! Popular entertainment hubs include Los Angeles, New York, and Chicago
Build a website (using your professional work name, if the domain is available), get your commercial portfolio seen as much as possible, and consider doing YouTube video tutorials
Ask a friend in the industry to review your portfolio and offer critical but helpful feedback
Never take photos of or with clients without their explicit content, and let them know what you intend to do with the images (i.e. if you're going to add them to your portfolio or post to your business social media pages)
Strengthen your credentials by taking advanced training courses
Show interest in what your clients say, and always have a positive attitude
Hustle and get your work featured in relevant magazines and websites
Learn to market yourself! Establish your professional reputation and make a name for yourself through personal branding! 
Mentor other Hair and Makeup Artists and get involved with professional organizations (see our list of website resources below), workshops, and other events
Build a strong rapport with everyone you work with and treat them all with respect
Recommended Resources
Websites
American Association of Cosmetology Schools
Backstage
Beauty Schools Directory
Camera Ready Cosmetics
International Alliance of Theatrical Stage Employees, Moving Picture Technicians, Artists and Allied Crafts of the United States, Its Territories and Canada (IATSE)
Luca Buzas
Makeup by L'oreal
National-Interstate Council of State Boards of Cosmetology
Professional Beauty Association
Teen Vogue
Vogue
Books
Plan B
There's no clear-cut path to becoming a Hair and Makeup Artist. It definitely takes hard work and a lot of patience, but for those with the talent and persistence, the world's your oyster! If you have a creative flair but want to consider alternative career paths, here are a few ideas:  
Fashion Consultant
Fashion Designer
Fashion Model
Floral Designer
Jeweler
Manicurist and Pedicurist
Pattern Maker
Shoe Designer
Skincare Specialist
Textile Designer
Newsfeed Featured Jobs Online Courses and Tools