Spotlights
Similar Titles
Network Engineer, Network Analyst, Systems Administrator, IT Systems Administrator, IT Specialist, Network Security Administrator, Network Operator, Network Technician, Network Administrator, Network Designer, Network Manager
Job Description
Network or computer systems administrators install, configure, and support an organization's local area network (LAN), wide area network (WAN), and Internet systems or a segment of a network system.
Rewarding Aspects of Career
If you enjoy technology, you get to work with it all day!
If you like problem-solving, you get to do that every day!
Job Security: With more and more companies using technology, there is more demand than supply for this career.
Pay: Salary increases can possibly be very quick; however there are a lot of factors that go into making that happen.
The Inside Scoop
General Overview
Size of the company can play a big part in determining your daily routine - larger companies have more defined roles, in smaller companies you do a little of everything.
Some companies require you to clock in and out, others are more liberal with their timekeeping, adopting a "just get the job done" attitude.
Unless the company is very small, generally you'll work in teams to try to keep your company running or help it grow.
Many companies run 24/7, so if you are in charge of the servers or network, you will likely be put on a rotating on-call schedule.
Skills Needed on the Job
Technical knowledge:

For desktop support, you should know Windows or Mac OS.  
For servers, knowing Microsoft server or Linux/Unix will be necessary, as well as server hardware.  
For network jobs, understanding networking and network hardware, as well as specific vendors like Cisco will be needed.

Creativity and the ability to think outside the box.
Problem-solving
Ability to multi-task
Ability to work under pressure and lots of deadlines.
Management level: clear communication and organizational skills
Job Responsibilities
Monitors network to ensure network availability to all system users and may perform necessary maintenance to support network availability.
May monitor and test Web site performance to ensure Web sites operate correctly and without interruption.
May assist in network modeling, analysis, planning, and coordination between network and data communications hardware and software. 
May supervise computer user support specialists and computer network support specialists.
Sample Resume
Company 1
IT Director 2 YEARS Upper Level  
Managed IT department, consisting of a team of consultants, application and desktop support technicians.
Restructured network to increase speed while saving the company $X per year.
Rebuilt aging server room with multiple cooling, power, and aesthetic issues into clean room with limited access and sufficient cooling and power.
Redesigned backup process from individual tape based backups to consolidated reliable D2D backups.
Built server monitoring system to check system health, availability, storage issues and performance.               
Company 2
Vice President, Information Technology 1 YEAR Upper Level   
Supported all aspects of IT, including applications, helpdesk support, web services, email, databases, vendor relationships, purchasing, architecture, and development.
Supervised support technicians, webmasters, engineers and external consultants.
Analyzed infrastructure and built maps of application data flows, physical hardware, and network connectivity.
Increased performance for databases, email, and file servers by analyzing performance removing bottlenecks.
Built redundancy and recovery into infrastructure by repairing failing raid arrays. 
Company 3
IT Manager (Promotion) 2 YEARS Mid/Upper Level  
Managed 17 admins and desktop techs supporting over X users and Y servers.
Reported status updates in weekly operations calls attended by executives.
Project Manager (Promotion) 2 YEARS Mid Level        
Managed new satellite office builds, including facilities, data, phone services and contracted resources; all sites were operational ahead of schedule by up to 14 days allowing sales offices to begin generating revenue earlier than expected.
Managed the creation and implementation of a new data center that houses all critical software and hardware.
Senior Systems Administrator/Exchange Administrator 4 YEARS – Mid Level     
Maintained network services including DNS, DHCP, WINS, FTP, File/Print, Exchange, and SNMP for monitoring.
Performed process analysis on infrastructure resulting in reduced power and space utilization by reallocating resources.
Company 4
Microsoft Administrator 2 YEARS – Entry Level, part time    
Designed and built Microsoft based infrastructure for a small office using NT Workstation and Server.
Built a proxy server to speed up internet caching as well as to serve as a router for internet sharing.
Served as the primary contact for desktop software and hardware troubleshooting and training.
Expectations/Sacrifices Necessary
The first years will be spent doing a lot of support work, which means possibly dealing with irate individuals.
Once you start moving up, you can potentially be expected to be on call, which can cut into your social time.
Many companies have a "keep going till the job is done" attitude, which means that if what you're working on is critical to the company, you can potentially pull an all nighter for work.  Those are generally very rare though, and only for extreme cases.
Current Industry Trends
More and more companies are realizing the benefit of IT.  Even companies that traditionally were not very technologically savvy are realizing they need to be to remain competitive.  There is really nothing that points to technology tapering off or going away.
Growth is expected in healthcare industries as their use of information technology increases. More administrators will be required to manage the growing systems and networks found at hospitals and other healthcare institutions.
2016 Employment
391,300
2026 Projected Employment
415,300
Education Needed
Computer Systems Administrators ("sysadmins") can get started with just an associate degree or certification; however, some employers may want candidates who have a bachelor's in computer or information science, computer engineering, or something similar
Larger companies may require a master's degree
Per Zippia, 29% of sysadmins have an associate, 52% a bachelor's, and 9% a master's

Certificates may be either vendor-specific or vendor-neutral. Common ones include:
Cisco Certified Network Associate
CompTIA Server+
Microsoft Certified: Azure Administrator Associate
Red Hat Certified System Administrator
ServiceNow Certified System Administrator
VMware Certified Professional - Data Center Virtualization

College topics include computer science, computer information systems, information technology, business, programming, networking, systems design, and network technology
Popular sysadmin programming languages to learn include Perl, Bash, Tcl, Go, and Python
Things to do in high school
Take plenty of IT and computer-related classes
Decide whether or not you wish to pursue a bachelor's or master's degree for the job you want
Knock out the applicable certifications you'll need to qualify for roles you're interested in
Join clubs to make friends, share knowledge, and practice your skills
Watch YouTube videos and read books, magazines, and blogs about sysadmin-related info
Look for volunteer opportunities and intern jobs to get some hands-on experience
Mentor others so you can get practice explaining concepts and learn new things yourself
Sign up for online short courses in relevant sysadmin or programming languages such as Python
Create your own knowledge base to retain the information, tips, and tricks you learn each day
Keep track of your accomplishments for your draft resume
Education Stats
7.9% with HS Diploma
15% with Associate's
40.1% with Bachelor's
10% with Master's
1% with Doctoral
*% of employees aged 25 to 44 in the occupation whose highest level of educational attainment is
Typical Roadmap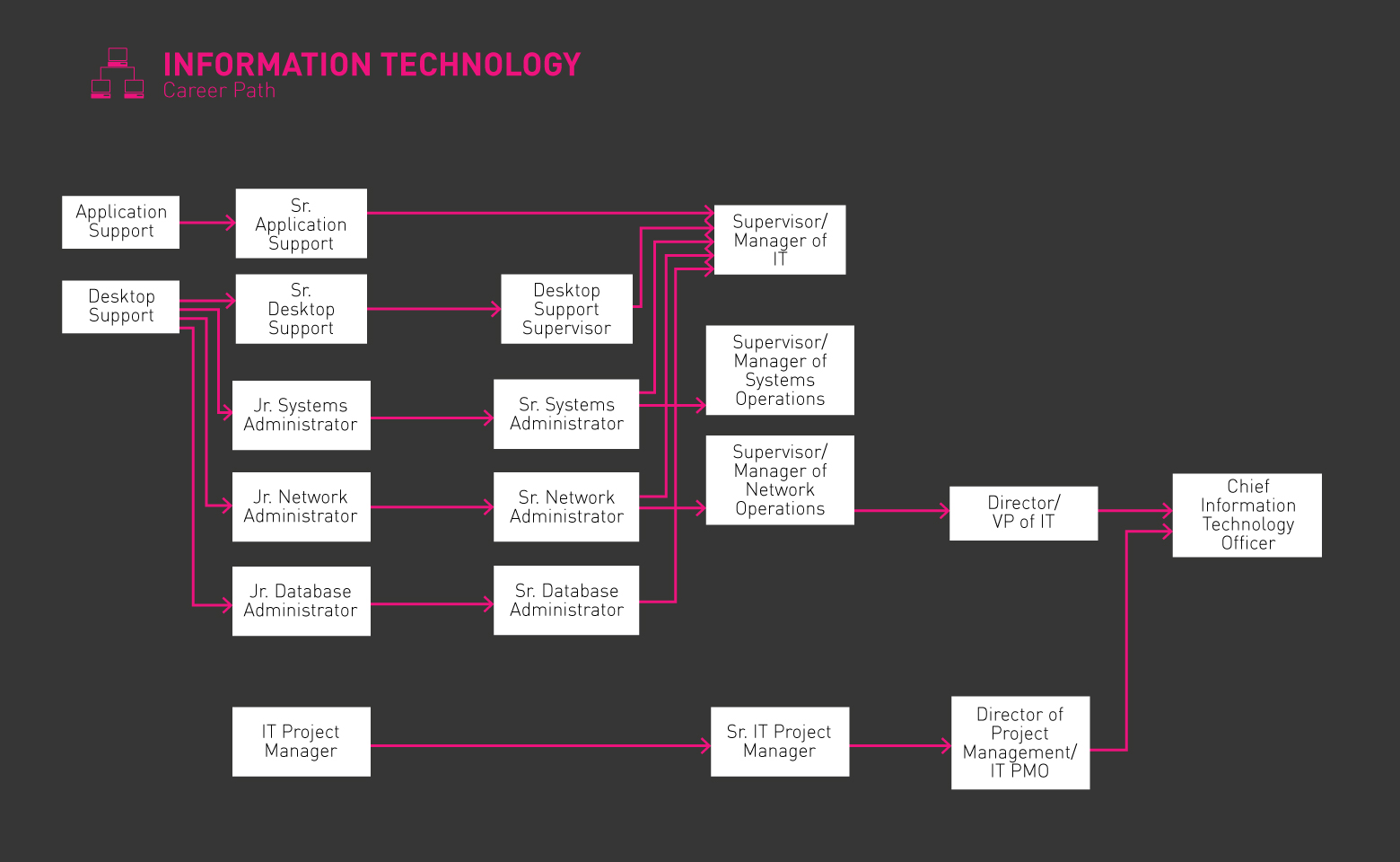 How to land your 1st job
Per BLS, employment in this field is expected to grow 5% in the coming decade, a bit lower than average. Therefore, expect more competition in the job market!
Automation, cloud computing, and other tech tools are altering the outlook of sysadmin roles, so it is important to keep your skills sharp and aligned with these trends
Pay attention to who employs sysadmins! 19% of employees work in the computer systems design industry; 10% work in the education sector; 10% are in finance and insurance; 10% are in various information services roles; and just 7% work for companies
Notice which states do the most hiring! Texas, California, New York, Florida, and Virginia employ the most systadmins. Colorado and South Dakota have the highest concentration of jobs
Sign up for alerts on job portals such as Indeed, Glassdoor, and Zippia
If you don't have a ton of practical work experience, look for junior positions first
If you see a job post you like, highlight any keywords and phrases to use on your resume
Be sure to include hard data, statistics, or dollar amounts, if applicable
Check out Computer Systems Administrator resume templates
Ask former teachers, supervisors, and co-workers in advance if they'll be references for you
If your school has a career center, ask them to review your resume and conduct mock interviews
Attend job fairs, advertise yourself on LinkedIn, and let your network know you're looking for a job
Prep for interviews by reviewing common Computer Systems Administrator interview questions and answers
How to stay competitive and stay in the game
Read articles/magazines/books: technology is a rapidly changing field, possibly more so than any other occupation.  
Try out new hardware when available.
Accept or volunteer for new projects that are outside of what you know to expand your knowledge.  This will not only help your skills, but show management that you are willing to go outside of your comfort zone.
Qualities of those who enjoy it
Enjoys problem solving: You will face anywhere from mundane to unique problems every day, and figuring them out is key to success and enjoyment.  
Interest in technology: If you don't like technology, you will quickly become bored and get stuck in your current position.
What to look for in a mentor
Someone who has had success in your field of interest.
Someone who does not complain about their job very often.
Someone who may have had a similar background to yourself, so that you can relate to how they succeeded.
Someone who you can trust and you look up to in both a professional and individual sense.
Recommended Tools/Resources
Websites
Association for Computing Machinery
Building Industry Consulting Service International
Center of Excellence for Information and Computing Technology
CompTIA
Healthcare Information and Management Systems Society
IEEE Computer Society
National Center for Women and Information Technology
USENIX, the Advanced Computing Systems Association
Books
Words of Advice
"Don't be discouraged if you don't get interviews or offers right away.  You may, but sometimes there are automatic filters or non-technical recruiters who filter the wrong resumes.  Additionally, they may be looking for a specific type of person, quiet/talkative, funny/boring, personable/professional, that has nothing to do with skills.  If you are passed up because of this, it may be a good thing, because you want to be able to fit in without changing too much.  Keep in mind there are new jobs opening up all the time.  You want to present yourself as excited to join the company, not desperate to find any job." Scott Ishida, VP of Information Technology
Newsfeed Featured Jobs Online Courses and Tools