Spotlights
Similar Titles
Venue Manager, Concert Venue Director, Performing Arts Center Manager, Theater Manager, Events Manager, Venue Operations Manager, Venue Operations Director, Facility Manager, Concert Hall Coordinator, Concert Hall Operations Manager
Job Description
Concert halls can be small and intimate or may have thousands of seats like the LDS Conference Centre in Salt Lake City! These tasteful venues usually host a wide array of concert events, but because of their acoustics, they're ideally suited for live classical music performances featuring a full orchestra. 
Concert Hall Managers have the arduous task of ensuring facilities are 100% ready for musicians to play in and guests to listen and enjoy in comfort and safety. There are countless behind-the-scenes tasks to take care of ahead of time and after an event—but a good manager will do them so seamlessly the audience will never know how much work was involved! 
Rewarding Aspects of Career
Preparing and maintaining entertainment venues for the public to enjoy

Getting to work around acclaimed musicians and artists

Helping to promote the arts industry and keep workers employed
The Inside Scoop
Job Responsibilities
Working Schedule
Concert Hall Managers have hectic schedules that often involve working late nights, weekends, and holidays. Larger theaters usually offer full-time jobs, whereas smaller venues may only need a part-time manager, depending on how frequently events are hosted. 
Typical Duties
Assist with finding and contacting artists, managers, or talent agencies and arranging contracts

Oversee and coordinate concert programs and bookings

Collaborate with orchestra personnel managers and musicians, as needed, to ensure they have everything they'll need

Act as liaison between musicians and stage crew

Coordinate with stakeholders to ensure proper equipment is budgeted for and procured, including extra instruments, chairs, stands, stage lighting, etc.

Oversee deliveries of equipment and production assets 

Call in instrument tuners, as needed

Be available during all rehearsals, setups, and teardowns

Work with the directors or conductors to arrange orchestra member setting

Arrange parking passes for all musicians

Help to schedule auditions and reserve audition spaces

Ensure orchestra and other concert events are executed efficiently and without problems

Train and manage stagehands, including payroll. Schedule stagehand and audio crew dry runs

Train and supervise staff and volunteers such as ticket-takers, greeters, and ushers

Plan ahead for emergencies, including injuries, medical emergencies, fires, or other circumstances that may arise

Oversee proper storage and care of instruments and equipment

Maintain keys for all doors and be familiar with electrical, HVAC, and plumbing operations  

Check the concert hall to make sure it is clean and secure prior to lockup

Serve as a general facilities manager overseeing maintenance workers, janitors, and cleaners 

Work with applicable tradespeople to renovate and restore venues, when needed
Additional Responsibilities
Assess any special production needs

Gather performer bios and promotional photos

Manage a calendar of upcoming events for the public to view

Help to advertise events and secure sales

Ensure comp (free) tickets are made available to musicians for their guests when needed

Serve on committees to review performance ideas

Meet with interested external clients who want to rent the venue

Develop venue usage policies and ensures compliance with safety regulations 

Ensure exits are clearly marked and unobstructed 

Help coordinate security personnel actions, as needed
Skills Needed on the Job
Soft Skills
Ability to multitask

Budget-conscious 

Detail-oriented

Empathy

Excellent supervisory skills 

Extremely organized

Flexible 

Goal-oriented

Initiative

Methodical 

Observant

Patient

Punctual 

Safety-focused

Sound judgment and decision-making

Strong communication skills 

Time management 
Technical Skills
Ability to lift ~50 lbs

Knowledge of

classic music

, player roles, and instruments

Knowledge of live production events

Familiarity with advertising and marketing within the entertainment industry 

Basic computer and IT skills, including knowledge of audiovisual equipment

General understanding of facilities management and emergency/safety protocols, including local, state, and federal regulations 

First aid and CPR

Understanding of utilities and entertainer contracts
Different Types of Organizations
Public and private concert halls and related venues, including ones maintained on college campuses
Expectations and Sacrifices
Concert Hall Managers have a huge list of duties to perform, and most of them are barely known by the musicians and guests. Thus, their hard work may sometimes go unnoticed. While they may not receive much public appreciation for their efforts, their job is nonetheless vital to ensuring that concerts and other events go off without a hitch! 
With a million little things that could go wrong, they must be master planners who can foresee and mitigate any potential issues. These can range from logistical problems (such as not having enough chairs for orchestra members) to personnel problems (like not having a backup in case a lighting crew member gets sick). 
Because of rehearsals, hall preparation, and teardown and cleanup activities, the hours for this job can be long and erratic, with plenty of late nights and weekend work!
Current Trends
One of the biggest things to impact the live event industry in recent years has been Covid-19. Social distancing, mask requirements, and in some cases, proof of vaccination have altered how venues book seating. While those protocols have relaxed to some extent, Covid variants continue to plague society and several venues continue to take precautions to help prevent the spread of germs. 
Another trend has been the ongoing frustration with resellers buying up seats and offering tickets at significantly marked-up prices. Artists and concertgoers alike are rallying to demand more regulation to stop this unsavory but extremely widespread practice. While Concert Hall Managers can't do much about it, they can join the chorus to rail against resellers.
What kinds of things did people in this career enjoy doing when they were younger…
Concert Hall Managers don't necessarily have musical backgrounds, but they do often have experience working behind the scenes with stage productions. They might have enjoyed helping out as lighting assistants or stagehands for school plays and concerts at local auditoriums. 
Many possess more of a background in facilities management. They might have worked as secretaries or office admins whose auxiliary duties included responsibilities around their building. They may have been selected because of their attention to detail and high level of responsibility—characteristics likely picked up in their youth!  
Education and Training Needed
Concert Hall Managers need at least a high school diploma or GED

A college degree isn't necessary though courses in facilities management, project management, and event management can be helpful 

Some managers earn degrees in Music Business or Event Management 

Most managers start out in other roles around the venue or get their foot in after working in other managerial/administrative positions involving large crowds

Employers look for candidates who have a well-rounded resume that includes experience in both front-facing and behind-the-scenes logistical roles

Applicants should have either academic or work-related knowledge of classic music, player roles, and instruments, as well as live production events

Concert Hall Managers also need familiarity (through either college classes or work) with:

Advertising and marketing 

Audiovisual equipment

Contracts

Customer service

Emergency preparedness/safety protocols

Event management 

Facilities management

Human resources and payroll

Project management 

First aid and CPR

The

International Association of Venue Managers

offers two optional certifications:

Certified Venue Executive

Certified Venue Professional
Things to look for in an University
Concert Hall Managers don't need a college degree, but students can major in Music Business or Event Management, or take ad hoc classes to round out their experiences

Consider the cost of tuition, discounts, and local scholarship opportunities (in addition to federal aid)

Think about your schedule and flexibility, when deciding whether to enroll in an on-campus, online, or hybrid program
Things to do in High School and College
Take classes to learn about music, instruments, and performances

Sign up for extracurricular activities where you can practice soft skills and get some project management experience

Work with student organizations in different positions, including treasurer, procurement, and leadership roles

Volunteer for school or local theater production gigs. All experience is helpful, whether it's upfront helping the crowds or behind the scenes doing stage work 

Also look for small venues hiring for part-time jobs. Again, any experience helps build your resume!

Try to make connections with stage crew during productions and events. Learn from everyone you can

Ask a local Concert Hall Manager for advice and see if you can shadow them for a day or night

Learn about first aid and emergency preparedness for large buildings, such as safe evacuation procedures 

Watch videos to hear personal stories about concert venue management
Typical Roadmap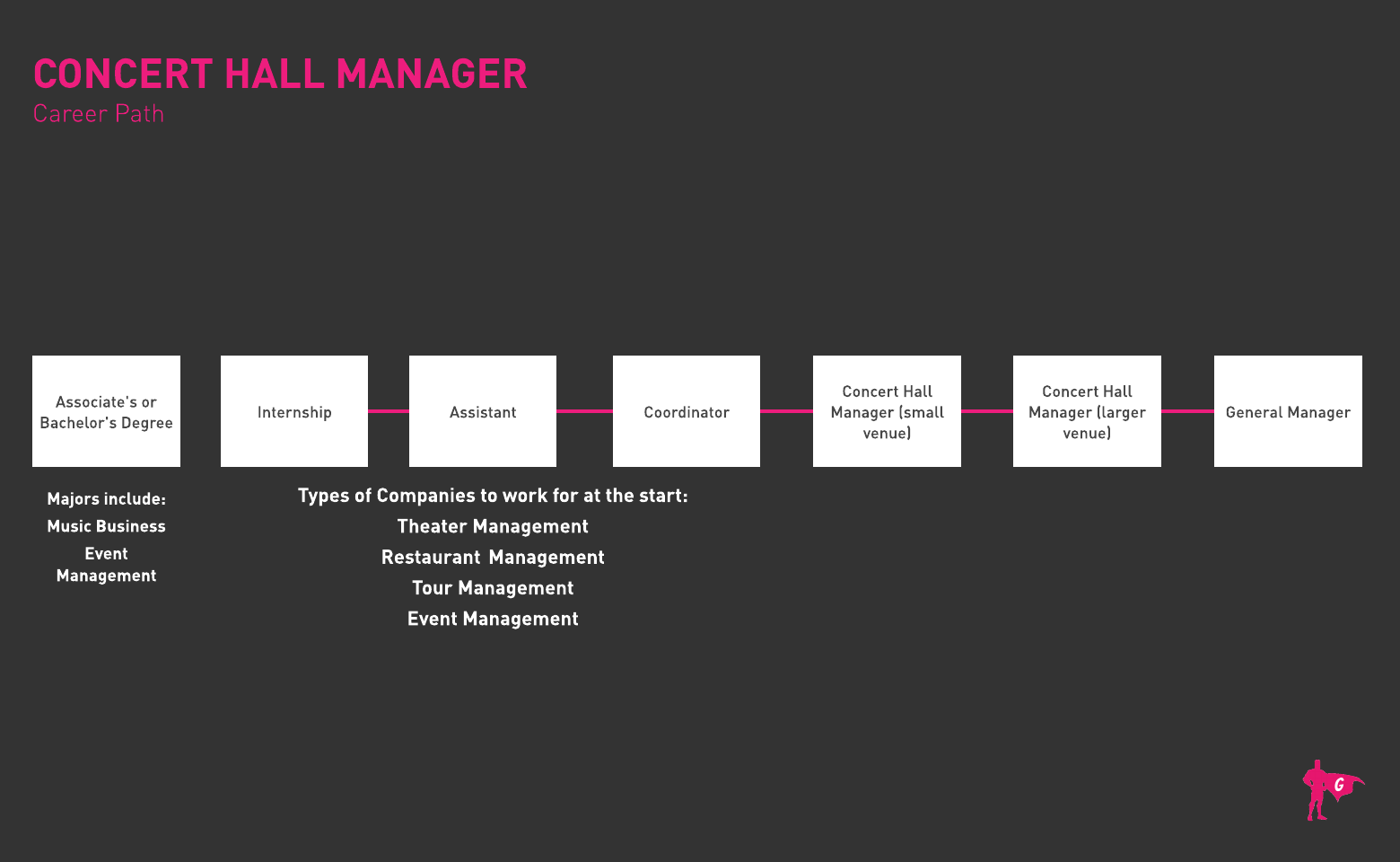 How to Land your 1st job
You won't land a managerial position right off the bat. You'll need to work your way up, so apply for jobs at venues where you can get experience and start learning

There are a variety of roles that can help you build up your credentials, including facilities management, events management, and stage management

Check out job sites like

Indeed

as well as the career pages of local colleges, theaters, or performing arts centers

Ask your college instructors or fellow students about openings they're aware of or connections they have. Many jobs are found through networking!

Contact anyone you want to list as a personal reference and get their permission ahead of time

Check out

Concert Hall Manager resume templates

Review sample

Concert Hall Manager interview questions

, such as "What is your experience with managing budgets for venues?" 

During interviews, demonstrate your knowledge of the industry and highlight your commitment to public safety

Dress for interview

success and aim for "business professional!" 

Make a

strong first impression

and show enthusiasm for the job
How to Climb the Ladder
Concert Hall Managers are already at the top of their ladder, but they can qualify for raises or apply to work for larger venues

Be punctual and ready to put in the hours needed to ensure event success

Do your best to book exciting shows that will sell tickets. Earning profits is a great way to get recognition!

Stay highly organized and keep rehearsals and teardowns on schedule 

Ensure performers are well taken care of and ticket holders have a very pleasant experience 

Don't forget to show appreciation for the stage crew, staff, and volunteers! 

Master auxiliary duties related to advertising and marketing, helping with audiovisual equipment, or negotiating contracts

Keep learning as much as you can and turn yourself into an irreplaceable asset

Keep your facility running smoothly and make certain that all maintenance and renovation work is done in a timely manner. Earn your hall a reputation as one of the best venues in the vicinity!

Knock out certifications that can make you a better manager, such as the

International Association of Venue Managers'

Certified Venue Executive or Certified Venue Professional

Stay up to date on trends, industry changes, and new technologies that can help improve performance

Participate in professional organizations and grow your reputation as a Concert Hall Manager who is competent, responsible, and easy to get along with! 
Recommended Tools/Resources
Plan B
Concert Hall Management can be tiring work because there's so much multitasking and stress prior to large events. In between, there's also plenty to do to prepare, and while it's not as hectic, it does require a lot of organization and logistical planning. The hours can be long and the job often goes unappreciated. 
While many people enjoy the ebb and flow of this line of work, it's not for everyone! If you're curious about related career fields, consider some of the below options: 
Administrative Services Manager

Compensation and Benefits Manager

Cost Estimator

Event Planner

Housekeeping/Janitorial Services Supervisor

Human Resources Manager

Management Analyst

Operations Manager

Postsecondary Education Administrator

Property/Real Estate Manager

Purchasing Manager or Agent

Security Manager

Wedding Planner
Newsfeed Featured Jobs Online Courses and Tools