Spotlights
Job Description
It takes a team to build a building, and someone has to oversee the entire project from beginning to end. Construction Managers, also known as general contractors or project managers, are involved at the earliest stages of planning, later going on to manage contractors and coordinate their efforts. They make sure realistic budgets and timeline are created and adhered to as closely as possible. They may also work on roads and bridges. 
 
Construction Managers wear many hats. Depending on the scope of a project, they could be assigned to one structure but in some cases they'll get to juggle multiple projects simultaneously. For large jobs such as industrial complexes, there are often many managers assigned to focus on various phrases, with a lead manager in charge of them all. They work with a wide range of people in different fields, from trade workers like carpenters and electricians to engineers, architects, and heavy equipment operators. At times they'll also engage with inspectors, government officials, and attorneys, which can require an entirely different set of professional skills. Construction Managers might even be tasked with running cost estimates or performing logistical planning to ensure all materials make it to their proper destinations. 
Rewarding Aspects of Career
Leading teams to ensure building projects are successful
Helping create structures that will house residents or businesses
Working in a field that greatly stimulates the economy and provides many jobs
Collaborating with city officials to grow and improve communities
2019 Employment
476,700
2029 Projected Employment
517,100
The Inside Scoop
Job Responsibilities
Working Schedule
 
Construction Managers work at least full-time, and long days aren't uncommon. Overtime may be needed, especially when deadlines are approaching or work is behind schedule. Overtime can include nights or weekends, and workers might need to be on call to respond to issues quickly. 
Typical Duties
Review job specs; plan and arrange all activities surrounding the work to be done
Assist with budgeting, cost estimation, and tracking
Determine types and numbers of workers needed
Order materials and supplies; perform logistical planning and tracking tasks
Outline feasible timelines for specific phases of work to be completed
Liaison with multiple agencies and affiliated staff to share job details and specifics and explain anything that is unclear
Consult stakeholders, managers, and supervisors on progress, problems, and proposed changes; adapt work plans based on obstacles or emergencies 
Work with associated engineers and architects
Hire contractors and assign work
Coordinate efforts of various teams and supervise work
Draft contracts and revisions 
Additional Responsibilities
Obtain any permits and licenses prior to beginning
Conduct or oversee mishap investigations
Conduct routine reviews to assess progress and performance
Enforce quality control measures and perform inspections as needed
Ensure work complies with specifications to include state, local, and federal guidelines such as environmental protection standards
Skills Needed on the Job
Soft Skills
 
Analytical 
Calm under pressure
Compassionate for workers
Decisive
Flexible and innovative
Good at multitasking
Integrity
Motivated and persistent 
Problem solver
Proficient writing and communication skills
Risk management 
Stamina
Strong leadership skills
Team player
Time management 
Technical Skills
Accounting tools such as SRC Cash Flow Forecasting
Analytical programs including ArenaSoft Estimating and Jobber Computer Plus
Scheduling and time accounting software 
Compliance software 
Computer aided design 
Enterprise resource planning 
Graphics software
Human resources software 
Industrial control software 
Inventory management 
Project management 
Spreadsheets
Different Types of Organizations
Heavy/civil engineering construction
Residential and nonresidential construction    
Self-employment
Specialty trade contractors    
Expectations and Sacrifices
Construction Managers have a ton of responsibility riding on their shoulders. They're in charge of ensuring a project is completed properly, on budget and on schedule. When mistakes happen, they're the ones who ultimately get looked at for solutions or potentially for blame. As a result they must make sacrifices of time and energy to keep everything running smoothly, no matter what it takes. This might translate into longer hours, more research, more hands-on supervising, maybe even firing a person or crew that isn't performing up to expectations. Construction Managers should expect a fair amount of travel for some projects, and may need to work from more than one office, so flexibility and mobility are crucial. 
Current Trends
Construction projects are always in-works, whether its new structures or renovating and expanding existing ones. All these jobs require experienced Construction Managers who will make certain new buildings meet modern codes, comply with changing environmental standards, and are built to house residents, office personnel, stores, restaurants, students, etc. in a way that keeps them safe and secure from natural disasters or other unexpected hazards. 
 
Construction Managers must always be on the lookout for methods to increase efficiency and save money while complying with laws. Safety, sustainability, and "green construction" eco-friendly renovations help existing buildings and other structures last longer, be more high tech and energy efficient, and better protect those inside from risks (which ultimately shields owners from costly litigation). 
 
Knowledge of drone technology, augmented reality during pre-construction, incorporation of mobile tech for productivity boosting, and building information technology are all key for modern Construction Managers to learn about. Meanwhile, current modular and prefab construction trends are likely to continue in the coming years. 
What kinds of things did people in this career enjoy doing when they were young...
Construction Managers must possess a broad set of skills, from theoretical ideation and design to practical planning and implementation. Odds are workers in this career field held multiple interests in school, and perhaps approached work with a multidisciplinary mindset. They liked staying busy and having lots of things going on at once. 
 
While they were probably keen on hands-on experiences and working outdoors or in shops with tools, they may've been equally at-home with their heads buried in books or hunched over a laptop deep in research. They're imaginative yet realistic, able to envision projects then develop actionable steps to bring ideas off the page or monitor and into the real world. 
Education and Training Needed
A bachelor's degree and work experience are both preferred for most jobs
Bachelor's degrees may be in Construction or Building Science, Construction Management, Architecture, Engineering, or closely related fields 
Typical courses include contract administration, design, cost estimation, materials, math, statistics, construction methods, and leadership 

Note, if a worker is a self-employed general contractor with substantial practical supervised work experience in various construction fields, they may qualify as a Construction Manager without a degree
For some employers, experience is more critical than academic qualification

Internships or co-op programs are fantastic sources of training; workers can expect On-The-Job training as well 
Certifications are another tool that prove one's experience level, such as:

The American Institute of Constructors' Associate Constructor and Certified Professional Constructor 
The Construction Management Association of America's Certified Construction Manager cert
CMAA also offers eLearning professional development courses, including Standards of Practice, Leadership topics, On-Demand Conferences, and Exam Prep Tools

Certain states require licensure 
Things to look for in an university
According to O*Net, 90% of Construction Managers complete a bachelor's, with the rest having a high school diploma or associate's. Most without a degree are self-employed
There are many majors to choose from, but all engineering- or tech-related programs should be accredited by ABET, such as Construction Engineering
Ensure the program features as much practical hands-on experience as possible
Look for professional and student organizations that provide valuable learning opportunities and expand your network 
Screen the school and program statistics for acceptance and graduation rates
Try to find universities that help place graduates into good-paying jobs
Check out the school's listed career resources; these auxiliary services are helpful for preparing resumes, doing mock interviews, and landing jobs or internships
College is expensive, so seek out scholarships offered by the school or department
Things to do in High School and College
Take as many college prep classes as you can that will apply to your major, as well as things like accounting, public speaking, writing, and other soft skills building courses
Volunteer to organize activities and practice your leadership skills as much as possible
Build your draft resume early on, and add to it when you complete a significant accomplishment at work or in school
Learn about the many local, state, and federal safety and building guidelines that will apply to where you want to work. Get to know potential stakeholder roles, too
Apply for internships to gain valuable practical exposure to the field
Talk with working Construction Managers, to include self-employed ones. Try to find a mentor or someone willing to explain what the job entails and things to watch out for, based on local experiences (for example, weather is a major factor is certain areas)
Watch videos to get a visual perspective on the duties required on-site, instead of just reading about them
Typical Roadmap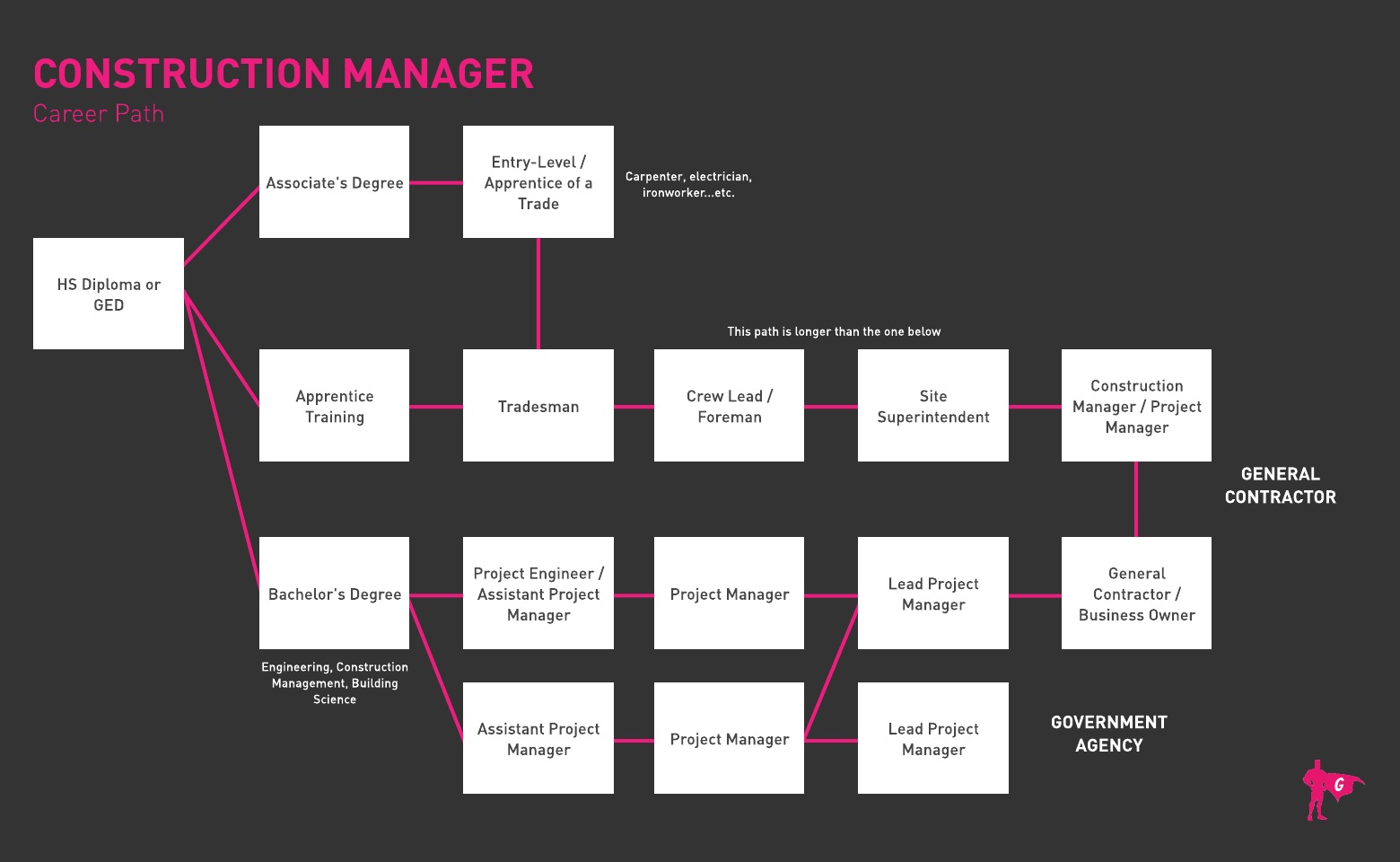 How to land your 1st job
The more work experience and education you have, the better your odds of standing out to a hiring manager. Completing an internship can be very helpful! 
Holding certification or, if needed for your state, a license, will also put you above the competition
Don't try to take on more than you can handle, if you don't have the necessary qualifications listed in a job ad
Be honest about your background and offer tangible proof of your experience and knowledge, via certifications, resumes, letters of reference, portfolios, license, etc.
Offer hard statistics about how many people you've managed or supervised, dollar amounts of projects you've overseen, amounts saved due to your efforts, and other applicable numbers
Read ads and highlight words and phrases you can incorporate into your resume
Find openings through your professional network, as well as portals like Indeed, Monster, and Glassdoor 
Fill out your LinkedIn profile with in-depth details about projects you've finished
Keep your social media presence clean and professional; you never know who's looking!
eSUB lists real-world questions and answers to prep for job interviews 
You might not wear formal business attire everyday to work in this job, but you should check out Indeed's guide on What to Wear to an interview
How to Climb the Ladder
If you haven't gotten your degree, knock it out unless you really don't need it due to self-employment status 
Complete certifications like Associate Constructor, Certified Professional Constructor, or Certified Construction Manager
Look for specialty or advanced certs that pertain to the jobs you want in the future
Focus on mastering the skills you need to, while learning enough about the roles of your subordinates to know if they're doing their jobs correctly or not
Hire and work with qualified personnel. Lead and manage, but learn to trust and not micromanage 
Plan ahead and anticipate potential risks and problems in order to mitigate them. Know emergency protocols for when things go wrong
Keep everyone on the same page and focused on their tasks
Build strong rapport with everyone you interact with, in particular other managers and supervisors who must lead their own teams
Set high expectations, treat workers with respect, and hold them accountable 
Demonstrate superb leadership and management qualities and set the example 
Engage with professional organizations and develop your reputation as an influential and prominent industry leader 
Recommended Resources
Websites
AACE International 
American Council for Construction Education
American Institute of Architects 
American Institute of Constructors 
American Society of Civil Engineers 
Construction Management Association of America
National Center for Construction Education and Research
Project Management Institute 
Society of American Military Engineers
Books
Plan B
Tackling a Construction Management project is a daunting task. Taking on multiple projects might drive some workers over the edge! If you're interested in this field but don't desire the full burden of duties Construction Managers must accept, why not browse through a few is similar occupations as listed on BLS's Occupational Outlook Handbook and O*Net Online? These sites offer a lots of alternatives, such as: 
Architects    
Architectural and Engineering Managers
Civil Engineers
Cost Estimators
Energy Engineers, Except Wind and Solar
Fire-Prevention and Protection Engineers
Landscape Architects
Occupational Health and Safety Specialists
Transportation Engineers
Newsfeed Featured Jobs Online Courses and Tools