Spotlights
Similar Titles
"Cost estimator" is a term used across industries, however, those who become proficient in a certain area may be referred to by their specialty, such as construction cost estimator, engineering cost estimator, building construction estimator, etc.
Job Description
A cost estimator gathers data to determine how much money, time, material, and labor are required to manufacture a product, provide a service, or construct a building. Cost estimators often develop a professional expertise in a specialized field, product, or industry. 
Rewarding Aspects of Career
Helping an organization save money and make good financial decisions.
Working as a team with other professionals to accomplish a goal.
Using the latest technologies and having new projects to work on. 
Realizing the important role one plays in the building of structures like stadiums, airports, train stations, theaters, or hotels that people use every day.
Being recognized as an expert in a specific area of knowledge that is valuable to others. 
Median Salary
Median salaries for cost estimators by industry:
| | |
| --- | --- |
| Heavy and civil engineering construction | $75,890 |
| Construction of buildings  | $69,240 |
| Specialty trade contractors             | $65,650 |
| Manufacturing               | $62,630 |
| Automotive repair and maintenance | $57,780 |
2018 Employment
217,400
2028 Projected Employment
236,100
The Inside Scoop
Day in the Life
Generally speaking, there are two types of cost estimators:
Construction Cost Estimators assess construction costs for projects like bridges, shopping centers, or high-rise apartments. They determine the price of raw materials, the cost of labor, and how long it will take to complete a project.  
Manufacturing Cost Estimators assess the costs associated with producing, redesigning, or developing various products and services like vehicles, software systems, and appliances. 
A day in the life of a cost estimator would include working in an office but also visiting job sites or factories depending on the nature of the job. They work closely with engineers, architects, contractors, construction managers, clients, and industry experts to complete projects.
Cost estimators often perform the following tasks:
Reading blueprints or technical documents.
Evaluating materials required and labor needed for projects.
Preparing bids and writing proposals for clients.
Making recommendations on how to make projects more cost effective.
Preparing timelines for projects to be completed.
Determining the cost effectiveness or profitability of products.
Organizing information and documenting the details of a project.
Handling subcontractor proposals and assisting with contract negotiations.
Skills Needed on the Job
General skills
Analytical skills
Listening and communication skills
Detail oriented
Aptitude for math
Time management skills
Technical skills
Accounting software 
Analytical or scientific software
Database user interface and query software
Financial analysis software
Project management software
Building information modeling (BIM)
Computer aided design (CAD)
Different Types of Organizations
Specialty trade contractors            
Construction of buildings            
Manufacturing                    
Automotive repair and maintenance         
Heavy and civil engineering construction    
Expectations and Sacrifices
Successful cost estimators have a substantial amount of knowledge and experience in their specific area of expertise, which comes from formal education plus extensive hands-on learning. A dedication to learning one's craft is essential to be competitive in this field.
Also, it may be necessary at times to work beyond a typical forty-hour work week to write bids, keep a project on task, and meet deadlines. 
Current Trends
Advancements in BIM (Building Information Modeling)
Model-based estimations
Virtual reality
Computational and generative design
What kinds of things did people in this career enjoy doing when they were young...
People in this profession have a natural inclination toward data and details. As young people, they often enjoyed mapping out projects and seeing them through. They work well in teams and can help lead a group to a decision. Their "comfort zone" has routine and procedure. 
Education and Training Needed
Cost Estimators usually need a bachelor's in construction, engineering, business, or finance, depending on the exact industry they work in. Some have sufficient work experience to bypass the academic requirements
Per Zippia, 17% of workers in this field have an associate's, 67% a bachelor's, and 10% a master's
There are many software programs to be familiar with, for accounting, computer aided design, customer relationship management, database reporting, document management, enterprise resource planning, and building information modeling
Workers generally receive ample On-the-Job training, as well
Ad hoc online short courses such as Coursera's Construction Cost Estimating and Cost Control can offer useful industry-related information which may not be covered elsewhere
Additional certifications can bolster your credentials. These include:

AACE International, Inc. - Certified Cost Professional, Certified Estimating Professional, and Certified Cost Technician    
American Society of Professional Estimators - Certified Professional Estimator
Construction Specifications Institute - Certified Construction Specifier
International Cost Estimating and Analysis Association - Certified Cost Estimator/Analyst    or Professional Cost Estimator/Analyst   
Things to do in High School and College
Decide which type of Cost Estimator you're interested in becoming — Construction, Manufacturing, or something else
Stock up on courses in economics, finance, and math
Learn how to use computer aided drafting and related software like Autodesk AutoCAD, Autodesk Revit, ConEst SureCount, and Dassault Systemes CATIA
Take on part-time jobs in the field you're interested in to get real world experience
Gain extra practical work experience through Cost Estimator internships
Read articles and watch tutorials about Cost Estimating to learn from insiders
Ask working Cost Estimators if they'll do an informational interview or let you shadow them
Join professional organizations to learn, grow, and network (see our Recommended Resources > Websites for a list of options)
Typical Roadmap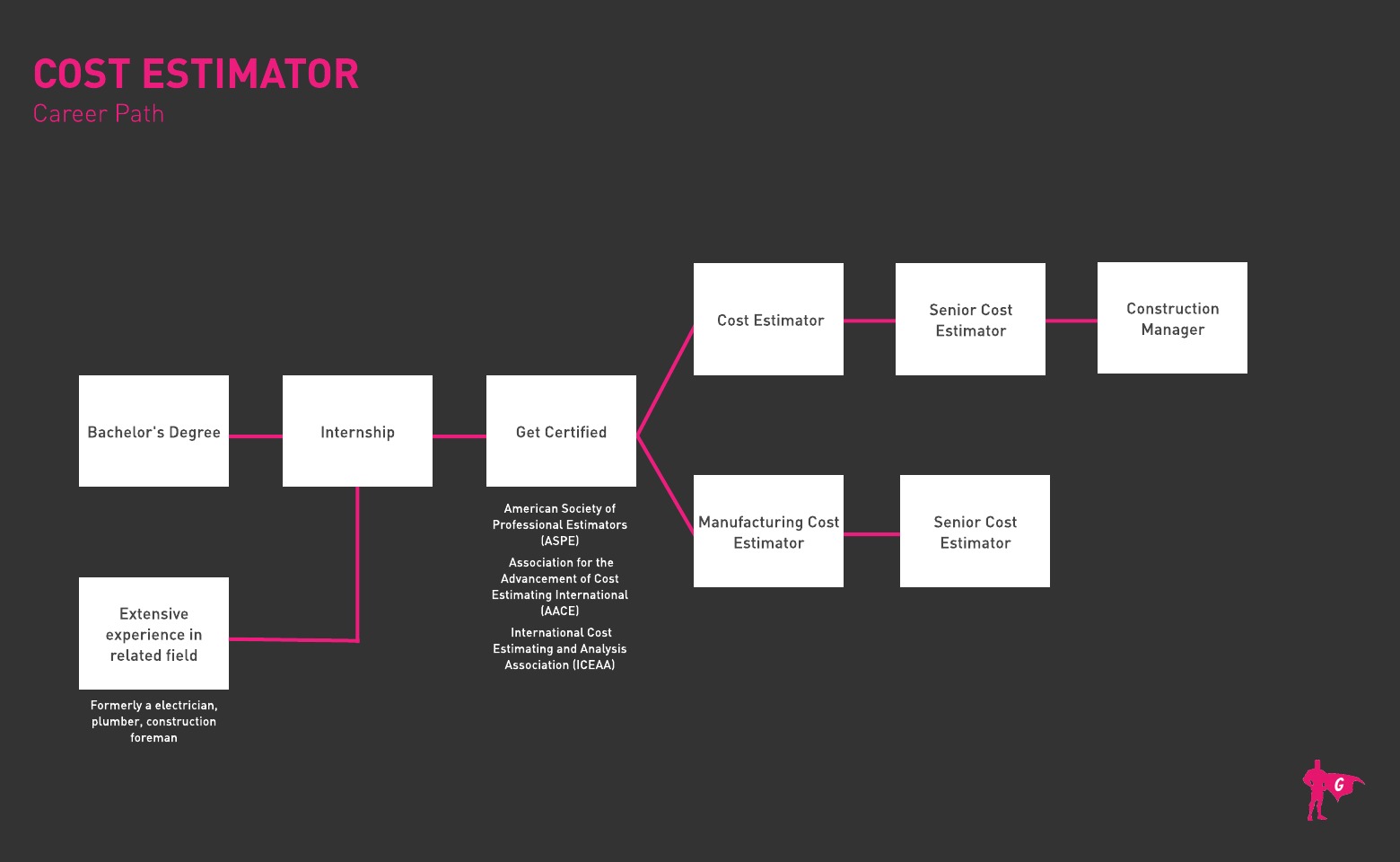 How to land your 1st job
Roughly 36% of Cost Estimators work for speciality trade contractors; 18% work in construction, 13% in manufacturing, and the rest in automotive repair and civil engineering
BLS projects job opportunities will be fairly consistent. Competition will be steady so to stand out you may need special certifications or experience
Cost Estimator internships are a great way to get experience in the field
Sign up for alerts on job portals such as Indeed, Simply Hired, Glassdoor, and Zippia, but also consider Craigslist for smaller, local jobs
Relocate to where the work is! The states with the highest employment level for Cost Estimators are California, Texas, Florida, New York, and Pennsylvania
Talk with your school career center for help with resumes, mock interview, and job fair info
Ask teachers, supervisors, and co-workers to vouch for you as personal references
Review Cost Estimator resume templates to get ideas for wording and formats
Study Cost Estimator interview questions to prep for interviews so you can show off your knowledge!
Recommended Resources
Websites
AACE International
American Society of Professional Estimators
International Cost Estimating and Analysis Association
Project Management Institute
Society of Cost Engineers
The American Society of Mechanical Engineers
Books
Plan B
Because cost estimators develop many types of transferable skills, there are several different career paths they can take, such as: 
Assessor
Accountant and Auditor
Budget Analyst
Claims Adjuster, Appraiser, Examiner, and Investigator
Construction Manager
Financial Analyst and Financial Manager
Industrial Production Manager
Logistician
Operations Research Analyst
Purchasing Agent
Market Research Analyst and Marketing Specialist
Risk Management Specialist
Supply Chain Managers
Transportation Managers
Words of Advice
All types of organizations, large and small, look for ways to control cost while delivering the best possible product or service. A cost estimator plays a key role in the profitability of a company, making their position essential to its success. Finding a professional niche that aligns with your interests and developing an expertise in that area can make for a career that is both personally and financially rewarding. 
Newsfeed Featured Jobs Online Courses and Tools