Spotlights
Similar Titles
Certified Art Teacher, Visual Arts Instructor, Licensed Art Educator, Professional Art Educator, Accredited Art Teacher, Credentialed Art Instructor, Visual Arts Facilitator, Certified Fine Arts Educator, Licensed Visual Arts Teacher, Qualified Art Educator
Job Description
Students dread certain classes, but one class that's generally loved by all is Art! Art Educators report high job satisfaction because they enjoy teaching a subject students like learning. There's less stress and more creativity for everyone involved. Some art classes deal with the academic side of things, like art history, but the majority get classrooms involved through hands-on practice. 
 
Unlike typical subjects taught in K-12 settings, such as math, English, or science, there are fewer formal rules or formulas when it comes to teaching art. Instead, Art Educators help learners discover concepts and techniques for creating visual works of art, showing them how to use materials and tools of the trade while encouraging them to explore ideas.  Whether its medium is pencil, ink, paint, or even photography, Art Educators must be enthusiastic about the topic and able to pass on that passion. They're also responsible for instilling a proper understanding of colors, composition, styles, and other important matters relevant to art production. 
Rewarding Aspects of Career
Working in a field most teachers (and students) genuinely love
Helping students discover latent talents 
Watching students develop into budding artists
Enabling positive learning environments where students can unwind and express themselves, which is good for mental wellness
Contributing to the future of the wider world of arts
The Inside Scoop
Job Responsibilities
Working Schedule
Arts Educators work full-time jobs during regular school hours. As with any teaching job, there may be after-hours work required to prepare lessons or grade assignments. K-12 teachers can expect off-time as dictated by the academic calendar of holidays and breaks. 
Typical Duties
Prepare engaging daily lessons and classroom activities 
Review art history to discuss famous and significant works of arts and various styles
Review elements that pertain to creating visual art, such as lines, 2-D shapes, textures, 3-D forms (i.e., the volume of height, width, and depth), space (perspective), color wheels, and value (i.e., lightness or darkness tones)
Assign art projects and review instructions with students
Teach proper use of applicable tools and materials for specific projects
Guide students along their creative journeys as they explore their own styles
Set up collaborative projects that allow groups to work together
Assign and proctor quizzes and exams; grade assignments and offer feedback
Demonstrate the safe use of hazardous or toxic art supplies, such as glue, paint thinner, scissors, etc. 
Additional Responsibilities
Assist students who are facing difficulties or learning challenges
Encourage and motivate students to express themselves appropriately
Share curriculum ideas with school leadership and faculty
Impart to students the need to take good care of their tools and materials (which can be expensive)
Show classes how to keep work areas clean and organized
Skills Needed on the Job
Soft Skills
Desire and aptitude to help others succeed
Empathy and patience
Enthusiasm
Informed social and cultural awareness 
Keen organizational skills
Non-judgemental approach to teaching
Resourcefulness 
Skills for coordinating and instructing activities
Strong communication skills 
The ability to monitor and assess student behavior
Technical Skills
Knowledge of art history and the elements of creating visual art
Familiarity with all applicable tools and supplies relevant to the level being taught
Art and craft supplies may include: various weights and types of paper, canvas, crayons, pastels, charcoal, markers, graphite drawing pencils, sharpeners, colored pencils, ink pens, paintbrushes, trays, thinners, acrylic paint, oil paint, watercolors, tempera, sponges, glue, glue sticks, paste, rubber cement, pom poms, beads, glitter, string, yarn, felt, scissors, rulers, erasers, tape, felt, gloves, and hand cleaners
Familiarity with classroom presentation equipment (such as video magnifiers, televisions, etc.) 
Knowledge of printers, scanners, and photocopy equipment
Microsoft Office, Google apps, Macintosh software
Use of school database systems 
Familiarity with educational software designed for K-12 students
Different Types of Organizations
K-12 public and private schools
Charter schools
Post-secondary educational institutions (community colleges, universities)
Youth centers and daycares
Expectations and Sacrifices
Art Educators play crucial roles in the well-rounded social and emotional development of students, from early childhood into high school and beyond. They help instill or grow creative skills and aptitudes that students will use throughout their lives, regardless of their eventual professions or life choices. It can be hard to quantify the tangible benefits that youth acquire from learning about and creating art. Because of that, some teachers (and parents) may not fully appreciate the value of art lessons for students of all ages. Nonetheless, Art Educators must stay positive and press on, confident in the knowledge that their work makes a major, long-lasting (and sometimes life-changing) impact in the lives of every student they teach! 
Current Trends
Art Educators may sometimes experience frustration if their STEM (Science, Technology, Engineering, and Mathematics) peers hog more of the limelight. That said, recent years have seen the evolution of STEM into STEAM (Science, Technology, Engineering, Arts and Math) as both the worlds of academia and business realize the vital role that art and creativity play in the development of STEM innovations. 
 
Recent times have seen an increase in the use of technology in the classroom and a rise in distance learning when appropriate for student safety. Art Educators have had to stay flexible and work with these changes, using them to promote the creation of art in exciting new ways (such as making contemporary digital art). Indeed, digital art has been transforming the art scene in recent years, making its way into museums around the globe!  
What kinds of things did people in this career enjoy doing when they were young...
As you guessed by now, most Arts Educators loved creating art growing up. Many had an early aptitude for drawing or painting; others might have discovered art in their teens as an outlet for expressing their ideas, inner thoughts, and occasional turmoils. Although there's a stereotype about the "restless" artist, a lot of artists are not only quite happy and content but passionate about sharing their enthusiasm with others. This desire to teach is also a trait that might have been developed early on, perhaps through helping younger siblings or classmates. 
Education and Training Needed
Like most teachers, Art Educators require a bachelor's degree with a minimum GPA in a relevant major, such as Art Education
Students must complete a teacher preparation program as part of their degree

Most teaching prep programs incorporate an internship to allow for practice time instructing students at the grade you want to teach
An internship usually happens after your first two years of college
Students work under the guidance of a trained teacher, who will conduct observations and provide feedback on your teaching efficacy 

After education requirements are finished, you will likely require a state license or certification. In both cases, it is necessary to pass a state-approved exam 

Note, requirements vary by state and school type (public versus private)

Those who've graduated without doing a teaching prep program can earn experience through alternative certification

The American Board for the Certification of Teacher Excellence offers resources on alternative certification 
You can also check out Teacher Certification Degree's Alternative Teacher Certification Guide for a full exploration of this topic

Most states require teachers to pass a Praxis exam. This may include a Core Academic Skills for Educators or only a Praxis Subject Assessment related to art
Teachers should expect a background screening prior to licensure, which will look at criminal history and potentially credit history
Some states or employers prefer teachers to obtain a master's at some point
Other requirements include: 

Awareness of and a commitment to diversity and equality in schools 
Familiarity with computers, tablets, office software, and Internet-based learning environments 
Familiarity with a second language in some schools 
Additional skills tests, if working with special needs youth
Things to look for in a program
You must ensure your school is regionally accredited and that your program is also accredited by an applicable institution

Most states won't grant licensure or certification if your degree is not from a regionally accredited school and a program accredited by the National Council for Accreditation of Teacher Education (NCATE) or the Council for the Accreditation of Educator Preparation (CAEP)

Always compare costs of tuition, room and board, and scholarship opportunities (in addition to federal financial aid for students)
Decide which is best for you, a traditional on-campus experience, online courses, or a hybrid program
Pay close attention to any in-person requirements when signing up for an online degree. You don't want any surprises after you've enrolled!
Look for programs that publish graduation and job placement statistics. Many schools serve as pipelines for local employers they maintain strong ties with
Things to do in High School and College
Suffice it to say, take plenty of art courses! 
Art Educators also need skills in written and verbal communication, leadership, project management, and teaching pedagogy 
Volunteer at your school to help with projects that build leadership and project management abilities
Take courses to help you prepare for real-world classroom teaching, such as public speaking, psychology, special education, and behavior management
Find paid or volunteer opportunities beyond the school, such as working for youth organizations, religious centers, or childcare centers 
Learn about current diversity and social standards in K-12 settings 
Learn to express yourself concisely and clearly. Be comfortable with yourself so that students will feel comfortable in the creative learning environment you build for them!
Typical Roadmap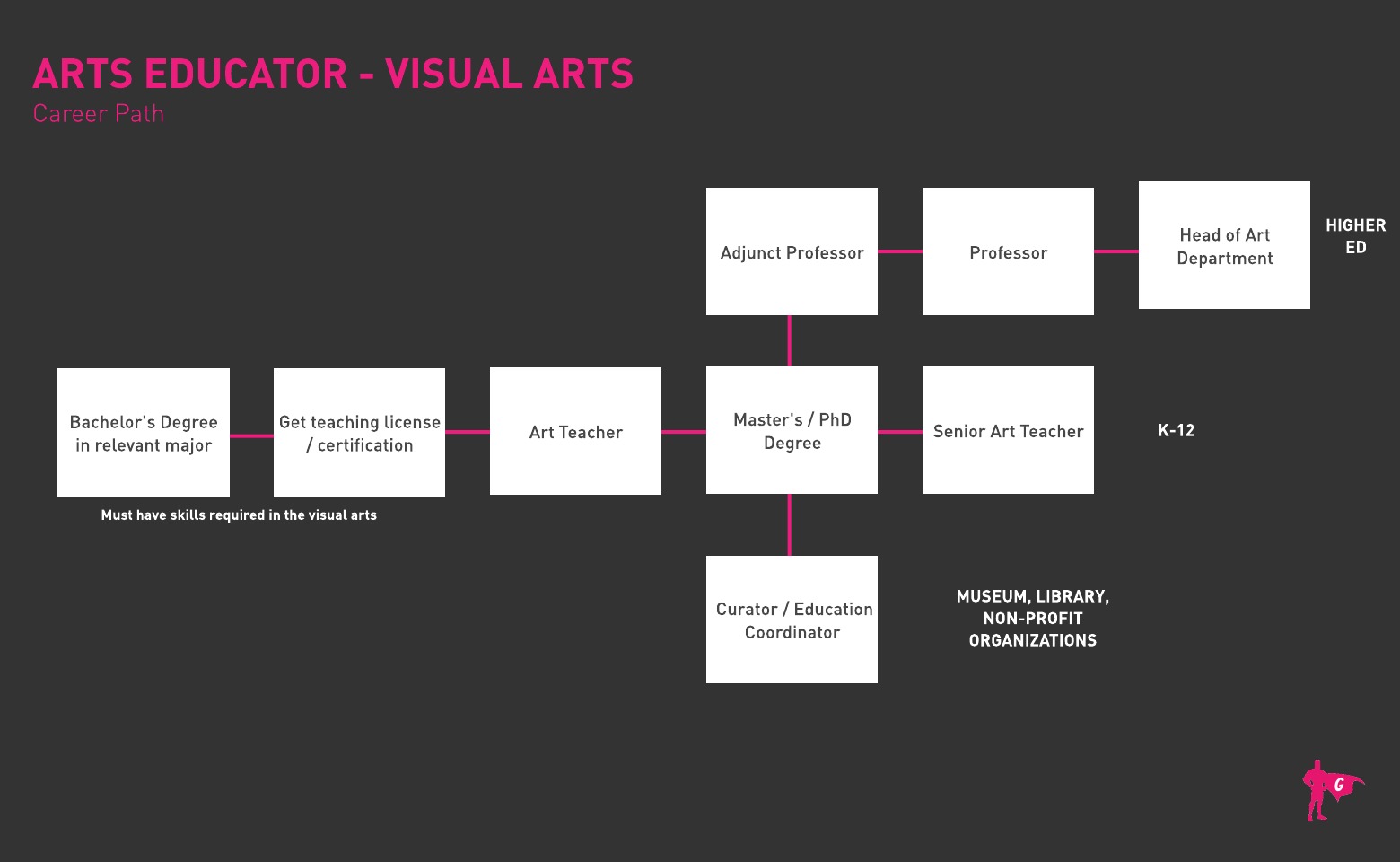 How to land your 1st job
Knock out all of your education and preparatory requirements, including any state-required licensure or certification, Praxis exams, etc. 
List all of your work, education, and extracurricular activities on your resume, which should be highly polished and edited
Use quantifiable results when possible, such as statistics on successful outcomes and numbers of students you've worked with 
Stay in touch with your former supervisors and teachers, including your internship mentor. These individuals may serve as invaluable references when the time comes
Set up job notification alerts on Indeed.com, EdJoin.org, and other job portals and keep track of application deadlines
Read job posts carefully and make sure to work relevant keywords into your resume
Demonstrate awareness and proficiency related to eLearning and other trends
Know your terminology when it's time to interview. Keep up-to-date on new Art Education developments
Let your enthusiasm for teaching art shine! Don't be afraid to authentically show your passion for the job. Employers want to see evidence of your soft skills as well as academic qualifications  
How to Climb the Ladder
Earn your master's degree, or complete additional training/advanced certifications
Demonstrate sincere caring for children's educational progress in the arts
Explore opportunities beyond the walls of your current place of employment and even out-of-state, if necessary to grow
Build your reputation as a classroom leader with strong management skills  
Mentor others when you can, and offer to help with college students doing their internships
Participate in professional organization activities (see our list of Recommended Websites below) 
Serve on high-visibility school and district committees; build rapport with staff, peers, parents, and administrators
Be an advocate for student rights
Keep students motivated by incorporating new ideas, techniques, and technologies
Read books, review website resources, watch videos to get new ideas, and keep your classrooms fresh, fun, and forward-thinking! 
Recommended Resources
Websites
American Federation of Teachers 
Art Pedagogy 
Art Rabbit
Arty Factory 
Colossal
Felt Tip Pen 
Google Arts & Culture
National Art Education Association
National Education Association 
National Parent Teacher Association
Tate Kids
The Art Teacher
The Arty Teacher (YouTube channel)
Books
Plan B
If becoming an Art Educator isn't your thing, but you're still interested in launching a successful career in the education sector, the Bureau of Labor Statistics lists plenty of "Plan B" opportunities to consider! Here are just a few:
ESL Teachers
Career Teachers
School Principals
Kindergarten and Elementary School Teachers
Middle School Teachers/Postsecondary Teachers
School and Career Counselors
Special Education Teachers
Teacher Assistants
Newsfeed Featured Jobs Online Courses and Tools