Spotlights
Similar Titles
Dental Surgery Doctor (DDS), Dentist, Doctor of Dental Medicine (DMD), Doctor of Dental Surgery (DDS), Family Dentist, General Dentist, Pediatric Dentist
Job Description
A dentist is a type of doctor responsible for the health of teeth and gums. They work to help patients prevent decay in the mouth, as well as diagnosing and treating oral disease. They may also help fit dental appliances and refer patients to other oral doctors for a variety of problems.
Rewarding Aspects of Career
Compensation is high.
Able to help patients maintain a great smile, as well as good oral health.
Career offers a great degree of independence.
Often a respected member of their community.
2018 Employment
155,000
2028 Projected Employment
166,600
The Inside Scoop
Job Responsibilities
A dentist will spend most of his or her time in a dental clinic, working through appointments with patients. They will often have a team of office assistants, dental hygienists, and similar assistants to help work with more patients. Yes, a dentist will have their hands in people's mouths. Gloves are essential.
During a typical day a dentist can expect to:
Perform maintenance and cleaning procedures on patient teeth, such as removing decay or poor teeth, filling cavities, affixing crowns, or making models for dentures.
Taking and reviewing X-Rays as well as exploring teeth directly with tools.
Administering anesthetics to prevent pain, as well as prescribing post-treatment medications.
Working with patients on treatment plans to prevent further tooth damage and how to properly care for their mouth and gums.
Dentists who own their own practice will often have a hand in the running of the office, including the budget, helping set up appointments, and equipment purchasing. They use a wide variety of specialty equipment.
Some dentists specialize in specific areas, such as:
Pediatrics – Working mainly with children
Orthodontics – Specifically setting braces and straightening teeth
Periodontists – Treating the gums and supporting bones around the teeth.
Dentists may work in a large clinic with different specialists who can help support each other in different patient cases.
Skills Needed on the Job
Soft Skills
Strong oral and written communication skills.
Active Listening
Able to provide clear, patient instruction.
Critical Thinking and problem solving.
Technical Skills
Steady hands and arms
Public and customer service skills.
Dental tools and diagnosis knowledge.
Knowledge of human psychology.
Different Types of Organizations
Private Practice
Large Dental Offices
Government Roles
Physician Offices
Expectations and Sacrifices
The most challenging part of becoming a dentist is completing school. Aspiring dentists will be expected to complete Dental School after obtaining a Bachelor's Degree. Admission to Dental School will typically require pre-requisite courses as part of your undergrad degree – such as Biology and Organic Chemistry.
If you decide to become a dentist later in your undergrad career, you will need to make sure these courses are taken. 
Dental School requires a Dental Admissions Test, usually a year before applying. Once you are in Dental School, you can expect 4 years of training. This is a significant investment and often requires loans or scholarships. It can be challenging to work and keep up with Dental classes.
Being a dentist can be expensive after school as well, especially if you own your own practice. This involves business savvy that may not be covered in classes. It can also be stressful given the level of responsibility as a doctor.
Current Trends
There has been, and continues to be, and increase in technology used in dentistry. This can be as simple as digital X-Rays or as complex as tele-communication consults many miles away.
Technology also has come to dental appliances. Many items such as crowns are still molded, but some are able to be 3D printed. Unique tools can also be 3D printed if only needed once in a while.
Dental Insurance is a struggle for many patients. Many dental practices are creating membership plans to help serve patients. This helps offset cost for less wealthy patients.
Dental treatments and prevention techniques also continue to improve. You will want to keep your knowledge up to date as a successful dentist.
What kinds of things did people in this career enjoy doing when they were young...
You probably didn't hate going to the dentist.
You played doctor or dentist. 
You liked helping people. 
Education Needed
Dentists are highly-trained professionals who must hold either a Dental Surgery (DDS) or Doctor of Medicine in Dentistry/Doctor of Dental Medicine (DMD) degree

Dental college programs must be accredited by the

Commission on Dental Accreditation

(CODA)

Undergraduate majors vary but must prepare students with sufficient science coursework. Common prereqs (included associated labs) are:

Biochemistry

Biology 

General chemistry 

Math 

Organic chemistry 

Physics 

Dental school applicants submit

Dental Admission Test

(DAT) results to be considered for admittance

The DAT takes ~4.5 hours, is proctored at Prometric test sites around the nation, and covers the following areas:

Survey of the Natural Sciences (100 items)

Perceptual Ability (90 items)

Reading Comprehension (50 items)

Quantitative Reasoning (40 items)

Dental program curricula include classes in anesthesia, anatomy, periodontics, radiology, and much more. There is also a supervised clinical practice requirement

While general Dentists don't need extra training after graduation, those who want to teach or focus on research usually need additional postdoc training

Those who want to specialize must finish a 2- to 4-year residency (after which they may earn a postdoctoral certificate or master's)

Advanced speciality areas such as oral and maxillofacial surgery can take up to 6 years and result in completing a joint Medical Doctor degree

Other areas of specialization include: anesthesiology, public health, endodontics, oral pathology, orthodontics, pediatric dentistry, and periodontics

Every state requires Dentists to be licensed, but requirements differ. Applicants must pass a

National Board Dental Examination

, along with meeting other state- and speciality-specific criteria
What to do in HS and college
Aspiring Dentists can start prepping during high school with classes in English, writing, public speaking, biology, anatomy, human physiology, and chemistry

Strive for good grades to be competitive in the best dental programs

Study for the

Dental Admission Test

(DAT)

Dental school will require plenty of clinical practice, so gain extra experience ahead of time by volunteering to work in healthcare settings. Volunteerism won't count as clinical practice, but looks great on college applications and resumes!

Request to do informational interviews with local Dentists or see if you can shadow one for a few hours

Watch

videos

about what Dentists do within their various specialities  

Decide on your area of specialization, if any, such as oral and maxillofacial surgery, anesthesiology, public health, endodontics, oral pathology, orthodontics, pediatric dentistry, and periodontics

Become adept with the various technologies commonly used in dentistry, such as X-ray, drills, mirrors, probes, forceps, scalpels, and lasers. Practice your bedside manner and recognize how many patients may experience anxiety while sitting in the Dentist's chair!

Get involved with professional organizations and student clubs. Read journals, attend conferences, get your own work published, and stay up-to-date on advances
Typical Roadmap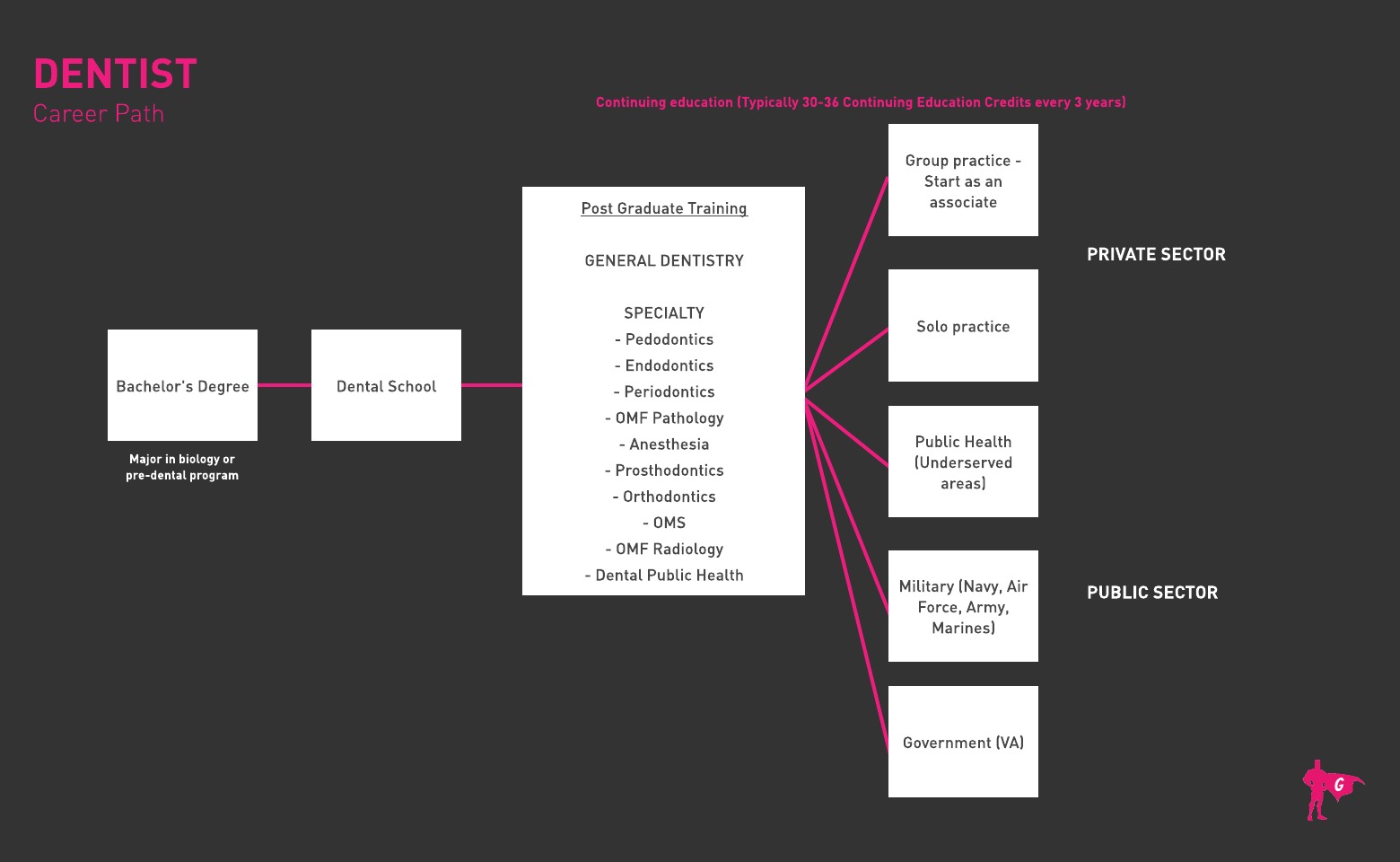 Landing the Job
Dentistry is a tightly regulated medical field. All dental schools are regulated by the American Dental Association, which also provides a job board when you are finished with school.

As a medical professional, you will work through clinical and internships as part of your dental training. This will provide you with the opportunity to make connections and build your network. Demonstrating clear skills and a good attitude will help you.

Most Dentists will work as associate Dentists first. This means you will work directly for a private practice owner or a larger dental firm. During this time, you will develop the skills necessary to take over the practice or move up to general dentistry.

Ask your graduate program or college's career center for help with job placement, resume writing, and mock interviews

Make sure you have your certifications and state licensure requirements properly completed

Build a strong network of connections while doing supervised clinical work 

Consider moving to a state with plenty of job opportunities! The

highest employment levels

for general Dentists are in California, Texas, Florida, New York, and Virginia

Check out the American Dental Association's

beginner's guide to finding a job

Check out sample

Dentist resume templates

Ask your desired personal references in advance before sharing their contact info with employers  

Sign up for alerts on

Indeed

,

Simply Hired

,

Glassdoor

,

ADA CareerCenter

,

DentalPost

,

Dentist Job Cafe

, and portals. Don't forget to build a solid

LinkedIn profile

, too
How to Climb the Ladder
As an associate dentist, take time not only to improve your dental skills, but also your business skills. If you would like to own your own practice one day, you will need to understand how to run a business properly. This will also help you move up in a larger practice.
As a Dentist, you will be responsible for taking continuing education courses at conferences or Dental Schools. You can also take courses to move out of general dentistry and into a related career. For example, you can specialize in dental surgery, or periodontal work – working with gums and bones.
If you want to be a surgeon, you can expect 2-4 more years of Dental School. It is possible to do this immediately, but expect your total Dental School time to stretch to 6 years.
There is also an opportunity to do research and publish new procedures. Taking time to present at conferences will improve your standing in the field. One of the great benefits of dentistry is being able to learn from, and teach long-time dentists new tricks.
Plan B
Dentistry is a wide ranging field, with several careers both in Dentistry and similar:
Academic Dentistry – teaching at Dental School
Research, such as with the National Institutes of Health (www.nih.gov(
International Aid through the World Health Organization or UNESCO.
Orthodontist
If you choose to pivot before Dental School, you can find work in research, switch to a different medical field like nursing, or attend a shorter program to be a hygienist. 
Words of Advice
It is a long road to become a dentist, and it can be very expensive. However, it is considered a very rewarding and positive career. Dentists are able to have a great deal of freedom in their schedule, as well as earning great compensation.
Be confident Dental School is something you will be able to finish before starting. The cost of dental school is largely offset by your earning potential when completed. 
The profession is social and highly networked. You will have a lot of opportunity to meet other dental professionals and build a great reputation. It is a field that recognizes quality work and knowledge.
Newsfeed Featured Jobs Online Courses and Tools