Spotlights
Similar Titles
Cardiac Sonographer, Cardiac/Vascular Sonographer, Diagnostic Medical Sonographer, Medical Sonographer, Registered Diagnostic Medical Sonographer (RDMS), Sonographer, Staff Sonographer, Ultrasonographer, Ultrasound Technician (Ultrasound Tech), Ultrasound Technologist (Ultrasound Tech)
Job Description
A diagnostic medical sonographer produces ultrasonic recordings of internal organs for use by physicians. The images and test results help physicians assess and diagnose medical conditions. 
Rewarding Aspects of Career
Help people find out what's wrong with them
Education and training is affordable.
Job security
Flexible hours
 
2018 Employment
72,900
2028 Projected Employment
87,100
The Inside Scoop
Job Responsibilities
Diagnostic medical sonographers typically do the following:
Prepare patients for procedures by taking their medical history and answering any questions about the procedure
Prepare and maintain diagnostic imaging equipment
Operate equipment to obtain diagnostic images or to conduct tests
Review images or test results to check for quality and adequate coverage of the areas needed for diagnoses
Recognize the difference between normal and abnormal images, and identify other diagnostic information
Analyze diagnostic information to provide a summary of findings for physicians
Record findings and keep track of patients' records
Diagnostic medical sonographers specialize in creating images of the body's organs and tissues. The images are known as sonograms or ultrasounds. Sonograms are often the first imaging tests performed when disease is suspected.
Skills Needed
Critical thinking
Active listening
Problem-solving
Decision-making
Different Types of Sonographers
Abdominal sonographers specialize in imaging a patient's abdominal cavity and nearby organs, such as the kidney, liver, gallbladder, pancreas, or spleen. Abdominal sonographers may assist with biopsies or other examinations requiring ultrasound guidance.
Breast sonographers specialize in imaging a patient's breast tissues. Sonography can confirm the presence of cysts and tumors that may have been detected by the patient, the physician, or a mammogram. Breast sonographers work closely with physicians and assist with procedures that track tumors and help to provide information that will aid doctors in making decisions about the best treatment options for breast cancer patients.
Cardiac sonographers (echocardiographers) specialize in imaging a patient's heart. They use ultrasound equipment to examine the heart's chambers, valves, and vessels. The images obtained are known as echocardiograms. An echocardiogram may be performed either while the patient is resting or after the patient has been physically active. Cardiac sonographers also may take echocardiograms of fetal hearts so that physicians can diagnose cardiac conditions during pregnancy. Cardiac sonographers work closely with physicians or surgeons before, during, and after procedures.
Musculoskeletal sonographers specialize in imaging muscles, ligaments, tendons, and joints. These sonographers may assist with ultrasound guidance for injections, or during surgical procedures, that deliver medication or treatment directly to affected tissues.
Pediatric sonographers specialize in imaging children and infants. Many of the medical conditions they image are associated with premature births or birth defects. Pediatric sonographers may work closely with pediatricians and other caregivers.
Obstetric and gynecologic sonographers specialize in imaging the female reproductive system. Many pregnant women receive sonograms to track the baby's growth and health. Obstetrical sonographers work closely with physicians in detecting congenital birth defects.
Vascular technologists (vascular sonographers) create images of blood vessels and collect data that help physicians diagnose disorders affecting blood flow. Vascular technologists often measure a patient's blood pressure and the volume of blood in their arms, legs, fingers, and toes in order to evaluate blood flow and identify blocked arteries or blood clots in the body.
Different places of employment
Hospitals
Offices of physicians
Medical and diagnostic laboratories
Outpatient care centers
Expectations
May be on their feet for long periods and may need to lift or turn patients who are ill or disabled.
May work evenings, weekends, or overnight because they work in facilities that are always open.
What kinds of things did people in this career enjoy doing when they were young...
Enjoyed solving puzzles and problems. 
Curious! 
Liked technology and learning about the new upgrades and advancements. 
Education Needed
Diagnostic Medical Sonographers require either a certificate, associate's, or bachelor's in sonography

Certificate programs can be finished in as little as a year, but degrees may qualify you for higher pay

Programs accredited by the

Commission on Accreditation of Allied Health Education Programs

are often preferred by employers

Associate-level courses may include: 

Abdominal Scanning and Pathology

OB/GYN Scanning and Pathology

Principles of General Sonography

Patient Care

Ultrasound Physics and Instrumentation

Vascular Scanning

Bachelor's curricula may include non-technical topics such as policy matters

Students should expect to complete a supervised clinical component in a hospital or other setting

In addition to completing college educational requirements, Diagnostic Medical Sonographers usually knock out a certification from one of the following organizations (either before or after taking a job):

American Registry for Diagnostic Medical Sonographers

- features certs in Musculoskeletal, Fetal Echocardiography, Adult Echocardiography, Sonography Principles, Vascular Technology, and more

American Registry of Radiologic Technologists

- features certs in Breast Sonography, Radiation Therapy, Bone Densitometry, Nuclear Medicine Technology, Cardiac Interventional Radiography, and more

Cardiovascular Credentialing International

- features certs in Advanced Cardiac Sonography, Phlebology, and more

Other credentialing institutions are: 

Certification requirements vary but they all feature an exam. It's not uncommon to earn more than one certification

CPR/basic life support certification

is usually necessary to get hired, too

Most states don't require licensure, but check with your school's program and the state medical board to be sure
What to do in HS and college
In high school, students can prepare by taking preparatory classes such as biology (anatomy, physiology, microbiology), math, college algebra, physics, and English

Shadow a medical sonographer to see if this is something you would be interested in

Per

O*Net

, 47% of workers in this field have an associate's, 19% have a post-secondary certificate, and 17% have a bachelor's. Decide which educational route you want to go to get started, keeping in mind you can always return to school later! 

It may be helpful to volunteer in healthcare settings, which can look great on college applications and resumes!

Learn about the importance of

bedside manner

when working with patients

Request to do informational interviews with working Diagnostic Medical Sonographers! See if it's possible to shadow on for a few hours at work

Watch videos about the different types of specialization opportunities in this field

Get your

CPR/basic life support certification

finished up and keep it current 

Get involved with professional organizations, read articles, learn the terminology, and stay up-to-date on the latest developments
Typical Roadmap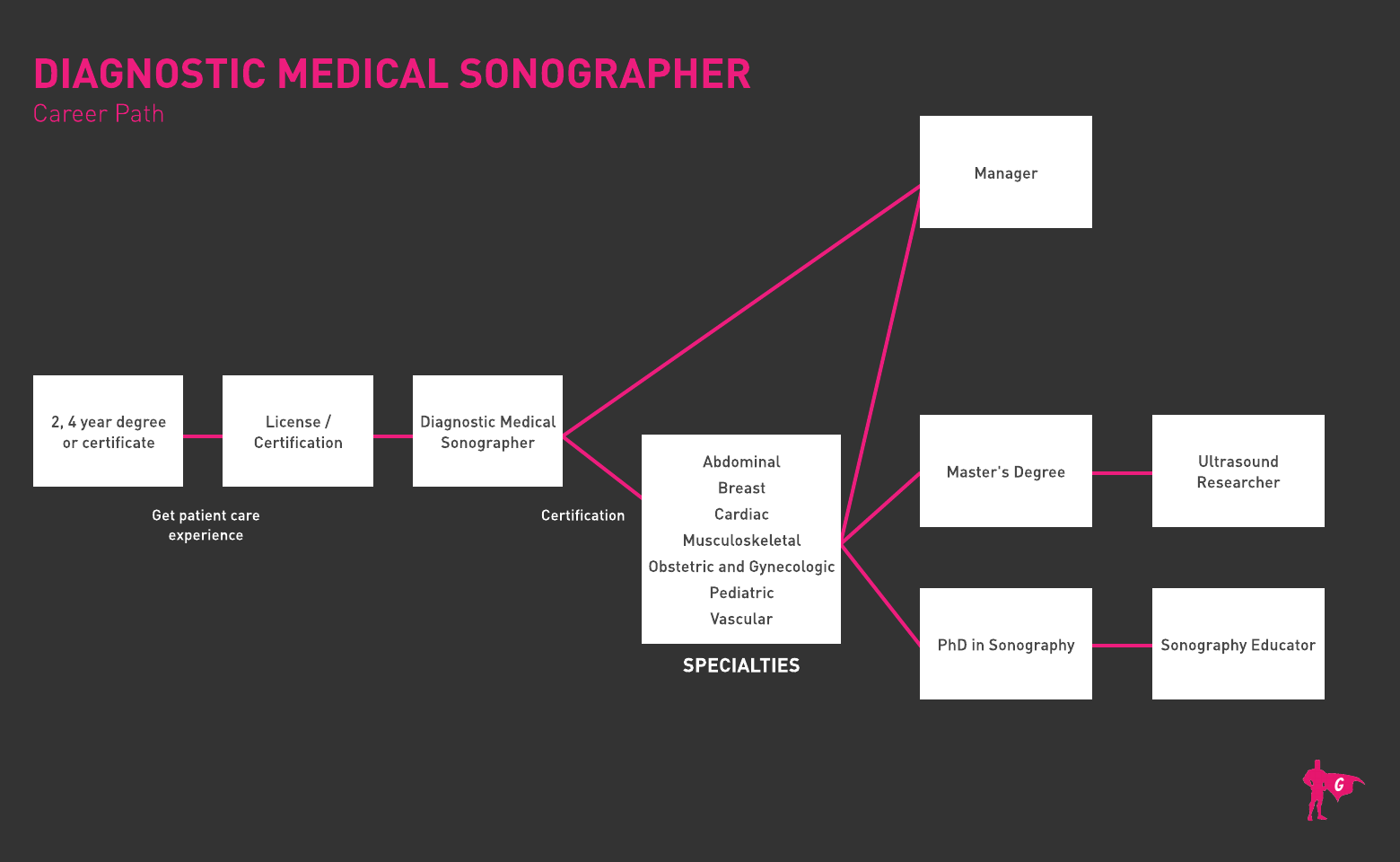 Landing the Job
Many employers prefer to hire candidates who have a basic life support (BLS) certification, which affirms that they are trained to provide CPR.

Sometimes it pays to just get started asap! Many Diagnostic Medical Sonographers start out working with a 1-year certificate and then later go on to complete a bachelor's after they have gained work experience

Diagnostic imaging personnel who are certified are expected to have the best job opportunities. Those certified in more than one specialty are expected to find even greater job opportunities.

During your supervised clinical practice, try to make connections, grow your network, and ask about potential job openings you could slide into! 

~78%

of people in this field work in hospitals, so consider moving to an area with plenty of hospitals around! 

The states with the

highest employment level

in Diagnostic Medical Sonographers are California, Texas, New York, Florida, and Ohio

The Bureau of Labor Statistics notes that many Sonographer jobs will be to diagnose medical conditions in

older populations

, so it could be useful to specialize in such areas 

Ask your school's career center or your program manager for help with job placement, resume writing, and mock interviewing

Check out sample

Diagnostic Medical Sonographers resume templates

. Make sure your resume if properly edited and error-free

Get ready for interviews by reviewing

commonly-asked questions

and selecting a

professional wardrobe

Talk to professors and supervisors in advance to see if they can serve as personal references when you're looking for work  

Sign up for alerts on

Indeed

,

Simply Hired

, and

Glassdoor
Career Advancement
Tips on how to advance and become a: 
Manager
Be a model employee
When an opportunity comes, take it
Don't be afraid to ask for a promotion
Ultrasound Researcher
For those who want to take an even more scientific approach to the bigger picture of sonography
Pursue a higher degree in sonography
Gain expertise in an ultrasound specialty
Reach out to other ultrasound researchers
Sonography Educator 
For those who have love for education and sonography
Earn a Master's of PhD in sonography
Consider skills needed to become an educator
Minor in education as an undergraduate
Newsfeed Featured Jobs Online Courses and Tools