Spotlights
Similar Titles
Inclusion Manager, Equity Manager, Diversity and Inclusion Manager, Diversity, Equity, and Inclusion (DEI) Manager, Diversity and Belonging Manager, Cultural Diversity Manager, Equal Opportunity Manager, Diversity Programs Manager, Diversity Engagement Manager, Diversity Coordinator
Job Description
In past decades, workplaces were often sorely lacking employee diversity, but modern initiatives have made great progress in changing that. Today, Diversity Managers, also known as Diversity and Inclusion Managers, help organizations find, attract, and retain talent from the broadest range of backgrounds possible. 
Diversity Managers may begin by cultivating welcoming work environments and assisting in the development of recruiting initiatives aimed at attracting qualified applicants from diverse candidate pools. But their work also extends to ensuring equitability in hiring practices, as well as creating and instituting programs designed to enhance and maintain diversity in the workplace. It's a rewarding career that's helping to tear down barriers while strengthening organizations through inclusive practices.
Rewarding Aspects of Career
Ensuring fair, equitable hiring practices 
Creating opportunities for qualified candidates from disadvantaged or historically underrepresented populations 
Empowering organizations by facilitating greater inclusiveness to enhance the range of creativity, perspectives, and ideas available for decision-makers
The Inside Scoop
Job Responsibilities
Working Schedule
Diversity Managers are full-time employees who typically work in offices but may occasionally need to make site visits which could take them out of town.  
Typical Duties
Research their employers' current workplace climate and recommend areas for improvement
Review organizational statistics to assess current levels of diversity 
Meet with management, team leaders, supervisors, and other staff to gather information and discuss problems and solutions
Look at policies or practices to see which are supportive of diversity versus which might present obstacles
Help establish short- and long-term diversity goals 
Develop ideas and strategies to help organizations reach those goals
Work with recruiters and HR staff to update hiring and retention strategies
Promote marketing techniques to make the organization more attractive to job seekers from diverse populations 
Additional Responsibilities
Provide or oversee related training for all organizational members 
Analyze performance review standards to ensure objectivity and fairness
Collaborate with government agencies dealing with Equal Employment Opportunity guideline compliance and enforcement
Stay up-to-date on diversity laws and best practices
Skills Needed on the Job
Soft Skills
Analytical
Attention to detail and standards
Collaboration and team-building
Communication skills
Coordination
Critical thinking
Data-driven
Empathy
Human resources
Leadership
Organizational skills
Realistic
Sound judgment
Technical Skills
Evaluation and problem-solving skills
Familiarity with HR software
Project management
Writing skills
Different Types of Organizations
Government agencies
Labor relations
Human resources departments within private organizations
Expectations and Sacrifices
Diversity Managers play vital roles in today's public and private organizations. They're expected to be subject matter experts who can propose, establish, and implement policy-backed goals aimed at increasing workplace diversity and inclusivity. When members of an organization are reluctant to change or when leadership isn't engaged, Diversity Managers may experience frustration as they must press forward with patience, understanding, and firmness. Ideally, they will put their skills to work to help unfreeze rigid mindsets and explain why changes are both positive and necessary. This may occasionally require difficult conversations, especially as Americans become increasingly polarized about social topics.
Current Trends
The push to increase diversity in the workplace started many years ago, and much progress has been made in recent times. However, diversity-related laws are subject to change as state and national leaders tend to come and go. Diversity Managers must not only help organizations understand and comply with such ever-evolving rules, but should also assist with establishing enduring internal guidelines which may withstand political shifts. 
Vantage Circle notes several important trends that future Diversity Managers should keep an eye on. Among these are issues related to the evolving remote workforce and the multigenerational workforce. Older workers, for example, may not be as tech-savvy as younger ones. 
Diversity Managers have to be careful to ensure other historically marginalized groups aren't forgotten. For instance, qualified workers with disabilities often face employment barriers that must be recognized and addressed. Veterans, as a group, also experience challenges as they transition from military to civilian jobs. 
Respecting diverse gender identity and expression is another topic that employers often need help navigating, as they strive for more inclusive, welcoming environments. Supporting positive mental health in the workplace is also an emerging consideration. Meanwhile, addressing bias, both conscious and unconscious, continues to be of critical importance.
What kinds of things did people in this career enjoy doing when they were younger…
Diversity Managers may have grown up in situations where they experienced bias or discrimination in their own lives, which may have instilled a desire to address such problems through institutional change. Growing up, they may have been keenly interested in reading and learning about civil rights topics, and how civil rights leaders employed different strategies to affect change. Diversity Managers have powerful soft skills which they may have honed through volunteering in student organizations in school or through community volunteerism.
Typical Roadmap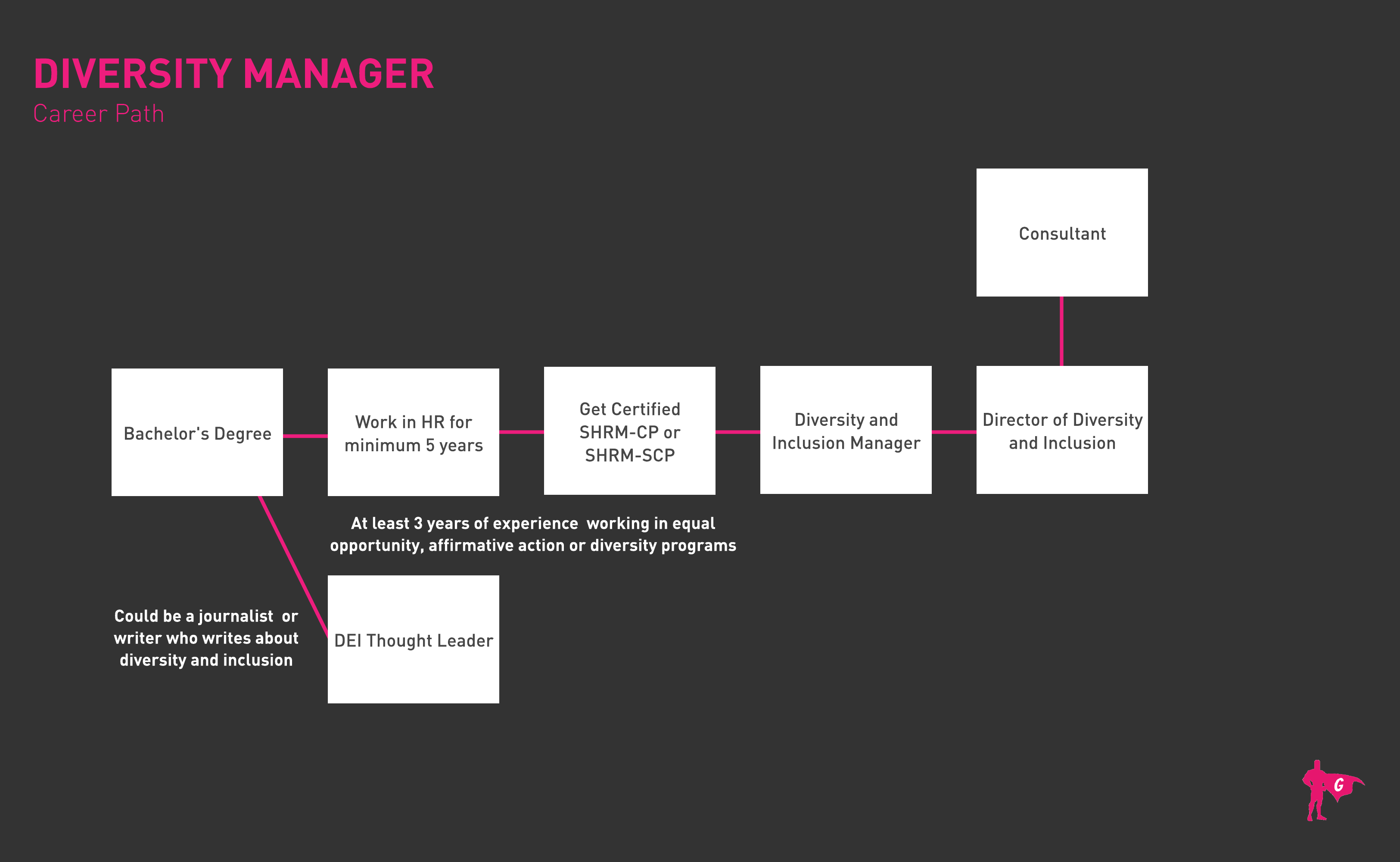 How to Land your 1st job
Many Diversity Managers start off as Human Resources professionals, gaining general HR experience before specializing in diversity
As Games Industry writes, Diversity Manager jobs are "not a junior role, and starting off in a diversity and inclusion position straight away is unlikely."
HR internships can also be helpful to get some real-world practical experience 
Volunteering with relevant community organizations or nonprofits can also help build up your resume
Sign up for alerts on popular job portals like ZipRecruiter, SimplyHired, Indeed, Monster, and Glassdoor 
Read through job ads carefully. If you're missing any qualifications, go back and work on those so you'll be competitive when applying
Polish up your LinkedIn profile and share or write posts about DEI topics
Ask people in your network for tips about job openings. It's been said that the majority of jobs are found through networking and that most jobs are never posted publicly. In fact, that could be a systemic problem that Diversity Managers need to look into! 
Reach out to former professors and supervisors to see if they'll serve as personal references
Knock out a professional certification to beef up your application (see our Education and Training tab)
Find out what resources your school's career center offers
Check out Diversity Manager resume samples and practice doing mock interviews 
Review Indeed's How to Dress for an Interview
How to Climb the Ladder
Perhaps the best way to climb the ladder is to make positive, measurable changes in your organization. Apply all your knowledge and skills to making the improvements they hired you to help with
Be a proactive problem solver and draw upon your patience and resilience when confronted with obstacles or stubbornness
Lobby for more funding so you can access or provide needed resources and make a greater impact
Demonstrate your ability to tackle increased responsibilities by showing leadership and offering to mentor others
Work to constantly expand your knowledge base and stay up-to-date on developments
Sign up for additional certifications and consider completing a graduate degree 
Hold teams accountable for compliance with DEI standards. Set the example for others to follow
Be a team player, an attentive follower, and a strong leader. Earn a rep as someone who is competent and knows what they're doing!
Have discussions with your supervisor and ask about promotion opportunities. If you feel it is necessary to leave an organization in order to climb your career ladder, try to leave on the best terms possible
Recommended Tools/Resources
Plan B
Diversity Management is a vital career field that is helping make a positive impact in workplaces and communities around the nation. But it can be a challenging job sometimes! Many professionals want to contribute towards DEI goals but without necessarily being in the thick of things each day. Alternative career options include:
Compensation and Benefits Manager
Director of Recruiting
Diversity Consultant
Diversity Coordinator
Diversity Trainer
EEO Investigator 
Equality and Diversity Auditor
HR Manager
Human Resource Information Specialist
Labor Relations Consultant
Supplier Diversity Manager
Teacher
Newsfeed Featured Jobs Online Courses and Tools