Spotlights
Similar Titles
CAD Technician, Design Technician, Drafting Technician, Technical Illustrator, Engineering Technician, Architectural Drafter, Mechanical Drafter, Electrical Drafter, Civil Drafter, Structural Drafter, CAD Designer
Job Description
Have you ever looked at a building or product and wondered how it was made? There are countless people involved in creating the structures we live in and the objects we interact with. But when it comes to preliminary design stages for these things, most people think of architects or engineers and forget about Drafters! 
Drafters take the concepts of architects or product designers and the technical ideas of engineers and turn them into detailed schematics. These schematics, created with computer-aided drafting tools, can be programmed into building information modeling systems and other software so that construction managers, manufacturers, engineers, and others can review 3D representations. 
The drafting career field can be broken into various areas of specialization. These include:
Aeronautical drafting (for aircraft)

Architectural drafting (for buildings)

Civil drafting (for topographical maps)

Electrical drafting (for electrical equipment)

Electronics drafting (for wiring diagrams, circuit boards, etc.)

Mechanical drafting (for machinery and mechanical equipment)

Pipeline drafting (for distribution of oil, gas, etc.)
Clearly, Drafters can find all sorts of work with the right skills and education! 
Rewarding Aspects of Career
Playing an integral part in the design stages of construction and manufacturing projects

Helping potentially hundreds or thousands of employees earn a living working on large-scale projects  

Being part of the creation of buildings that people live and work in, or otherwise use; or in the creation of products or parts needed by consumers 
2021 Employment
192,200
2031 Projected Employment
185,400
The Inside Scoop
Job Responsibilities
Working Schedule
Drafters have typical full-time schedules, with overtime necessary depending on project goals and timeframes. Work is usually indoors, with some travel needed from time to time.  
Typical Duties
Review sketches, illustrations, paintings, or other visual materials related to the building or product being designed 

Review technical drawings, schematics, blueprints, written objectives, specifications, and other data 

Consider topographic surveys, well logs, and other reports, as applicable 

Meet with clients, managers, project team members (architects, engineers, additional Drafters), and other stakeholders to discuss desired mediums, deliverables, budgets, and timeframes

Design building, electronic, mechanical, or product plans utilizing computer-aided design tools and engineering and manufacturing principles 

Layout specific rooms for building projects

Work closely with and take guidance from applicable team members, as needed

Add pertinent details, including dimensions, suggested materials, costs, quantities, features, and other notes

Verify the accuracy of details by cross-checking against documentation

Make changes or corrections, as directed

Explain diagrams, graphs, and other visuals to clients

Calculate excavation tonnage, heat loss or gain, and other factors relevant to construction

Visit job sites, when necessary, for field surveys or inspections

Save, organize, manage, and protect digital files throughout their lifecycle
Additional Responsibilities
Stay up-to-date by reading drafting publications

Advertise services to attract new clients, as needed

Train and mentor new Drafters, technologists, and technicians
Skills Needed on the Job
Soft Skills
Analytical

Compliance-oriented

Critical thinking

Detail-oriented

Discipline

Planning and organization

Problem-solving skills

Sound judgment 

Strong communication skills

Teamwork

Time management 
Technical Skills
Analytical/scientific software such as

MathWorks MATLAB

Basic mathematics, algebra, Cartesian math, geometry, and trigonometry

Building information modeling systems (BIM)

Computer-aided design programs like

AutoCAD

Computer-aided manufacturing 

Database user interfaces

Development environment software

Document management 

Enterprise resource planning 

Geographic information systems

Industrial control software such as

SCADA

Map creation software

Presentation tools

Process mapping and design like

MS Visio

Project management 

Knowledge of technical drawing and

associated tools

, such as scales, triangles, curves, protractors, T-squares, drafting tape and tubes, templates, reference tables, boards, blueprint measuring tools, lettering pens, etc.
Different Types of Organizations
Architectural and civil drafter services

Construction industry

Electronics makers

Manufacturing

Mechanical drafting services

Waste management
Expectations and Sacrifices
Drafters need to pay extremely close attention to detail as they work, to ensure their output is accurate and thorough. They must draw information from multiple sources while trying to form a cohesive picture that meets everyone's criteria. Sometimes there might be conflicting desires from various stakeholders or team members, but the Drafter has to try and get everyone on the same page. 
In addition, they'll have to keep up with changes in technology as advances in CAD and BIM transform the field. Some of these changes may impact the long-term job outlook of Drafters, so it may be necessary to specialize in areas with more future opportunities. For example, the job outlook for mechanical drafters indicates a projected employment decrease of 9%, whereas architectural and civil drafts have only a projected 1% decrease.
Current Trends
There are several innovations and trends running across multiple areas of drafting. Many are related to the incredible advances in technologies such as CAD, BIM, the Internet of Things, artificial intelligence automation, 3D printing, robotics, and the cloud. There's also a massive shift toward renewable energy drafting. Architectural drafting, for instance, has been affected by the push for more green, environmentally-friendly buildings and products that rely on sustainable materials. 
What kinds of things did people in this career enjoy doing when they were younger…
Drafters often have a unique combination of imagination and technical skills, which allows them to create highly-detailed representations of proposed structures, products, and electrical or mechanical objects. They may have loved both math and art (with a focus on photorealism, detail, and accurate perspectives). Because drafting requires so much work with computers and software, they were likely very comfortable using the latest technologies to bring their visions to life. 
Education and Training Needed
Education Needed
After high school, Drafters usually finish a drafting associate's degree or certificate program at a technical school or community college. Some go on to complete a bachelor's or master's, but that isn't usually needed for entry-level roles

Common associate-level courses include drawing, sketching, computer-aided design, design fundamentals, science, and math

In addition, Drafters usually specialize in one area, such as mechanical drafting, and thus need to customize their degree with applicable electives

Some Drafters apply for paid

apprenticeship programs

. Per Zippia, having some college education can make you a more competitive applicant for apprenticeships, though many learn the prerequisite skills on their own

Drafters often complete optional certifications during their careers. These demonstrate competence to employers and may qualify you for raises or promotions 

Certification options vary by specialty. A few of the numerous certifying organizations are

American Design Drafting Association

and

Autodesk

 
Specialized certs are offered in:
Architectural drafting - 

Electrical drafting -

 

Mechanical drafting -
Things to look for in an university
Decide if you want to complete a certificate, associate's, or bachelor's before choosing your school. A technical school or community college should be far less expensive than a four-year institution

Consider the cost of tuition, discounts, and local scholarship opportunities (in addition to federal aid)

Think about your schedule and flexibility when deciding whether to enroll in an on-campus, online, or hybrid program

Check out the program's faculty awards and accomplishments to see what they've worked on

Review job placement stats and details about the program's alumni network
Things to do in High School and College
Sign up for plenty of mathematics, science, design, drafting, and computer graphics courses in high school, to help prepare you for college-level courses

Consider building a portfolio to show schools and prospective employers

Get some real-world job experience via part-time jobs related to drafting 

Volunteer for student activities where you can manage projects and learn practical soft skills

Learn about the various areas of specialization, such as aeronautics, architecture, electronics, and pipelines, or civil, electrical, or mechanical drafting

Tailor your education accordingly

Take ad hoc classes online, from

Coursera

,

Udemy

, or other sites

Coursera has a ton of CAD-related classes and programs, including official ones from

Autodesk

Note, many courses will require access to software that you might have to purchase or subscribe to, such as

Autodesk Fusion 360

Review job postings in advance to see what the average requirements are

Request to do an informational interview

with a working Drafter to learn about their job

Seek out internships to get some hands-on experience 

Keep track of contacts who might serve as future job references 

Study books, articles, and video tutorials related to different types of Drafting and the applicable tools and technologies

Engage in online forums to ask questions and learn from seasoned pros 

Engage with professional organizations to learn, share, make friends, and grow your network (see our list of Resources > Websites)

Start crafting a resume early. Keep adding to it as you go, so you don't lose track of anything
Typical Roadmap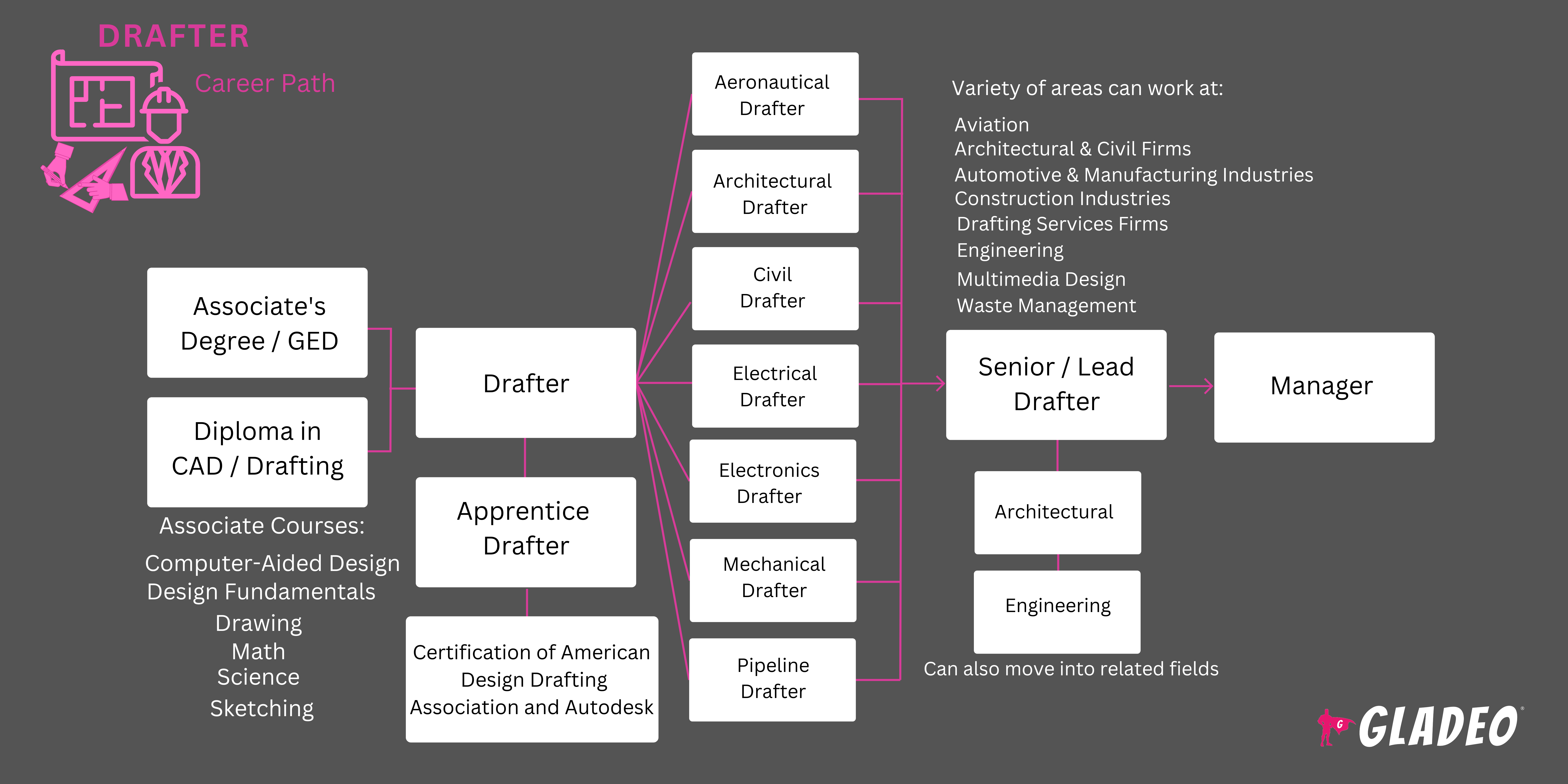 How to Land your 1st job
There are different types of Drafters, so look for postings that match your background and qualifications

Let your

LinkedIn

network know you're looking for openings 

Contact references to inquire if they are willing to recommend you or write letters of reference 

Create a

drafting portfolio

to showcase your work 

Get some practical work experience under your belt before applying, if possible

A degree isn't always needed to get started working in this field but may put you ahead of the competition

Check out job portals such as

Indeed

,

Simply Hired

, and

Glassdoor

, as well as the career pages of companies you are interested in working for

Screen ads carefully and only apply if you're fully qualified

Drafting-related apprenticeships can help get your foot in the door. They look great on resumes plus may yield some personal references for later

Ask working Drafters for job-seeking tips

Move to where the most job opportunities are! Check out the Bureau of Labor Statistic's

Occupational Employment and Wage Statistics

Drafters page for links to data maps 

Employers often recruit grads from drafting programs, so ask your technical school or college's career center for help connecting with recruiters and job fairs

Check out

Drafter resume templates

to get ideas 

Tailor your resume to the job you're applying for, versus sending out the same resume to every employer

Dress appropriately

for job interview success!
How to Climb the Ladder
Expect to start out in entry-level roles then work your way up to positions of greater responsibility

Let your supervisor know when you're ready to tackle more or larger projects 

Knock out relevant certifications to bolster credentials and make you more competitive 

If you don't have a bachelor's, consider pursuing one. If you have one, think about doing a master's if it'll help qualify you for advancement 

Utilize the most up-to-date programs and techniques 

Never stop seeking creative inspiration. Study the work of more advanced Drafting professionals

Learn as much as you can about the various aspects of Drafting while specializing in your chosen field 

Turn in high-quality work by due dates. If there's a problem, offer solutions to help address it

Collaborate effectively on teams, stay focused and realistic, and demonstrate leadership

Grow your network by participating in professional organizations
Recommended Tools/Resources
Plan B
Drafting can be a dynamic profession but there are times when work is stressful or cumbersome. If you're curious about related occupations, the Bureau of Labor Statistics suggests the following options:
Architects

Civil Engineering Technologists and Technicians

Electrical and Electronic Engineering Technologists and Technicians

Electrical and Electronics Engineers

Industrial Designers

Landscape Architects

Mechanical Engineering Technologists and Technicians

Mechanical Engineers

Surveying and Mapping Technicians

Surveyors
Newsfeed Featured Jobs Online Courses and Tools