Spotlights
Job Description
The wide world of e-commerce offers many of the hottest jobs around, with expectations that the sector will keep expanding in coming years. Record-breaking online sales and the continuing shift away from traditional brick-and-mortar shopping prompt new e-commerce stores to open every day. Meanwhile, established companies are adjusting their operations to meet the growing needs of online consumers. 
 
E-commerce Operations Managers are key players who help online direct-to-consumer brands manage logistics. The work includes tracking product inventory, ensuring prompt order fulfillment, and timely shipping to customers. Employees in this role work closely with other team leads such as warehouse and supply chain managers. But while the job shares similarities to E-commerce Supply Chain Management, E-commerce Ops Managers focus on functions inside their company, not outside of it. 
Rewarding Aspects of Career
Keeping e-commerce store operations running smoothly 
Helping to ensure the safety and job security of workers
Enabling consumers to purchase products they want, delivered with accuracy and timeliness
Learning valuable "behind-the-scenes" logistical skills
The Inside Scoop
Job Responsibilities
Working Schedule
E-commerce Operations Managers work at least full-time, with overtime, night shifts, weekends, or holiday season work possible.  
Typical Duties
Provide oversight for applicable employee training and workforce development
Ensure seamless end-to-end e-commerce processes are utilized
Manage cross-functional operations within one or more warehouses
Potentially oversee inventory sites around the world
Collaborate with various teams (to include marketing, budget and resource management, order fulfillment, vendors, and other logistics partners)
Manage a multichannel distribution infrastructure  
Work with supply chain teams on planning and shipping strategies 
Ensure efficient, accurate, and safe inventory and warehousing processes
Review fulfillment and replenishment workflows
Build strong customer relationships through outstanding service
Pull inventory reports, conduct audits, and review invoices
Use e-commerce platforms
Engage with forecasting plans, targeting goals, and KPIs
Additional Responsibilities
Serve as a role model to other workers 
Meet with leadership and management to discuss problems, solutions, and trends
Participate in new hiring processes as well as drafting employee-related policies and managing retention efforts
Ensure compliance with applicable federal, state, and local laws and regulations 
Skills Needed on the Job
Soft Skills
Analytical
Attention-to-detail
Collaboration and teamwork
Customer service
Leadership and management skills
Organized 
Problem-solving skills
Process-oriented 
Results-driven
Skills for coordinating and instructing activities
Sound judgment and decision-making
Strong communication skills 
Time management skills
Troubleshooting skills
Technical Skills
Calendar and scheduling 
Database user interface/query 
Direct-to-Consumer businesses practices
End-to-end process management
Experience in e-commerce sales principles
Experience in managing operations 
Experience with e-commerce platforms (SalesForce, Etail)
Inventory management  
Planning 
Process mapping
Procurement  
Project management  
Spreadsheets 
Supply chain management
Understanding logistics systems
Warehouse Management Software
Different Types of Organizations
E-commerce businesses
Traditional companies with online sales
Wholesale trade    
Expectations and Sacrifices
Online shoppers usually have little idea of the intricate behind-the-scenes workings of an e-commerce business. It takes dedicated, highly-organized E-commerce Operations Managers to keep processes running smoothly, overseeing and often directly engaging in the myriad "moving pieces" within a warehouse…or multiple warehouses! 
 
Everything hinges on the effectiveness of the E-commerce Operations Manager, who bears enormous responsibilities to keep things afloat. The job can be stressful, with labor and management pressures. Workers in this field must stay calm, cool, and collected at all costs, especially when problems arise or schedules ramp up due to holidays and sales events. That is why most companies look for managers with ample experience to handle the pressure. 
Current Trends
In recent years, the US labor force has been hit with unprecedented shortages, leaving some e-commerce businesses struggling to find workers. This is happening at a time when e-commerce sales have skyrocketed, exacerbating the problem even further. As a result, E-commerce Operations Managers are all the more critical, for they must make labor-intensive processes as efficient as possible, so fewer people are needed. 
 
Technology and automation play vital roles in this streamlining process, but managers are on the hook to retain the workers they have during the Great Resignation. Modern operations employees demand more rights and for companies to care about their well-being. E-commerce businesses are addressing these issues by offering clearer frontline communication, more training, improved working conditions, more pay and benefits, and more predictable schedules for a better workforce experience. 
What kinds of things did people in this career enjoy doing when they were young...
E-commerce Operations Managers must be very process-oriented and able to elicit the best work out of employees. They may have exhibited natural leadership and management traits as kids, comfortable being in the center of the action. Their parents might have given them chores and responsibilities at an early age, or perhaps they were simply drawn to taking charge of things at school. 
 
Many E-commerce Operations Managers honed their skills over years, working at early ages in retail stores, warehouses, or other logistics-oriented settings. Some may have also served in military positions, acquiring discipline and a sense of urgency that carried over into their civilian careers. 
Education and Training Needed
E-commerce Operations Managers should ideally have a bachelor's in logistics, operations management, e-commerce, business administration, or related studies
Vocational training or an associate's degree could be enough to get your foot in the door

According to Zippia, 36% of all warehouse operations managers hold a bachelor's; 29% have only a high school diploma and 20% have an associate's (the remaining percentages have unspecified diplomas or degrees)
Many employers place more value on practical, relevant work experience than academics

Certifications like Project Management Professional or Master Project Manager can boost your skills…and your resume!
Many colleges also offer academic certificates, such as eCornell's Operations Management Certificate Program
Some workers land their jobs by working their way up from warehouse labor positions within the company while supplementing academic knowledge with community college/vocational training courses
Many e-commerce and traditional companies offer Operations Manager internships providing practical paid experience 
New E-commerce Operations Managers can expect plenty of On-the-Job Training to learn about their new company and its processes
Things to look for in a program
Again, only about a third of E-commerce Operations Managers have a bachelor's degree, so it is possible to get started with no degree or with just a few community college/vocational school courses under your belt
Should you decide to go for a bachelor's, look for college programs that offer as much practical experience as possible

Fully online programs can be an attractive option for many, but you must find ways to gain hands-on experience, too

Be sure to take classes related specifically to e-commerce business practices
Read faculty bios to see what type of field experiences the teachers have 
Ensure your school and degree program are properly accredited
Never simply buy into a school's marketing and advertising. Colleges view students as big-ticket item customers, and they spend a ton of money to target and appeal to you. That doesn't mean their programs are suitable for your needs
Read authentic reviews from graduates to find out more about a particular program you're interested in
Check out college ranking websites to see how well programs stack up against the competition (but keep in mind, some of those sites receive paid sponsorships from schools) 
Review the school or program's statistics regarding acceptance rates, graduation rates, and post-graduation job placement
Things to do in High School and College
Set goals for what you want to achieve in your E-commerce Ops career
Sign up for business, management, and communications electives in high school
Volunteer to organize extracurricular activities and gain practical experience overseeing large projects
Consider taking a part-time job as a warehouse worker or delivery driver
Seek out Operations Manager internships with e-commerce businesses 
Work at the retail store of the company you want to work at (if they have one) and get promoted to manager or regional manager. 
Time-permitting, finish an applicable certification program
Join e-commerce-related organizations to make contacts and learn from peers 
Read trade magazines or articles about the industry, including topics such as emerging trends, best practices, and lessons learned
Typical Roadmap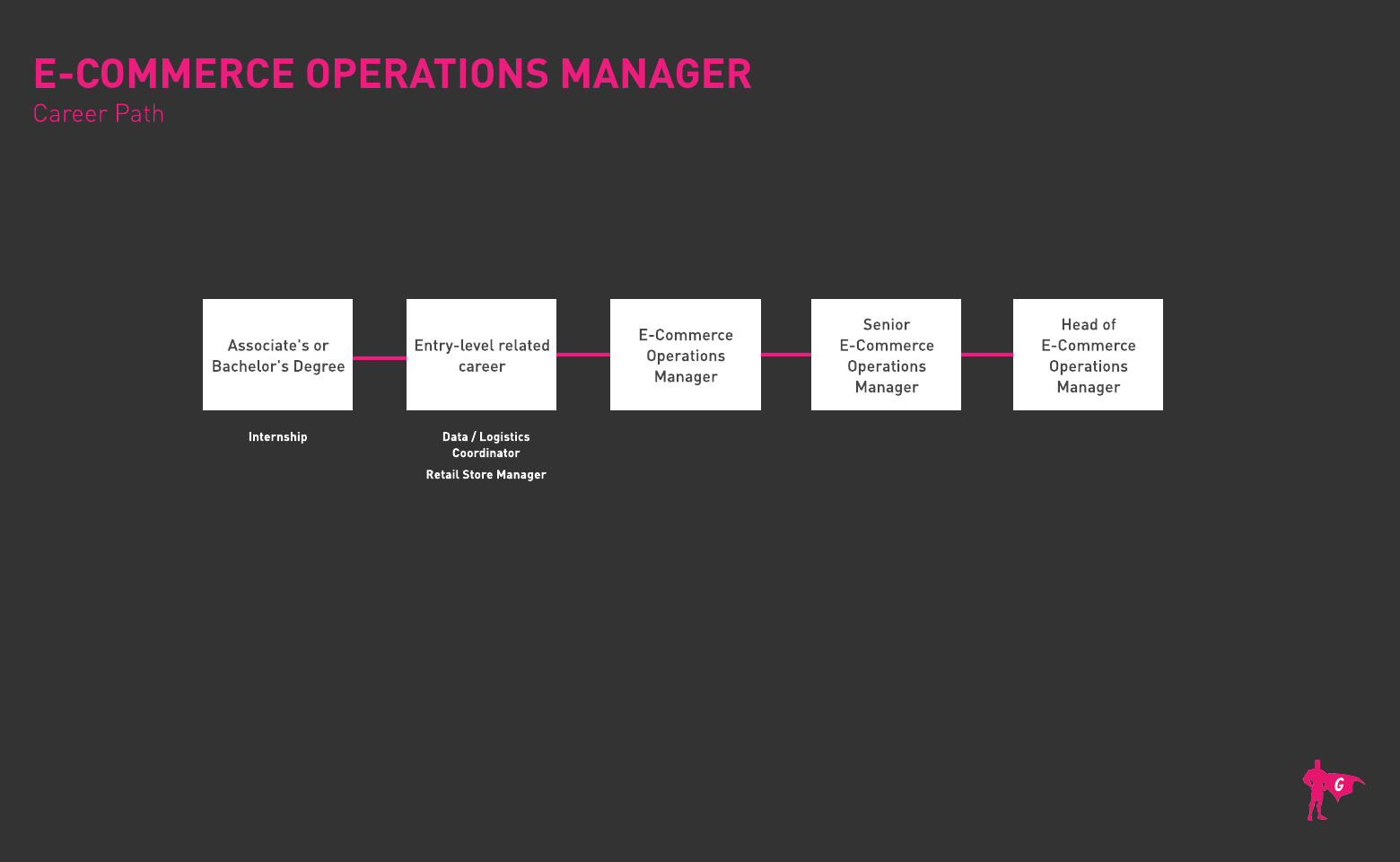 How to land your 1st job
Most companies want to interview applicants who have several years of e-commerce work experience. Find an entry level position that is relevant to operations such as data or logistics coordinator. If the company has a retail office, become a store manager or regional store manager. 
Write a compelling resume that lists your skills and the impacts your work had at previous companies, if applicable
Review your application materials objectively, as if you were the recruiter or hiring manager. Take the time to address any weak areas or gaps on your resume 
Polish up your social media and LinkedIn, because employers are increasingly looking at their potential workers' online presence
Advertise that you're seeking a role as an E-commerce Operations Manager. Get the word out, because these days many companies are struggling to find qualified personnel who are ready to work!
If you are already employed by an e-commerce company, look for openings and talk to your supervisor so you can work your way up from within
Ask co-workers, supervisors, or professors if they're willing to serve as references
Comb through the big employment portals such as Indeed.com but don't forget specialized sites like EcommerceOpsJobs or local listings on Craigslist
Prep for your interview by studying Operations Manager Interview Questions and practicing your responses
How to Climb the Ladder
One of the best ways to earn a promotion as an E-commerce Operations Manager is to know your job, do it right, and make money for your company
Set a high bar for process efficiency and safety. Hold employees accountable to those high standards
Take care of your people. Be a firm yet empathetic leader who understands how to motivate workers and elicit the best performance from teams
Train and mentor workers patiently, taking the time to ensure they can do their job correctly and without undue stress or uncertainty
Learn your company inside and out, and look for ways to improve processes and "do more with less"
If there is any vendor-specific training that would make you better at your job, do it
Consider completing advanced certifications or other professional development courses
Come to meetings with the goal of solving problems in a positive, effective manner
Recommended Resources
Websites
Amware Logistics and Fulfillment Blog
International Warehouse Logistics Association
Shipbob Blog
The Warehouse Worker Resource Center
Warehousing Education and Resource Council
Materials Handling and Logistics' Warehouse Blog
Books
Plan B
E-commerce Operations Management is a demanding, fast-paced career field and not everyone is cut out for this type of work. If you're interested in an e-commerce job but want to explore other options, a few alternatives include:
E-Commerce Search Engine Marketing Manager
E-Commerce Business Analyst
E-Commerce Project Manager
Sales Managers
Newsfeed Featured Jobs Online Courses and Tools