Spotlights
Similar Titles
E-commerce Program Manager, E-commerce Project Coordinator, E-commerce Project Lead, E-commerce Implementation Manager, E-commerce Project Consultant, E-commerce Project Specialist, E-commerce Project Administrator, E-commerce Project Officer, E-commerce Project Planner, E-commerce Project Director
Job Description
In recent years, e-commerce has become a behemoth, with global sales on target to reach $4.2 trillion in 2021. E-commerce businesses come in many forms — sometimes, most of a company's sales are online (such as Amazon), while others (like Walmart) offer online and physical retail shopping. It takes groups of teams to tackle the workload, plus an adept E-Commerce Project Manager to keep things organized. 
 
E-commerce Project Managers are right in the middle of things, serving as liaisons between various product, technology, marketing, and executive teams. They're in charge of coordinating day-to-day aspects of a company's overall e-commerce operation, such as improving website designs, reducing costly inefficiencies, and looking for ways to make improvements. They assist with big picture planning and keep business processes on time, on track, and within budget. 
 
Because of their unique roles in an organization, E-commerce Project Managers require outstanding coordination and communication skills. They're administratively responsible for ensuring jobs are done right, which may involve direct supervision, problem-solving, and conflict resolution within a range of diverse team settings. They meet with managers to formulate strategy, assess risks and opportunities, and directly engage with customers, vendors, or even legal staff. 
"I plan and execute and manage technology projects, like upgrades, implementations specially for ERP services for companies. Lead and manage teams and coordinate meetings. Analyze risks and impacts and proactively manage them. A project is a success, if it is done on time, within the budget and delivers the scope outlined."  Hajara Al Amodi, Technical Project Manager, CTA
Rewarding Aspects of Career
Keeping organizational processes on schedule, so the job gets done
Helping e-commerce companies thrive and grow profitable 
Indirectly ensuring job security for fellow employees
Reducing workplace stress and inefficiencies 
Ensuring consumers have an enjoyable online shopping experience and receive quality products promptly
"I am a people person. I love working with others and helping them in their efforts. I love, the feeling of uniting with others and successfully achieving a goal. To see, a project that helps the strategic goal of the company is very rewarding." Hajara Al Amodi, Technical Project Manager, CTA
The Inside Scoop
Job Responsibilities
Working Schedule
E-commerce Project Managers have hectic days and can expect to work full time, with overtime being possible during holidays or major shopping events like Black Friday or Cyber Monday. Because e-commerce stores are online, they operate 'round the clock, with orders coming in at any time. Thus PMs may be on call if a situation arises after hours! 
Typical Duties
Manage and prioritize general e-commerce business processes
Work with UI/UX teams to optimize the online shopping experience for consumers, improving conversion rates
Ensure site users can easily find the things they want and are exposed to suitable ads, promotions, upsells/cross-sells, discount offers, email capture prompts, newsletter or club invitations, etc.
Collaborate with marketing to discover and exploit lead generation techniques
Ensure shopping websites are continually up-to-date 
Keep individual product pages and associated inventory levels current
Enhance customer service and customer relationship management strategies
Work with management and stakeholders to determine Key Performance Indicators; review and analyze sales statistics to objectively gauge success 
Keep projects within pre-established budgets while meeting timelines and quality assurance standards 
Determine and mitigate risks, resource constraints, or potential problems in advance, along with crafting contingency "backup" plans 
Develop project plans which may include:
Flow diagrams ("a type of flowchart that illustrates the relationships between major components at an industrial plant")
Use cases, i.e., written descriptions of how users perform tasks on the company's website
Current/future state diagrams to visualize process steps and make improvements
Update plans as needed to ensure currency and accuracy
Additional Responsibilities
Stay abreast of legislative updates
Keep up-to-date with emerging technologies
Coordinate with follow-up email campaigns and post-transactional marketing
Conduct performance evaluations and reviews to offer productive feedback
Prepare post-project reports to include possible benchmarks and lessons learned that can be used to make future projects run more smoothly 
Skills Needed on the Job
Soft Skills
Analytical
Business-minded
Clear communication skills 
Collaboration
Creativity
Critical-thinking 
Detail-oriented
Interpersonal skills
Marketing skills
Multitasking
Organized 
Problem-solving skills
Practicality
Skills for coordinating and instructing activities
Sound judgment and decision-making
Team player
Technical Skills
Agile Project Management (Scrum)
B2B and B2C technologies (Magento)
Budgeting software
Business processes
Customer Relationship Management software
Developing project plans
Enterprise Resource Planning
HTML
Java
Processing diagrams
Project management office functions
Quality Assurance concepts for e-commerce
Return on Investment principles
Search Engine Optimization
SQL
Test Scripts
Third-party vendor agreements
Understanding e-commerce trends 
Use cases
User Acceptance Testing
User Interface/User Experience (UI/UX) design
Web content 
Different Types of Organizations
E-commerce companies     
Traditional companies with online sales
Wholesale trade    
Expectations and Sacrifices
E-commerce Project Managers must possess top-notch organizational management and team-building skills to keep people and processes on target. They ensure everyone is "on the same page" regarding goals, priorities, timetables, budgets, and other workflow matters while keeping workplace stress, hazards, and personnel conflicts to a minimum. 
 
Unlike brick-and-mortar operations, e-commerce stores receive customer orders day and night, 24/7. As a result, larger companies may need workers on night shifts, with PMs available to keep after-hour processes running smoothly. 
 
The pressures and responsibilities of the job can be at times overwhelming, so it is essential to find ways to decompress and recharge. It isn't always possible to keep management, stakeholders, employees, and customers 100% satisfied at all times — but a successful E-Commerce Project Manager needs to attempt precisely that! 
Current Trends
E-commerce has never been hotter. Indeed the rise of online shopping — exacerbated by a range of factors such as the pandemic and stimulus checks — has swamped a global supply chain that hasn't been able to keep up. 
 
As e-commerce startups have come and either soared or sank, traditional brick-and-mortar businesses have faced hard choices to either embrace e-commerce...or risk going extinct, as Borders Books and Blockbuster Video did. It's up to savvy E-commerce Project Managers to keep companies alive and well, no matter how long they've been around, how big they are, or what niches they serve. 
 
E-stores compete fiercely with each other for the attention and loyalty of online shoppers. E-commerce PMs must collaborate with Business Analysts, Supply Chain Managers, website developers, and marketing teams to keep processes running smoothly. They help companies find and retain customers with quality, affordable products delivered on time! 
"There is a lot of specialization happening. Project managers were considered Jack of all. But now businesses want some one who has specific industry knowledge or experience managing a specific technology." Hajara Al Amodi, Technical Project Manager, CTA
What kinds of things did people in this career enjoy doing when they were young...
E-commerce Project Managers are often energetic and outgoing but also methodical and focused on attention to detail. They're able to juggle multiple tasks at once and are adept at organizing and coordinating fast-paced, complex activities on a large scale and with many people, processes, and physical things involved. 
 
These aren't abilities that develop overnight but instead take years of practical experience to hone and fine-tune. As kids, e-commerce PMs may have been put in charge of things around the house, such as managing younger siblings and knocking out chores. They might have been leaders in school, playing on sports teams, or participating in band activities. As young adults, they may have held floor supervisor-type roles. Some may have spent time in the military, given responsibilities early on while being told the importance of their mission and that "failure isn't an option!" 
 "I have seen, people, who enjoy this profession are planners in general. They like to plan and strategize everything. The do things in their life like projects. I myself, am like that. Create a study plan, create a weekly plan, vacation plan and they like to implement it. See, that it is working and like to see an end result in a specific time frame. A final product, they can measure, feel, see." Hajara Al Amodi, Technical Project Manager, CTA
Education and Training Needed
A bachelor's in a field such as business, marketing, mass communications, computer science, or e-commerce
A master's degree and a few years of related work experience is very desirable but not always required  
Certifications can bolster your odds of getting hired or promoted. Common certs are:

AAPM's CEC Certified E-Commerce Consultant
PMI's Project Management Professional Certification
Global Association for Quality Management's Professional in Project Management Certification

Many e-commerce and traditional companies offer Project Manager internships which can provide invaluable real-world experience that looks great on a resume
Most companies will need their new E-commerce Project Managers to undergo some localized On-the-Job Training, the length of which depends on the scope of duties
Things to look for in a program
There are plenty of degree paths for Project Managers to consider, but since we're talking about e-commerce, programs should focus on that aspect of the studies
Classes will include topics like business finance, digital marketing, online retail, and applicable technology  
Due to the management and leadership characteristics needed, consider electives in public speaking, management, team-building, and Sigma Six coursework 
Your university should ideally have active student organizations that offer a chance to practice soft skills in-person

If you enroll in an online program, look for ways to gain management experience via remote methods
Ensure your school and program are both accredited

Check out college ranking websites to read reviews
Pay attention to the school's published stats on job placement after graduation
Things to do in High School and College
High school is a wonderful place to start honing your management and leadership skills via students organizations, clubs, sports, and extracurricular or volunteer activities
Develop your soft skills early with classes that emphasize presentations, teamwork, decision-making, resilience, conflict resolution, debate, and psychology 
Seek out Project Manager internships with e-commerce businesses that offer fair pay and great practical experiences
Time permitting, knock out some online certification programs to boost your knowledge and competency
Stay active with student and professional organizations so you can grow your professional network, keep skills sharp, and learn about the latest industry developments
Typical Roadmap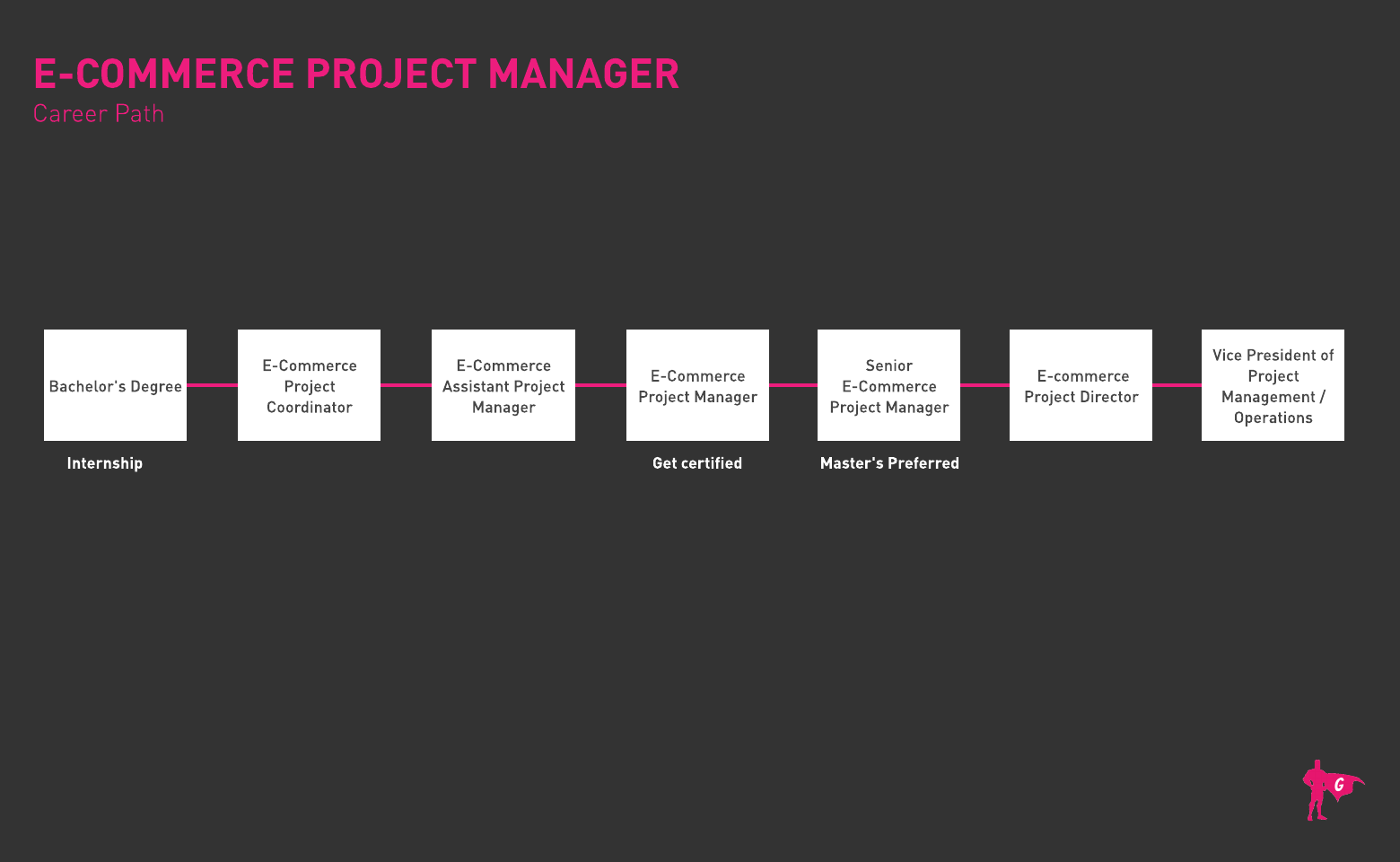 How to land your 1st job
Project Management is serious business, so make sure you've gained sufficient education and related work experience before applying for your first E-commerce PM job
Put your network to work! Let everyone know you're ready and actively seeking an open position
Scour traditional employment portals like Indeed.com, Monster, and Glassdoor, but also check out the career opportunity pages of specific companies you're interested in
Craft your resume carefully so that it includes the relevant keywords and terminology that recruiters, employers, and automated tracking software are scanning for
Check out BeamJobs' 5 Project Manager Resume Examples That Got Jobs In 2021
Offer plenty of details on your resume, including hard data on projects you managed, dollar amounts, number of people managed, and impacts your work had
Try to complete an internship, if you find one that fits your career goals and can pave the way for long-term employment 
Ask past co-workers and supervisors if they'll serve as references
Get ahead of the interview curve by reading up on Project Manager Interview Questions and Answers
Kick your interview skills into overdrive with Chron's How to Ace the Project Manager Interview tips
How to Climb the Ladder
E-commerce Project Managers should always look for ways to advance their education and training. Options include investing in a master's degree, completing core and advanced certifications, and finishing other professional development coursework to enhance business and people skills
Read industry periodicals, participate in professional organizations, and stay up-to-date with emerging trends and technologies
Demonstrate your leadership and team-building skills every day and set the example for others to follow
Solve problems, improve processes, keep teams happy, and boost your company's bottom line
Pretend your promotion is a project itself, and plan out your rise to the top! 
If you are already in a top PM role, there may not be room for advancement. If your work has considerably boosted revenue, you could make a strong case for a pay raise. To earn a promotion, you may ultimately have to move to a larger company
If you decide to explore opportunities with other companies to advance your career, give ample advance notice and leave on good terms   
Recommended Resources
Websites
American Academy of Certified Project Managers
Asana
Basecamp
Ganttic
Global Association for Quality Management
International Project Management Association
Project Management Institute
Proofhub
TeamGantt
Teamwork
Toggl
Trello
US Business Association of E-Commerce
Wrike
Books
Plan B
E-commerce Project Management is a dynamic and challenging field requiring an enormous commitment and a wide range of hard and soft skills. If you like certain aspects of the job description but are curious to explore related options, a few alternatives include:
Business Operations Specialists
Computer Systems Analysts
Information Technology Project Managers
Marketing Managers 
Market Research Analysts 
Project Management Specialists
Project Procurement Manager
Project Risk Manager
Public Relations Managers 
Sales Managers
Newsfeed Featured Jobs Online Courses and Tools