Spotlights
Similar Titles
E-commerce Logistics Manager, E-commerce Operations Manager, E-commerce Fulfillment Manager, E-commerce Inventory Manager, E-commerce Warehouse Manager, E-commerce Distribution Manager, E-commerce Procurement Manager, E-commerce Demand Planning Manager, E-commerce Supply Chain Operations Manager, E-commerce Vendor Management Manager, Storage, Warehouse, and Distribution Manager, Materials Manager, Supply Chain Director, Supply Chain Manager, Materials/Supply Management Specialist
Job Description
The rise of e-commerce — the "buying and selling of goods or services via the Internet" — has dramatically altered both consumer behavior and the traditional roles of many employees in the retail sector. 
 
E-commerce Supply Chain Managers are in charge of directing and coordinating the production of products for sale through e-commerce businesses, as well as the actual purchasing, warehousing, and distribution processes. Linked to supply chain ops is logistics management, a separate but connected process involved with the "flow and storage of goods...between the point of origin and the point of consumption." 
 
As if E-commerce Supply Chain Managers didn't have enough on their plates, they also conduct financial forecasting aimed at reducing costs and boosting customer satisfaction and product safety. This is a complex, multidisciplinary career field that requires a high degree of coordination and collaboration skills to be successful. 
Rewarding Aspects of Career
E-commerce Supply Chain Managers have busy days filled with a variety of activities
They help businesses turn profits while ensuring customers receive online orders promptly
They contribute to the global economy by sourcing parts and labor from around the world
Good pay
2020 Employment
137,600
2030 Projected Employment
149,400
The Inside Scoop
Job Responsibilities
Working Schedule
E-commerce Supply Chain Managers work full time, including frequent overtime as needed to keep business on schedule. 
Typical Duties
Manage the planning, purchasing, and storage of inventory
Determine cost-effective transportation/distribution routes and warehouse locations and specifications
Analyze supply chain metrics, develop and propose improvements to reduce waste and enhance efficiency
Coordinate sourcing and other efforts with associated teams such as finance, production, quality assurance, marketing, and others
Work closely with all vendors and other partners to ensure sufficient parts or services are available based on expected consumer demands
Negotiate agreeable terms with all third-party partners
Keep track of partner performance and activities regarding quality, accuracy, timeliness, and regulatory adherence; review, offer feedback and discuss changes
Ensure SCM practices are flexible enough to adapt to new strategies and opportunities
Additional Responsibilities
Map out physical processes (workflows, timelines, personnel hierarchies, etc.)
Use SCM models to aid in presentations and meetings
Find advanced technology, e-commerce-friendly solutions to enhance inventory tracking along supply routes
Calculate manpower and equipment needed for loading/unloading products
Help design environmentally-conscious "reverse logistics programs" 
Keep up-to-date on changes to organizational, local, state, federal, or international policies, laws, and regulations
Work with financial teams to determine budgets and cost lists
3 Responsibility Groups 
Logistics / Transport: Coordinates all aspects of the supply chain:

The plan or strategy
The source (of raw materials or services)
Manufacturing (focused on productivity and efficiency)
Delivery and logistics
The return system (for defective or unwanted products)

Demand / Planning: Forecasts and planning of the orders, as well as the management of suppliers.
Information Technology / Customer Service / Finance
Skills Needed on the Job
Soft Skills
Clear communication skills 
Critical-thinking 
Great customer service 
High degree of motivation
Organization and problem-solving skills
Resilience and composure 
Resourcefulness 
Skills for coordinating and instructing activities
Sound judgment and decision-making, sometimes under pressure
Technical Skills
Knowledge of several types of software, including:

Calendar and scheduling 
Cloud-based data access 
Database reporting 
Database user interface/query 
Enterprise resource planning  
Financial analysis  
Graphics  
Inventory management  
Materials requirements planning
Object-oriented development 
Process mapping
Procurement  
Project management  
Spreadsheets 
Supply chain management (SCM)
Different Types of Organizations
Federal government/military    
E-commerce companies     
Manufacturing
Wholesale trade    
Expectations and Sacrifices
The broad scope of E-commerce Supply Chain Managers' duties put them into contact with people from around the world. The role can be fraught with challenges requiring patience, resilience, and fortitude in a fast-paced environment. 
 
It is critical to keep operations on schedule and to tackle issues as they come up. This may require long hours, with a commitment to coming in (or working remotely) at a moment's notice if necessary. There may also be travel involved to visit production or distribution sites. 
 
Current Trends
E-commerce Supply Chain Managers can expect a steady job growth outlook according to O*Net Online. Many openings will occur simply as older workers retire or switch careers; other jobs will be created as e-commerce companies continue to crop up or expand. 
 
Timeliness of product delivery has become an increasingly critical factor, as consumer expectations have adjusted to faster (and sometimes same-day) deliveries offered by Amazon and other big companies. 
 
The Covid-19 pandemic also contributed to consumers becoming "accustomed to the conveniences that stay-at-home orders have brought to the table," according to Business Wire.
What kinds of things did people in this career enjoy doing when they were young...
E-commerce Supply Chain Managers were likely quite organized as kids and conscious of being on time and making deadlines. They were probably always comfortable using technology but equally adept at working with teams and directing the actions of others. 
 
They are tech-savvy, enjoy seeing things go as planned, and are ready to jump in and solve problems when those plans go off-track. 
Education and Training Needed
Due to the complexities of the role, E-commerce Supply Chain Managers generally need at least a bachelor's degree to get started

Per O*Net, education level statistics reveal that 67% of all Supply Chain Managers hold at least a bachelor's, 19% have a master's, and 10% completed a graduate certification
Logistics, supply chain management, and business are common majors for those entering this field

Certifications are usually optional but can boost one's odds of getting hired or promoted. Options include offerings from:

The Association for Supply Chain Management - Certified in Production and Inventory Management
The Institute for Supply Management - Certified Professional in Supply Management 
Council of Supply Chain Management Professionals - SCPro Level One: Cornerstones of Supply Chain Management 

New graduates may face the obstacle of discovering that employers want to see proof of previous related work experience. E-commerce Supply Chain Manager hopefuls can establish such credentials through internships or through working related jobs to garner hands-on experience
Expect localized On-The-Job training and perhaps vendor-specific training
Things to look for in a program
Future E-commerce Supply Chain Managers should look for accredited colleges offering reputable programs in their choice of major
It is advised to take courses beyond operations research or supply chain management to broaden your knowledge base in this diverse field
Don't forget to brush up on people skills, with leadership and communications classes
Check out U.S. News' Best Undergraduate Supply Chain Management / Logistics Programs to find top-ranked programs

Be sure to take courses focused on e-commerce SCM practices

Review the university's website to learn more about enrollment and graduation numbers, as well as the program's research areas and faculty 
If you need the flexibility of a fully online program, make sure your program isn't a hybrid with any in-person, on-campus requirements
Look for schools that offer career resources and job placement help. Many programs have strong ties to local employers!
Things to do in High School and College
In high school, stock up on courses related to business, IT, marketing, and communications
Gain experience with managing processes by volunteering or applying to an internship at local agencies 
Schedule visits to local companies dealing with supply chain and logistics issues
Sign up for online certification programs early to start learning foundational concepts
Participate in professional organizations and start building connections
Get involved in college student associations related to SCM
Learn the roles and functions of all the players along the supply chain 
Typical Roadmap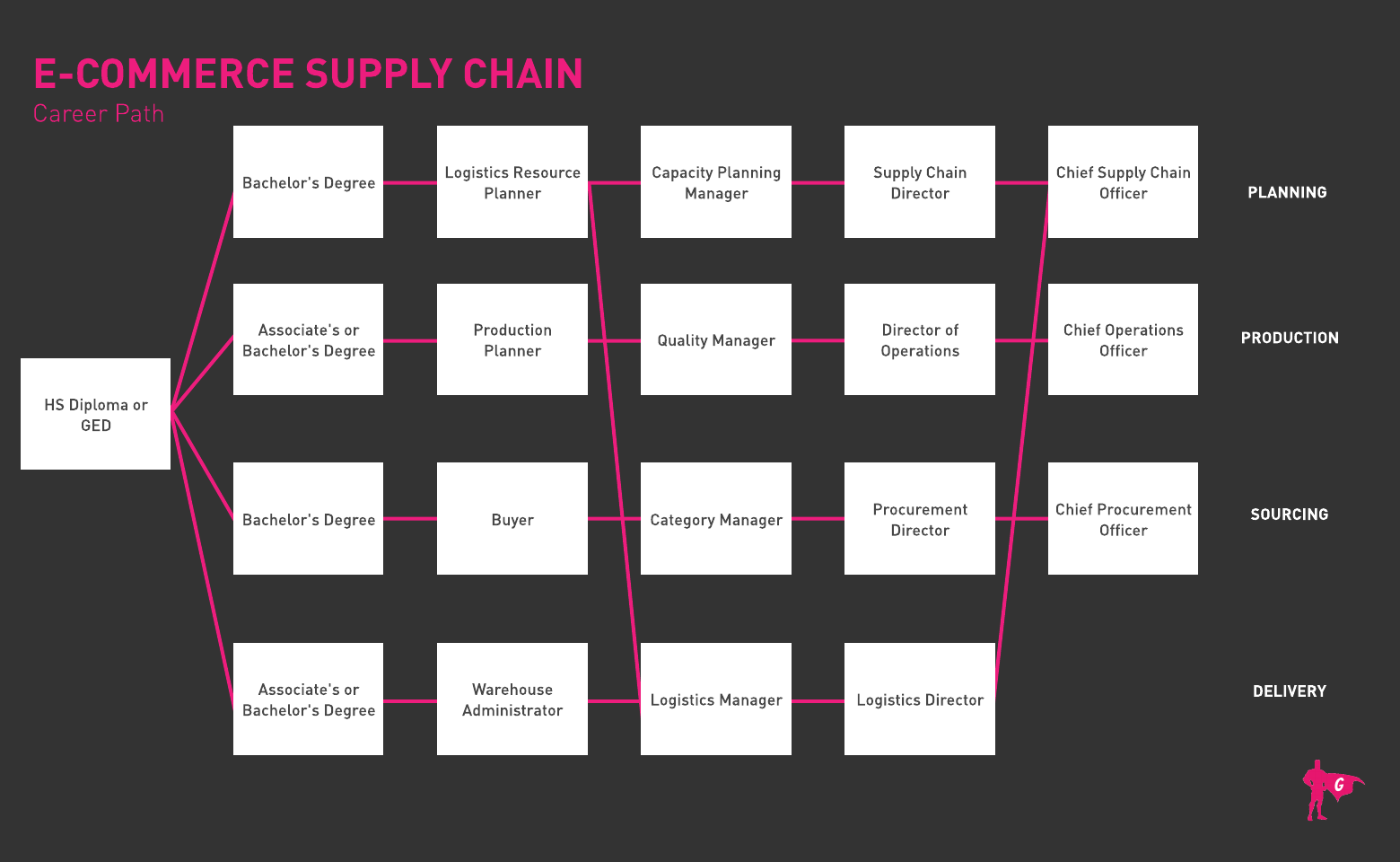 How to land your 1st job
To get hired, complete all your necessary educational requirements and get good grades, not just to show off your GPA but so you truly understand the principles of SCM
Try to gain as much practical work experience as possible through internships or other positions 
Read job advertisements very thoroughly; ensure you meet listed qualifications and can offer concrete examples on your resume
Take note of keywords written in ads; work those exact words into your application materials to help you get past automated tracking software!
Include details about your e-commerce work experiences, with numbers, dollar amounts, and the impact you made 
Search through employment portals like Indeed.com, Monster, and Glassdoor, and check out Google Careers and LinkedIn jobs 
~80% of jobs are landed through networks, according to CNBC, so tell everyone you know that you're job-seeking and share your portfolio online
Tap ex-supervisors and professors to write letters of recommendation or serve as reference points of contact
Stay abreast of new developments and learn the industry jargon. Study E-commerce SCM challenges and possible solutions, and be ready to discuss them in interviews
Hone your interview skills by researching sample SCM interview questions in advance 
How to Climb the Ladder
E-commerce Supply Chain Managers operate in a fast-paced, ever-evolving environment, so always keep up-to-date with new developments through continuing education and training
If you have your bachelor's, enroll in a master's program or complete applicable core and advanced certifications to show your devotion to staying ahead of the game 
Behave in a manner suitable for the job you want to obtain while staying true to your current position's role and teammates
Own mistakes that are your fault, and put in the time and effort to get back on track
When confronted with a supply chain problem, offer tangible, detailed, research-backed solutions 
Be a leader and a team-builder. E-commerce SCM is built on human relationships, so treat every person with dignity and respect, while holding them accountable for getting the job done right
Do more than your routine day job. Study processes, learn as much as you can about your company's supply and logistics issues and obstacles. Come up with ideas for improvement
Make a name for yourself by participating in professional organization conferences and meetings, writing articles, and mentoring others
Recommended Resources
Websites
AFCEA International 
Association for Supply Chain Management
Council of Logistics Engineering Professionals 
Council of Supply Chain Management Professionals 
Defense Acquisition University 
Institute for Supply Management 
International Society of Logistics 
LMI 
National Defense Industrial Association 
National Defense Transportation Association 
National Institute of Packaging, Handling, and Logistics Engineers 
Books
Plan B
E-commerce Supply Chain Managers have demanding, often stressful jobs. They bear huge responsibilities to ensure the companies they work for keep on track delivering the goods to customers! BLS lists a few alternative careers to consider, in case E-commerce SCM isn't your cup of tea after all: 
Cost Estimators    
Industrial Engineering Technologists and Technicians    
Industrial Engineers    
Industrial Production Managers    
Management Analysts    
Meeting, Convention, and Event Planners    
Operations Research Analysts    
Buyers, and Purchasing Agents    
Quality Control Inspectors    
O*Net Online lists additional options, including:
Purchasing Managers
Transportation, Storage, and Distribution Managers
Logistics Analysts  
Accountants and Auditors 
Newsfeed Featured Jobs Online Courses and Tools