Spotlights
Similar Titles
Editor, Film Editor, News Editor, News Video Editor, News Videotape Editor, Non-Linear Editor, Online Editor, Tape Editor, Television News Video Editor, Video Editor
Job Description
Film/TV/Video editors edit moving images on film, video, or other media.  They may edit or synchronize soundtracks with images. They collaborate with producers and directors to create the final production.
 
Note: This profile is targeted to those who want to work in the motion picture industry in Los Angeles or New York City. It does not focus on being an editor in broadcasting.
Rewarding Aspects of Career
Always learning new things!
Working with artist and creative folks!
"Editing TV and video is something I always wanted to do, and I did it for fun when I was a kid.  So it's kinda like I get paid now to do something which has always been a hobby.  So it's doesn't actually feel like work." Matt McNaughten, Editor, TV Producer
The Inside Scoop
Skills Needed on the Job
Technical: Avid, Final Cut Pro, Photoshop, After Effects
Communication skills
Time Management
Problem solving
Patience
Diligence
Where do they work?
Freelance: Most editors in the motion picture industry are freelance and they work project to project.
Post Production/Visual Effects House
Advertising/Digital Agency
Broadcasting: News outlets
Different types of work
Film: Feature films, movie trailers, short film, behind the scenes video
TV: TV shows, reality shows, sizzle reels
Music videos
Corporate: Commercials, corporate events, instructional videos
Digital/Web: Web series, promotional videos
Other: Actor reels
If your dream is to be a film editor, know that you will mostly likely not secure a film editing position right off the bat. Many editors do other jobs (corporate gigs, music videos, digital) to pay their bills and wait for their film editing opportunity. Unless you are a famous editor, the film and tv editing gigs are few and far between. Be flexible. The other gigs will allow you to hone your craft, prepare you for when you get the call to edit a feature film or television show and pay the bills.
Expectations/Sacrifices Necessary
Long work days and irregular hours
Difficult to break into the industry and stay in the industry: low pay when you start off.
Working in a dark room for many hours alone
Current Industry Trends
As videos online become more popular, there will be more work for editors in the digital space.
What kinds of things did people in this career enjoy doing when they were young...
Loved film and television!
Loved editing videos: These days you can edit videos through free online software. Technology has come so far, almost anybody who has access to a computer can edit videos.
Wanted to be part of the storytelling process!
You were the go to person in your family to edit the family's home video.
Loved puzzles and games!
Union Salary
$2,575.88 per week (Union)
2016 Employment
59,300
2026 Projected Employment
66,900
Education and Training Needed
Film/TV/Digital Editors need a bachelor's degree in Film and TV Studies or something similar. Some complete a Master of Fine Arts program but EXPERIENCE trumps education.

OR take editing and film classes and major in another subject you are interested in. Editing is a creative process. The more experience and knowledge of the world you have, the more creative you will be, and the better of an editor you will be.

Film Editors who work on small indie films have no formal educational requirements, but many also hold college degrees or attended formal training
Film schools such as New York Film Academy offer short programs as well as full degree programs (see our list of Resources > Film Schools)
Film/TV/Digital Editors should be familiar with popular editing software like Adobe Premiere Pro, Avid Media Composer, Final Cut Pro, DaVinci Resolve 17, Vegas Pro, Autodesk Maya, FUSION 17, The Foundry Nuke, Lightworks, ZBrush, Houdini, Boris FX Mocha Pro, Pixar's RenderMan, Modo, and After Effects
They must also have strong organizational and storytelling skills 
Many students gain practical experience through internships/apprenticeships in studios, small production companies, film councils, nonprofits, or production guilds and unions
Additional ad hoc certifications can help bolster your credentials, such as UCLA Extension's Film Editing cert
Things to do in High School and College
Stock up on courses in art, English, writing, design, and photography

Join audiovisual clubs to get hands-on experience
Watch a variety of production types, including films, TV shows, commercials, etc., and pay attention to how scenes are edited and how visual storytelling elements work 
Learn how to read and visualize stage directions in screenplays 
Start editing your short films for YouTube or Vimeo. Look for friends and community members who want to join your projects!
Master the tools!: This you can do at home before you ever enter in an internship. The more you know, the more you will impress.

Primary software: Avid, Final Cut Pro
Secondary software: Photoshop, After Effects
Learn all the keyboard shortcuts. Know how to organize bins, work with multiclips, sync sound. You will need to know how to do this stuff later on when you become an assistant editor.

Intern or shadow an editor: it will most likely be an unpaid internship but this experience is invaluable. You will learn so much about editing while watching another editor edit. You will not only learn the technical aspects but also more about the industry.

Recommendation: choose a college/university that is near LA or NYC so that you can intern while you are in school or during the summers. The closer you are to those cities, the closer you are to people who can give you your first internship, break or gig.

Edit videos for free at your high school, college, sorority/fraternity, non-profit, music video for your friend's band…wherever you can.
Reel: start putting together a reel.
Advertise your video editing services in the local area or through online freelance platforms 
Attend film festivals and film school open events
Keep honing your skills and reviewing changes in technology and techniques
Try to make as many industry contacts as you can through constant networking
Stick with it and keep applying for film editing internships until you land one!
Study books, articles, and video tutorials on film and TV editing (see our list of Resources > Websites)
Watch video interviews with seasoned film editors 
Work with independent filmmakers on smaller projects. Volunteer if they don't have a budget to cover your salary!
Join professional organizations to expand your network as you learn and build your reputation 
Education Stats
9.6% with HSDiploma
8.5% with Associate's
49.5% with Bachelor's
6.1% with Master's
0.7% with Professional
(% of employees aged 25 to 44 in the occupation whose highest level of educational attainment is)
Some Reputable Programs
American Film Institute
Boston University College of Communication 
Chapman University's Dodge College of Film and Media Arts
Columbia University School of the Arts
Florida State University College of Motion Picture Arts 
Full Sail University
LA Film School 
Loyola Marymount University School of Film and Television
Motion Picture Institute of Michigan 
New York Film Academy
NYU/Tisch School of the Arts 
San Diego State University School of Theater, Television and Film
Seattle Film Institute 
UCLA School of Theater, Film and Television
UCLA Extension - Entertainment Studies
USC School of Cinematic Arts 
University of New Orleans Film and Theatre
University of Texas at Austin Department of Radio-Television-Film 
Typical Roadmap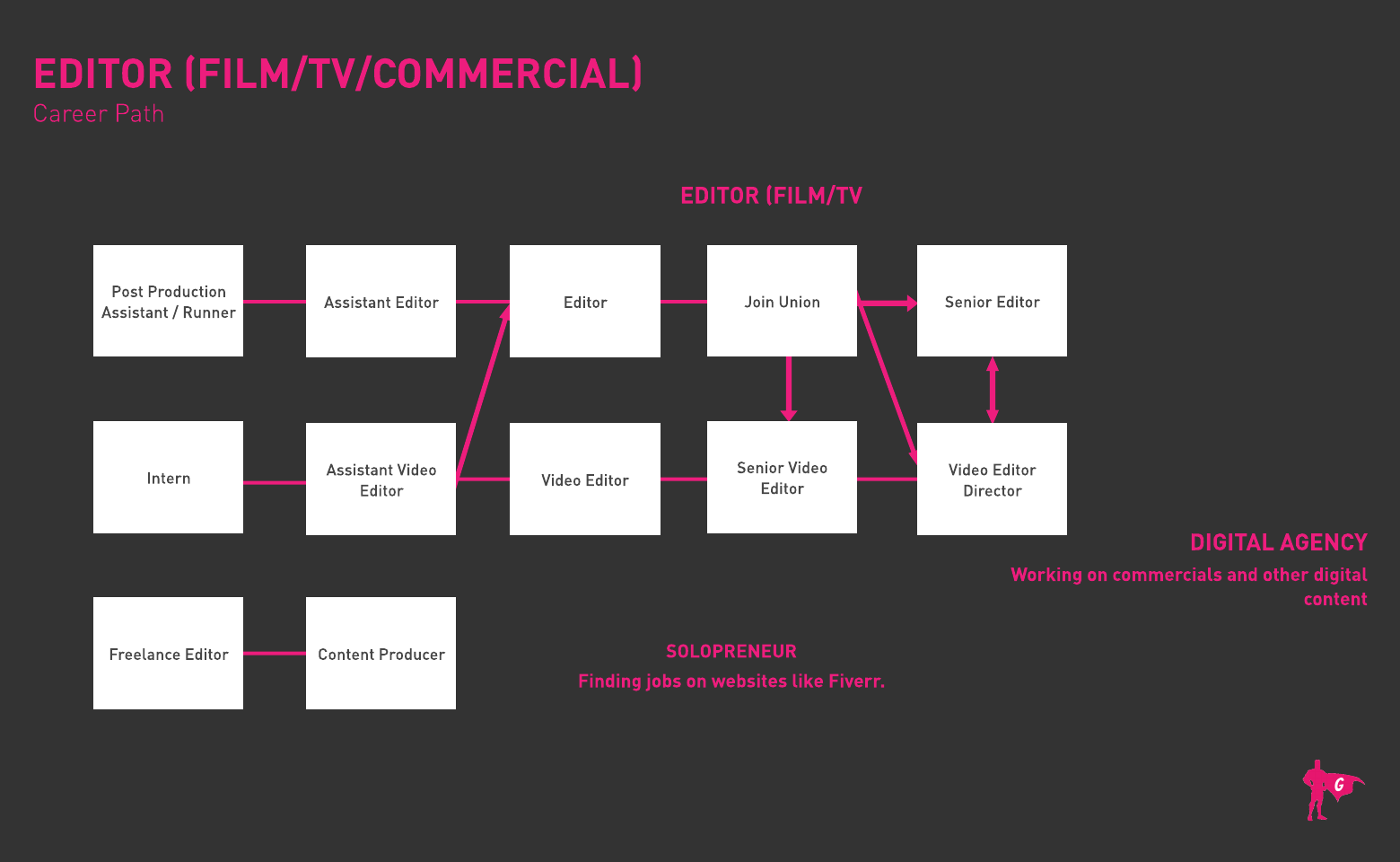 How to Land your 1st job
Know your tools: Avid, Final Cut Pro, Photoshop, After Effects
Reel:  Put together a reel of things you have done. Don't make it too long.
Move to LA/NYC: This applies to those who want to work in the motion picture industry.
Network

Editors Lounge http://www.editorslounge.com/index.html
LA Creative Pro User Group http://www.lafcpug.org/user_schedule.html
LA Post Production Group http://www.lafcpug.org/user_schedule.htm

Intern (usually un-paid): if you are not willing to work for free, this is not the career for you.

Job boards: Reality Staff, Entertainment Careers, Mandy realitystaff.com, entertainmentcareers.net, and mandy.com.
Internship programs: A.C.E. internship program http://ace-filmeditors.org/about-2/ace-intern-program/
Ask a lot of questions but don't be annoying.
Have a servant-like attitude for your supervisor and be invaluable to him/her.

Apply for a job at a post production facility or visual effects house.

Be willing to start from the bottom: Meaning getting coffee, running errands is not beneath you. That is how the majority of people start in the industry. If this is something you are not willing to do, then don't expect to work for major projects in Hollywood or NY. Stick to digital shorts, promotional, and industrial videos.
Your first paying gig will most likely be a logger, runner or assistant editor and then you can work your way up.
What it really takes to make it
Endurance
Perseverance: you will knock on many doors and get to no answers or rejections. Only the strong and persistent not only survive but break into the industry.
Passion: like many careers in the entertainment industry, only those who are gung-ho about pursuing the careers survive.
Ability to network and connect with people
Willingness to move to LA or NYC.
No entitlement complex: there are thousands of people who would do this job for free so don't expect anything to be handed to you.
How to get into the union as a film and television editor
Almost all major motion pictures and scripted network TV shows require you to be a member of the Motion Picture Editors Guild in order to work on them. Thus, you will need to gain entry into the guild.
Accumulate 100 paid days of non-union assistant editing work on projects that are similar in nature to union work. For more information, go to the Motion Picture Editors Guild website.
Reality TV, Documentary Films, and Indie Features are your best bet for accumulating these days.
Save all your pay stubs from these jobs and make sure the pay stubs say "Assistant Editor" on them.
It takes between 5 and 10 years on average to go from non-union assistant to editor, so make sure you are committed.
Is there a ladder to climb?
Yes!
Salary/Prestige: A big feature film directed by a big director would be an advancement over a smaller low budget film. Your salary will increase depending on the size of the budget.
Become a TV Producer/Director: Many times editors go on to be producers or directors as well, if that is something an editor is interested in doing.
Profit points: Some editors also negotiate profit "points" in films, which mean that depending on how well the film does at the box office, the editor will receive the negotiated compensation/percentage of profit.
Recommended Tools/Resources
Websites
Academy of Motion Picture Arts & Sciences 
Academy of Television Arts & Sciences 
American Cinema Editors
American Film Institute 
Association of Independent Video and Filmmakers 
Directors Guild of America 
EditFest
Motion Picture Association 
Motion Picture Editors Guild
Society for Cinema and Media Studies
Books
Words of Advice
"Be willing to do anything.  Learn how to do everything.  Even if a job is tough and pays nothing, learn from it.  If you know how to be an editor, you get editing jobs.  But if you learn all aspects of the business, dabble in writing, producing, management, camera work, Photoshop, Final Cut Pro, After Effects, content creation, you will have a lot more prospects out there to bring in the money."

"Be a good person, be kind to everyone.  We all need help from others in this world to accomplish our dreams.  Being kind will make others want to help you."  Matt McNaughten, Editor, TV Producer
Newsfeed Featured Jobs Online Courses and Tools