Spotlights
Similar Titles
Childcare Director, Early Head Start Director, Education Coordinator, Education Director, Education Site Manager, Preschool Director, Preschool Program Director, Principal, Site Coordinator
Job Description
Schools need more than teachers to operate; they need strong management by skilled administrators who can establish and support institutional goals. Preschool and Childcare Education Administrators must lead and manage staff members and be involved in program design and budgets. They're fully immersed in all school operations with the end goal of creating and maintaining a safe and proper educational environment for young students. 
 
As arguably the most critical member of the institutional team, Preschool and Childcare Education Administrators keep preschools or daycares running smoothly and efficiently. They are masters of communication, juggling multiple tasks at once while keeping staff, parents, and students all pointing in the same direction. In some cases, they may own and operate their facility, but more often, they report to a higher-up. In all cases, they ensure their institution meets applicable federal, state, and local guidelines. 
Rewarding Aspects of Career
Carefully building and overseeing an organized, positive learning environment 
Empowering teachers so they can focus on teaching
Instituting helpful policies that will benefit staff and students 
Making decisions that can have a direct impact on student futures
"I love working with families in lower socioeconomic areas, connecting them to social and community services and working with them to make sure their children are receiving the best education. Working in early learning, the state preschool programs are the families first experience with public education and having a high-quality program that builds on the foundations of social-emotional, academic and physical education creates life-long eager learners." Pamela Glasell, Program Manager, Early Learning, Cypress School District
2019 Employment
69,200
2029 Projected Employment
69,900
The Inside Scoop
Job Responsibilities
Working Schedule
Preschool and Childcare Administrators work full-time, Monday through Friday, with some roles including evening work or occasional weekends. Overtime may be expected during busy periods, such as enrollments or preparation for a new academic year. When school is out for students, administrators are still working and planning ahead but may enjoy some extra downtime. 
Typical Duties
Lead and supervise faculty and staff to maintain a safe, positive, friendly environment conducive to learning
Hire new team members and ensure they receive proper training
Encourage professional development and offer time and incentives to pursue it
Monitor employee performance and provide feedback
Create and implement policies and standard operating procedures
Review training materials and schedules
Ensure all safety and security measures are feasible and fully understood by workers
Work closely with staff and parents to ensure students are meeting educational goals
Build and maintain positive relationships with parents and the community
Incorporate diversity and inclusion practices 
Oversee all budgetary and facility issues; ensure funding is appropriately distributed and all laws are being adhered to
Oversee the lifecycle of all student affairs
Generate and review reports related to student activity
Additional Responsibilities
Ensure all workers stay current on training, to include refreshers and updates
Take part in community outreach efforts and social activities
Work closely with marketing and public relations members, as applicable 
Inspire organizational excellence and seek out best practices to incorporate
Skills Needed on the Job
Soft Skills
Ability to focus on short-term and long-range goals
Basic psychology
Compassion for young learners
Complex problem-solving 
Cultural sensitivity and awareness
Efficient; focused on saving time and resources
Foreign language proficiency (a bonus)
Independent 
Leadership ability
Multitasking despite frequent disruptions
Objectivity
Outstanding communication skills, including email etiquette 
Patience
Persuasiveness
Perseverance
Public speaking skills
Sound judgment and decision-making
Strong interpersonal and organizational skills
Team-building
Technical Skills
Adept at business math, numbers, and figures
Comfortable using software related to education, accounting, and spreadsheets
Familiarity with enterprise resource planning programs such as HeadMaster, Childcare Sage, and EZ-CARE2 
Strong computer and office equipment skills
Knowledge of resource planning software
CPR and First Aid
Good with audiovisual presentation equipment 
Different Types of Organizations
Private and public schools
Childcare centers
Grantmaking and civil organizations
Expectations and Sacrifices
As leaders, Preschool and Childcare Administrators are expected to be at the forefront of changes in the world of education. From keeping up with current policies and standards to finding creative, effective ways to incorporate technology into classroom settings, administrators are required to stay on top of things and be flexible enough to adapt as needed. When problems arise, workers and parents look to the top for solutions. 
Current Trends
The 2020 coronavirus pandemic tested programs with challenges they've never faced before. Going forward, administrators must apply the lessons learned. It's up to them to be ready with practical, creative distance learning and hybrid options suitable for the learning needs of their young students. Meanwhile, school and childcare safety protocols have been thrust into the limelight, and it is incumbent upon administrators to learn and implement best practices that protect workers and students from unnecessary risk of exposure to hazards. 
 
Other trends include an increased focus on systematic phonics in literacy instruction, the use of natural environments in learning, the analysis of achievement gap metrics to address causes of academic disparity, and of course the increasing use of technology tools for educational purposes. 
What kinds of things did people in this career enjoy doing when they were young...
Educators are interested in helping others to learn and grow. They may have always had such passion, perhaps from being an older sibling or due to other early childhood experiences. Administrators, in particular, are great at team-building and managing others so that they may have held positions of responsibility in school or at home. 
 
As highly-organized individuals, they probably enjoyed reading nonfiction works that helped them to understand how things work, so they can interact with them more efficiently. As managers, they might have honed their skills through event planning, volunteering, or participating in team projects. It's likely they enjoyed courses such as public speaking and debate, as well. 
 
A Sample Day in the Life
"My job is the administer the early learning grants and direct the staff of the early education programs for the Cypress School District. I work in the mornings greeting children and families, making sure the classrooms are ready for staff. I work to ensure the curriculum and district's vision for the program are carried out by the staff. I coach and train the teachers and instructional support staff on the preschool learning foundations and work to strengthen the achievement gap we see in some populations. I assist teachers as needed in the classroom, working with students, helping with behavior challenges and speaking to parents. I take parents on tours of the centers and conduct parent education workshops on various topics. I prepare and submit reports to state and federal agencies and do a lot of recordkeeping." Pamela Glasell, Program Manager, Early Learning, Cypress School District
Education and Training Needed
A bachelor's degree is typically needed, preferably in early childhood education or at least with some postsecondary classes completed
In addition to a degree, administrators usually need a few years of related work experience demonstrating increasing levels of responsibility
Some states require licensure, which entails passing a thorough background screening and supplemental training such as CPR and First Aid
A Child Development Associate (CDA) Credential, obtained via the Council for Professional Recognition, is a recognized but generally optional Early Childhood Education credential "based on a core set of competency standards, which guide early care professionals as they work toward becoming qualified teachers of young children." This cert has to be renewed every 3 years
Things to look for in a program
Accreditation is crucial to ensure the program meets high quality standards
Review both school and program rankings on sites like U.S. News to see how they fair against peers 
Look carefully at the costs of in- and out-of-state tuition and other fees, to see how much out-of-pocket expenses you might have to cover after federal aid and scholarships (if applicable)
Review the program's commitment to diversity, and see how well they demonstrate that via their enrollee statistics (which should be featured on their website)
Consider the faculty you'll study from, to include their awards and areas of research
Peek at how big average class sizes are, to determine if you'll get sufficient student-teacher time or not
Weigh the pros and cons of taking online or hybrid courses versus traditional on-campus attendance. Many schools only offer on-campus programs
Check out the school's student organizations, career center, alumni network, and other offerings that can augment your experience while attending, as well provide benefits after graduation!
Research stats related to the college's and/or program's acceptance and graduation rates, and also job placement data (how quickly grads are placed in good jobs)
Things to do in High School and College
Take high school classes to prepare for your bachelor's coursework, such as psychology, writing classes, business finances, public speaking, etc. 
Ask your school about volunteer opportunities related to your future career. Learning about "behind-the-scenes" processes will help you tremendously!
Work hard on your "people skills" because you'll use them every day, managing workers and meeting with parents and stakeholders
Find volunteer or paid opportunities working with preschool-age children
Work on your professional network and join organizations such as:

Association for Childhood Education International (ACEI)
Child Care Aware of America
Council for Exceptional Children (CEC), Division for Early Childhood (DEC)
HighScope Educational Research Foundation
Military Child Education Coalition (MCEC)
National Association for the Education of Young Children (NAEYC)
National Association for Family Child Care (NAFCC)
National Black Child Development Institute (NBCDI)
National Head Start Association (NHSA)
World Organization for Early Childhood Education-United States National Committee 
ZERO TO THREE

Read professional journals and websites related to the field (see our Websites section for ideas!)
Consider doing an apprenticeship to gain valuable work experience
Typical Roadmap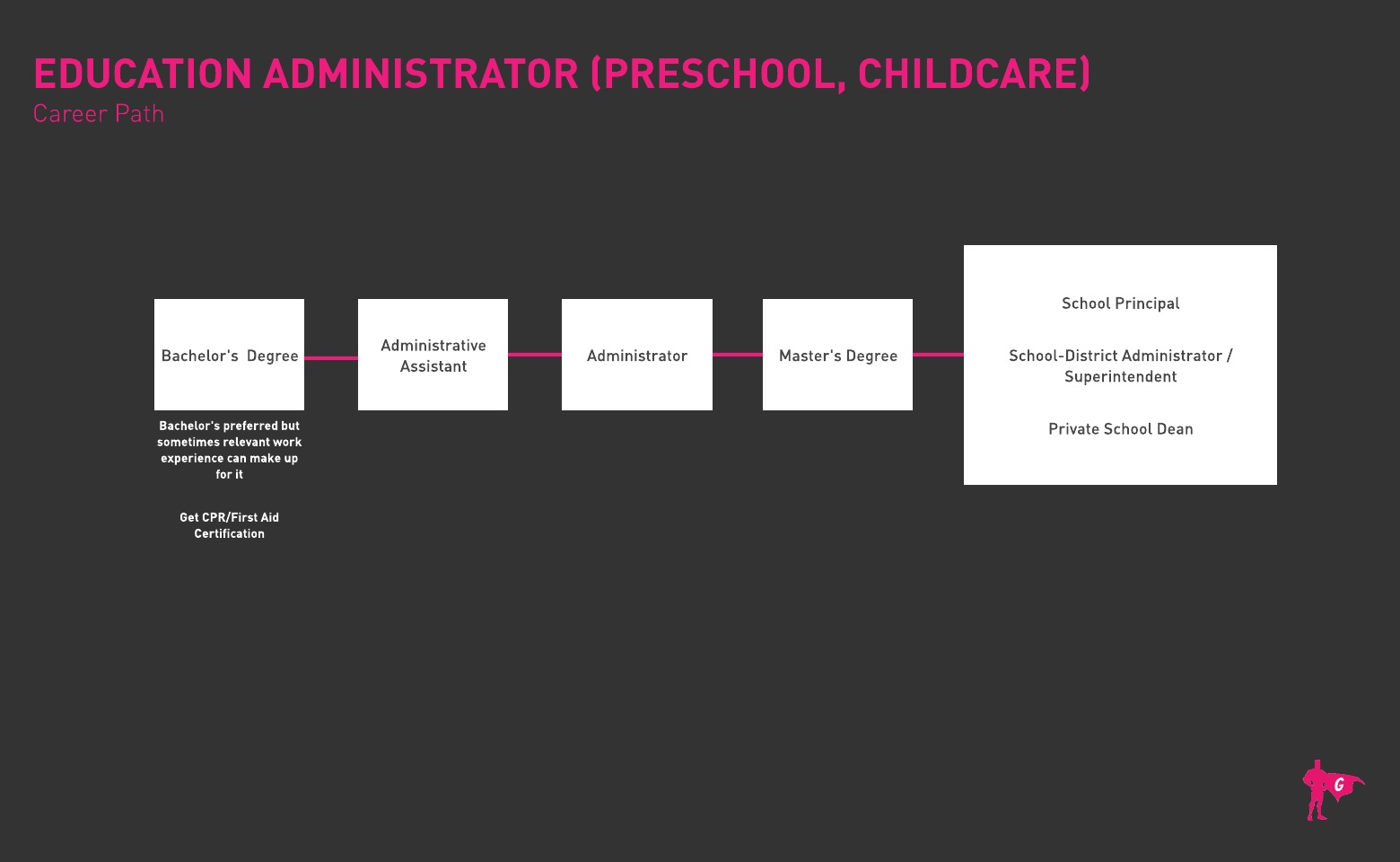 How to land your 1st job
If possible, decide whether you want to aim for a public preschool, a private one, a franchise, or a childcare center
Keep track of all your scholastic, employment, and extracurricular achievements, and use these on your resume, supported by details, statistics, dollar amounts, and impact
Sign up for job alerts on Indeed.com, Glassdoor, and related employment portals
Build out your LinkedIn profile and leverage your network to find job openings

According to CNBC, up to 80% of jobs are found through personal connections 

Make sure you apply to jobs you're qualified for; otherwise you're wasting time
As you review job advertisements, take note of relevant keywords; work these into your application materials so you don't get filtered out by Applicant Tracking System software
Address all listed requirements within the job ad so that the people reading your resume get a full picture of your qualifications
Consider hiring a professional editor or resume writer to assist!
Stay up-to-date on trends and developments within the field
Conduct mock interviews using sample interview questions and answers
Speak with potential reference providers upfront to ask permission to list them or to obtain recommendation letters
How to Climb the Ladder
Preschool and Childcare Administrators are already at the top, but there is always room to move beyond these roles
Completing a graduate degree is helpful to demonstrate advanced skills attainment and to show that you're ready to step up to the next level
Administrators operate facilities entrusted by parents to take care of young children, so it is critical to always display professionalism and outstanding communication 
Impeccable business skills are also key to climbing the ladder as an administrator
To really stand out, create policies, standard operating procedures, and training guidance that others want to benchmark off of
Stay active in professional organizations, attend conferences, give keynote speeches, and make yourself a well-known and respected member of your field
Don't just stay up-to-date on developments but find ways to lead them yourself!
Practice your organizational skills by finding reducing inefficiencies
Turn your facility into a model that inspires others
Mentor your staff and help others grow. Cultivate a reputation as someone who sincerely cares about the success of peers as well as students, of course! 
Maintain the utmost integrity and earn the respect of your colleagues
Recommended Resources
Websites
ACF Office of Child Care
Child Care Aware
Council for Professional Recognition
National Association for the Education of Young Children
National Child Care Information Center (NCCIC)
National Early Childhood Program Accreditation
Office of Head Start
Pre-K Now
Reggio Emilia
Books
Plan B
Not everyone wants to be an administrator! Many people who are interested in pursuing a career in education want to be on the frontlines, standing in those classrooms! The Bureau of Labor Statistics lists many related occupations which require specific state and subject matter certification or licensure, in some cases. Take the time to consider options that interest you, so you'll start on the right path! A few choices to think about include: 
Childcare Workers
Kindergarten and Elementary School Teachers
Middle School Teachers
Preschool Teachers
Special Education Teachers
Teacher Assistants
Newsfeed Featured Jobs Online Courses and Tools