Spotlights
Similar Titles
Control Electrician, Electrical Journey Person, Electrical Troubleshooter, Electrician, Housing Maintenance Electrician, Industrial Electrician, Inside Wireman, Maintenance Electrician, Paper Mill Electrician, Wireman, Line Workers
Job Description
Electricians install and maintain electrical systems in homes, businesses, and factories.
Rewarding Aspects of Career
"I build something every day that you can see and touch."
A sense of accomplishment when you finish a project
Autonomy: You can work as much and as little as you want. It's project-based.

Typically you start at 6:30am-3:30pm: Able to do other projects in the afternoon.

Work with your hands!: "When you are mechanically inclined, the trades are excellent for that."
The Inside Scoop
Job Responsibilities
Reads blueprints or technical diagrams before doing work.
Installs and maintains wiring and lighting systems.
Inspects electrical components, such as transformers and circuit breakers.
Identifies electrical problems with a variety of testing devices.
Repairs or replaces wiring, equipment, or fixtures using hand tools and power tools.
Follows state and local building regulations based on the National Electric Code.
Directs and trains workers to install, maintain, or repair electrical wiring or equipment.
Different types of electricians
Outside linemen: Installs the distribution and transmission lines that move power from a power plant to a factory, a business, or your home.
Inside Wireman: Installs the power, lighting, controls and other electrical equipment in commercial and industrial buildings.
VDV Installer Technician: Installs circuits and equipment for telephones, computer networks, video distribution systems, security and access control systems and other low voltage systems.
Residential Wiremen: Installs electrical systems in single-family and multi-family houses or dwellings.
Skills Needed on the Job
Math skills
Drafting skills
Attention to detail
Spatial intelligence
Dexterity, hand-eye coordination
Physically fit
Good balance
Color vision: dangerous to be color blind
Troubleshooting skills
Customer service
Where do they work?
Electrical and wiring installation contractor company: Range from mom and pop shop (4-8 electricians) to large shops (200+ electricians)

Residential: home building
Commercial: malls, office buildings
Industrial: refineries, chemical plants, power plants

Ancillary

Manufacturer
Building Superintendent/Stationery Engineer
Building Inspector
Work Environment
Indoors and outdoors
Might work with noisy machinery in factories
Might work in cramped spaces
Physical: Requires a lot of lifting, bending, kneeling, and stretching.
Why become a union electrician?
Union negotiates competitive rates: mostly likely double or triple non-union rates
Full medical benefits (medical, dental, vision)
Pension
Annuity
Protection from discrimination and being out of work due to injury
Access to better jobs and amazing opportunities
Helmets to Hardhats program: Connects quality men and women from the Armed Forces with promising building and construction careers.
Expectations/Sacrifices Necessary
Dangerous: common risks include electrical shocks and burns, cuts, and falls.
Irregular work schedule: Sometimes might work really early in the morning. Sometimes at night.
Might have to drive long distances for job site.
2016 Employment
666,900
2026 Projected Employment
726,500
Education and Training Needed
Electricians learn their trade through a lengthy, ~2,000-hour apprenticeship. A high school diploma/GED is needed, but a college degree isn't
Some students complete an Electrician associate's or training program from a community college or vocational school

Some enroll in prep-training, like the Home Builders Institute's Preapprenticeship Certificate Training (PACT) program, to prepare for apprenticeship

Apprenticeships are a time-honored way of learning by doing. Most are sponsored by union and contractor associations (see our Recommended Resources > Websites for details)

Note, apprenticeship candidates must take the Electrical Training Alliance Aptitude Test, managed by the Electrical Training Alliance

Practical education gained from work experience is vital. Entry-level Electrician apprentices start with basic tasks, learning under the supervision of a seasoned pro over a period of up to 4 or 5 years
Common areas of learning include reading circuitry, basic electrical information, blueprints, math, building codes, safety principles, first aid, soldering, fire alarm systems, and elevators
To become a Journeyman, Apprentice Electricians must pass an exam regarding the National Electrical Code (and other state or local codes) to get their state license
Tests vary by state, but may cover topics such as:

Electrical services, service equipment, and separately derived systems
Branch circuit calculations and conductors
Wiring methods and electrical materials
Electrical equipment and control devices
Motors and generators

There are dozens of specialized certification options from organizations such as:

American Lighting Association
International Association of Electrical Inspectors
International Association of Lighting Management Companies
International Code Council
InterNational Electrical Testing Association
International Municipal Signal Association
Professional Lighting and Sound Association
Basic requirements for apprenticeship program
Unions and contractors sponsor apprenticeship programs. The basic qualifications to enter an apprenticeship program are as follows:
Minimum age of 18
Driver's license
High school diploma or equivalent (GED or take an aptitude test)
Physically able to do the work
Minimum grade of "C" for high school or college algebra.
Pass drug test
Things to do in high school
Take courses in high school such as shop, English, math, algebra, and electronics
Get in the habit of practicing good safety and wearing proper personal protective equipment
Have your color vision tested to ensure you can meet job eligibility requirements
Obtain your driver's license so you can make it to job sites on time
Review criteria for taking the Electrical Training Alliance's Electrical Training Alliance Aptitude Test
Consider taking pre-apprenticeship training
Study books, articles, and video tutorials related to the trade
Ask a seasoned Electrician if you can shadow them to get a feel for the job's day-to-day
Keep a working draft of your resume, noting any skills you've picked up, projects completed, and other details
Get certified in a specialized area to bolster your credentials
Review educational content on the National Electrical Contractors Association website
Education Stats
39.7% with HS Diploma
13% with Associate's
5.9% with Bachelor's
0.8% with Master's
0.4% with Doctoral
Typical Roadmap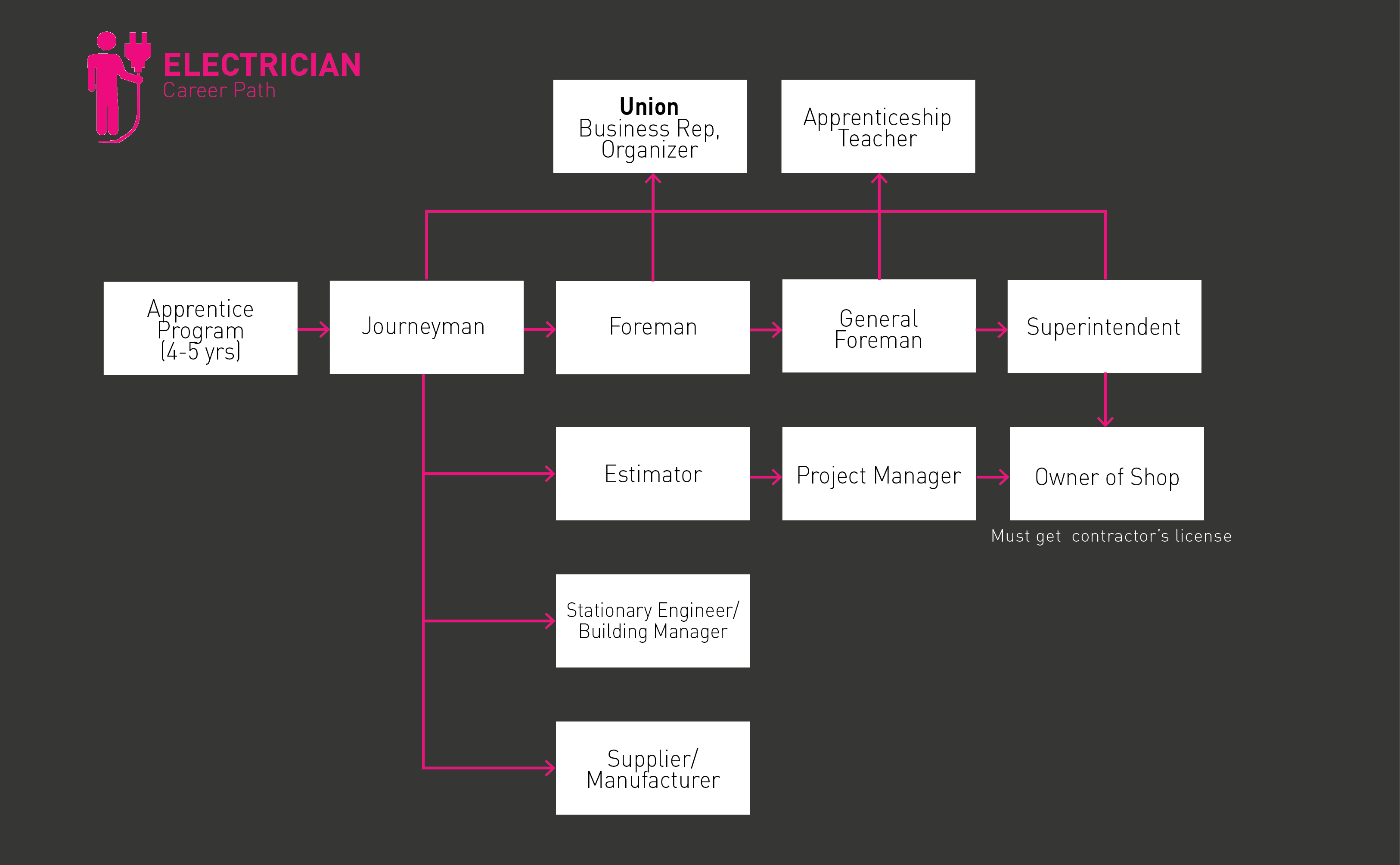 How to land your 1st job
Read apprenticeship ads carefully to ensure you meet the criteria to apply
Electrician apprenticeships are the way to break into this line of work

Pay: Start off with 35-50% of journeyman's wage and increases are usually given every 6 months.

Union will give you the signatory list: local union will give you leads and you start making calls to contractors on the list.
Contact Job Corps.
Ask the local union for help and get on "out of work" list.
If attending a college or trade school, ask their career center for assistance
Many trade/vocational programs serve as pipelines to local recruiters, so let them know when you're ready for work!
Description of the different positions
Estimator: Budgets the job then bids on the job.
Project Manager: Behind the scenes, paperwork. Make sure request for information is filled out. Money is getting paid. Work in conjunction with Superintendent.
Superintendent: Takes care of the manpower needs on a jobsite. Materials and workers.
Foreman: Takes care of the job.
How to stay competitive and climb the ladder
Dedication
Person who is best with tools and the union elevates these people.
Leader/Teacher: someone who knows the craft so well and they teach others.
Keeping up with new technologies and methods
Recommended Tools/Resources
Websites
Apprenticeship.gov
Associated Builders and Contractors
Electrical Training Alliance
Explore the Trades
Helmets to Hardhats
Home Builders Institute
Independent Electrical Contractors
International Association of Electrical Inspectors
International Brotherhood of Electrical Workers
International Municipal Signal Association
National Electrical Contractors Association
NCCER
Books
Plan B
Related Careers: Electrical Engineering Technician, Elevator Installer/Repairer, HVAC Technician, Line Installer
Newsfeed Featured Jobs Online Courses and Tools