Spotlights
Similar Titles
Compatibility Test Engineer, Design Engineer, Electronics Design Engineer, Engineer, Evaluation Engineer, Integrated Circuit Design Engineer (IC Design Engineer), Product Engineer, Radio Frequency Engineer (RF Engineer), Research and Development Engineer (R and D Engineer), Test Engineer
Job Description
The 21st Century is filled to the brim with high-tech gadgets that we've come to take for granted. From our portable electronic devices like smartphones, smartwatches, cameras, and tablets to electric stoves, microwaves, printers, electric guitars, and more, we're totally surrounded by electronics. Meanwhile, many things that aren't considered "electronics" have electronic components, such as aircraft, boats, drones, and modern cars. Who's behind the creation of all these complex, sophisticated internal electronic elements? Electronics Design Engineers!
These hard-working engineers specialize in developing electronics for equipment in a variety of industries, including telecommunications, commercial manufacturing, medical, military, aerospace, automotive, and many more. They're involved in the entire development life cycle, from initial planning processes and estimating costs based on customer needs to schematics design, prototype development, and beyond. Without the efforts of Electronics Design Engineers, modern society as we know it wouldn't exist! 
Rewarding Aspects of Career
Providing electronics solutions for numerous industries 

Pushing technologies forward and helping introduce advanced devices and components   

Contributing to the tech economy at large 
2021 Employment
111,400
2031 Projected Employment
118,000
The Inside Scoop
Job Responsibilities
Working Schedule
Electronics Design Engineers work full-time, usually in office or lab settings. Overtime may be needed in rush situations. Some travel may be necessary for site visits or to attend meetings. 
Typical Duties
Meet with clients or employers to review product needs and specific requirements

Offer realistic cost projections and details about potential product capabilities

Collaborate with design teams and electrical engineers on projects

Recommend materials to use or avoid

Design electronic hardware devices, components, systems, and software 

Develop schematic diagrams and layouts

Provide suggestions and technical support during the development stages

Create or manage product prototypes to assess the feasibility

Ensure circuits meet safety regulations and standards

Assist with production processes, as needed

Ensure manufacturing timelines, budgets, and quality are met

Create and analyze computer models and simulations under various conditions

Perform reliability testing to ensure proper performance 

Travel to testing sites, as needed

Help with application development and testing

Conduct thorough safety compliance inspections of systems, instruments, and equipment

Coordinate installation and testing of parts, equipment, or programs 

Repair or oversee repairs of inoperable damaged equipment

Establish and enforce routine maintenance protocols 

Review consumer complaints and offer solutions

Conduct diligent research and stay up to date on technological advances 

Write and edit technical documentation
Additional Responsibilities
Train and mentor project team members 

Work to streamline processes and improve efficiency 

Suggest modifications and improvements to existing parts or systems 

Aid with patent applications, as needed
Skills Needed on the Job
Soft Skills
Attention to detail

Compliance-oriented 

Critical thinking

Independent

Initiative

Normal color vision

Organized

Problem-solving

Quality assurance

Reliable

Resourceful 

Results-driven

Safety conscious 

Strong communication skills 

Teamwork 

Time management

Troubleshooting
Technical Skills
Circuit board assembly testing

Knowledge of electronics circuits, power supplies, design, and engineering 

Electrical hand tools and testing equipment such as oscilloscopes

High volume analog and digital embedded instrument design

Knowledge of

OSHA electrical safety standards

and

UL certification

Programming languages like C/C++, Verilog, VHDL, Python, and MATLAB

Simulation and computer-aided design software

Technical research and writing ability  

Training in electrical design systems engineering

Understanding of circuit design and applicable software such as

Altium Designer

,

OrCAD

,

Siemens PADS

, or

Autodesk EAGLE
Different Types of Organizations
Engineering service providers

Government and military agencies 

Manufacturers 

Telecommunications companies
Expectations and Sacrifices
Technology advances at such a rapid pace, in part, because there's so much competition. As soon as a manufacturer produces a high-tech product, the next day it and all of its competing companies are working to build something even better. Electronics Design Engineers have to work on the cutting edge, pushing boundaries and redefining what is possible. 
As they do so, they know that around the world others are doing exactly the same thing, trying to beat them to the punch! This phenomenon is observable in virtually every industry, but especially in consumer retail products and within the military-industrial complex. Indeed, most countries invest heavily in their national defense, which includes never-ending R&D for technologies to be used by militaries. Thus, Electronics Design Engineers should be aware of the potential uses and ramifications of their work, while trying to stay ahead of the curve through continuous learning. 
Current Trends
The fast-paced world of electronics design is always on the lookout for new advances that will improve efficiency and production. One of the biggest trends in this space is the rise of virtual reality, not only in games and entertainment but also for medical and military training purposes. In addition, there's a significant increase in the development of smart devices. These are nothing new, but they are rapidly replacing our "dumber" gadgets as they interconnect with the Internet of Things. 
Meanwhile, the spread of 5G networks is boosting device capabilities, in turn driving the need for faster devices. In manufacturing, AI and robotics are becoming even more prevalent, replacing human workers in some areas so that production is streamlined and more sophisticated. To some extent, this is narrowing and redefining the job outlook for engineers. These are just a few of the top trends impacting the industry! 
What kinds of things did people in this career enjoy doing when they were younger…
Electronics Design Engineers may have enjoyed working with mechanical equipment, electrical gadgets, or computers growing up. They are very hands-on and able to focus on technical work for long periods and may have had hands-on hobbies that took up a lot of their time as kids. They tend to be reliable, practical, and innovative problem-solvers!  
Education and Training Needed
Electronics Designers need at least a bachelor's degree in electrical or electronics engineering

Some universities feature 5-year combined bachelor's and master's degree programs. A master's isn't necessary to get started, but it can boost your credentials

Note, engineering programs should ideally be accredited by

ABET

Common classes may include: 

AC and DC circuits and design

Differential equations

Digital systems design

Electrical circuit theory

Programming essentials

Random signal analysis

Students can often select a minor or area of concentration such as nanotechnology, power systems, mechatronic systems, or renewable energy 

Practical hands-on experience is crucial and can be gained through internships,

cooperative programs

, or part-time jobs

Engineers can advance by earning a Professional Engineering (PE) license, which requires passing two exams
Things to look for in an University
Check if the engineering program is accredited by ABET or not

Look at the department's faculty bios, learn about its facilities and current research projects, see what kind of funding they have, read about awards or accomplished alumni, and search the web for honest reviews from graduates

Find out about post-graduation job placement stats and any program-employer partnerships that might exist 

Decide if you'll attend a traditional on-campus program, online, or hybrid (a mix of both)

Consider and

compare the costs

of tuition and scholarship opportunities

Apply for

federal student aid

to see what kind of financial assistance offers you might get from the government and from the school itself
Things to do in High School and College
In high school, future Electronics Design Engineers should sign up for STEM (science, technology, engineering, and math) classes. Physics, algebra, trigonometry, calculus, and drafting are very useful for laying the foundation you'll need in college

Volunteer for shop activities where you can get practice working with hand tools, learn about mechanical or electrical systems, and get familiar with general safety practices 

Apply for jobs or internships where you can gain real-world experience

Consider doing a bit of preparatory self-study via online courses from

Udemy

or other sites

Read

electronics journals

, magazines, and

blogs

Reach out to working Electronics Design Engineers to learn about their jobs. Ask if you can shadow them for a day or even just a few hours

Become familiar with electrical safety protocols,

OSHA standards

, and personal protective gear such as eyewear, insulated gloves, or dust masks

Keep a draft resume that you can add to as you gain experience
Typical Roadmap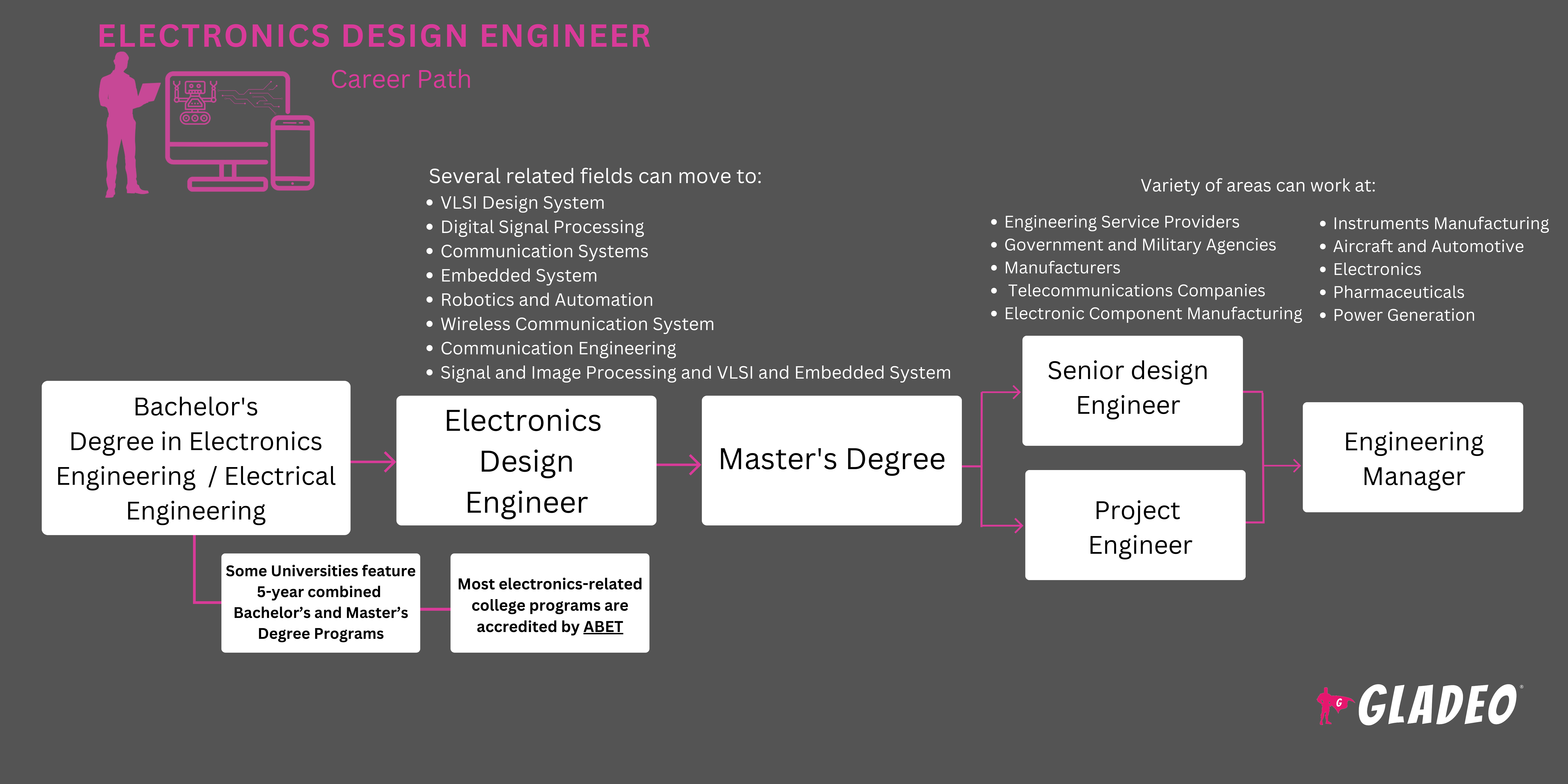 How to Land your 1st job
Scan popular job portals like

Indeed.com

. Upload your resume and set up notification alerts so you can hear about new postings right away

Advertise yourself on

LinkedIn

as open for work 

Consider relocating to a city that has a lot of jobs for Electronics Design Engineers

For example, the states with the

highest employment

of electronics engineers are California, Texas, Colorado, Florida, and Arizona

The highest

concentration

of jobs is in Colorado, Rhode Island, Maryland, Arizona, and California 

Make sure your

resume

is error-free and clearly explains your qualifications in a compelling manner

Review

Electronics Design Engineer resume templates

for ideas

If you don't have a ton of work experience, focus on skills, academic achievements, and any certifications or other credentials

Study

Electronics Design Engineer sample interview questions

. Know your terminology, have some real-world examples or stories ready to share, and be able to speak about the state of the industry and where it is heading

Be familiar with the companies you interview with. Study their websites, look at their range of products and services, and learn about their target customers

Stay positive and enthusiastic during interviews. Try to do a few mock interviews to practice so you won't be nervous! 
How to Climb the Ladder
Your first engineering job will be crucial to how the rest of your career plays out. Focus on doing the best job you can and learning as much as possible

Be a creative, proactive problem-solver who can work with little direction 

Let your supervisor know you're willing to do what it takes to advance so you can become an even stronger asset for the company. Demonstrate competence and loyalty

Always be accountable for your mistakes and demonstrate high degrees of professionalism

Collaborate well with others, treat coworkers with respect, and train new staff thoroughly 

Make safety a priority! Wear appropriate protective gear and comply with safety protocols, when needed

Build strong relationships with fellow engineers, department heads, and stakeholders

Get your Professional Engineering license when possible, and consider doing additional certifications or even a master's or doctorate program 

Keep learning new things about the industry. Read technical manuals and study industry trends

Get published in industry journals and establish your reputation as a subject matter expert
Recommended Tools/Resources
Plan B
Electronics Design Engineering is a dynamic, ever-evolving field, but it's also just one of the many possible career pathways for students interested in electronics or engineering topics. Below are a few similar occupations you might want to research, as well!   
Aerospace Engineer

Bioengineers Engineer

Computer Hardware Engineer

Electrical and Electronic Engineering Technician

Electrical and Electronics Repairer

Electrical Engineers

Electrical Power-Line Installer

Electricians

HVAC Technician

Lighting Technician 

Mechatronics Engineer

Microsystems Engineer

Sales Engineer
Newsfeed Featured Jobs Online Courses and Tools