Spotlights
Similar Titles
Art Teacher, Classroom Teacher, Educator, Elementary Education Teacher, Elementary School Teacher, Teacher, Before/Afterschool Program Aide, Primary/Secondary School Teacher
Job Description
Teaching really young learners at the elementary level is unlike teaching older students in middle and high schools. The subject matter and overall goals are very different, and it takes a unique set of skills and experience to be effective. 
Elementary Teachers generally stay with the same group of children for the whole academic year, teaching a wide range of core subjects at a foundational level. From science, tech, and math to reading, social studies, geography, art, music, and language, Elementary Teachers need to cover the broad basics of just about everything! 
But they must also maintain warm, friendly, and enthusiastic teaching styles that keep students engaged and curious. That doesn't mean the teachers are there to entertain…but having fun while learning is always important, especially at the elementary level! 
Rewarding Aspects of Career
Developing fun, engaging lessons and activities

Enabling positive learning environments where learners can be nurtured

Helping students discover latent talents and interests

Contributing to the future of students' success
2021 Employment
1,487,000
2031 Projected Employment
1,547,200
The Inside Scoop
Job Responsibilities
Working Schedule
Elementary Teachers work full-time. As with any teaching job, there may be after-hours work required to prepare lessons or grade assignments. Teachers can expect downtime during the school holidays and breaks. 
Typical Duties
Design or use elementary classroom curricula that align with state educational standards in a variety of subjects

Use a planner to stay organized and on track 

Prepare and practice lessons ahead of time. Make outlines, lists of questions to ask, and handouts

Get classrooms organized, including desks, chairs, tables, supplies, tablets or computers, and handouts

Present activity demonstrations, assist students and offer encouragement

Ask concept-checking questions to ensure understanding

Offer quizzes and exams to measure retention 

Demonstrate how to use various tools or supplies for certain projects, such as art supplies or musical instruments

Explain classroom rules and etiquette 

Model proper classroom behaviors and manners

Hold learners accountable for following standards. Address behavioral problems as needed

Help students work together on group activities 

Monitor student progress and offer extra help to those who need it

Find creative ways to capture student attention and get them to participate in their own learning

Meet with parents to review successes and challenges. Share advise for things they might try at home

Grade assignments; keep track of grades via online software 

Prep students for standardized tests
Additional Responsibilities
Keep an eye on student conduct during lunch, recess, and breaks

Proactively address potential safety risks

Stay aware of individual learners' unique learning or medical issues, as applicable 

For example, teachers should be aware of life-threatening allergies 

Assist students facing difficulties or learning challenges

Encourage and motivate learners to express themselves appropriately

Share curriculum ideas with school leadership and faculty

Teach learners to take care of their tools and materials

Show classes how to keep work areas clean and organized

Keep track of supply inventory and request more as needed
Skills Needed on the Job
Soft Skills
Concentration

Coordinating and instructing activities

Desire to help children succeed

Empathy

Enthusiasm

Goal setting

Humor

Monitoring

Non-judgemental approach to teaching

Note-taking

Organizational skills

Patience

Resourcefulness 

Social/cultural awareness 

Strong communication skills 

Time management
Technical Skills
Educational software, eLearning platforms, and databases designed for schools 

Familiarity with basic classroom supplies and technology (such as

tablets

or laptops)

Knowledge of elementary levels of math, science, technology, social studies, reading, art, music, geography, history, social studies, language arts, etc.

Knowledge of printers, copiers, and presentation equipment

Microsoft Office, Google apps, Macintosh software
Different Types of Organizations
Public, private, and charter schools
Expectations and Sacrifices
Elementary Teachers play crucial early roles in the social and emotional development of young children. While teaching core subjects, they also nurture creativity, foster good behavior and cooperativeness, and help instill positive attitudes that learners will hopefully carry throughout their lives. 
Teaching can be both rewarding and frustrating, but it's up to the teachers to stay positive, professional, and focused on doing their best for students. When students misbehave, the teachers should approach the issue with patience and understanding, since they may not know the underlying causes. They must be alert for signs of problems that may stem from home, and for mental health symptoms that could impair learning.
Current Trends
Elementary Teachers are increasingly adding STEAM (Science, Technology, Engineering, Arts and Math) subject matter to their curricula, which sometimes requires a bit of a learning curve for the teachers, too! Indeed, there's been an overall increase in technology usage in younger classrooms, to help better prepare students for the fast-paced world they're going up in. 
Part of the new focus on STEM/STEAM is using a more active, hands-on approach that instills a sense of curiosity and promotes problem-solving. Complimenting this is a lean towards project-based learning which aligns with Common Core standards. Another trend sees teachers trying out more cooperative styles of learning, so learners can gain added exposure to teamwork concepts and conflict-resolution techniques.
What kinds of things did people in this career enjoy doing when they were younger…
Elementary Teachers have an affection for kids and a passion for teaching! They may have always liked working with little ones and were perhaps responsible for helping younger siblings when they were kids themselves.
Because of the wide range of topics they're required to teach, it's likely they were intensely curious about all sorts of things and may have enjoyed reading lots of books. Of course, it takes a ton of energy to keep up with a classroom of elementary students, so they may have built up their stamina by staying active with exercise or other activities. 
Education and Training Needed
Elementary Teachers require a bachelor's degree and must complete a teacher preparation program as part of their degree

Most teaching prep programs incorporate an internship. This lets college students practice live teaching under supervised conditions

Internships usually occur after finishing the first two years of college

Students work under the guidance of a trained teacher who conducts observations and gives feedback 

To teach at a public school, you'll need a state license or certification, after finishing your academic program

Most states require teachers to pass

Praxis exams

. Every state has its own requirements, but common exams for Elementary Teachers include: 

Praxis Core Academic Skills

Praxis Multiple Subjects

Praxis Content Knowledge

Praxis Principles of Learning and Teaching (PLT)

Praxis Curriculum, Instruction, and Assessment

Aspiring teachers can expect a background screening prior to licensure. Screening may involve a criminal background check and potentially credit history

Some states or employers prefer teachers have or get a master's at some point

Other requirements include: 

Commitment to

Diversity, Equity, and Inclusion

(DEI) in school environments

Familiarity with computers, tablets, office software, and Internet-based learning environments 

Fluency in a second language, in some schools 

Additional skills tests, if working with special needs youth
Things to look for in an University
You must ensure your school is regionally

accredited

and that your program is also accredited by an applicable institution

Always

compare costs

of tuition, room and board, and scholarship opportunities

Look into

federal financial aid

for students to see what you qualify for

Decide which is best for you—traditional on-campus program, online, or hybrid (a mix of both)

If considering online, pay close attention to in-person requirements for internships

Always look at graduation and job placement statistics
Things to do in High School and College
Elementary Teachers need to be able to teach multiple subjects, so do well in all of your high school classes

You'll need strong written and verbal communication skills, leadership, project management, and teaching pedagogy knowledge, too

Volunteer (or apply for part-time jobs) with local elementary schools, youth organizations, religious centers, or childcare centers 

Take courses to help you prepare for real-world classroom teachings, such as public speaking, psychology, teacher assisting, special education, child development, and information technologies

Learn about current diversity and social standards in school settings 

Practice expressing yourself confidently, concisely, and clearly. Be comfortable with yourself so that learners will feel comfortable in the creative learning environment you build for them!
Typical Roadmap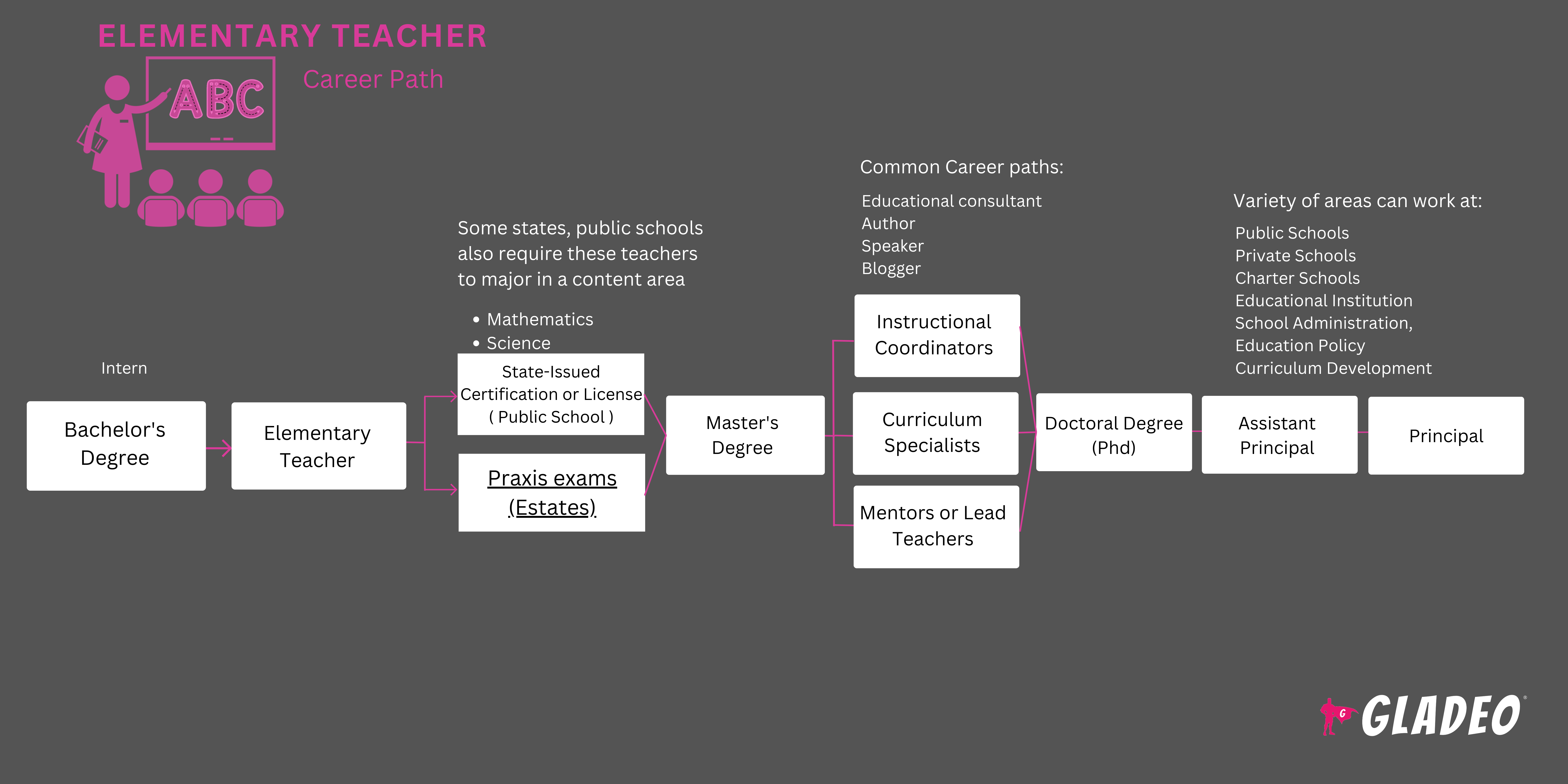 How to Land your 1st job
Knock out all of your education and preparatory requirements, including any state-required licensure or certification, Praxis exams, etc. 

List all of your work, education, and extracurricular activities on your resume, which should be highly polished and edited

Use quantifiable results when possible, such as statistics on successful outcomes and numbers of students you've worked with 

Stay in touch with your former supervisors and teachers, including your internship mentor. These individuals may serve as invaluable references when the time comes

Set up job notification alerts on

Indeed.com

,

EdJoin.org

, and other job portals and keep track of application deadlines

Read job posts carefully and make sure to work relevant keywords into your resume

Demonstrate awareness and proficiency related to eLearning and other trends

Let your enthusiasm for teaching children shine! Employers love to see evidence of your soft skills as well as academic qualifications 
How to Climb the Ladder
Earn your master's degree or complete additional training/advanced certifications

Demonstrate sincere caring for children's educational progress 

Explore work opportunities beyond your current school. Consider teaching in other states, if necessary to grow

Build your reputation as a results-driven classroom leader  

Mentor others

and offer to help aspiring teachers doing their internships

Serve on school and district committees; build rapport with staff, peers, parents, and administrators

Be a passionate advocate for student rights

Keep learners motivated by incorporating fun, creative new ideas and technologies

Read books, review website resources, watch videos to get ideas that'll keep your classrooms fresh and engaging! 

Participate in professional organization activities 
Recommended Tools/Resources
Plan B
Want to work in education, but maybe not as an Elementary Teacher? No problem! There are several other exciting career options to explore, such as:
Career and Technical Education Teachers

Career Counselors

Childcare Workers

ESL Teachers

Instructional Coordinators

Middle and High School Teachers

Principals

Social Workers

Special Education Teachers

Teacher Assistants

Tutors 
Newsfeed Featured Jobs Online Courses and Tools