Spotlights
Similar Titles
Entertainment Attorney, Media Lawyer, Music Lawyer, Film and TV Attorney, Intellectual Property Lawyer, Contract Lawyer (with a focus on entertainment contracts), Copyright Lawyer, Talent Lawyer, Sports and Entertainment Attorney, Arts and Entertainment Counsel
Job Description
Entertainment Lawyers work with a wide range of clients in diverse industries within the entertainment sector. They practice law in deal-driven areas related to film, television, sports, music, associated intellectual properties, and other areas involving agreements, contracts, and applicable guilds, associations, or unions. They may also be involved with handling loans, investments, release forms for celebrity appearances, and merchandise licensing. 
 
As with any lawyers, Entertainment Lawyers need to be highly knowledgeable about their area of expertise and must possess extraordinary people skills. They serve as the bridge between persons, companies, and legal subject matter. The job involves a unique skill set that relies on persuasive communication, in-depth research, and technical writing. Workers in this fast-paced field come into contact with wealthy, sometimes difficult-to-manage producers, artists, studio or network executives, and financial stakeholders in an ever-evolving industry. If working specifically for celebrities, they'll need to engage with that person's advisers, agents, and managers, too!
Rewarding Aspects of Career
Working in a fast-paced, exciting area of legal practice
Learning the intricate behind-the-scenes workings of major entertainment deals
Representing up-and-coming or high-profile creative types, such as musicians, film stars, and theater performers
Potentially very lucrative salaries
The Inside Scoop
Job Responsibilities
Working Schedule
Lawyers generally work at least full-time jobs inside offices, but with occasional travel required. They may have to work late if a big deal is in the works. 
Typical Duties
Arranging meetings and negotiating deals between companies and entertainers
Proposing financial terms for prospective product endorsements
Drafting and reviewing legal contracts, production agreements, releases, and other documents
Negotiating (or re-negotiating) contract terms
Researching case law to inform strategies and help build arguments
Navigating complex co-ownership of intellectual property rights
Suing for contract breaches or theft of IP rights
Working with banks, investors, grant issuers, or other stakeholders
Handling intellectual property matters
Dealing with employment issues related to unions and business associations
Assisting with elements of pitches for new projects such as TV shows
Managing the development of projects, to include helping secure financing
Communicating with producers and distributors, as needed
Serving directly as attorneys for busy entertainment professionals who may be high-maintenance and need assistance at various times throughout the day
Additional Responsibilities
Talking with opposing attorneys via phone or email to work out litigation-related problems
Consulting with senior associates and partners in specialized areas such as trademarks or copyrights
Collaborating with celebrity clients' affiliated staff, including business managers and agents
Skills Needed on the Job
Soft Skills
Ability to work independently
Attention-to-detail
Customer service orientation
Empathy and patience
English proficiency
Flexibility
Integrity
Negotiating skills
Organizational skills
Persistence and composure 
Persuasion
Psychology and human asset management
Problem solving
Resourcefulness
Sound judgment and decision-making, sometimes under pressure
Strategic thinking
Strong communication skills, including outstanding writing, speaking, and listening
Time management
Technical Skills
General familiarity with computers (PC or Apple)
Knowledge of visual presentation and video conferencing software and equipment  
Knowledge of printers, scanners, and photocopy equipment
Microsoft Office, Google apps, Macintosh software
Accounting, tax, and analytical software
Database query software
Project management programs 
Different Types of Organizations
Film studios or television networks
Music recording labels
Talent agencies
Law firms
Corporations
Expectations and Sacrifices
Entertainment Lawyers work in a very transactional area of practice. Deals are constantly starting, stopping, and getting changed, and the pace can be hectic and frustrating with large sums of money involved. Sometimes hotheads and big egos can detract from smooth negotiation strategies, but the lawyers must be the ones to keep things moving forward in their clients' best interests. Stress may be a daily part of the job, depending on who is involved and what's at stake.
 
Short notice deals are especially challenging and require extra work and overtime. Studios might have film crews waiting for a deal to be struck as thousands of dollars a day are being spent on crew salaries and other costs. When the heat is on, Entertainment Lawyers have their persuasion skills put to the test! Celebrities may want to hold for bigger checks or might have concerns about how a project will impact their reputation and careers. When it comes to such deals, every decision can be critical. 
Current Trends
Technology is quickly and radically changing how audiences engage with entertainment content. Streaming audio, TV shows, and films have made everything more convenient for users but present a variety of unique problems for providers. Just as Amazon revolutionized the book industry and caused the shuttering of many traditional bookstores, streaming content is upending traditional business models for entertainment media. 
 
Blockbuster and other video stores were some of the first to go, but now even studios are trying to navigate the altered landscape in the era of Netflix. Many are rolling out their own subscription services, such as Paramount Network and Disney+, even as Amazon and Netflix get into the business of producing original content. Traditional networks and cable stations are vying to compete, looking to hire big names to draw audiences. Meanwhile the COVID-19 pandemic has fueled the demand for streaming as movie theaters and concert venues have either shuttered or scaled down for months, while the entertainment industry scrambled to find new ways to connect and keep up revenue. 
 
Entertainment Lawyers have been on the forefront of many of these trends, as things such as digital content issues present questions such as how much much should a new release rental cost, can families share access to a single account spread across more than one household, and how can digital content owners lend or give away items they purchased? Digital piracy is yet another ongoing problem that cuts into the profits of content producers and the entertainers who make that content. 
What kinds of things did people in this career enjoy doing when they were young...
Entertainment Lawyers are, first and foremost, attorneys. As such, they were probably always interested in the law or rules in general. They might have been bookworms, yet still outgoing and possessing a penchant for persuading others or sharing knowledge they recently learned. 
 
Entertainment law appeals to people who love the arts, and are passionate about things like music or movies. Rubbing elbows with high profile celebrities, producers, or studio execs can be fun, though challenging. The work isn't glamorous but the lifestyles of clients are! Lawyers must be able to juggle multiple responsibilities at once, from keeping an eye on budgets to negotiating deals between two entities who might both be stubborn. Developing all the required traits takes years, starting early on in high school or even before! 
Education and Training Needed
Attorneys must hold a bachelor's and usually earn a Juris Doctor (J.D.) degree, ideally from an American Bar Association-accredited law school. Afterwards they take their state's bar exam

In total, education can take 7 years of study, if going full-time

There's no particular undergrad degree required, but courses in public speaking, writing, law, history, government, and finances will be helpful 
In certain states and situations, a person can become a lawyer without a J.D., through supervised self study 
To apply to a law school, applicants must pass the Law School Admission Test (LSAT)
Law school courses focus on both general topics like legal writing and specific areas of study, such as contract law
After the J.D. degree is finished, graduates study for their state bar exam; they must pass in each state they want to practice

The National Conference of Bar Examiners offers details about state and jurisdiction requirements

Before taking the bar, some states require the Multistate Professional Responsibility Examination (MPRE)
Simply passing the bar doesn't guarantee a license to practice; lawyers must also be approved by an admitting board

Various factors can inhibit one's ability to be admitted, including felony convictions, ethical concerns, or substance abuse

Ongoing educational requirements are normal every 1 to 3 years, to stay current on legal changes
Many attorneys get started as interns and might have offers waiting for them once they pass the bar
Things to look for in a program
Make sure you earn your bachelor's from an accredited school in order to qualify for law school
Lawyers can major in anything for their bachelor's but it will help your application for law school to have applicable coursework done in classes like political science, history, law, public speaking, English, or related topics
Keep in mind that Entertainment Lawyers generally work close to entertainment hubs like New York or L.A. 

It's okay to graduate from a school in one state then move to another for work, but remember you'll also need to pass the bar in the state you plan to practice

Ensure your law school is fully accredited by the American Bar Association, if possible. Not all programs are, but they should all be at least accredited by a state bar association
Do your homework on your dream, target, and safety schools and keep track of the various requirements in an organized manner
Screen each programs' website to learn about enrollment and graduation data
Look for student organizations that could help you grow professionally 
Review U.S. News' Best Law Schools rankings to learn more about top schools and programs

The top schools are Ivy League and have slim acceptance rates and high tuition, so review requirements carefully and make sure to meet all deadlines

If scholarship opportunities are limited, check out the 20 Most Affordable Law Schools, per Best Value Schools. These also have higher acceptance rates
Things to do in High School and College
In high school, hone your speaking and writing skills and participate in activities that offer leadership or management roles

Serving as a treasurer can provide experience with finances

Front load with classes on speech, English comp, debate, philosophy, psychology, ethics, technology, business, and anything that might help you before starting college
While doing your bachelor's, prep for your J.D. by taking political science, history, law, English, or related topics
Look for opportunities to hone your public speaking and leadership abilities
You might also benefit from some electives in advertising and marketing!
Whatever industry you intend to specialize in (music, film, etc.), take applicable electives that can offer you a foundation on those topics 
Decide if you can attend full-time or will need to go part-time due to work or other commitments
Consider whether or not online or hybrid degrees are better for you, or if you're able to attend in-person. There are pros and cons to all options!
Join professional organizations like Phi Alpha Delta or student clubs that help you learn and network
Look for internships that might turn into jobs one day, if you play your card right!
Work closely with your academic advisor so you stay on track and graduate on time
Typical Roadmap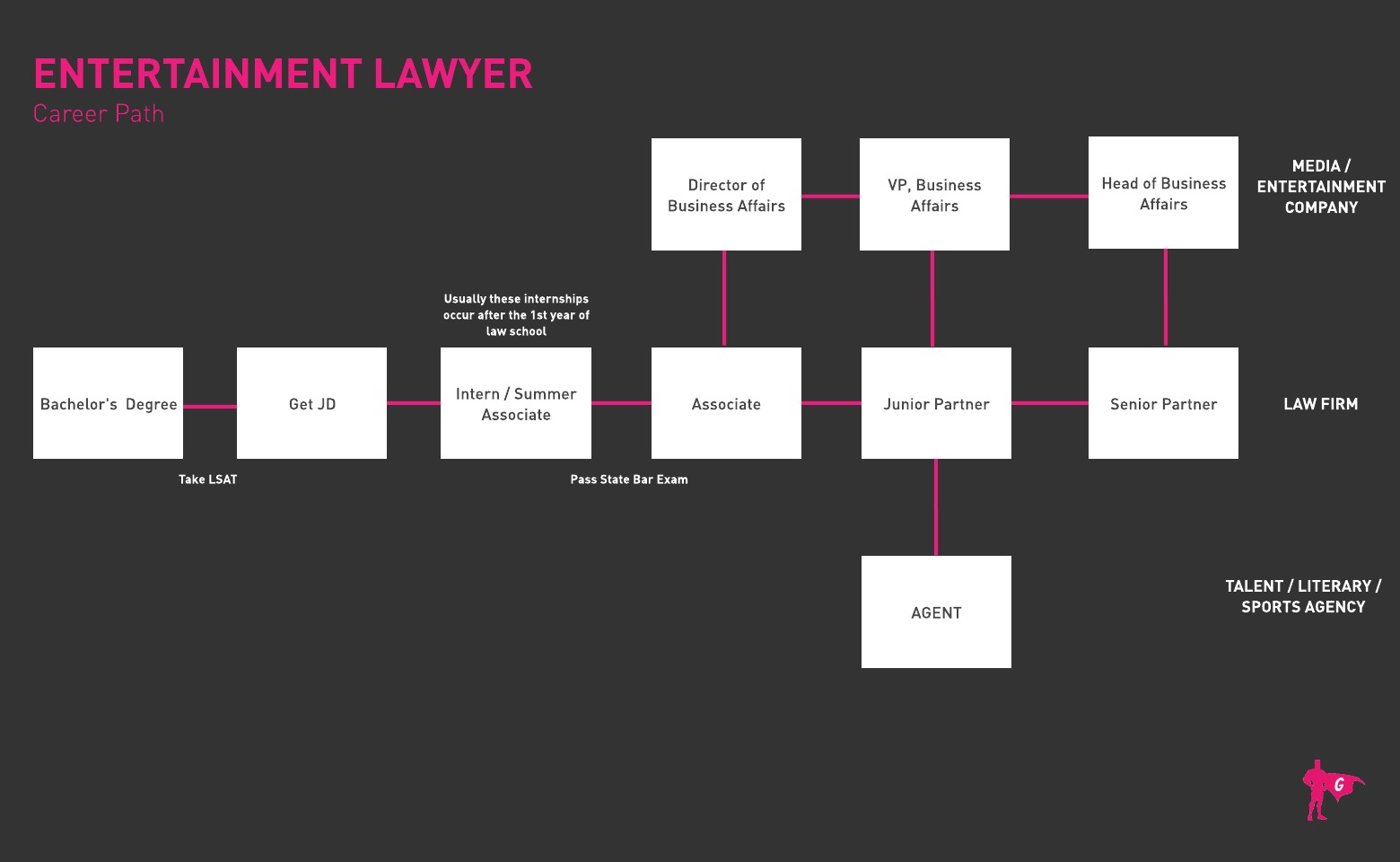 How to land your 1st job
Work with your school's program or career center to locate and apply for jobs
Many schools work closely with firms who recruit graduates!
Perform to the best of your ability during internships; sometimes interns are offered positions contingent on their graduating and passing the bar exam
Even if the firm where you intern doesn't or can't hire you as an Entertainment Lawyer, their references to potential employers can make a huge difference
If needed, make sure to pass the Multistate Professional Responsibility Examination (MPRE) before taking your bar exam
Learn as much as you can about the entertainment industry and its unique challenges
Let your network know when you are graduating and plan to start looking for work
Load your resume into job portals such as Indeed and set your LinkedIn as Open for Work
Make certain your resume is impactful, compelling, and error-free. Think of it as a work sample, a preview of the kind of attention to detail you give your writing
Seek prior approval from professors and relevant supervisors to list them as references or get letters of recommendation from them
Hone your interview skills by reviewing Harvard Law School's Interview Questions
Read news about the entertainment industry; be ready to discuss your insights about relevant trends and changes during interviews
How to Climb the Ladder
New attorneys generally work as team player associates and advance their way up through years of high-performing work
Lawyers who are not performing to standard may be cut free, but those who advance to mid-level may get a chance to move into sweet content provider company jobs
Sometimes lawyers begin in a completely different practice area, then switch to entertainment law after doing certifications to qualify for working in the trade
Those with enough talent and ambition might launch their own practice or branch out into other business roles, like studio business affairs
It is critical for attorneys to maintain the highest ethical standards and to avoid (and help their clients avoid) incidents that jeopardize their reputation
Though lawyers work around the country, there may be extra opportunities in entertainment hub cities like New York or Los Angeles
Often times, you'll be asked to juggle multiple projects at once, but you must prioritize without neglecting anyone
Always be on time, with well-researched solutions in-hand
Consider additional degrees; many J.D. holders go on to get a Master of Legal Studies degree to supplement their knowledge
Be a firm negotiator and make good deals for your clients
Let your bosses know you're ready for increased responsibilities by demonstrating your effectiveness in all transactions
Stay ahead of the curve when it comes to tech-driven industry changes 
Engage with professional organizations, mentor new associates, and try your best to keep everyone happy! 
Recommended Resources
Websites
American Bar Association
National Association for Law Placement
Law School Admission Council
National Conference of Bar Examiners
Books
Plan B
The legal career field has an endless supply of opportunities for lawyers, so if entertainment law isn't your niche, there are other types of law to practice. Other similar occupations, per the Bureau of Labor Statistics and O*Net, include:
 
Arbitrators, Mediators, and Conciliators
Judges and Hearing Officers
Paralegals and Legal Assistants
Equal Opportunity Representatives and Officers   
Administrative Law Judges, Adjudicators, and Hearing Officers
Securities, Commodities, and Financial Services Sales Agents
Newsfeed Featured Jobs Online Courses and Tools