Spotlights
Similar Titles
SVP/VP/Director/Manager/Coordinator of Marketing for a Film or TV Studio
Job Description
Marketing executives for film and TV studios are responsible for developing and implementing marketing, promotions, and PR strategies for upcoming films or upcoming/ongoing TV shows.
Different Categories
TV:  Digital, Affiliate, Print, On Air Promo, Integrated Promos, Marketing Strategy
Film:  Live Action, Animation, International, Print, Digital, Creative
Rewarding Aspects of Career
Getting to come up with new ideas constantly!
Seeing final product and sharing that with consumers.

Working on project where you have an on-screen credit.
Working on an advertising campaign and seeing it on TV.
Help creating a product line and see kids playing with it.
The Inside Scoop
Day in the Life
Typical Day:  Nabil's typical day when he was VP of marketing at ABC Network (TV)

MORNING… I'd wake up and look at the overnight ratings of the shows that I was working on.  Which shows resonated with audiences, which shows didn't?  Why? Then, the first thing I would usually do when I got to the office was attend a team meeting to look at the ratings and "troubleshoot."  Troubleshooting would mean adjusting on-air promos, adjusting messaging online through digital and social platforms… and then looking at the larger scope: where were we spending our media dollars, and where should we spending them?

Real world example:  A popular half-hour comedy show.  The show had started off really well, but then the ratings dipped a little bit. We dealt with some issues and controversy around characters that might not appeal as much in certain regions of the country, so we readjusted our media dollars, and regionalized our promos to showcase certain aspects of the show in certain regions.  We were able to bring our ratings back up.

Then in a typical afternoon, I'd be looking at key art, or watching episodes for the following week of shows, or figuring out how we're going to use clips from the upcoming episodes for this week's promos.

At the end of the day, I'd be in meetings with showrunners (people who "run" the TV shows) or maybe with the various studios that produce the shows.  TV has evolved so that new shows are coming up all the time now and not just at fall preview, so I might be checking out new shows, finding new ideas, or coming up with new strategies to keep our shows top of mind.
Skills Needed on the Job / Keys to Success
Passion for TV and/or Film
Be creative, come up with ideas on the spot.
Be bold and take initiative.

Don't be too cautious.  Must be willing to speak up in meetings, throw your ideas out there, not afraid of being wrong from time to time
Be able to take reigns of project, be project leader, figure out what needs to happen and get it done quickly, because things often need to happen quickly

Research and analysis

It's important to educate yourself and research the brands you are working on.  Not only, how will you reach the obvious audience, but how will you bring in new audiences?
Marketing is not what people think it is.  Others might thing it's "spending money" and "advertising".  But like anything else, you can't figure out how to market if you don't know how to spend that money.  The only way to market effectively is if you do your research and know how to interpret it.  
Ratings, demographics: interpreting that research, understanding the types of shows that work in different regions, understanding how to reach different groups of people, through which channels.  Understanding communities, their faiths, their background… will help you figure out how to spend your money most effectively.

Networking is key!

You never know where your next job will come from.  This is a highly social and networked industry.  Most positions get filled through referrals or through the industry reputation you've built for yourself.

Good at working on a team, brainstorming
Street smarts
Project management skills.  Be detail oriented, highly organized, able to multi-task, prioritize project workflow, and follow through.
"Watching movies and television shows has always been a passion for me.  I love the idea of connecting people to creative content.  Marketing, to me, is connecting.  It's about finding audiences that already exist for the content you've created and then connecting with them.  Everything that's created has an audience, it just varies on how big that audience is.  Sometimes we're tasked with finding a way of communicating that can help something that's maybe not even that appealing to somehow find its audience.  In my experience, some of the most unique and clever marketing ideas come from those tougher projects, and those in turn might help you when you're launching something bigger in the future." Nabil Kazi, veteran entertainment marketing executive (Fox, ABC Television, Disney Animation Studios)
Types of Entertainment Marketing
TV Categories
Digital Marketing:  Marketing that makes use of electronic devices such as computers, tablets, smartphones, cellphones, digital billboards, and game consoles to engage with consumers and other business partners.
Affiliate Marketing:  Performance-based marketing in which a business rewards one or more affiliates for each visitor or customer brought about by the affiliate's own marketing efforts.
Print: Any promotional marketing that is printed, such as magazine ads, newspaper ads, direct mail postcards, fliers, brochures, door hangers and business cards.
On-Air Promotions
Integrated Promotions:  Approach to brand communications where the different modes work together to create a seamless experience for the customer and are presented with a similar tone and style that reinforces the brand's core message.
Marketing Strategy: Long-term strategy determined to optimize the allocation of limited resources of an organization on the best opportunities to increase sales and achieve a competitive advantage.
Film Categories
Live Action (non-animated)
Animation
International
Digital
Print
Creative
Organization Types
Film Studio or Production Company
TV Studio or Production Company
Digital Agency
Advertising Agency
PR Firm
Expectations/Sacrifices Necessary
At the beginning of your career, if you are not able to get a marketing internship at first, you might have to start out in another area within a film or TV company, to get your start.
Current Industry Trends
It is now crucial for ALL marketing executives (whether they work in digital or not) to have a decent understanding of the mechanics and influence of digital and social networks.
What kinds of things did people in this career enjoy doing when they were young...
Loved watching movies and/or TV!
Education Needed
Bachelor's degree required.

Suggested degrees: marketing, advertising, business, finance, or public relations. 

Master's degree might help career advancement later on in your career.
They must also be very familiar with the entertainment industry through work or other experiences
Per BLS, college courses may include "marketing, consumer behavior, market research, sales, communication methods and technology, visual arts, art history, and photography" 
Entertainment Marketers often specialize in a particular area of entertainment such as film, TV, music, radio, games, and web or mobile content
In addition to a degree, some complete specialized certification programs related to either marketing or the area of entertainment they work on. Sample general certifications include: 

American Marketing Association's Professional Certified Marketer
Meta's Meta Certified Creative Strategy Professional    
Insights Association's Insights Professional Certification    

Many people in this profession learning the ropes in entry-level positions within marketing firms or agencies 
Some firms utilize market research software so knowledge of data science may be helpful. Search Engine Marketing is also critical to understand
Entertainment Marketers need a sharp eye for trends and should have a good understanding of consumer psychology, as well as business and financial acumen 
They must learn the most relevant social media and other platforms to creatively engage customers

Video games such as Fortnite, streaming services like Twitch, a social networking apps like TikTok are all increasingly popular virtual solutions for gaining exposure 

Ability to showcase your digital experience and your understanding of the various digital platforms and how to navigate them.  (For instance, have a Pinterest account and build your understanding of how it works, and how it might be used for marketing a TV show)
Things to look for in an University
Entertainment marketing curriculum: UCLA and USC have stellar programs
Guest speakers, professors, and alumni with industry knowledge and experience.
Things to do in High School and College
Stock up on courses in marketing, business, finance, statistics, data science, English, writing, speaking, and psychology
Learn the "behind the scenes" of how people and products are branded and marketed 
Read about celebrity endorsement deals such as Golden State Warriors player Steph Curry and his $42 million deal with Under Armour
Explore how strategic brand partnerships work such as the team-up between GoPro and Red Bull
Pay attention to the user demographics of various marketing channels (including platforms such as Facebook, Instagram, TikTok, Twitter, LinkedIn, Pinterest, Snapchat, and YouTube)
Get familiar with the key players you may interact with, such as actors, musicians, athletes, agents, other marketers, legal teams, and finance teams 
Understand how union rules may play a part in deals
Apply for marketing internships, entertainment sector internships, and, of course, Entertainment Marketing internships! 
Watch interviews with Entertainment Marketer to gain insights into the profession
Try to find someone who will do an informational interview with you so you can ask questions
Beef up your education with ad hoc courses from Google Analytics Academy and Hubspot Academy
Check out Coursera's Search Engine Marketing courses
Join professional organizations to expand your network as you learn and build your reputation 
Typical Roadmap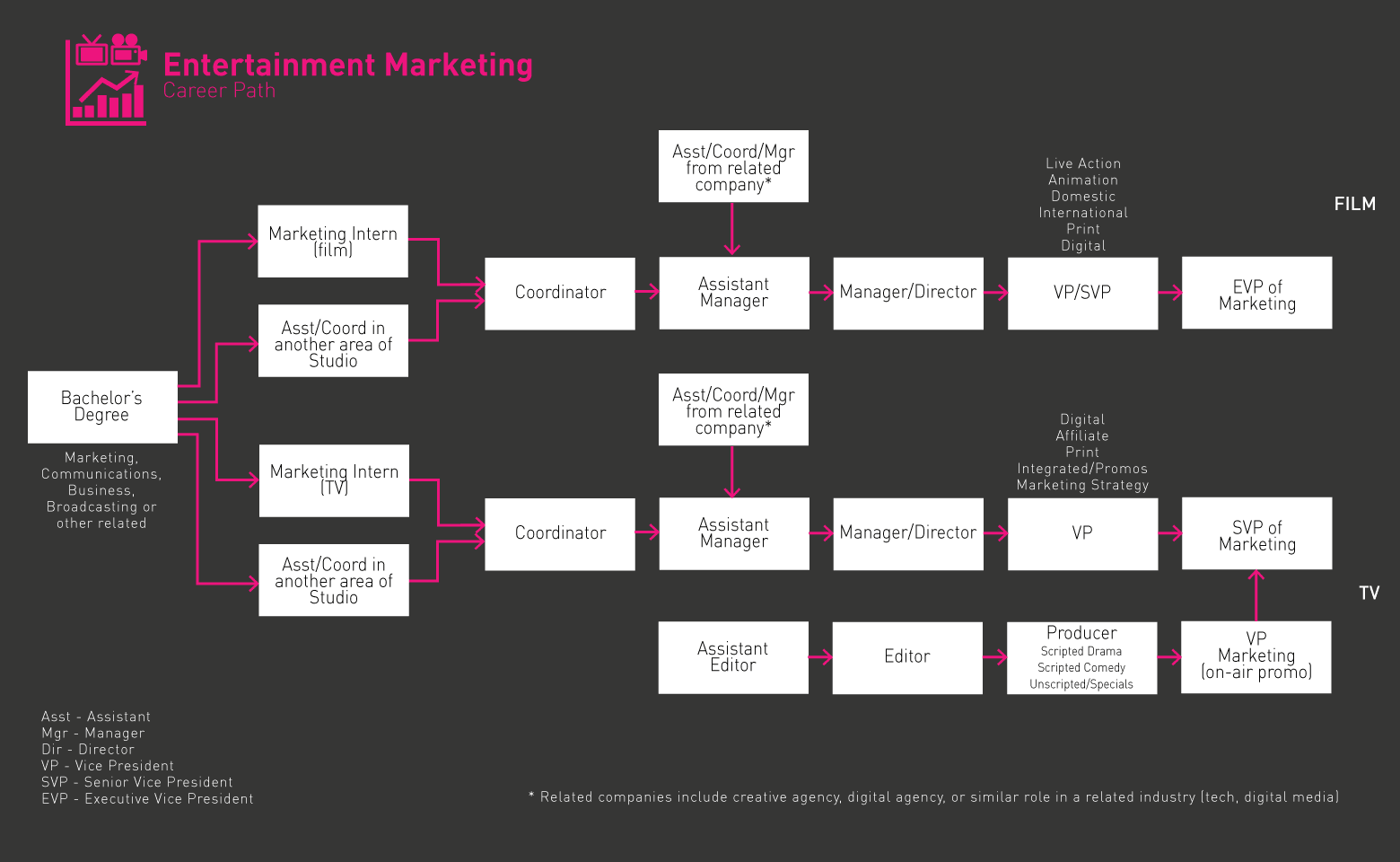 How to Land your 1st job
Internships are the best, but marketing internships are limited, so the most important thing to do is to get ANY job within the company that you are hoping to one day work at.  While you are there, network, network, network…  Make an effort to understand the bigger picture and what is going on at the company.  Then, get to know people in the area you want to be in, because they will be the ones who will know when opportunities arise.
Interest in and keen awareness of the studio or network's production slate (past and present) is essential.
The entertainment industry is highly competitive so knock out as many academic and practical work experiences as you can before applying
Move to states where there are more job opportunities, such as California, New York, and Washington DC
Check out job portals such as Indeed, Simply Hired, and Glassdoor
Visit the websites of the largest marketing agencies in the world to see about opportunities!
Ask teachers if they have insights, tips, or connections to help you find work
Keep in touch with professors, former bosses, and co-workers who might serve as personal references 
Review Entertainment Marketer resume templates and interview questions to prepare 
Dress sharply for job interviews! 
How to stay competitive and stay in the game
Networking

Successful marketing campaigns require communication and coordination between many teams often under high pressure and time constraints, so building good, solid professional relationships across the company (and the industry) is a key to success.
You never know where your next job will come from.  The best jobs usually get filled by referral before they are not posted on any job board.
As you rise up the ranks, and especially if you work in fields like promotions or affiliate sales, you are often hired BECAUSE of your Rolodex, so networking is key!

Don't pass up opportunities to speak on panels or conferences.

This is way of building your personal brand and voice as a marketing executive.

Keep up with all new technology and web innovations that might affect your trade.  Be ahead of the curve whenever possible!  This will give you an edge when interviewing.
A crucial part of marketing is understanding audiences.  So be an explorer and stay culturally aware; of people in various regions around the country and around the world.
Plan B
Marketing is really transferable and universal, so I could really go and do marketing at any brand (Coca-Cola, Nike, BMW, etc).  Every company has marketing!
In addition, every company now has a branded entertainment group.  Branded entertainment is the group within the company that manages any external entertainment or sport tie-ins… They have teams that manage that relationship day in and day out business.  They work globally across all the teams, on-site, grassroots, to national campaigns.  For instance, Coca-Cola being a sponsor of American Idol, FIFA, Olympics.
Recommended Tools/Resources
Websites
Ad Council
Advertising and Marketing Independent Network
Agency Spotter
American Advertising Federation
American Association of Advertising Agencies
American Marketing Association
Association of National Advertisers
Association of Sales and Marketing Companies
Business Marketing Association
DMN
Hollywood Reporter
Insights Association
LOMA
National Council for Marketing and Public Relations
National Newspaper Association
Product Development and Management Association
Variety
Books
Words of Advice
"You're not going to succeed if you're not passionate about the material.  The creative comes from watching the show, being a fan of the shows. You also need to be aware of what's out there in the market.  Know your audiences.  Talk to the public whenever you get the chance." Nabil Kazi, veteran entertainment marketing executive (Fox, ABC Television, Disney Animation Studios)
Newsfeed Featured Jobs Online Courses and Tools