Spotlights
Similar Titles
Air Pollution Control Engineer, Engineer, Engineering Consultant, Environmental Remediation Specialist, Hazardous Substances Engineer, Sanitary Engineer, Field Engineer, Environmental Specialist, Environmentalist
Job Description
Environmental engineers research, design, plan, or perform engineering duties in the prevention, control, and remediation of environmental hazards (water, soil and air) using various engineering disciplines. Their work may include waste treatment, site remediation, or pollution control technology.
Rewarding Aspects of Career
Job satisfaction: Making a difference in the world and in the community.
Pay: Making a good solid salary.
Intellectually challenging: You are constantly challenging your brain and thinking of ways to solve problems.
Job Stability: There will always be a need for environmental engineers.
The Inside Scoop
Day in the Life
Schedule is predictable majority of the time: Either go into an office or go off site but it is scheduled and planned.   
Occasional "Fire drills" diagnostic and trouble shooting skills: There are occasional phone calls from the technician in the field who discovers that something is broken/needs to be replaced. Have to brainstorm what it could be and fix the problem over the phone.
Regular meetings with team: other engineers, geologists, program managers to touch base with updates on a project.
Regularly talking on phone with field technicians who are the hands-on people doing the work in the field.
Lots of report writing: getting data from technician, analyzing the data and writing several reports that communicate to the agency the status of the projects.  
Types of reports: Findings of a study, ongoing report of water quality, proposal to do a different type of study.  
Go on site for remediation every so often.
Skills Needed on the Job
Problem-solving skills
Detail-oriented
Team-player: Will work with different people in different disciplines.
Innovative:  Should be looking for the next best practice.
Expectations/Sacrifices Necessary
Won't become a quick millionaire: Pay is competitive but you won't make a huge sum of money all at once.
My brain hurts!: You are always using your brain for your work so you have to be ON all the time.
Potential physical risks: Risk to exposure of things you are trying to clean up. However, there is rigorous safety training to work safe.
Organization Types
PRIVATE: consulting engineering working for companies (oil, gas, energy).
PUBLIC: government agencies that enforce and regulate policies, compliance.
Current Industry Trends
Less work in oil and gas.  
More work in erosion, air pollution, storm water, and hazardous waste sites.
Wastewater treatment is becoming a larger concern in areas of the country where new methods of drilling for shale gas require the use and disposal of massive volumes of water.
What kinds of things did people in this career enjoy doing when they were young...
Liked taking things apart and understanding it, then putting it back together.
Liked shows on Animal Planet, Discovery Channel, and Science Network.
Cared about the environment.
Liked being outdoors and interacting with the environment.
2016 Employment
53,800
2026 Projected Employment
58,300
Education Needed
Environmental Engineers usually need a bachelor's in engineering (usually civil or chemical engineering) from an ABET-accredited engineering program, as well as related work experience from cooperative experiences or internships
Per O*Net, 64% of workers in this field have a bachelor's, 27% a master's, and 9% a post-baccalaureate certificate
A master's isn't needed but can help qualify you for advanced positions and higher wages
Entry-level workers don't need a license, but many opt to complete a Professional Engineering (PE) licensure program so they can become licensed Professional Engineers able to "oversee the work of other engineers, sign off on projects, and provide services directly to the public"
Each state has different licensing requirements. Candidates may need to first take a Fundamentals of Engineering (FE) exam, become an Engineer in Training or Engineer Intern, then later take their Principles and Practice of Engineering (PE) exam
Additional certifications can bolster your credentials. These include:

Academy of Board Certified Environmental Professionals -

Certified Environmental Professional in Training
Certified Environmental Professional
Board Certified Environmental Engineer - Hazardous Waste Management
Board Certified Environmental Engineer - Radiation Protection
Board Certified Environmental Engineer - Solid Waste Management

American Academy of Project Management - Certified Planning Engineer
American Society of Heating, Refrigerating and Air-Conditioning Engineers -

High-Performance Building Design
Municipal Waste Facility Operator

Association of Energy Engineers -

Certified Energy Auditor
Superior Energy Performance
Certified Sustainable Development Professional
Certified Energy Manager
Certified Energy Procurement Professional

Board for Global EHS Credentialing - Qualified Environmental Professional
Green Business Certification Inc. -

LEED AP Neighborhood Development
LEED AP Homes
LEED AP Building Design + Construction

Institute of Hazardous Materials Management - Certified Dangerous Goods Professional
International Board for Certification of Safety Managers - Certified Hazard Control Manager
National Registry of Environmental Professionals -

Certified Waste Management Professional
Registered Environmental Professional
Registered Environmental Property Assessor

Solid Waste Association of North America -

Managing Integrated Solid Waste Management Systems
Managing Construction & Demolition Materials
Managing Recycling Systems

World Safety Organization -

Certified Governmental Safety Specialist
Certified Governmental Safety Technician
Certified Governmental Environmental Officer
Benefits of Certain Education and Certification
Paid more if you get a PE license .
Paid more if you go to 4 year university.
Highly recommend a 4 year university, and then you only need to work for 2 years to be licensed (PE).
If you don't go to a 4-year college, you can still get licensed but you must work as an environmental engineer for 7 years before getting your PE license.
Things to look for in an University
Good engineering program
Accredited school, ranked.
The school values the engineering programs: Do they do good research? Who are their alumni? Good professors?
What is the faculty doing? Are they involved with projects, challenging work in the field? Are you interested in their work? Are there professionals that give guest lectures?
Things to do in High School and College
Stock up on courses in algebra, calculus, differential equations, chemistry, physics, biology, engineering, English, and geology
Gain practical work experience through Environmental Engineer internships
Volunteer for school activities where you can practice teamwork and collaboration skills
Learn how to use software like DHI Water and Environment
Other applicable software programs to become familiar with include:

Compliance software
Computer-aided design
Database user interface and query  
Desktop communications
Development environment
Geographic information systems
Industrial control programs
Map creation tools
Programming skills in Python and R

Read articles and watch tutorials about Environmental Engineering to learn from insiders
Try to schedule an Environmental Engineer informational interview to ask questions
Decide what type of job you want within this field! There are different career options, such as water treatment plant operators, compliance specialists, college professors, land surveyors, transportation planners, environmental scientists, natural resource specialists, consultants, geotechnical engineers, civil designers, and more!
Join professional organizations to learn, grow, and network (see our Recommended Resources > Websites for a list of options)
Education Stats
3.5% with HS Diploma
4% with Associate's 
49.2% with Bachelor's
34.4% with Master's
4.7% with Doctoral
Typical Roadmap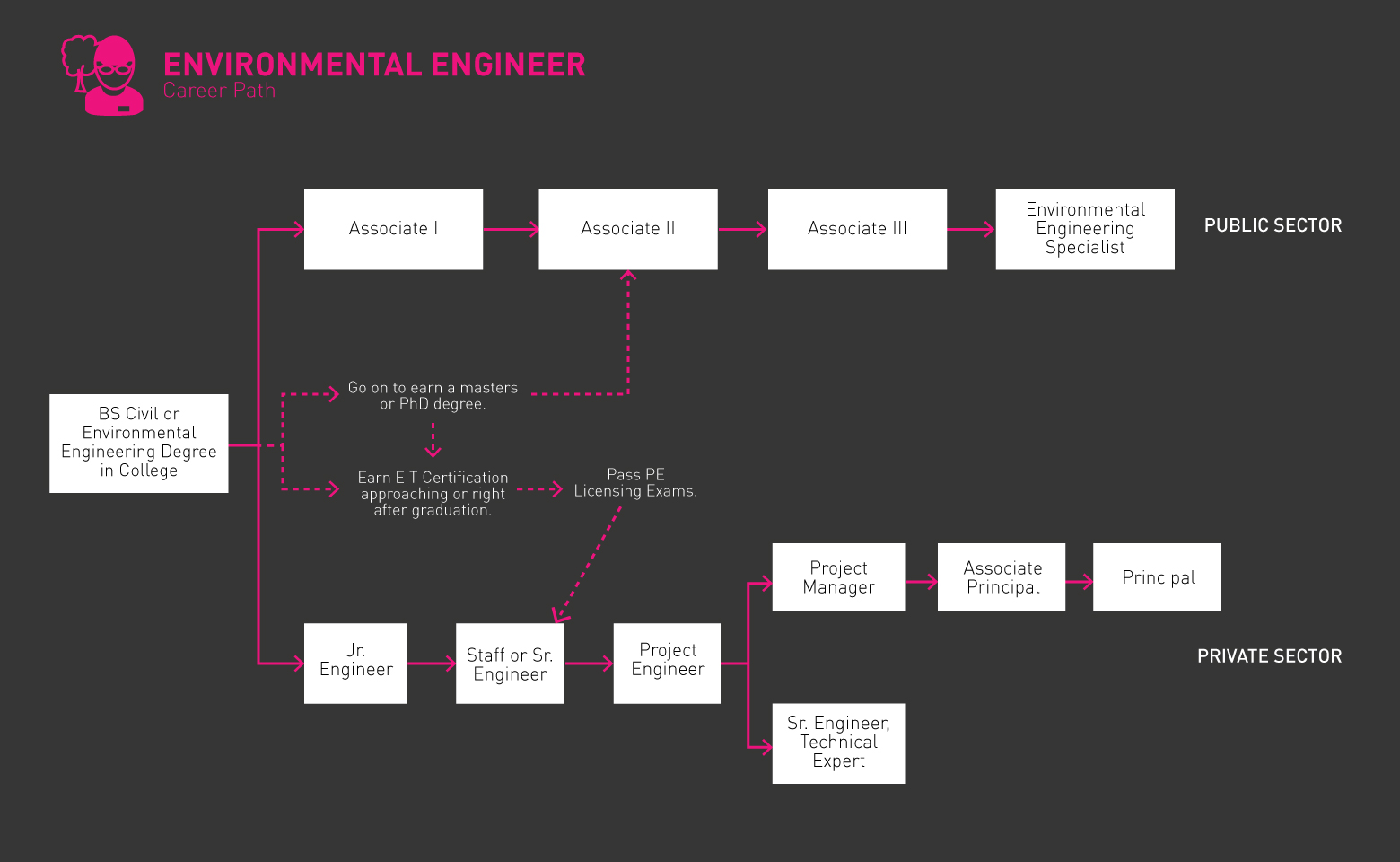 How to land your 1st job
Get a college summer internship.
Pass the EIT (Engineering in Training) exam and get the certification.
Research different companies and find what interests you and know what kind of company you want to work for.
Staffing agencies can also help you find a job.  
Network!
BLS projects job opportunities will be fairly consistent as "tate and local governments' concerns about water are leading to efforts to increase the efficiency of water use" and the federal government works to clean contaminated sites
Environmental Engineer internships and cooperative engineering programs are both great ways to get started
Sign up for alerts on job portals such as Indeed, Simply Hired, Glassdoor, and Zippia
There are also several engineering-specific job boards, such as National Society of Professional Engineers, EngineeringJobs.net, IEEE Job Site, Society of Women Engineers, ASCE Career Connections, Society of Hispanic Professional Engineers, American Council of Engineering Companies, C&ENjobs, ASHRAE Jobs, and Tau Beta Pi The Engineering Honor Society
Relocate to where the work is! The states with the highest employment level for Environmental Engineers are California, New York, Texas, Colorado, and Pennsylvania. States with the highest concentration of jobs are Alaska, West Virginia, Colorado, Montana, and Wyoming
Talk with your school career center for help with resumes, mock interviews, and job fair info
Ask teachers, supervisors, and co-workers to vouch for you as personal references
Review Environmental Engineer resume templates to get ideas for wording and formats
Study Environmental Engineer interview questions to prep for interviews
How to stay competitive and stay in the game
Join associations: American Society of Civil Engineers
Join the local chapter:  helps you network, monthly industry talks, seminars, field trips.
Volunteer: Engineers without Borders allows engineers to work on projects they wouldn't necessarily work on (better portfolio of work, diverse experience).
Knowledge is power: Attend seminars, webinars, and workshop to make sure you are up to date with what's going on with the latest technologies and developments in the industry.
Be inquisitive: Who is leading the technology currently in the industry? What emerging technologies are there in the industry?
Qualities of those who climb the ladder and enjoy it
Hard-working: do more than what is expected, more than 40 hours.
Leadership: Come with a purpose and plan.
People skills: Network and get to know the people in your industry, attend events.  
Good at working in groups with difficult and different people.
Cares about the environment.
Loves calculations.
Loves the intricacies and science of things.
Loves challenging things, and solving a problem.
Plan B
Alternate careers: environmental law, public policy, regulatory work.
Newsfeed Featured Jobs Online Courses and Tools