Spotlights
Similar Titles
Environmental Planning Specialist, Sustainability Planner, Land Use Planner, Natural Resources Planner, Environmental Impact Analyst, Green Infrastructure Planner, Climate Resilience Planner, Environmental Policy Analyst, Conservation Planner, Ecological Land Planner, Environmental Specialist
Job Description
Over the long course of human existence, we've spent most of our time finding ways to exploit Earth's abundant natural resources. However, in recent decades, scientists have come to realize we have taken things too far. From air and water pollution to deforestation, our actions have caused so much damage that we're making our own world less liveable for ourselves and future generations. 
To make matters worse, global warming is heating up our atmosphere, contributing to changes in the climate which have led to an increased frequency of natural disasters. For all these reasons, a new career field has emerged in an effort to save the planet — Environmental Planning! Environmental Planners are sustainability experts who work closely with governmental agencies and private organizations to help mitigate further negative impacts on our increasingly fragile environment. Their important work protects everything from plant and animal life to our own quality of living, by saving our air, water, and land from harmful pollution. 
Rewarding Aspects of Career
Working in a sector devoted to helping the environment

Potentially saving lives and improving the quality of life for communities

Gaining experience in a sector primed to grow in the coming years
2020 Employment
87,099
2030 Projected Employment
94,400
The Inside Scoop
Job Responsibilities
Working Schedule
Environmental Planner jobs are usually full-time with most work done indoors. However, some jobs involve physically visiting sites where environmental improvement plans are being utilized. This may include trips to facilities involved with drinking water, wastewater, soil, or even landfills.
Typical Duties
Analyze areas of natural resources and assess risk

Review potential environmental impacts of proposed construction projects

Manage or analyze environmental planning projects and budgets

Work closely with architects, contractors, and government officials 

Visit project sites to ensure compliance with regulations and policies. Oversee work in some instances

Aid in the facilitation of permits acquisition

Gather and study technical data

Generate reports with graphics or images, as needed

Maintain documentation

Assist with business matters such as Requests for Proposals, Requests for Information, Departments of Transportation proposals, and others

Review National and State Environmental Policy Act (NEPA and SEPA) guidance
Additional Responsibilities
Report findings internally and to applicable agencies

Stay up-to-date on environmental laws, codes, regulations, and pertinent studies
Skills Needed on the Job
Soft Skills
Ability to objectively monitor and assess the performance of people, systems, and equipment

Commitment to quality assurance

Conflict resolution

Critical thinking

Customer service skills

Detailed-oriented

English proficiency

Ethical and environmental mindset

Research-oriented

Safety-minded

Sound judgment and reasoning 

Strong verbal communication and listening skills

Teamwork
Technical Skills
Ability to understand blueprints, technical plans, and drawings

Comfortable working outdoors 

Physical fitness and dexterity

Regulatory knowledge

Familiarity with project management software
Different Types of Organizations
Governmental agencies

Private companies and organizations
Expectations and Sacrifices
Environmental Planners work both indoors and outdoors. At times, they may experience situations of conflict if an employer is eager to have a construction project done but there are environmental risks that jeopardize those plans. Environmental Planners have to be mentally resilient and able to maintain their objectivity as they perform their duties diligently, especially in times when there are disagreements or disputes. First and foremost, it is their duty to ensure compliance and uphold the rules designed to protect the environment. 
Current Trends
There seems to be an endless array of manmade dangers pummeling our planet on any given day, exacerbating environmental and climate change-related woes. A few hot ecological priorities have been grabbing the attention of Environmental Planners in recent years. 
Among these is the desire to boost renewable energy sources like solar and wind power, while trying to cut back on coal. At the same time, the government continues to push for an overall reduction in energy consumption, in part by encouraging the development of more efficient technology and practices. 
Environmental Planners may also expect to work on finding ways to increase plastic recycling to help decrease sea pollution. Another water-related area of concern is human waste management, with health hazards piling up around the globe as water-borne illnesses spread. A lesser known source of problems is cement, which emits ~8% of the world's total of carbon. 
What kinds of things did people in this career enjoy doing when they were younger…
Environmental Planners are often naturalists who appreciate the beauty of our diverse yet fragile planet. In their younger days, they may have enjoyed being outside doing physical activities, but might have noticed how human behaviors have affected nature's ecosystems in negative ways. These are people who want their work to make a noticeable difference on our world!
Typical Roadmap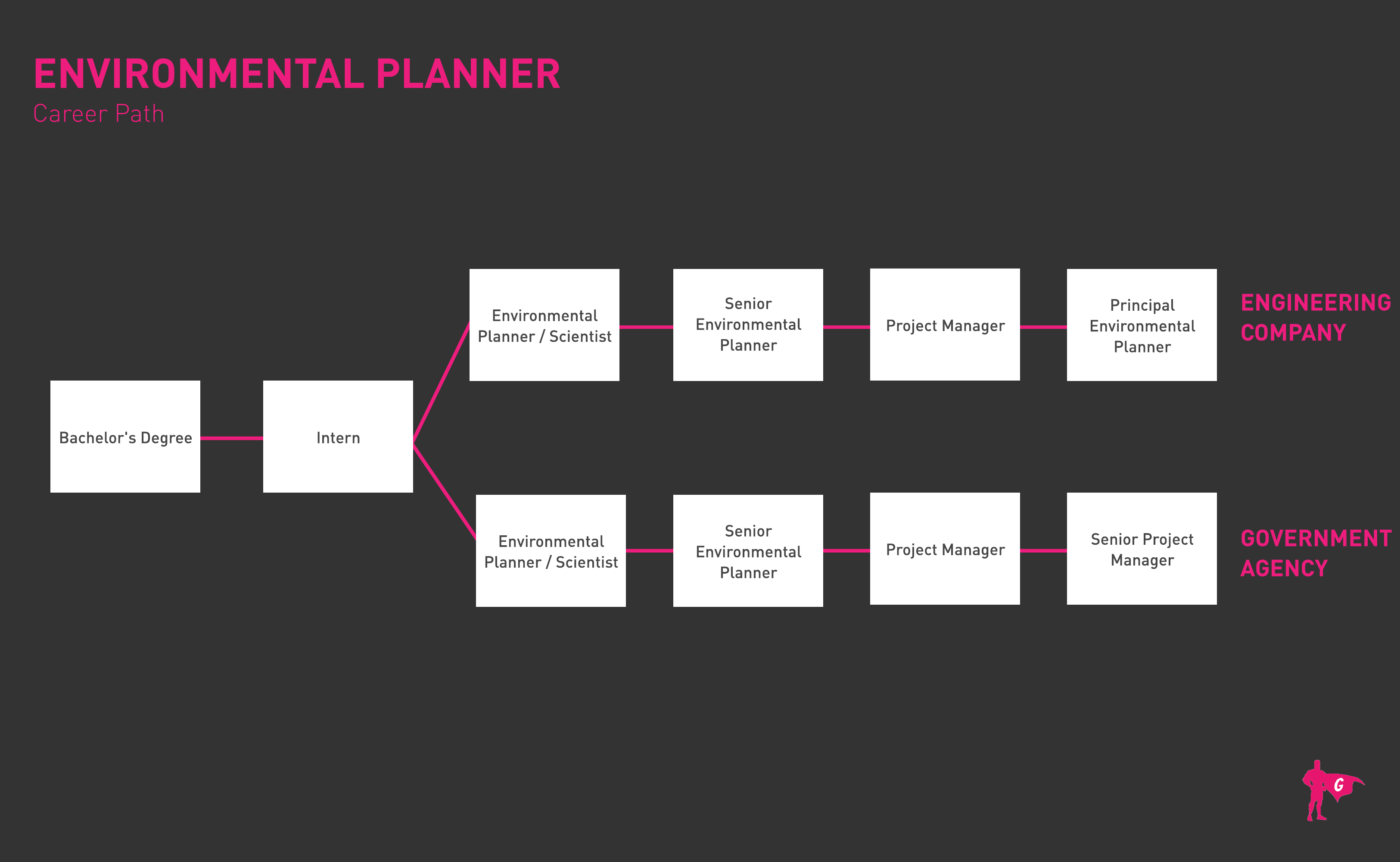 How to Land your 1st job
Job portals like

Glassdoor

,

Indeed

, or

SimplyHired

are often the best starting points to find jobs 

Ask your college program manager or school's career services staff for help. They may have direct connections to local recruiters!

Screen job ads carefully to ensure you meet requirements and have the right experience

Check out

Environmental Planner resume templates

for ideas about your own resume

Focus your resume on relevant work and academic experiences and skills, and try to quantify data when you can 

Keep your social media presence professional, because employers look you up online

Practice mock interviews and review sample

Environmental Planner interview questions

Talk to former supervisors or professors to see if they'll serve as personal references
How to Climb the Ladder
Environmental planners usually start in entry-level positions and work their way up through hard work and learning everything they can

Knock out any additional coursework or training your employer suggests

Become proficient with the equipment and systems you work with, and study manufacturer-provided materials 

Become

NABCEP-certified

, and/or complete optional core and advanced certifications when you have the minimum experience needed 

Obtain

state licensure

, as applicable 

Talk with your supervisor about promotions to project supervisor or manager
Recommended Tools/Resources
Plan B
The world needs Environmental Planners on the frontlines, helping to ensure our planet is safeguarded against harmful hazards. However, for those with a general interest in the field but who want to consider other options, here's a short list of related alternatives:
Brownfield Redevelopment Specialists and Site Managers

Cartographer

Conservation Scientists

Environmental Scientists and Specialists

Geographer

Industrial Ecologists

Photogrammetrist

Range Managers
Newsfeed Featured Jobs Online Courses and Tools