Spotlights
Similar Titles
Environmental Science Technician, Environmental Protection Technician, Environmental Technician, Health Environmental Science and Protection Technician, Environmental Specialist, Environmental Field Technician, Public Health Sanitarian, Sanitarian, Water Quality Analyst, Water Quality Specialist, Pollution Control Technician, Environmentalist
Job Description
Environmental Science and Protection Technicians observe our natural environment and explore sources of contamination and pollution. They often collect samples of soil, water, and gases for testing. Typically, these professionals specialize in either field work or lab work, although they can perform duties in both settings. 
Rewarding Aspects of Career
Knowing that you are having a positive impact on the environment 
Taking pride in having a "green" job 
Being on top of the latest environmental issues that affect our world
Playing an important role in keeping people safe
Performing a variety of different types of tasks in a day
Working with others who care about the welfare of people and the environment
2018 Employment
34,800
2028 Projected Employment
38,000
The Inside Scoop
Job Responsibilities
Set up equipment to monitor pollution levels and emissions
Collect soil, water, and air samples for testing
Inspect businesses and public places for environmental, heath, or safety hazards
Use data to make reports summarizing test results and discuss them with different parties
Make sure organizations are in compliance with regulations that prevent pollution
Design programs that monitor the environmental impact of pollution or radiation
Investigate outbreaks of food poisoning/disease or hazardous spills/conditions to collect data for analysis
A day in the life of an environmental science and protection technician could involve working in an office, a lab, or in the field. They work with a variety of professionals, including environmental scientists and specialists, engineers, geoscientists, hydrologists, and technicians in other fields.
 
Skills Needed on the Job
General skills
Analytical skills
Communication skills
Critical thinking 
Interpersonal skills
Active listening
Reading comprehension and speaking skills
Science background 
Technical skills
Analytical or scientific software 
Computer aided design (CAD) software 
Electronic mail software 
Enterprise resource planning (ERP) software 
Map creation software 
Different Types of Organizations
state or local governments
consulting firms
testing laboratories
Expectations and Sacrifices
For some professionals in this field, their day to day work can be dramatically affected by the weather. Longer hours may be required when conditions are favorable to being outside to take samples and gather data. Being willing to work in various conditions and being flexible with schedule changes will help someone advance to higher positions.
Current Trends
Increasing renewable energy sources
Reducing energy consumption
Promoting regenerative agriculture
Greater usage of plastic recycling and biodegradable products
Addressing human waste management
Better climate change practices
Curbing carbon emissions from cement
Making air travel more energy efficient and eco-friendly
What kind of things did people in this career enjoy doing when they were younger…
Liked being outdoors and doing hands-on activities
Liked science and researching topics they find interesting
Curious about the environment, plants, and animals
Feel strongly about the welfare of our planet and want to make a difference in the world
Education and Training Needed
Entry-level Environmental Science and Protection Technicians should have at least an associate's degree in environmental science, environmental health, public health, or something similar. Most have a bachelor's and a master's should qualify you for a higher starting position

O*Net notes that 14% of workers in this field have an associate's, 55% a bachelor's, and 14% a master's

Common courses to take include chemistry, biology, geology, physics, math, statistics, and computer science. Students also need lab experience and to learn about remote sensing technologies and geographic information systems
Environmental Science and Protection Technicians handling hazardous waste require Occupational Safety & Health Administration training related to identifying and safely working around health hazards, proper use of personal protective equipment, and decontamination protocols, as applicable 
Certification and other training options include:

Academy of Board Certified Environmental Professionals - Certified Environmental Professional
Certified Wildlife Rehabilitator
Ecological Society of America - Certified Ecologist 
Institute for Sustainability - AIChE Credential for Sustainability Professionals 
International Society of Sustainability Professionals - Sustainability Excellence Associate
National Environmental Health Association - Registered Environmental Health Specialist/Registered Sanitarian 
National Radon Safety Board - Radon Measurement Technician
National Registry of Environmental Professionals - Associate Environmental Professional
National Wildlife Federation - EcoLeaders 
OSHA - Certified Environmental Specialist
Society of American Foresters - Candidate Certified Forester 
Wildlife Society - Associate Wildlife Biologist
Things to do in High School and College
Enroll in classes such as environmental science, health sciences, biology, math, chemistry, engineering, communications, geography, and computer technologies 
Volunteer to participate in river clean-up projects, adopt a highway programs, or other environmental projects to gain real-world experience
Engage in school activities where you can practice project management, interpersonal skills, leadership, teamwork, and conflict resolution as you collaborate with others, work through problems, and achieve predetermined goals
Think about where you want to work. Many technicians in this line of work are employed by consulting firms, state or local governmental agencies, or in test laboratories. Some jobs require more fieldwork than others
Typical Roadmap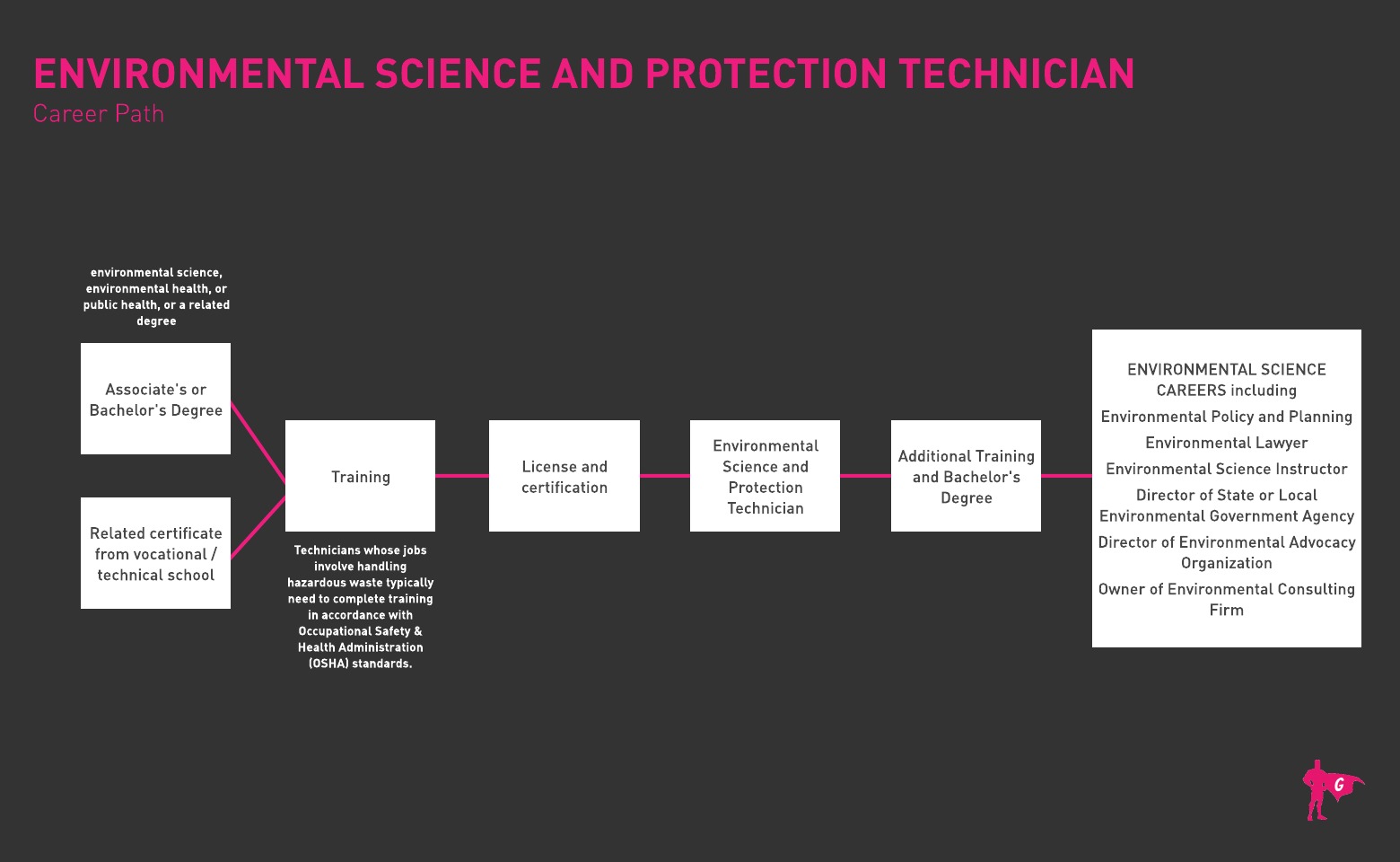 How to land your 1st job
There is a wide range of education and training opportunities for Environmental Science and Protection Technicians. Some schools and programs work closely with recruiters who are looking to hire graduates
Ask your school's career center for help with resumes and mock interviews, too
Chat with people you volunteer with in your local area. They may be familiar with job opportunities
Check out Indeed's Environmental Science and Protection Technician internship openings
Attend job fairs in your area and take copies of your resume
Sign up for alerts on job portals such as Indeed, Simply Hired, Glassdoor, Google for Jobs, and Zippia
Advertise your availability on LinkedIn and other networking sites
Request to do informational interviews with working professionals who might have job-seeking tips
Some states have a greater need for Environmental Science and Protection Technicians than average. The states with the highest concentration of jobs are West Virginia, Alaska, New Mexico, Wyoming, and Florida
Ask your professors, supervisors, and co-workers in advance if they'll act as personal references 
Review Environmental Science and Protection Technician resume templates to get ideas 
Study Environmental Science and Protection Technician interview questions to prep for interviews. Be ready to answer in-depth questions about laws such as the EPA's Toxic Substances Control Act, Clean Water Act, and Clean Air Act
Always dress for interview success and take notes (after the interview) of what questions were asked
Recommended Resources
Websites
Academy of Board Certified Environmental Professionals
Air and Waste Management Association 
American Chemical Society 
American Mosquito Control Association 
American Public Health Association 
American Society for Microbiology
ASTM International 
Board of Environmental, Health and Safety Auditor Certifications
Coordinating Council on the Clinical Laboratory Workforce
Environmental Protection Agency
National Association of Environmental Professionals
National Environmental Health Association
Occupational Safety and Health Administration
Books
Plan B
These job titles have similar responsibilities as an environmental science and protection technician:
Agricultural and food science technicians
Biological technicians
Chemical technicians
Clinical laboratory technologists and technicians
Environmental engineering technicians
Environmental scientists and specialists
Forensic science technicians
Geological sample test technicians and geoscientists
Hydrologists
Environmental compliance inspectors
Geodetic surveyors
Soil and water conservationists
Words of Advice
Environmental science and protections jobs are rated #3 on U.S. News & World Report's 2020 "Best Science Jobs" based on expected growth, salary, unemployment rate, stress level, work/life balance and other factors. For those who are interested in the natural world and having a positive impact on the future, the field of environmental science and protection can be a great professional pursuit.
Newsfeed Featured Jobs Online Courses and Tools