Spotlights
Similar Titles
Designer, Floral Artist, Floral Clerk, Floral Department Specialist, Floral Designer, Florist, Wedding Decorator
Job Description
Giving flowers for special occasions is a tradition that dates back to ancient Egyptian culture! Today, we continue to give flowers to express various sentiments ranging from love to condolences. Florists (or Floral Designers, if you prefer) are the proud keepers of this long-standing custom. They source fresh flowers from local farms and wholesalers then carefully select and combine them into colorful decorative arrangements or wrapped bouquets. 
As experts in this unique and relatively small field, Florists often help customers decide which flowers are suitable for the given occasion and budget. Many Florists are self-employed, running small local businesses and offering delivery services. Others may work in the floral departments of large retail or grocery stores. Regardless of where they work, Florists are creative, empathetic artists who provide meaningful floral pieces designed to make a difference in the lives of their recipients.
Rewarding Aspects of Career
Getting to spend time peacefully working with flowers and plants 
Having an outlet for creative expression
Knowing that your work will help make someone feel better 
Potentially getting to own and operate your own small business  
2022 Employment
54,500
2032 Projected Employment
44,700
The Inside Scoop
Job Responsibilities
Working Schedule
Florists may work full or part-time. Those who own a business may put in overtime to ensure there are enough fresh flowers and other inventory on hand, the shop is tidy and visually appealing, the staff is taken care of, delivery vehicles are in good condition, marketing is running smoothly, and accounting is done right. Overtime is also likely required during busy seasons such as Mother's Day and Valentine's Day. 
Typical Duties
Keep the floral shop or selling area looking clean and professional, and workspaces sanitized and free from clutter
Determine inventory requirements. Find and purchase inventory from suppliers, wholesalers, and local growers
Create ready-made arrangements and grab-and-go bouquets
Establish prices and mark items. Ring up sales, including additional items such as cards, balloons, stuffed animals, baskets, vases, etc.
Assist phone, online, and walk-in customers with custom-made arrangement requirements. Offer suggestions based on budgets, occasions, and desired delivery dates
Select flowers, greenery, foliage, and containers that complement each other. Create arrangements based on established patterns or design unique concepts
Trim flowers and other materials as needed to suit the arrangement. Use wire, pins, tape, and other holding materials 
Deliver or establish delivery of arrangements to intended recipients
Keep flowers refrigerated as needed. Water flowers and plants
Create window and in-shop displays, including holiday-themed displays
Additional Responsibilities
Offload incoming inventory deliveries. Keep track of all stock to know when to reorder
Provide instructions for care (for example, a plant's sunlight, soil, water, and climate requirements)
Write messages on cards on behalf of customers who can't come in person
Keep up-to-date on design trends and continue to expand knowledge of plant and flower types and their care needs
Learn which types of plants are allergens for humans or dangerous to animals (the ASPCA offers a list of plants that are toxic to dogs, cats, and horses)
Business owners may have many additional duties such as the below: 
Maintain financial records of sales, purchases, and other expenses
Pay rent on buildings
Hire and train new employees
Maintain payroll for employees, establish in-house human resources policies, and follow state and federal employer guidelines 
Submit business and employee taxes as required by state and federal law
Establish branding and marketing practices to attract customers. Offer incentives such as discounts or promotions via social media 
Arrange recurring schedules or contracts to replenish flowers at establishments such as restaurants, hotels, offices, and residences 
Work with event planners to assist with venue decoration set-up and tear-down
Skills Needed on the Job
Soft Skills
Active listening
Attention to detail
Cooperation
Creativity
Customer service
Empathy
Initiative
Monitoring
Normal color vision
Organized
Patience
Social perception
Strong communication skills  
Time management 
Technical Skills
Business, sales, and marketing acumen
Point of Sale systems
Knowledge of floral design for various occasions 
Knowledge of various types of flowers, plants, greenery, and foliage and their associated care
Safe use of floral shears, scissors, pruners, thorn strippers, wire and wire cutters, knives, pins, and adhesives
Website and social media management 
Different Types of Organizations
Florist shops
Grocery and retail stores
Nurseries/lawn and garden retailers
Self-employment 
Expectations and Sacrifices
Florists need a deep understanding of plant care, floral design, and customer service. They should be able to select and arrange flowers and other elements that complement each other nicely. 
They must also know which flowers are suitable for occasions such as weddings, anniversaries, hospital visits, funerals, and popular flower holidays such as Mother's Day, Valentine's Day, Christmas, Hanukkah, Thanksgiving, Memorial Day, Easter and Passover, International Women's Day, and more! 
They must pay particular attention to certain holidays and plan well in advance to have the right amount of stock on hand. As noted by SmartAsset, "Christmas and Hanukkah…account for the largest percentage of all holiday flower sales (30%, or about $2.28 billion," while "Valentine's Day and Mother's Day…command 25% of the holiday market share each with close to $1.9 billion worth of cut flowers." 
Florist entrepreneurs need to develop practical business skills, too. From filing taxes and managing inventory to marketing and customer service, Florists have a lot of responsibilities on their plate! Many also offer floral delivery services, so they have to be careful to transport delicate, temperature-sensitive arrangements in a timely manner. 
Current Trends
E-commerce has led to a surge in online flower orders and home deliveries. Meanwhile, more grocery and retail stores now sell floral decorations. These factors are contributing to a declining number of flower shops, forcing Florists to rely more on online tools and social media to display their work and attract customers in a competitive field. 
Many customers are more selective than ever, wanting unique, tailor-made floral experiences. That's why Florists and Floral Designers must stay on top of consumer demands and respond with creative, trendy arrangements. Customers are also more environmentally conscious and may want locally sourced, sustainably grown "field-to-vase" flowers in eco-friendly packaging.
What kinds of things did people in this career enjoy doing when they were younger…
Florists and Floral Designers may have always had a "green thumb," loving to work in their own gardens or tending to indoor houseplants. They may have felt in tune with nature, enjoying the relaxation that comes from working with plants. Because of the business and customer service aspects involved, they may have also had an independent streak, desiring to run their own shop someday! 
Education and Training Needed
Most Florists/Floral Designers have at least their high school diploma, but a college degree isn't needed to start in this profession
Many workers gain entry-level experience through on-the-job training in flower identification, floral design, stem-cutting, ribbon-tying, etc. 
A few college courses can help teach the basics, especially if you want to run your own business, but students don't have to go to a four-year university. There are private floral schools, vocational schools, and community colleges offering classes to get you started. For example:
The Floral Design Institute offers many online courses
The New York Institute of Art+Design features an online Floral Design Course
The American Institute of Floral Designers provides lists of schools they partner with as well as State Floral Association education providers
Students who complete such programs may be eligible to apply for AIFD's optional Certified Floral Designer (CFD) credential
AIFD offers two other methods for gaining their optional CFD credential—passing the AIFD Professional Floral Design Evaluation or completing an AIFD Student Chapter competition
Note, Florists are under no obligation to get certified or to attend any programs or classes!
Things to look for in an University
A college degree isn't required for this career field, but vocational school or associate's degree-level courses may be helpful—especially if you plan on running your own business! 
Consider the cost of tuition, discounts, and local scholarship opportunities (in addition to federal aid)
Think about your schedule and flexibility, when deciding whether to enroll in an on-campus, online, or hybrid program
Consider taking classes from a private floral school in your area or online! 
Things to do in High School and College
Florists/Floral Designers should have a basic understanding of botany. If your school features a gardening or agricultural program, sign up
Nothing beats hands-on practice, but many Floral design principles (like color theory or balance and proportion) can be learned online or through reading magazines and books. Check out articles, blogs, and YouTube videos
Consider taking ad hoc classes on Skillshare, Udemy, Create Academy, or Team Flower; or consider signing up for longer programs at the below schools: 
Study basic arrangements (like bouquets) as well as complicated designs (like corsages and wreaths)
Try to learn about all the most commonly used flower and plant types, as well as soils, fertilizers, and proper cutting techniques 
Apply for part-time jobs or volunteer in exchange for some free training
Take some business, sales, marketing, and customer service courses!
Draft up a working resume to keep track of your work and academic accomplishments
Start working on an online portfolio/website. Experiment and showcase your creativity! 
Typical Roadmap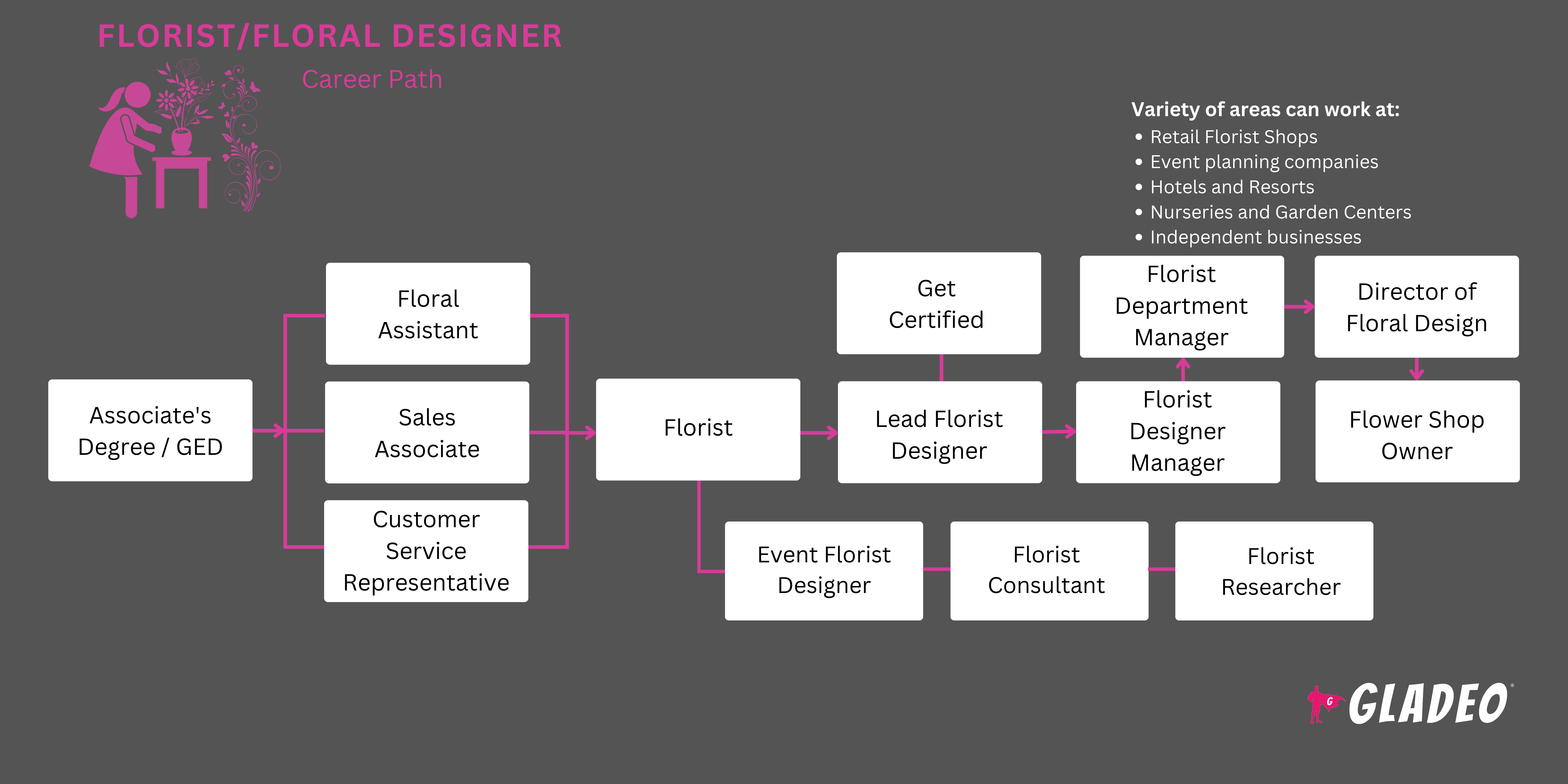 How to Land your 1st job
Look for job postings on Indeed.com as well as local listings on Craigslist 
Call local florists, nurseries, and grocery or retail stores to see if they're hiring or have any projected openings in the near future
Attend farmer's markets and get to know local growers. They may know of job openings
Take florist-related classes and get acquainted with your fellow students. Grow your network and let them know when you're looking for work
If attending an AIFD-approved school, talk to an advisor about help with resume writing, interview preparation, or job searching
Think about who you want to list as your personal references, and ask them for permission to share their contact info
How to Climb the Ladder
If you don't have a college degree, consider taking classes and earning a certificate, associate's, or bachelor's
Learn all the "behind-the-scenes" processes of the place where you work. Let your supervisor know you are happy to start doing extra duties. Make yourself indispensable! 
Ask if there are particular specialized skills you should learn that could benefit the business. Let them know you are willing to do the training and ask if they can offer tuition assistance 
Show up to work on time and take good care of the flowers and plants under your care
Always offer outstanding customer service and pay close attention to the little details
Closely monitor flowers and plants for signs of disease, pests, or malnourishment 
Work well with others and train new employees to a high standard
Always practice good safety procedures and wear gloves or eye protection, as needed
Stay up to date on trends and continue to learn about new designs and ideas
Engage with professional floral organizations. Attend meetings, workshops, and other events to discover new things and make connections
Build strong relations with vendors such as wholesalers and suppliers
Consider opening your own business or applying to larger employers that may offer higher salaries or better promotion opportunities 
Recommended Tools/Resources
Websites
Books
Flower Arranging: A Step-by-Step Guide to Floral Design, by Teresa P. Lanker 
Flower School: A Practical Guide to the Art of Flower Arranging, by Calvert Crary
French Blooms: Floral Arrangements Inspired by Paris and Beyond, by Sandra Sigman and Victoria Riccardi Kindra Clineff
Plan B
The floral industry is going through many changes, and the Bureau of Labor Statistics projects a decline in the demand for Florists and Floral Designers over the coming years. There will always be a need for people with these unique creative skills, but if you want to explore related career fields, consider some of the below options: 
Agricultural and Food Science Technician    
Agronomist
Craft and Fine Artist    
Ecologist
Environmental Scientist
Event Planner
Farmer or Rancher     
Fashion Designer    
Graphic Designer    
Grounds Maintenance Worker    
Horticulturist
Interior Designer    
Landscaper
Naturalist
Pesticide Handler
Plant Biologist
Soil Scientist
Vineyard Manager
Newsfeed Featured Jobs Online Courses and Tools