Spotlights
Similar Titles
Food Sample Demonstrator, Product Demonstrator, Brand Ambassador, In-store Demonstrator, Promotional Specialist, Food Sampling Coordinator, Culinary Demonstrator, Sales Demonstrator, Event Brand Ambassador, Retail Demonstrator, Food Show Presenter, Product Ambassador
Job Description
A Food Demonstrator, also known as a Food Sample Demonstrator or Food Product Demonstrator, is a professional who showcases food products to potential customers in grocery stores, supermarkets, or other retail settings. Their main role is to offer samples of various food products to shoppers, encouraging them to try the items and potentially make a purchase.
Job Responsibilities
Product Demonstration: Showcasing food products to customers, providing samples, and explaining product features and benefits.
Engaging Customers: Interacting with shoppers in a friendly and approachable manner, encouraging them to try the samples and engage in conversation about the products.
Answering Questions: Addressing customer inquiries about the food products, such as ingredients, nutritional information, and preparation instructions.
Creating Brand Awareness: Promoting the food brand and increasing product awareness among potential customers.
Driving Sales: Encouraging customers to make purchases by highlighting the product's quality, taste, and value.
Maintaining Cleanliness: Keeping the demonstration area clean and organized, ensuring proper food safety standards are followed.
Setting Up and Tearing Down: Arranging the demonstration area before each shift and cleaning up afterward.
Skills Needed on the Job
Communication Skills: Excellent verbal communication to engage with customers, explain product details, and answer questions effectively.
Customer Service: Providing a positive and welcoming experience to shoppers while offering samples and assistance.
Food Safety Knowledge: Understanding food safety guidelines and maintaining proper hygiene during product handling and preparation.
Salesmanship: Persuasive skills to encourage customers to try the samples and make purchases.
Adaptability: Ability to work in different retail environments and adjust to varying customer demographics.
Confidence: Being comfortable in front of people and confident in presenting food products.
Product Knowledge: Understanding the food products being demonstrated, including their features, benefits, and usage.
Interpersonal Skills: Building rapport with customers and creating a positive impression of the brand.
Typical Roadmap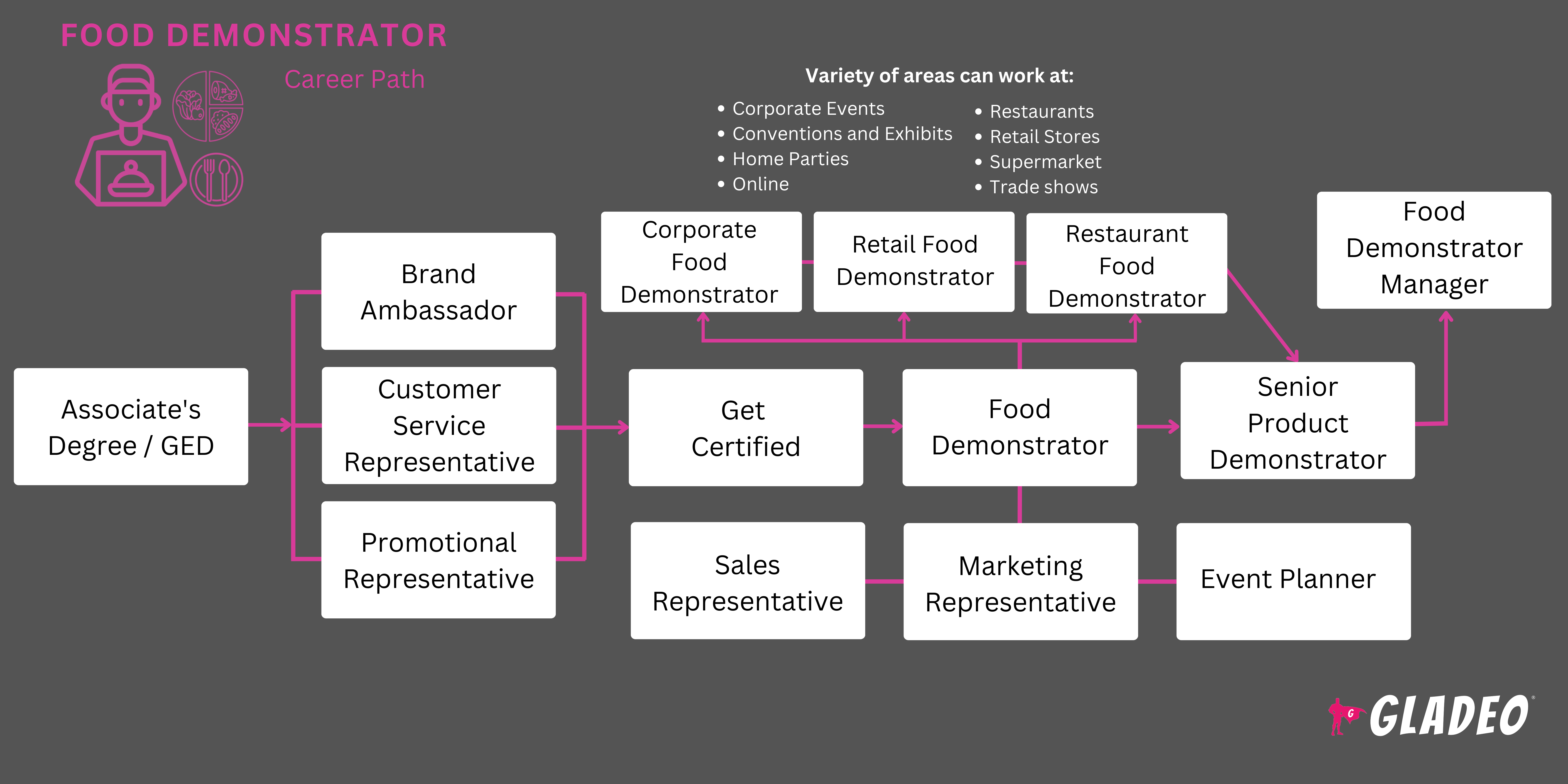 Newsfeed Featured Jobs Online Courses and Tools