Spotlights
Similar Titles
Restaurant Manager, Food and Beverage Manager, Dining Services Manager, Hospitality Manager, Catering Manager, Kitchen Manager, Banquet Manager, Café Manager, Food Operations Manager, Hotel Restaurant Manager, Food Expeditor, Banquet and Catering Director
Job Description
Imagine you're a customer in a restaurant. You pick up the menu, tell the server what you'd like, and a few minutes later your meal magically appears! Except there are a million other behind-the-scenes steps involved that customers rarely get to see (and some of which happen long before we even walk in the door)! Food Service Managers are in charge of managing those hidden steps in eating establishments where lots of food is being served, such as restaurants and cafeterias. 
Their jobs are multifaceted and cover several duties such as hiring staff, ensuring ingredients and supplies are in stock, inspecting food preparation, and managing budgets. Like conductors directing an orchestra's performance, Food Service Managers keep operations running smoothly and ensure that customers enjoy their meals…even if those customers have no clue how much work was involved! 
Rewarding Aspects of Career
Helping eating establishments stay in business 

Contributing to the economy by keeping restaurants open and employees working

Facilitating a pleasant dining experience for hungry patrons

Learning how restaurants function behind-the-scenes
2021 Employment
329,100
2031 Projected Employment
361,400
The Inside Scoop
Job Responsibilities
Working Schedule
Food Service Managers work at least full-time (with overtime common) and may work late nights, early mornings, weekends, and holidays. 
Typical Duties
Interview, hire, and help train staff

Establish employee working schedules and duties 

Perform or delegate frontline supervisor duties 

Set and enforce restaurant policies (and align them with state or federal regulations, as necessary)

Keep track of food and beverage inventory

Order food and other inventory before it runs out

Check expiration dates on perishable items

Connect with local vendors to source fresh ingredients 

Oversee food and beverage preparation processes

Manage and coordinate workflows so that customers have a seamless, pleasant dining experience

Inspect kitchen areas and practices to ensure safety and compliance with health codes

Inspect kitchen equipment, cookware, bakeware, cooking tools, and utensils

Order replacement items for worn or damaged items

Manage supply budgets and employee payroll

Address problems as they arise, such as staff shortages, lack of ingredients, upset customers, or other issues 

Conduct quality assurance checks on food items to ensure freshness and taste

Provide backup assistance where needed, such as helping with orders, processing payments, or bussing tables

Follow daily prep and cleaning checklists so that all tasks are completed

Check to ensure trash is properly disposed of in a timely manner

Schedule routine pest control services for when the restaurant is empty 

Keep tabs on the cash registers and send runners to the bank to make deposits and get change to keep in the till  
Additional Responsibilities
Discuss daily specials, discounts, and other promotional ideas

Review daily cash and credit card receipts, ensure tips are distributed in accordance with policy, and keep all paperwork stored safely 

Perform or delegate routine administrative and accounting tasks related to restaurant licensing, state and federal taxes, employee wages, etc.

Solicit customer feedback and suggest improvements to owners 

Oversee general building management, safety, and security (to include locking up the building after-hours and policing parking areas)
Skills Needed on the Job
Soft Skills
Attention to detail

Collaboration

Compliance-oriented 

Customer service-oriented

Enthusiasm

Goal setting

Initiative

Leadership

Organized

Positive attitude

Problem-solving

Quality assurance

Relationship building

Resilience

Resourcefulness 

Stamina

Stress tolerance

Strong communication skills 

Teamwork

Time management
Technical Skills
Business, accounting, and customer service skills 

Knowledge of modern cash registers and payment processing software

Knowledge of safe food handling and preparation

Familiarity with

food safety laws and regulations

Knowledge of food industry trends and popular menu items
Different Types of Organizations
Airports

Government and military agencies

Hotels, resorts, and conference centers

Large companies 

Restaurants and fast-food franchises

School and university cafeterias 

Special food services
Expectations and Sacrifices
Food Service Managers have hectic jobs and bear a lot of responsibility for the health and safety of customers. People come into an eating establishment hungry and ready to have an enjoyable meal, served in a timely manner. They also expect to not get sick from anything they eat!
Food Service Managers have to ensure strict observance and compliance with multiple food preparation laws and regulations. Their job involves planning ahead, long before customers walk in, to make sure food ingredients are fresh and in stock, the kitchen is clean and prepared, and the cooks and other staff are trained and ready to go. And that's just the tip of the iceberg! 
In addition, they must foster workplace safety to keep staff protected against mishaps from sharp blades, hot stoves, swinging doors, and angry patrons. Then there is a litany of administrative and accounting tasks which should be handled with diligence so everyone is paid (including the IRS) and the establishment turns a profit.
Current Trends
Restaurants can suffer greatly due to economic downturns or spikes in illnesses related to contagious germs spreading around. To the extent possible, Food Service Managers must plan ahead for such occasions. The Covid pandemic dramatically increased the number of restaurants willing to deliver food through their own drivers or third-parties service providers like Uber Eats and DoorDash. This also helped accelerate the rise of restaurant apps for ordering online. 
Many eating establishments have adjusted their menus, scaled back staff, and found workarounds that allowed them to stay in business as they weather storms. In some cases, restaurants have sought to save money by delegating Food Service Manager duties to other kitchen personnel such as chefs or head cooks. Still, the job growth outlook for this career field is projected to be 10%, which is very strong compared to the average of all occupations.
What kinds of things did people in this career enjoy doing when they were younger…
In their younger days, future Food Service Managers may have been highly organized and able to multitask with relative ease. They might also have enjoyed working with food, and helping out in the family kitchen. They have a strong sense of responsibility and a wide assortment of both hard and soft skills, which they could have developed through extracurricular activities in school. 
Education and Training Needed
Food Service Managers have at least a high school diploma or GED. Many have some postsecondary education such as a certificate, an associate's, a bachelor's degree, or even a master's 

Experience is often just as important as academic qualifications, but some employers may prefer to hire workers with a degree in restaurant and hospitality management or food service management. Business courses are also helpful

College programs should ideally offer real-world experience via internships 

Culinary schools

like Le Cordon Bleu, The Art Institutes, or Kitchen Academy may offer restaurant management training, as well, especially for would-be entrepreneurs who want to launch their own business

Common college courses include:

Baking and pastry arts

Business law

Cultural awareness 

Financial accounting

Food preparation

Foodservice management

Guest Loyalty

Human resources management

Income Statements

Leadership

Marketing principles

Menu planning

Nutrition

Operational Data

Regional cuisines

Sanitation

Supply Chain

Food Service Managers usually get at least a month of On-the-Job training to become familiar with their employer's establishment, staff, and policies 

Most come in with substantial food industry-related work experience from previous jobs

Many states require food safety certification from the local health department, such as the ServSafe

Food Protection Manager Certification

Applicants can also take standalone online

restaurant management courses

to beef up their resumes

In addition to the above, Food Service Managers often earn certifications to boost their promotion potential. Common examples include:
Things to look for in an University
Think about which level of education you want—a college certificate, associate's, bachelor's, master's, a third-party certification, or training from a culinary school  

If going to college, decide if you'll attend a traditional on-campus program, online, or hybrid (a mix of both)

Food Service Managers need an abundance of real-world practical experience to be considered for a job, so look for college programs that offer internships

Consider and

compare costs

of tuition, room and board, and scholarship opportunities

Look into

student financial aid

from the government to see what you qualify for
Things to do in High School and College
In high school, future Food Service Managers should stack their plates with plenty of business, marketing, math, and cooking classes

Volunteer for school activities where you can practice soft skills, including verbal communication skills, leadership, teamwork, and project management 

In college, whatever your major is, make sure it is rounded out to develop management skills; business, marketing, and sales acumen; familiarity with supply chain and vendors; and, of course, food preparation-related laws and guidelines

Knock out a college internship where you can gain practical experience. If your program doesn't offer one (or you don't plan on going to college), volunteer or apply to part-time jobs where you can get experience working in a fast-paced food service environment 

Ask working Food Service Managers in your area if you can do an informational interview or shadow them for a day to learn about their work

If you decide not to get a college degree, consider doing a college certificate, a certification from a food-related organization, or some self-study ad hoc online courses (like UniversalClass's

Restaurant Management 101

) to help bolster your resume 

Keep a draft resume that you can add to as you gain experience
Typical Roadmap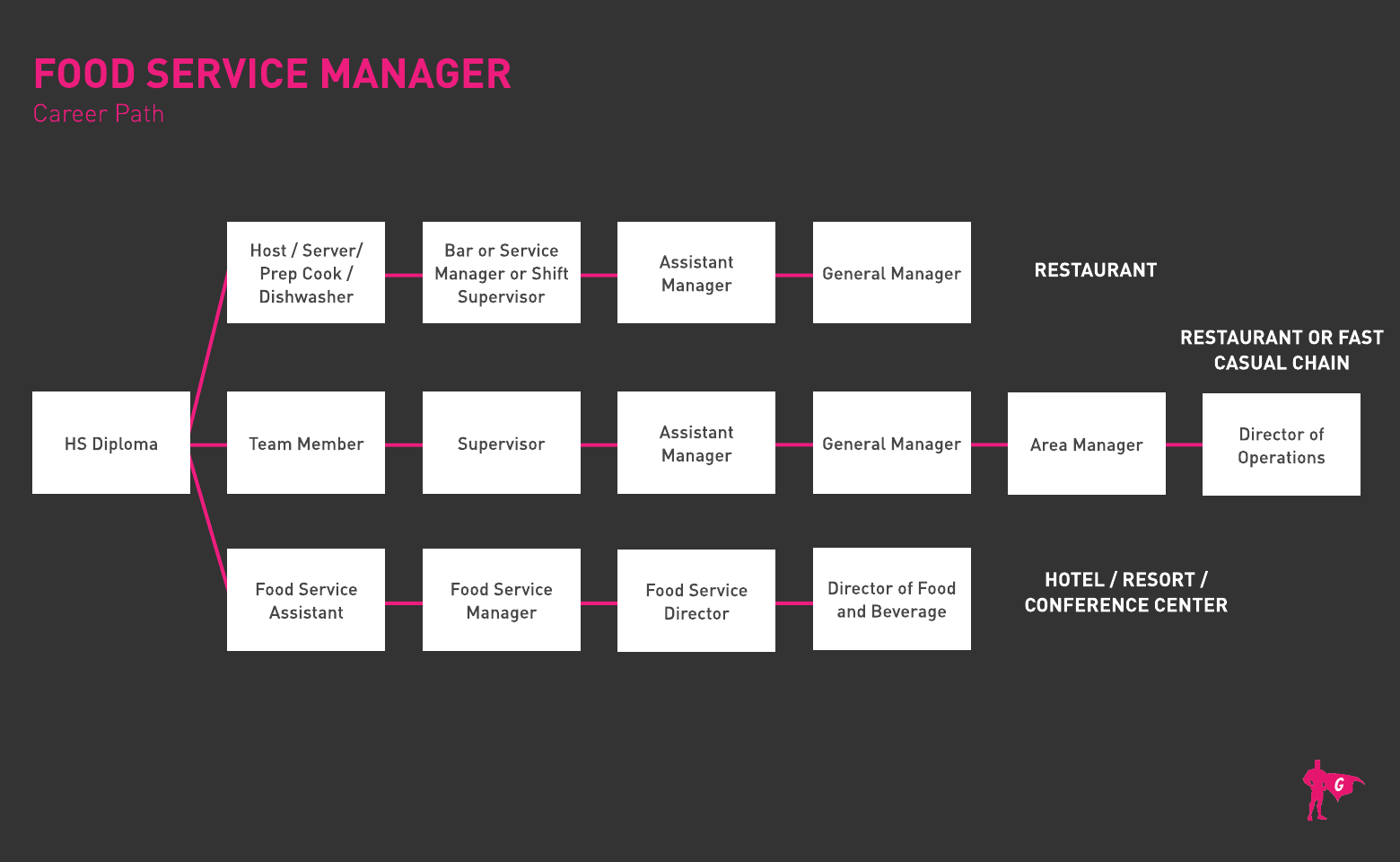 How to Land your 1st job
Food Service Managers usually work their way up from other positions, such as wait staff, cooks, or supervisory roles. Some spend years with an employer before getting promoted to a manager role

Consider starting out with a smaller establishment before applying to a larger one, unless you already have a strong academic background and meet all job requirements 

Set up notification alerts on

Indeed.com

and other job portals 

College internships are a common way to get started, so do good work and they might have a job waiting for you after graduation! 

Keep in touch wit

h your old teachers and supervisors who can serve as references

Move to

where the jobs are

! The highest-employing states for this career are California, Florida, Texas, New York, and Ohio

Check out

Food Service Manager resume templates

and sample

Food Service Manager interview questions

 

Make sure your resume is error-free, engaging, and filled with stats and impact

Be familiar with the restaurant you're interviewing with. Study their menu, look at their history, read the bios of their owners and top cooks, and be ready to explain how you see yourself fitting in
How to Climb the Ladder
The best way to move up is to earn your employer's business profits, repeat business, and great reviews on Google, Yelp, OpenTable, TripAdvisor, and other food-related sites 

Always demonstrate accountability and responsibility, and set an example for your crew to follow

Build your reputation as an innovative, problem-solving, results-driven professional who cares about delivering top-notch cuisine and stellar customer service

Forge strong relationships with vendors and suppliers

Stay engaged with food industry trends and maintain a balance of new menu items and customer favorites

Always keep learning by reading books and articles, talking with peers, and taking courses to keep your skills sharp

Whatever your academic level, consider bumping it up a level. If you have an associate's, go for a bachelor's! If you have a certification, get an advanced certification to enhance your talents and increase your value to your employer

Take time to thoroughly train and mentor staff. Help them understand the establishment's short- and long-term goals, especially related to safety, efficiency, and customer loyalty

Stay engaged with industry-related organizations like the American Culinary Federation by attending conferences and events, giving talks, writing articles, and building your

social capital

 

If you're up for it, craft a business plan, secure investors, and launch your own restaurant or franchise! 
Recommended Tools/Resources
Professional Organizations
Books
Plan B
Being a Food Service Manager can be a tough gig, with long hours and little recognition. Most people have to work their way up from other positions to be a manager. Sometimes they even discover that they prefer those roles, and want to steer their food industry careers in another direction. A few popular food-related jobs include: 
Bartenders

Chefs and Head Cooks

Cooks

First-Line Supervisors of Food Preparation and Serving Workers

Food Servers

Lodging Managers

Sales Managers
Newsfeed Featured Jobs Online Courses and Tools