Spotlights
Education and Training Needed
Food Technologists and Scientists need a bachelor's degree or higher, usually majoring in food science at a program approved by the

Institute of Food Technologists

Higher Education Review Board

Common subjects include:

Biology

Business fundamentals

Chemistry and organic chemistry

Databases

Food analysis

Food chemistry

Food engineering

Food law

Food processing operations

Microbiology

Physics

Statistical analysis

Students can gain practical, hands-on experience and develop teamwork skills via internships and research experiences

Certifications are optional but can boost one's breadth and depth of knowledge. Options include: 

Individuals who want to focus on research work will need to earn a master's degree or higher 
Things to look for in an University
Students should seek food science programs approved by the

Institute of Food Technologists

. Attendance in such a program qualifies students to apply for a

Feeding Tomorrow Scholarship

! 

Always compare the costs of tuition and other fees. Review your options for scholarships and financial aid

See if the program has any partnerships with companies that hire grads! 

Check out graduation and job placement statistics for alumni of the program
Things to do in High School and College
High school students should take plenty of courses in chemistry, English, communications, information technology, math, statistics, and physics

Do your best to prepare for the rigors of an undergraduate food science major in college

In college, join student organizations relevant to the material, so you can stay motivated and extend your learning beyond the classroom

If the program offers internship opportunities, take them to get practical experience. If it doesn't, consider taking part-time jobs related to the food industry, to learn the behind-the-scenes of food processing, storage, and shipping

Think about the type of Food Science work you want to do after graduation, so you can maybe tailor your classes accordingly.

Cal Poly

lists the following areas of specialization. Note, some require a graduate degree: 

Food Chemist

Food Microbiologist or Food Safety Expert

Food Plant Production Supervisor or Manager

Food Process and Packaging Design Engineer

Food Product or Ingredient Development Scientist

Ingredient, Product, or Equipment Sales Representative/Manager

Quality Control Supervisor

Regulatory Affairs Specialist

Sensory Scientist

Read magazines and website articles about the field. Check out

Top 20 Food Technology Magazines & Publications

and

Iowa State University's Food Science and Human Nutrition Research Guide

Watch

Abbey the Food Scientist

on YouTube! 
Typical Roadmap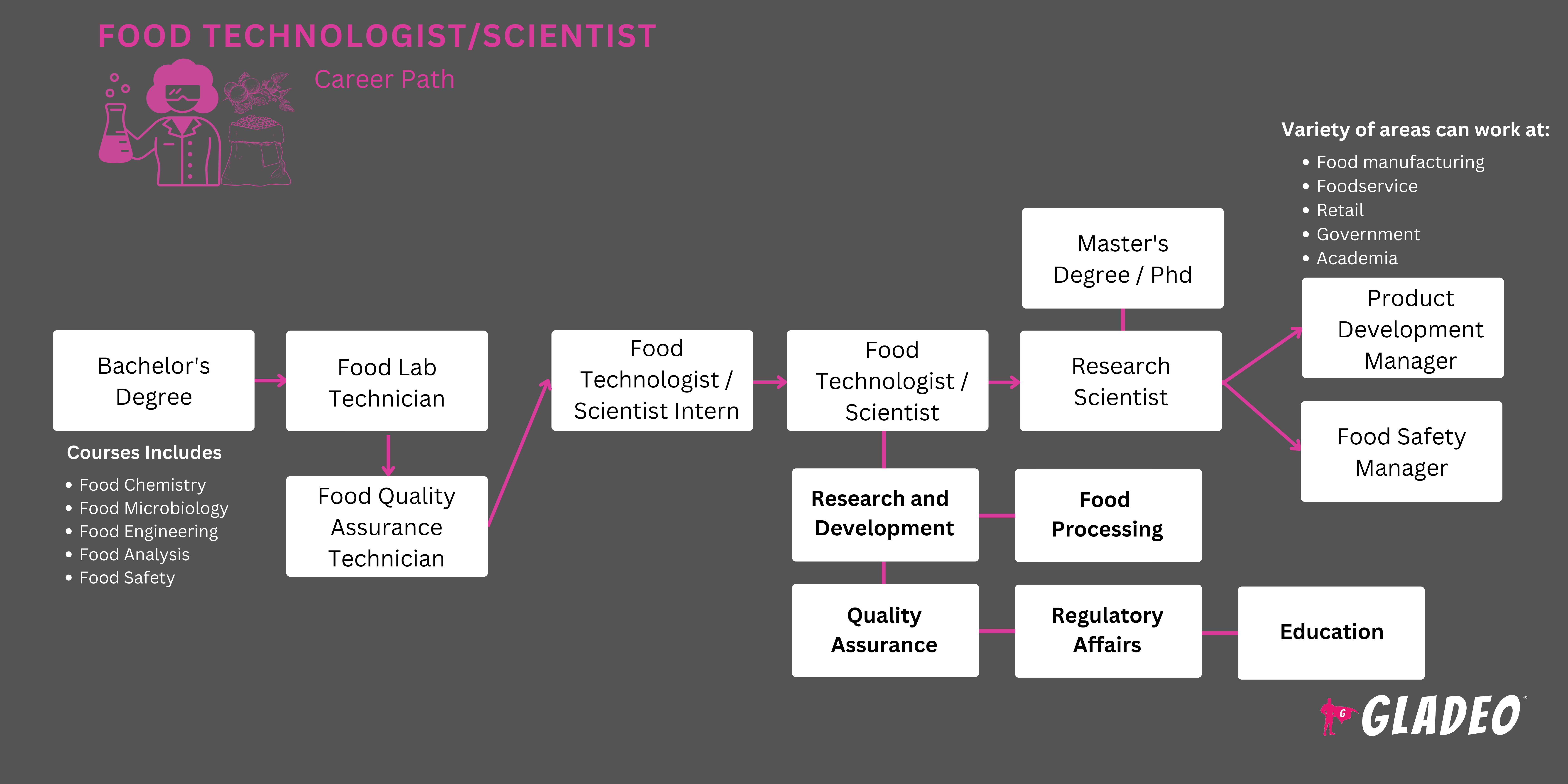 How to Climb the Ladder
Come up with creative ideas for improving products and expanding product lines

Do diligent research and master the software programs you use at work

Communicate with leadership, stakeholders, and third parties you engage with to ensure objectives and timeframes are clearly defined and attainable  

Collaborate effectively with team members and foster strong relationships with partners

Let your supervisor know you're interested in career progression. Ask them for advice on what you can do to make yourself a more valuable asset

Always keep learning! Stay up-to-date on industry trends and changes, including regulatory changes as well as new or upgraded software programs

Get a professional certification relevant to your current job or the one you want to move up to. Getting specialized in a difficult, in-demand area is a good way to move up 

Consider earning a graduate degree. Speak with college program advisors about career progression and the classes you'd need to gain the knowledge and skills to advance

Set the example for others to follow and be a patient mentor with new technologies and other employees

Keep active in professional organizations like the

Institute of Food Technologists

Continue to grow your network—and your reputation as an industry professional!
Recommended Tools/Resources
Plan B
Becoming a Food Technologist or Food Scientist is a relatively straightforward process, and the job outlook seems pretty good, according to the Bureau of Labor Statistics. Still, the work isn't for everyone and that's okay! 
Luckily it's just one of many loosely similar career fields you can choose from if you have a general interest in a food, biology, or chemistry-related occupation. A few other options include:  
Agricultural and Food Science Technician

Animal Scientist 

Biochemist

Biophysicist

Biological Technician

Chemical Technician

Chemist

Conservation Scientist

Environmental Scientist

Farmer

Microbiologist

Soil and Plant Scientist 

Wildlife Biologist
Newsfeed Featured Jobs Online Courses and Tools