Spotlights
Similar Titles
Certified Genetic Counselor, Medical Science Liaison, Prenatal and Pediatric Genetic Counselor, Reproductive Genetic Counseling Coordinator
Job Description
Genetic Counselors work with individuals and families to look at risk factors for developing certain disorders, based on family medical histories. Many medical problems are passed down through DNA from parents, grandparents, or other ancestors. These hereditary issues can often be identified before they begin to present symptoms. 
 
Counselors can also test parents to assess the likelihood of their own children or potential children developing a disorder. Common genetic issues include Down syndrome, cystic fibrosis, sickle cell anemia, and many others. Multifactorial genetic inheritance disorders can create a predisposition for problems such as high blood pressure, obesity, diabetes, Alzheimer's, cancer, and more. 
 
Workers typically choose an area to specialize in, such as prenatal, pediatrics, psychiatry, or other options. Some may opt to select more than one specialty field. Counselors work with other professionals to share discoveries, such as with clients' primary care doctors or other medical staff as needed. Although genetic counseling isn't a large career field, it's certainly an important one which helps patients prepare for potential upcoming medical problems. It's also a great method of uncovering information that can help with family planning decisions. 
Rewarding Aspects of Career
Helping patients discover possible future medical issues based on family histories
Providing parents with information they can use to make family planning choices
Broadening the medical community's understanding of common and rare disorders 
2018 Employment
3,000
2028 Projected Employment
3,800
The Inside Scoop
Job Responsibilities
Working Schedule
Standard 40-hour, Monday through Friday, workweeks usually apply
 
Typical Duties
Work with clients to understand their medical backgrounds and those of their relatives
Arrange for medical testing to screen for hereditary genetic disorders
Analyze DNA test results to scan for clues of potential genetic disorders, syndromes, or risk of diseases that may be linked to hereditary factors
Outline expectation management and explain risks and benefits of testing
Collaborate with other members of the clients' healthcare team and share data
Discuss evidentiary findings with patients and make suggestions for prevention and treatment
Provide a range of counseling and emotional support services 
Offer services related to their area(s) of specialization
Additional Responsibilities
Stay apprised of trends and changes through professional organization membership
Skills Needed on the Job
Soft Skills
Ability to explain complicated findings in understandable terms
Able to advise and instruct others through verbal and written guidance
Active listening skills and attention-to-detail
Analytical and objective
Aptitude for critical thinking and problem solving 
Compassionate and sensitive to the concerns of others
Curious and always learning
High degree of integrity
Professional demeanor
Research skills
Strong technical reading skills
Understanding of basic human psychology
Technical Skills
Familiarity with analytical/scientific software applications, database user interfaces, and query software
Knowledge of job-related software such as:
Benetech PRA
BRCAPRO
MapChart
MS Office or comparable software, including spreadsheets
Relevant medical expertise in biology, psychology, therapy, and counseling 
Different Types of Organizations
Hospitals and medical laboratories    
Private clinics or doctors' offices    
Academic institutions
Some Genetic Counselors maintain private practice    
Expectations and Sacrifices
Genetic counseling is a sensitive field, in which workers may have to deliver difficult news to patients. Patients can have varying emotional and behavioral responses to test results, which can be stressful at times for their counselors, too. Over time, this can take an emotional toll on some workers. 
 
This remains a small field, with only one qualified worker per 100,000 Americans according to Forbes. In order to service certain parts of the country, counselors may need to become comfortable with meeting clients online. At times, such distance interactions are less than ideal. It is vital that counselors become proficient in offering telehealth service in a manner that conveys their compassion and interest in their patients' issues, even at a distance while facing each other in monitors.  
Current Trends
As the science behind the testing continues to evolve, so does the technology used to communicate the results. Artificial Intelligence startups like Clear Genetics have begun to make inroads into certain stages of the process, filling in the gaps when human counselors aren't available. While human Genetic Counselors may never be replaced by programs, it is important to note which faucets of the process customers need from human interaction with, compared to dealing with software.  
What kind of things did people in this career enjoy doing when they were younger…
Genetic Counselors serve in a social occupation. They are usually "people persons" who have always enjoyed working with and helping others with an attitude of sincere caring. That said, it's important to be objective and not let emotions rule behavior. For this reason, people in this field may have also exhibited strong leadership traits early on, able to make difficult decisions while still keeping the welfare of people in mind. 
 
They're inquisitive, focused, and most likely enjoyed reading, studying biology and psychology, and digging into their own family's history. Due to the highly sensitive nature of the work, people in this field likely always had a strong moral compass and felt a desire to do "the right thing." 
 
Many consider this field to require a certain artistic aptitude. The ability to see designs and patterns is not unlike the creativity displayed by all manner of artists. They may often seeing the fruits of their labor, whether it's finishing a portrait or helping a patient to learn more about themselves so they can make well-informed decisions about their healthcare. 
Education and Training Needed
Bachelor's and Master's degree
Typical course topics include:

Public health
Epidemiology
Psychology
Developmental biology

Programs generally require supervised clinical rotation periods (see Rutgers' website for an example)
Undergraduate majors are usually science-related, but it is not required as long as you complete prerequisites and are accepted to a graduate program

Look for programs accredited by the Accreditation Council for Genetic Counseling
After graduation, the American Board of Genetic Counselors certifies Certified Genetic Counselor (CGC) candidates after they pass an examination
Students can purchase practice exams from PSI
Certified counselors must take continuing education classes

Workers may add speciality certifications such as:

American Board of Pathology's Certification in Pathology: Molecular Genetic Pathology   
American Board of Genetic Counseling's Certified Genetics Counselor
American Board of Medical Genetics and Genomics' Clinical Genetics and Genomics   
Things to look for in a program
A master's program accredited by the Accreditation Council for Genetic Counseling
Check if the program leads to ABGC certification (such as the University of Alabama at Birmingham's program)
Many schools are offering new programs in this growing field. Don't discount a program for being new, since it could have a more up-to-date curriculum
Look at a program's job placement rates for graduates, and any links to industry
Always scan for school tuition discounts, scholarships, or paid Graduate Teaching or Graduate Research Assistantships  
There aren't many online program options for this master's, but carefully weigh the pros and cons of attending an online program versus in on-campus one
Remember even online programs have certain on-campus visit requirements
List of Genetic Counseling Programs
The Accreditation Council for Genetic Counseling lists Genetic Counseling Training Programs in the US offering Master of Science degrees and in some cases PhDs. 
 
Note, some universities are in various stages of building new programs or awaiting review, so you'll want to check their status periodically if there's a program you'd like to attend in the future. Pending programs include: 
Washington University in St. Louis    
Wake Forest University    
Medical College of Wisconsin
The American Board of Genetic Counseling's international, post-graduate certificate is also a popular option, as more states begin to require it as part of a licensure process (the National Society of Genetic Counselors publishes a list of states that issue licenses). Most master's programs are designed to help prepare students for that certification exam. 
Things to do in High School and College
Due to the relatively small number of working Genetic Counselors, and the requirement for a graduate degree, it's important to get started early
Take plenty of college prep courses in high school related to biology, psychology, epidemiology (the study of "the distribution, patterns and determinants of health and disease conditions in defined populations"), and applicable topics
This field requires a significant amount of writing, so English and writing courses are encouraged
Read books related to principles and methods of counseling
Check out Busted Cubicle's "DIY Skill Building" resource links
Think about the setting you may want to work in, such as pediatrics, working with cancer patients, etc. Find volunteer opportunities to help people in your target speciality area
Review grad programs for prerequisite courses, and ensure your undergraduate degree sufficiently prepares you for the challenges ahead in graduate school
If you're able to work as you attend school, take jobs that are as closely related as possible to what you want to do after graduation
Ask if your school offers Graduate Teaching or Graduate Research Assistantships
Any work or teaching experience related to your future career can give you a competitive edge over peers after graduation 
Pick your professors' brains for advice on courses to take. Academic advisors are very helpful but may not have the expertise of professional faculty
Keep up on news from the American Board of Genetic Counseling, National Society of Genetic Counselors, and American College of Medical Genetics and Genomics
Start writing and getting published in peer-reviewed journals and professional magazines or websites
Typical Roadmap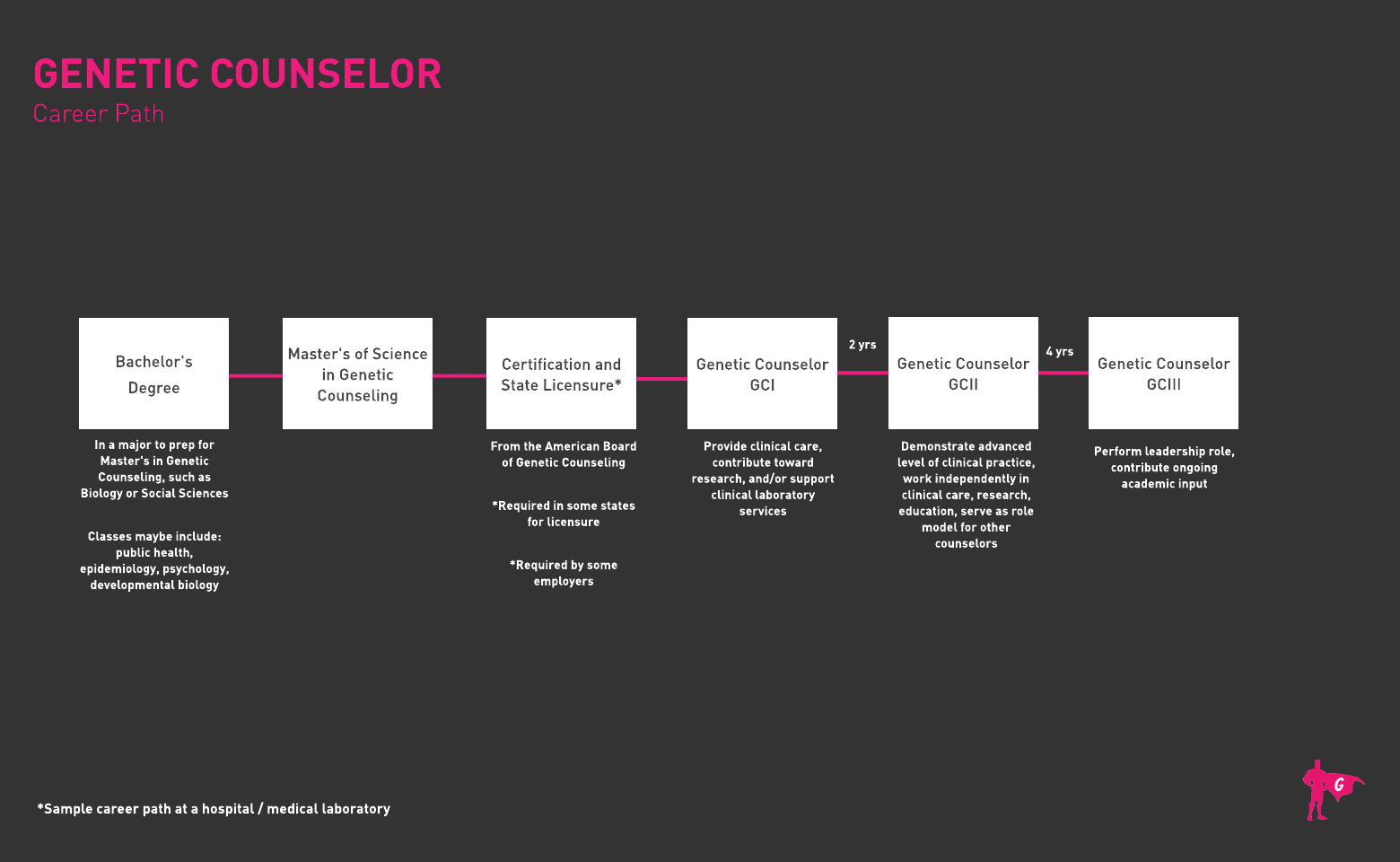 How to land your 1st job
This is a relatively small career field with only 2,400 workers in the nation, though it is expected to increase by 26% in the coming decade

Most Genetic Counselors are employed by hospitals, labs, doctors' offices, or colleges
Consider where you want to live and work. Genetic
Counselors work in every state, but the highest employment levels are in California, Georgia, New York, Minnesota, and Texas
Note, the top paying states are California, Connecticut, New York, Colorado, and Oregon

Genetic Counselors look at the past to predict the future, so apply those skills to getting your first job
Talk with workers in the field to ask what steps they took, instead of trying to reinvent the wheel
Maintain a high GPA during college, and try to earn academic accolades
Impress your teachers by studying hard and going above-and-beyond
When the time is right, ask former professors and instructors if they would serve as references or write letters of recommendation
Always keep notes of your work, academic, and volunteer accomplishments for use on your resume, cover letter, or other application materials
Ensure all written materials are properly formatted and error-free; attention-to-detail is a critical component of this career field, so let your application reflect your work ethic
Confirm whether your state issues licensure or requires certification
Join national organizations, stay on top of new developments, conduct research, write papers, attend conferences, and give lectures to grow your influence and reputation
Remember, certain employers may require certification even if your state does not
As a future counselor, your ability to listen and speak professionally will be major attributes, so polish them in advance of attending interviews
Ask friends or family to assist with conducting mock interviews for practice
Review job portals like Indeed, Monster, and NSGC's job portal
Ask your college's career center or the program department for help connecting to employers and recruiters
Refresh your LinkedIn profile to include any new work or educational achievements
Stay professional across all social media channels 
How to Climb the Ladder
Map out your career well in advance, so you can lay the foundation for all work and educational requirements
Let it be known to your employer that you have ambitions to achieve certain things in your career and for their organization
ABGC-certified practitioners, also known as Diplomates, must refresh certification every few years
Maintain the highest level of integrity and confidentiality when dealing with clients and their sensitive information
Demonstrate leadership traits and set the standard for others to follow
Join professional organizations, as listed in the Recommended Resources below
Consider completing a dual degree in grad school, or a PhD after your master's 
Keep up with advances in techniques and technologies, as well as all applicable medical policies
Recommended Resources
Websites
About Genetic Counselors
Accreditation Council for Genetic Counseling
American Board of Genetic Counseling
American College of Medical Genetics and Genomics
American Society of Human Genetics 
Association for Genetic Counseling Program Directors 
Minority Genetic Professional Network
National Society of Genetic Counselors
Books
Plan B
For those looking for a career that is medical-related but with broader job opportunities, the Bureau of Labor Statics lists the following similar occupations:
Epidemiologists
Health Educators and Community Health Workers
Marriage and Family Therapists
Medical Scientists
Physicians and Surgeons
O-Net Online also recommends: 
School Psychologists
Psychology Teachers, Postsecondary
Family and General Practitioners 
Advanced Practice Psychiatric Nurses 
Naturopathic Physicians
Newsfeed Featured Jobs Online Courses and Tools