Spotlights
Similar Titles
Automobile Glass Technician, Commercial Glazier, Glass Installer, Glass Technician, Glazer
Job Description
Glaziers install glass in windows, skylights, storefronts, and display cases.
Rewarding Aspects of Career
A sense of accomplishment when you finish a project
Autonomy: You can work as much and as little as you want.

Typically you start at 6:30am-3:30pm: Able to do other projects in the afternoon.

Work with your hands!: "When you are mechanically inclined, the trades are excellent for that."
Travel: If you are an international glazier, you could do a job in another country if you want to. When you are young before you have a family and want to travel, you can work in different states and even different countries.
"I take my kids to the California Academy of Sciences. I ran that project when it was first built. They love going there and being able to tell people that "my daddy painted this." To see the pride and joy in their eyes…that they were almost a part of it. It's about having the pride in the workmanship of being a craftsman." Robert Williams III, Business Rep, International Union of Painters and Allied Trades District Council 16, Northern California
The Inside Scoop
Job Responsibilities
Follows blueprints or specifications for size, color, type, and thickness of glass to be used.
Removes any old or broken glass before installing replacement glass.
Cuts glass to the specified size and shape.
Makes or installs sashes or moldings for glass installation.
Fastens glass into sashes or frames with clips, moldings, or other types of fasteners.
Adds weather seal or putty around pane edges to seal joints.
Skills Needed on the Job
Manual dexterity: good with your hands
Hand eye coordination
Critical thinking and problem-solving: You will encounter unexpected problems and you will have to figure them out in a timely fashion.
Attention to detail
Physical strength and stamina
Where do they work?
Foundation, structure, and building exterior contractor: Range from mom and pop shop (4-8 glaziers) to large shops (200+ glaziers)
Building material and supplies dealers
Self-employed
Why become a union glazier?
Union negotiates competitive rates: For example) In SF Bay Area, $41.88 per hour as journeyman which is the position after you are an apprentice.
Full medical benefits (medical, dental, vision)
Pension
Annuity
Access to better jobs and amazing opportunities
 
What kinds of things did people in this career enjoy doing when they were young...
Building and fixing things! : working with your hands
Being outside in nature
Sports
Anything mechanical like working on cars
"Some of us we have more Neanderthal DNA than others. You've got to be able to express that in the best way possible. We all have a sense of creativity that can be shown and it's finding that way to show that creativity. Some people they can do that behind a computer, other people it's great to be able to build a building. It all comes into that sense of being of whatever makes you feel alive." Robert Williams III, Business Rep, International Union of Painters and Allied Trades District Council 16, Northern California
2016 Employment
50,100
2026 Projected Employment
55,300
Education and Training Needed
A high school diploma/GED may be needed, but there are no formal educational requirements
Glaziers learn their trade as apprentices and receive ~144 hours of technical training, plus ~2,000 hours of paid OJT
Apprenticeships are a time-honored way of learning by doing. Most are sponsored by union and contractor associations (see our Recommended Resources > Websites for details)
Entry-level apprentices start with basic tasks, learning under the supervision of a seasoned pro over a period of up to 3 or 4 years
The National Glass Association (NGA) offers companies a Department of Labor approved, NGA/NCCER-endorsed curriculum via MyGlassClass
Occupational Safety and Health Administration safety training is also required
Some technical instruction is needed, such as proper tool usage, various installation techniques, basic math, safety, first aid, blueprint reading, and general construction
Optional certification programs include:

Administrative Management Systems - Architectural Glass and Metal Technician
Fenestration and Glazing Industry Alliance - FenestrationAssociate and InstallationMasters

Glaziers in Connecticut and Florida must obtain a license after passing an exam. California requires a "C-17" license for jobs over $500
Basic requirements for apprenticeship program
Unions and contractors sponsor apprenticeship programs. The basic qualifications to enter an apprenticeship program are as follows:
Minimum age of 18
Driver's license
High school diploma or equivalent (GED or take an aptitude test)
Physically able to do the work
How to find a local apprenticeship program
Click here for a list of programs.
Things to do in high school
Take courses in high school such as shop, English, and math
Start an exercise routine to build strength and stamina so you can perform Glazier work safely
Working with glass, sometimes at elevated heights in outdoor conditions, can be very dangerous! Get in the habit of practicing outstanding safety at all times
Learn how to use and wearing proper personal protective equipment
Obtain your driver's license so you can make it to job sites on time
Learn as much as you can on your own. Study books, articles, and video tutorials related to the glass installation
Volunteer for projects to gain hands-on practical experience
Get certified in a specialized area to bolster your credentials
Ask a Glazier if you can shadow them to learn about day-to-day activities and tools useda
Education Stats
51.9% with HS Diploma
3.9% with Associate's
3% with Bachelor's
0.5% with Master's
0.1% with Professional
Typical Roadmap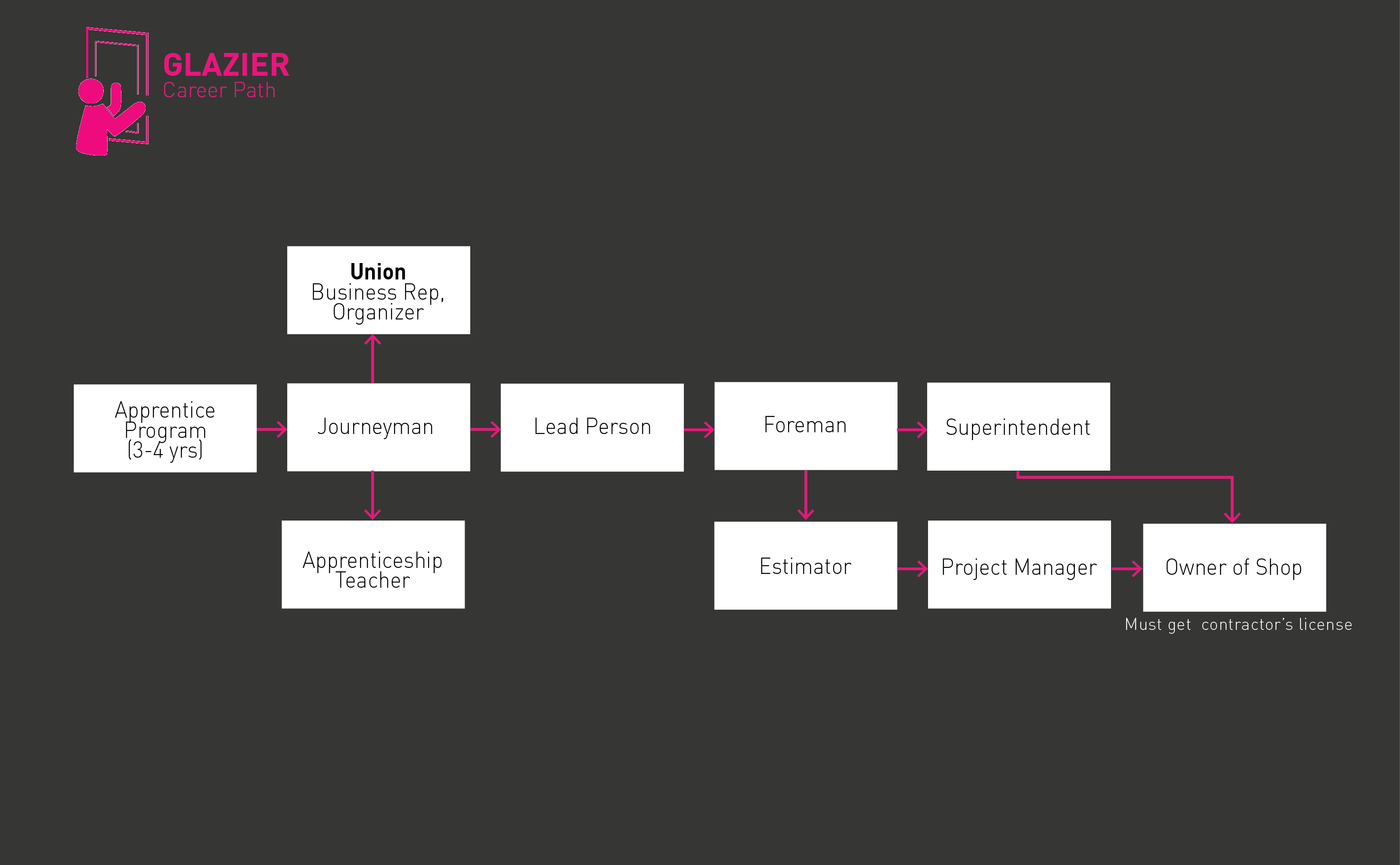 How to land your 1st job
Finish the apprenticeship program (note: you are working with pay while you are an apprentice)
Union will give you the signatory list: local union will give you some leads, you start making calls to contractors on the list.
Contact Job Corps.
Ask the local union for help, get on the "out of work" list.
Call or visit the websites of local companies who hire Glaziers, in case they only advertise opportunities on their own sites
If taking classes at a trade or vocational school, ask their career center for assistance
If you served in the military, check out CareerOneStop or state websites for details on unique Veteran opportunities
Let potential employers know you plan to stick through the long apprenticeship process and earn your license when the time comes
Description of the different positions
Estimator: Budgets the job then bids on the job.
Project Manager: In charge of the behind the scenes and paperwork. Makes sure requests for information is filled out, money is getting paid. Works in conjunction with Superintendent.
Superintendent: Takes care of the manpower needs on a jobsite which are materials and workers.
Foreman: Runs the job.
Lead person: Right hand man of the foreman.
How to stay competitive and climb the ladder
Dedication
Person who is best with tools and the union elevates these people.
Leader/Teacher: someone who knows the craft so well and helps others.
Recommended Tools/Resources
Websites
Apprenticeship.gov
Associated Builders and Contractors, Inc.
Department of Labor Employment and Training Administration
Finishing Trades Institute
GlassBuild America
Glass Magazine
Helmets to Hardhats
International Union of Painters and Allied Trades
MyGlassClass
National Glass Association
Window + Door Magazine
World of Glass Map
Books
Plan B
Related Careers: Automotive Body and Glass Repairers, Brickmasons, Carpenters, Sheet Metal Workers, Tile and Marble Setters
Words of Advice
"You can get what you want out of it depending on how hard you want to invest yourself into it and how dedicated you want to be. You can just get by or you can flourish and rise up in the industry. It's all up to the individual." Robert Williams III, Business Rep, International Union of Painters and Allied Trades District Council 16, Northern California
Newsfeed Featured Jobs Online Courses and Tools