Spotlights
Similar Titles
Grip Assistant, Key Grip, Best Boy Grip, Dolly Grip, Rigging Grip, Crane Grip, Lighting Grip, Grip Electrician, Grip Operator
Job Description
Intense car chases! Smooth zoom-ins and close-ups! Impossible angles of movie and TV stars, all dramatically lit and crystal clear. These scenes are made possible by the expertise of a production's Key Grip and grip crew. Grips build equipment to mount cameras, and, working with electrical and lighting technicians, make sure that lighting is correctly set up to achieve the desired atmosphere for the scene. Teamed up with the "best boy" (the Key Grip's second-in-command), and under the guidance of the the director, director of photography, and camera operators, Grips secure planned camera positions and movement by rigging tripods, tracks, jibs, dollies, and cranes. 
 
Grips are among the hardest working people in any film and TV set! They're often the first ones on location, on-scene early to ensure proper lighting and camera positions ahead of time. These rigging experts remain on standby during filming, ready to adjust, replace, or change lights and camera formation if needed. They also tend to be among the last to leave a set, wrapping up things, dismantling and storing equipment, and getting ready for the next day of filming!
Rewarding Aspects of Career
The "glamour" of working in the film and TV industry
Learning from directors and entertainment industry creatives
Exposure to a variety of work settings and locations
Opportunities to visit exotic places
Participating in the creation of media that may be viewed by millions around the world
The Inside Scoop
Job Responsibilities
Consult with cinematographer, director of photography, lighting technicians, and gaffers to determine requirements and map out placements
Mitigate risks of fire or electrical shocks
Set up and position video cameras 
Set up scaffolding, cranes, or other rigs 
Check scaffold and rigging sturdiness for safety
Additional Responsibilities
Discuss major equipment repair requirements with applicable supervisors
Arrive on set or location early for set-up
Disassemble and store equipment after filming
Adjust lighting or camera settings using various tools as needed
Keep lists of all equipment to ensure loss prevention
Use proper protective equipment, as well as suitable layers of waterproof clothing and appropriate footwear 
Skills Needed on the Job
Soft Skills
Ability to follow instructions
Alertness
Attention to detail 
Commitment to safety
Communication skills
Composure under pressure
Heights tolerance
Manual dexterity
Patience 
Passion for films and TV
Physical stamina (12-15 hours of manual labor)
Quick thinking
Stamina
Teamwork
Timeliness
Visualization
Technical Skills
Knowledge of safe equipment operation
Familiarity with lighting and camera accessories, rigging and scaffolding gear, film equipment such as tripods, jibs, cranes, dollies, tracks, camera cars, microphones, and set walls
Ability to use hand tools, sandbags, cables, plates, overheads, scrims, flags, reflectors, and other grip crew essentials 
Knowledge of general construction principles
Basic understanding of geometry, applied physics, engineering, and general technology
Knowledge of creative lighting and color effects
Different Types of Organizations
Advertising agencies    
Film and television studios
Independent production companies
Sports media entities
Theatre
Touring shows
Expectations and Sacrifices
In the film and TV industry, it's common to work through weekends and holidays in order to produce enough content. But of all related industry professions, Grips have particularly busy schedules! Meanwhile, like their colleagues, Grips working on films often experience prolonged separation from family due to location shoots where they might spend weeks or months in another state or country. As a result, some find it hard to achieve a reasonable work-life balance when they're working on a production. 
 
There are inherent risks working with scaffolds and rigging, which expose Grips to falling injuries. Diligent safety precautions must be taken at all times, from setups to filming to teardowns. Suffice it to say, Grips ought to be in good physical condition to unload, assemble, disassemble, and reload heavy gear all the time. 
 
Special considerations should be taken into account for grips working at live events, such as concerts or with news broadcasts where things might be unpredictable. Many Grips are required to work outdoors, often in "field conditions" that can involve exposure to inclement weather and a shortage of amenities and comforts. 
Current Trends
The outlook is positive, but the Bureau of Labor Statistics notes how changes in the entertainment industry are impacting jobs. Consumers are faced with a wider range of options than they've ever had in previous decades, such as an endless array of streaming platforms battling with the traditional movie and cable industries. Anyone entering the field should keep a close watch on how these trends develop and how they affect the job market. Grips who work on live events might enjoy more opportunities.
What kinds of things did people in this career enjoy doing when they were young...
In their youth, future Grips were probably comfortable with heights. They might have loved climbing trees or doing work up on rooftops. Almost certainly, they enjoyed constructing things, putting their agility and strength to good use. Some might have even built their own treehouses or other homemade projects. 
 
Naturally, Grips would have shown early interests in movies and TV, too. They might've been fascinated by photography, experimenting with different lighting, angles, and filters. As behind-the-scenes workers, Grips aren't infatuated with the limelight, but they do like to be close to the action. Many participated in school video projects and theatre productions, serving as camera operators or stagehands. They enjoy the technical aspects of their creative work.
Education and Training Needed
Grips do not need a university degree, but some post-secondary education and training is important

Grips should gain as much hands-on experience as possible 
Most trainee Grips get On The Job training working under the supervision of a professional Key Grip or other grip crew member

Many non-degree or certification training programs teach proper lighting and equipment assembly techniques. These can take weeks or months to complete 
Film schools such as Film Connection offer relevant optional courses, which aren't required but can help students land entry-level positions in a competitive market
Look for organizations offering training and continuing education, such as the International Alliance of Theatrical Stage Employees, Moving Picture Technicians, Artists and Allied Crafts of the United States, Its Territories and Canada
Things to look for in a program
As mentioned, Grips don't require a university degree, but training is available at some community colleges, vocational schools, film schools, or from local labor unions 
Courses in engineering, maths, physics, and carpentry might also be helpful
Visit No Film School's list of The 20 Best Film Schools for details on a few exciting program options
If you do take college classes, look for programs that have a strong reputation in the industry, feature plenty of relevant equipment to practice with, and offer classes taught by experienced instructors 
Remember, there are many pros and cons to online education when it comes to learning how to be a Grip. Real hands-on experience will be more valuable to employers than academics in some cases. Learning theories and concepts is important, but you'll have to demonstrate that you know how to apply them on a set
Things to do in High School and College
Engage with school AV and theater productions
Volunteer or work part-time in small production outfits to build up your practical work experience
Involve yourself in as much production work as you can to gain exposure and experience 
Ask your local IATSE union about volunteer or training opportunities
Take courses like carpentry, photography, theater, math, physics, project management, and physical fitness
Get your freelance gig on! Post ads online offering your services, and reach out to independent filmmakers 
Watch Grip Tips and other YouTube video channels to learn what the day-to-day is like
Typical Roadmap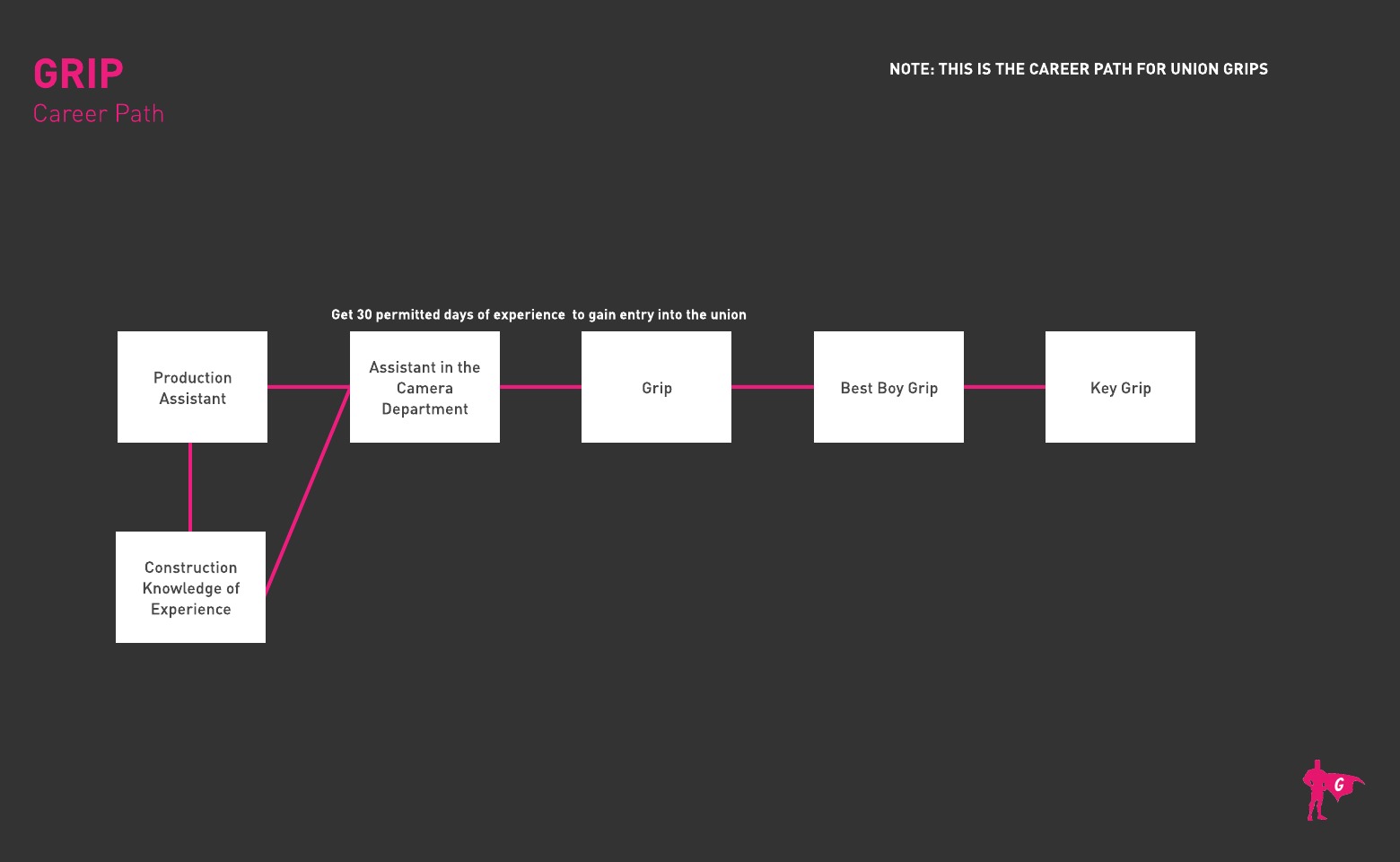 How to land your 1st job
If you don't have contacts, you want to get on a set like a production assistant and when you are doing that, get as close to the grip as possible. Make relationships with someone in the grip department! 
Work on student projects to get experience working with a crew. 
Network, network, network! 
Grips face the classic employment conundrum—they have to work to gain experience, but without experience, nobody will hire them!
The best way to qualify is a combination of education and experience working related positions, either as a intern or paid employee
Many employers understand they'll need to train their new Grips, so they look for proof of general qualifications and trainability
Demonstrate your willingness to learn through On The Job training that might require you to "pay your dues" doing grunt work and menial tasks at first
Ideally, you'll want to live close to an entertainment hub like Los Angeles, New York City, Atlanta where a lot of movies and TV shows are produced
There are many smaller cities becoming popular havens for independent filmmakers, such as Ashland (Oregon), Richmond (Virginia), Tulsa (Oklahoma), Santa Fe (New Mexico), Austin (Texas), and New Orleans (Louisiana)
Review job postings carefully to see what types of educational and work backgrounds are commonly looked for. If you see a gap between what they want and what you can offer, take action to close that gap before applying
Be honest about your background, use correct industry terminology, and list all of your relevant experiences or anything that can demonstrate your potential
Tell fellow students and friends in the industry that you're looking for work as a Grip
Scour the web for openings, and set up alerts on job portals such as Array Crew, Craigslist, Staff Me Up
How to Climb the Ladder
To work your way up from a Grip trainee to a regular Grip crew member, "best boy," or Key Grip, you must always be on time (which, for Grips, means to be early!)
When you arrive on set or location, be fully prepared and ready to go. Filmmaking is very costly, especially when an entire cast and crew are delayed and waiting around for the Grip to do their job!
Master every skill, be a problem solver, and exceed expectations 
Treat everyone with dignity and respect. Remain composed and professional at all times, and especially during stressful situations where tempers might run hot
Take great care of your tools and inventory. Don't lose or break anything! 
Ask questions and learn as much as you can about the business
Finish advanced courses, stay on top of trends, and be a diligent safety pro
Take your role as a Grip very seriously because the entire production is counting on you!
Take the initiative to study technical manuals of new equipment. Become to go-to person for answers 
Read up on trends and developments in the industry, and discuss them with fellow crew
Train new crew thoroughly and patiently. Display leadership and project management expertise at every opportunity
Know, comply with, and enforce all safety standards and applicable union rules
Recommended Resources
Websites
Grip Support
Hollywood CPR
No Film School
Grip Tips
Independent Film Alliance 
Film Independent 
IATSE Local 80
The Grammy Awards 
Books
Plan B
If you're interested in a career within the film and television industry, but want to try something besides Grip duty, Masterclass offers a breakdown of several other options, such as:
Art directors
Boom operators
Camera operators
Casting directors
Construction coordinators
Costume designers
Directors
Electricians
Executive producers
Gaffers
Key makeup artists
Location managers
Production sound mixers
Propmasters
Screenwriters
Set designers and decorators
Special effects coordinators
Stunt coordinators
Newsfeed Featured Jobs Online Courses and Tools