Spotlights
Similar Titles
Airline Customer Services Agent, Guest Services Teammate, Ticket Agent, Travel Clerk
Job Description
Airline guest services agents make and confirm reservations for airlines. They may also check baggage and direct passengers to designated gates.
Rewarding Aspects of Career
Flexibility: "I love the flexible schedule.  I can essentially build my own schedule as a part time Guest Service Teammate (GST). It leaves me time to pursue my other endeavors the rest of the time." Hana Hawley, Guest Services Teammate, Virgin America
Free Travel: "The free travel is very rewarding.  I am able to fly domestically for no fee.  My parents and my spouse also get the same benefits.  Internationally, I fly for the cost of taxes and fees."
The Inside Scoop
Job Responsibilities
There are several customer service positions (i.e. Ticketing, Boarding, VIP lounge, Baggage services, Guest Planner); however, the main ones are in ticketing and boarding.

Ticketing
Handles all issues related to guest tickets and travel.
Fixes tickets (wrong date, wrong person, and wrong time).
Changes guests' travel itineraries.
Books new travel for guests.
Coordinates with other airlines when necessary.
Checks guests and luggage in on time prior to cut-off to ensure smooth boarding at the gate .
Reroutes guests (due to weather, wrong booking, missed connections, missed flights).
Accommodates special service guests (traveling with pets, infants, with handicaps, as a law enforcement official, with arms, with prisoners, with support animals).
Follows procedure when checking in domestic and international guests.
Follows procedure to ensure safety of guests (protecting them from unruly guests, seating minors, etc).
Provides guest services to disgruntled guests.
Boarding
Prepares all flight paperwork for captain and crew.
Prepares boarding area.
Secures the plane.
Drives the jet bridge to and from the plane.
Allows only cleared personnel access to the jet bridge and plane .
Communicates with ramps, operations, captain and crew and service desk to ensure on time departure
Communicates with flight crew regarding safety matters (armed guests etc.).
Responsible for the plane taking off on time.
Gate checks appropriate luggage.
Knows all specials aboard the plane and board accordingly (support animals, minors, people who need additional services to board the plane safely).
Skills Needed on the Job
Customer Service: Actively looking for ways to help people.
Communication skills
Social Perceptiveness: Being aware of others' reactions and understanding why they react as they do.
Computer literacy: Must know how to work with the airline's software system.
Expectations/Sacrifices Necessary
Very competitive: due to amount of jobs b/c of the downsizing of staff in the airline industry in addition to the high demand b/c of the travel perks.
Low pay but the travel perks can double your salary: Expect to know a lot, be responsible for a lot, for very little pay.
The airport never sleeps: Holidays are the busiest and that's when they work the longest hours.  Timeliness is of the utmost importance as guest relations directly affect operations.
What kinds of things did people in this career enjoy doing when they were young...
Loved talking to all different kinds of people.
Wanted to explore the world and travel!
Education Needed
Airline Guest Service (or Customer Service) agents do not need post-secondary education. A high school degree or GED is usually enough to apply

To qualify for higher entry-level pay or future promotions, a customer service-related associate's degree may be helpful

Some positions may feature a foreign language fluency requirement

You'll need basic computer literacy and typing skills, too, but these can be learned in high school or at home

Employers will provide On-the-Job training to teach the necessary computer and phone skills, but having some practical education or work experience in these areas can boost your odds of getting hired
What to do in HS and college
Take high school classes in English, communications, public speaking, and IT

Develop your soft skills, such as communication, protocol, etiquette, and

de-escalation techniques

. Passengers can get grumpy and as a representative of the airline you must remain calm, cool, and collected!

Get as much customer service experience as you can through volunteering or part-time jobs

Participate in busy school activities where you can learn teamwork, project management, resiliency, and coping skills as you work toward group goals

Check out Qualtrics'

20 tips to improve your customer service skills: for representatives and managers

Consider taking a short online

customer service training course

from Coursera

Develop an exercise routine so you'll have the strength to lift passenger luggage (up to 50-70 lbs) if working at a check-in counter

Learn another language: since it is a competitive industry to break into, knowing another language is a plus and will make your resume stick out.

Read or watch interviews with Airline Guest Services reps and learn about their day-to-day

Review job ads in advance to learn more about the qualifications employers are seeking

For example, here are a few requirements listed in a recent Alaska Airlines ad:

6 months of customer service experience

Ability to learn/operate a computerized reservation system

Exceptional interpersonal and communication skills

Minimum typing speed of 25 WPM

Ability to lift 50 lbs.

You may need to obtain an enhanced ID, driver's license, or valid passport prior to applying for some positions
Education Stats
26.2% with HS Diploma
10.6% with Associate's
22.9% with Bachelor's
3.5% with Master's
0.4% with Professional
(% of employees aged 25 to 44 in the occupation whose highest level of educational attainment is)
Typical Roadmap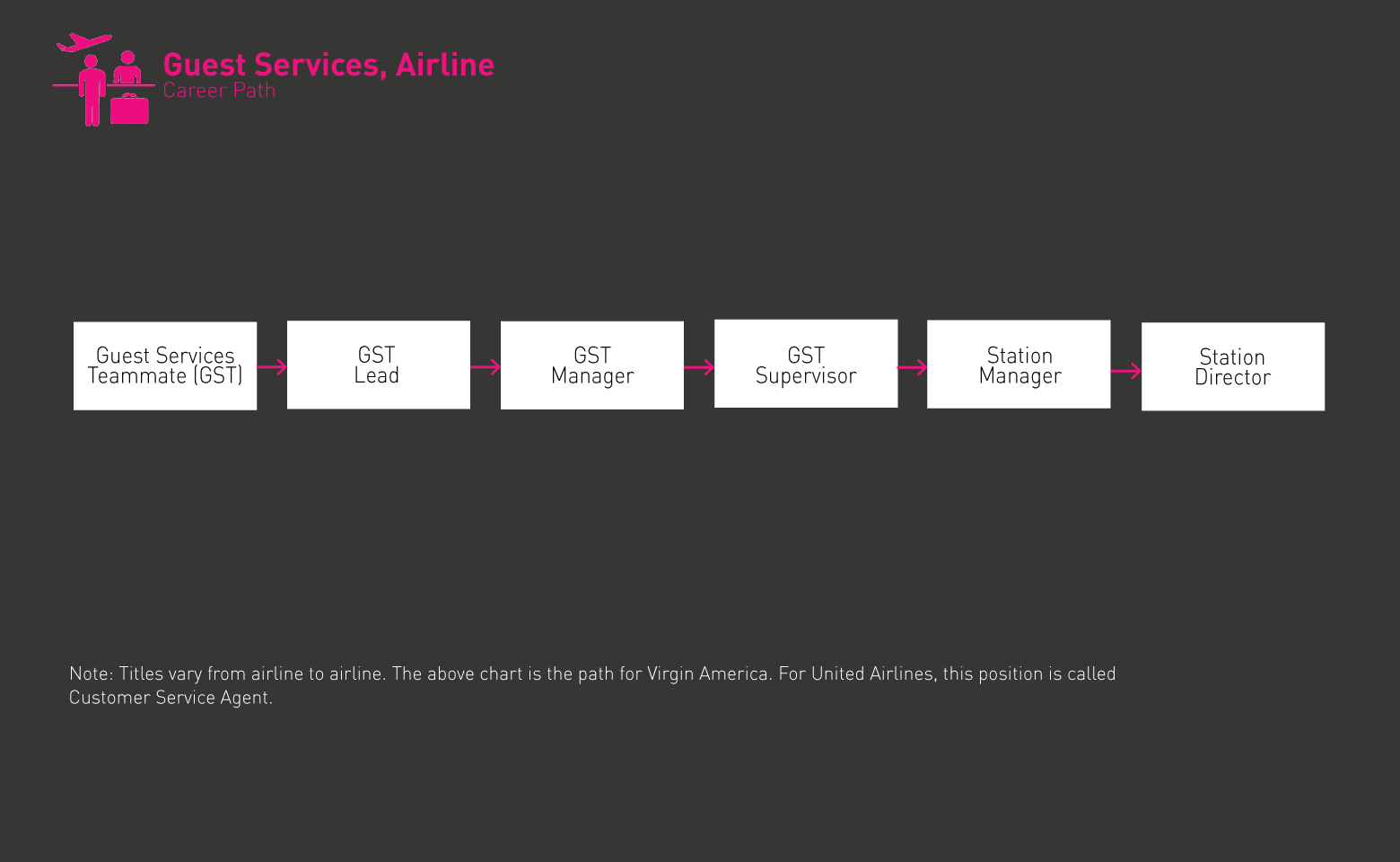 Landing the Job
Airport security is more critical than ever, so Guest Service agents may need to complete a background check, including a drug test

If working in an airport, you'll need to qualify for a

Secured Identification Display Area

(SIDA) badge

Requirements to qualify

include having "no convictions, guilty pleas, or judgment-not-guilty for the reason of insanity within the last 10 years for a variety of criminal offenses"

Intern and network with people in the industry

: The industry is competitive.  It's difficult to get-in.  If you know someone it's very helpful.  Many new hires get positions as a result of knowing someone.

Apply Online

: If you don't know anybody, apply online. Sign up for alerts on job portals like

Indeed

,

Simply Hired

, and

Glassdoor

. Check out individual airline websites and their career pages, too! 

Interview process

Test for communication skills, ability to be good under pressure, outgoing demeanor: If you have ever been on an airplane and travelled during the holidays, you know and have seen the environment in which these guest services agents are in. Emotions are high, people are tired and the guest services agent has to be able to please and appease the customer. They will test you in the interview if you can handle yourself in these types of situations.

Key Values: Research the key values of the airline and be able to incorporate them into your interview.

Know what sets that airline apart from the other airlines.

Know why you want to work for that airline.

Be able to describe a difficult customer you've dealt with in a previous job and how you handled the situation.

Relocate to a town where you can commute to a nearby airport. Use

AirNav

to find airports based on city, town, or zip code info

You may only need to fill out an application versus submitting a resume. But check out

Airline Guest Services resume templates

just in case!

Review sample

Airline Guest Services interview questions

. Pay attention to what sort of responses employers could be looking for

Study the potential employer's website to learn about the company. During an interview, be ready to speak about how your values align with theirs

Be able to explain why you want to work for — and

represent

— that particular airline!

Airlines want to ensure their public-facing employees embody their company's core values, have integrity, strong communication skills, exhibit exceptional customer service, are calm under pressure, and can be on time for work

If you've ever flown during the holidays, you've seen how stressed out passengers can get. Emotions are high but Guest Service agents must maintain a professional disposition. An interviewer might ask you to describe an experience dealing with a difficult customer at a previous job

Be ready to demonstrate your abilities during interview testing. Note, hiring managers may conduct group interviews, as well

Make sure to conduct a few practice

mock interviews

to prepare

Always

dress for interview success

!
How to stay competitive and climb the ladder
Get involved in everything they throw at you (committees, charities, activities).
Make friends with everyone.
Get trained in all positions available to you.
Volunteer ideas to make your position and the station better.
Newsfeed Featured Jobs Online Courses and Tools