Spotlights
Similar Titles
Hairdresser, Hair Designer, Barber Stylist, Cosmetologist, Beautician, Hair Dresser, Hair Stylist, Stylist, Barber
Job Description
Hair Stylists / Cosmetologists provide beauty services, such as shampooing, cutting, coloring, extensions, styling hair, and massaging and treating scalp. May also apply makeup, dress wigs, perform hair removal, and provide nail and skin care services.
Rewarding Aspects of Career
It's dynamic, creative and fun!  
You get what you put into it.
Meet interesting people and get to know them.
You can dress the way you want.
The Inside Scoop
Day in the Life
Workdays in the beauty industry are generally Tuesday - Saturday with Sunday and Monday off.

Salon Hairstylist
An average day in a salon consists of as few as two clients up 10 max and days as long as 8-15 hours.
Hours are determined based on bookings - commissioned stylists with a growing clientele usually have some booked appointments and take on new walk-in clients.
Booth renter stylists are more established and generally come in for their booked clients only and accumulate new clientele through their own networking means or from referrals.
Each client books their appointment for services such as color, highlights, cuts, extensions, blow drys, styling and other chemical services such as perms, keratin treatments, etc.
For a new client, an extensive consultation process is always necessary in order to learn the history, lifestyle, budget, needs and upkeep of each client. For previous clients, a consultation is necessary for follow up on the last service, new wants, changes to be made and reminders for the client's preferences.
Generally stylists pitch styling products to new clients and follow up on the inventory of products for regular clientele.
On down time or between appointments, stylists generally follow up with clientele on their satisfaction with services, take inventory or clean tools.
Freelance Hairstylist
For a freelance or on set hairstylist, their job varies and often consists of extensive hairstyling for the talent such as models and actors on set from lifestyle, beauty, editorial, red carpet and bridal.
For on location or on set styling, it is long days of hurry up and wait and applying any touch-ups.
Skills Needed on the Job
Creativity
Listening skills
Customer service skills
Time-management skills
A bit of natural talent
Organization Types
Freelance vs. Salon - many stylists do both.
Freelance stylists work on location at photo shoots, TV/film sets, weddings…etc.
Salon stylists usually work for a salon, spa, hotel, or resort.
Booth Renters vs. Commissioned Stylists

Booth renter stylists
Pay a rental fee to the salon every month and you pocket the full payment. More like an independent contractor.
Stylists are usually more established and generally come in for their booked clients only and accumulate new clientele through their own networking means or from referrals.
Must deal with your own marketing, advertising, payment collection, accounting and supplies.
Commissioned stylists
Usually have some booked appointments and take on new walk-in clients.
Salon handles the appointments, the books, and buys the supplies.
Payment: (varies per salon) Takes product charge off the top and then 50% of the payment. 
Expectations/Sacrifices Necessary
Long, draining days of back-to-back social interactions, on your feet for days as long as 15 hours and/or up to 10 clients depending on requested services.
Unable to manage email, phone calls and text messages on a real time basis unless you have a receptionist or assistant.
Emotionally taxing, based on matching the energy level and state of mind that your client is in and engaging with them in the duration of their service.
The constant challenge of a fluctuating income and not having a consistent numbers based on seasons and client base.
Not every single client who ever sits in your chair will like you or your work which obviously determines their return and your income. It will be a struggle at times not to take to heart.
When graduating beauty school, unless you served as an apprentice in a salon ready to take you on, most graduates cannot start building a clientele until they assist a senior stylist in a salon. This phase usually lasts 3-6 months and pays minimum wage with tips.
Commissioned stylists only receive 40-50% of each ticket price and the salon takes 50-60%. Commissioned stylists are also required to use the color line and products purchased by the salon and have to sell retail of that product line.
Though booth renters have more freedom with their schedule and can purchase their own products at their leisure, they often pay anywhere from $150-$350 of rent per week based on the scale of the salon.
Whether in a salon or freelance, hairstylists must ALWAYS hustle and market themselves in order to expand their client base and income.
Current Industry Trends
Ombre is a HUGE current trend: "Ombre" literally means gradation in French, which refers to the dark-to-light fade of color that is used in the technique. Instead of color that starts at the root, darker roots blend into a lightened mid-shaft and end.
What kinds of things did people in this career enjoy doing when they were young...
Loved playing with Barbie's and friends' hair and makeup.
Volunteered to do special events for friends and family such as weddings and proms.
2016 Employment
673,700
2026 Projected Employment
761,400
Education Needed
Because they are working with sharp objects around their customers' heads, Hairstylists need a state license to work

To qualify for licensure, they must complete training from a licensed barber or

cosmetology

(aka "beauty school") program or apprenticeship

Most training programs require applicants to have a high school diploma or GED

Barber school requires about

1,500 hours

of training and takes ~10 months. Course topics include haircutting, shaving, skincare, hygiene, and more

Cosmetology school training times vary. Hairstyling is only one aspect of cosmetology. Hairstyling

courses

may include: 

Cutting

Styling

Coloring

Bleaching

Chemicals

Shampoo and conditioning

Regulations

Management 

Sanitation 

Safety

Not all aspiring Hairstylists want to learn about nails, skincare, or other cosmetology topics. Some states, like

Nevada

, feature just Hairstyling training programs

Students usually earn a certificate or diploma upon graduation, but some learn through a community college program and earn an

associate's

. Some even earn a bachelor's in cosmetology

Most certificate/diploma programs take less than a year to finish and cover ~1,500 hours of training

Training hour requirements vary by state. For

example

, New York requires 1,000 to qualify for licensure (and just 300 for

"natural hair styling"

that doesn't involve cutting). Iowa requires a whopping 2,100 hours!

An associate's will take at least two years, if attending full-time, and will include general education courses such as math, English, science, etc. in addition to cosmetology classes

Cosmetology programs are often accredited by the

National Accrediting Commission for Career Arts & Sciences

(NACCAS) 

Each state has its own licensure requirements. State licensure generally requires:

Completion of a cosmetology program

Completion of a certain number of practice hours

Passing an exam, which entails a written test and sometimes a competency skills test, too

The

National Interstate Council of State Boards of Cosmetology

(NIC) offers a standardized exam that many states use. Their site also features handy resources and practice exams

Licensure to work in one state does not automatically grant a Hairstylist permission to work in another. Also, many states require Hairstylists to undergo continuing education every few years to maintain currency
Things to look for in a program
Read up on the reviews of that school, as well as the statistics, awards and press.
Read up on the staff's bios and the industry experience of each professor; seeing how invested they are in their students, their education and success.
The school's emphasis and quantity of time invested in training for state board vs salon reality training.
See if there are good job resources and connections for new graduates and alumni support.
The cost of cosmetology training varies considerably depending on where you do your training! Most students apply for relatively affordable programs at local training centers or community colleges. These can run from $5,000 - $10,000 per year and will prepare graduates for taking their state licensure exam. 
Licensed Hairstylists are in demand according to the Bureau of Labor Statistics, with a projected 19% job growth outlook through 2030. That's good news for job-seekers. Still, for those who want to be more competitive in the job market — and who can qualify for scholarships, have enough income to fund their education, or are willing to take out loans — it could be worthwhile to opt for a high-end school. 
Top programs get pricey fast, with tuition and other costs adding up to $20,000 or more in some cases. This investment may pay off in the long run, though, as you might get a more exclusive and longer educational experience. That said, some of the expensive schools emphasize advanced techniques over preparing students to pass a state licensure exam! 
Apprenticeship is a popular hands-on option for those who can't afford a high-end school and want to get real-world experience right away. In addition to helping prepare you for a state exam, an apprenticeship is also often a gateway to a full-time career at the salon you apprentice at!
Low-end vs. high-end cosmetology schools
Low-end
Initially, most people find it appealing to attain their education through a lower end cosmetology school or community college program. Though the low price of $10,000 or less will seem like an minimal amount of debt to go in, a majority of the education offered in this price bracket only prepares students to pass the state board exam in order to attain their cosmetology license.
In the long run, a graduate is nearly guaranteed to become licensed but struggles to get a job. For years they try to build a clientele without much extensive education which challenges your clientele retention.
In order to be successful on such a limited education, you must be willing to invest an equal dollar amount in continuing education and/or assisting an experienced stylist in a salon for up to a year before building your own clientele.
High-end
Though high-end schools often start at $20,000, this is an investment that could easily get you a successful start for the first 1-3 years of your career before needing to invest money in extensive education.
The downfall of these schools is that state board training is not as emphasized as the lower end schools.
In schools such as Paul Mitchell and Vidal Sassoon, advanced levels of cutting and color are taught in the classroom as well as in a salon reality environment where students actually learn on real clients.  
Alternative
For a person willing to take a more alternative route, and who has a very small budget for schooling, you should consider an apprenticeship program in a mid-higher level salon (such as Carltons International) where a student can assist a stylist to accumulate their cosmetology hours. The apprentice can then graduate the program with real life, day-to-day experience. Being an apprentice also often results in a job at the salon after passing their state board exam.
Education Stats
47.6% with HSDiploma
8.8% with Associate's
4.1% with Bachelor's
0.5% with Master's
1.2% with Doctoral
(% of employees aged 25 to 44 in the occupation whose highest level of educational attainment is)
Top Educational Institutions
Things to do in High School and College
Budding Hairstylists can learn a lot on their own, practicing on themselves, friends, and family members

Host styling parties and seek volunteers who will let you practice and experiment on them

Along with learning the trade, you must hone your people skills and develop a knack for customer service

Craft your "work persona" and develop your listening and verbal communication skills, as well as your ability to persuade clients to try new things or to soothe those who are feeling agitated 

Take lots of before, during, and after photos to add to your portfolio (but remember to ask permission first!)

Learn about allergies and possible dermatological reactions to certain products

Study hairstyle books and the various tools of the trade (i.e. shears, clippers, trimmers, blow dryers, curling irons, rollers, razors, brushes, combs, and sectioning clips) 

Watch YouTube tutorials, read blogs, pay attention to Instagram hairstyling reels, and keep up with what's new and popular

Decide which type of training is right for you — barber or cosmetology programs, a hairstyle-only program (which may not be available in every location), an associate's degree, or an apprenticeship

Make friends with other Hairstylists. Keep engaged with your network so you can help each other

Learn from your fellow stylists. Stay humble, ask questions, and be patient and willing to explore new methods, styles, and products
Typical Roadmap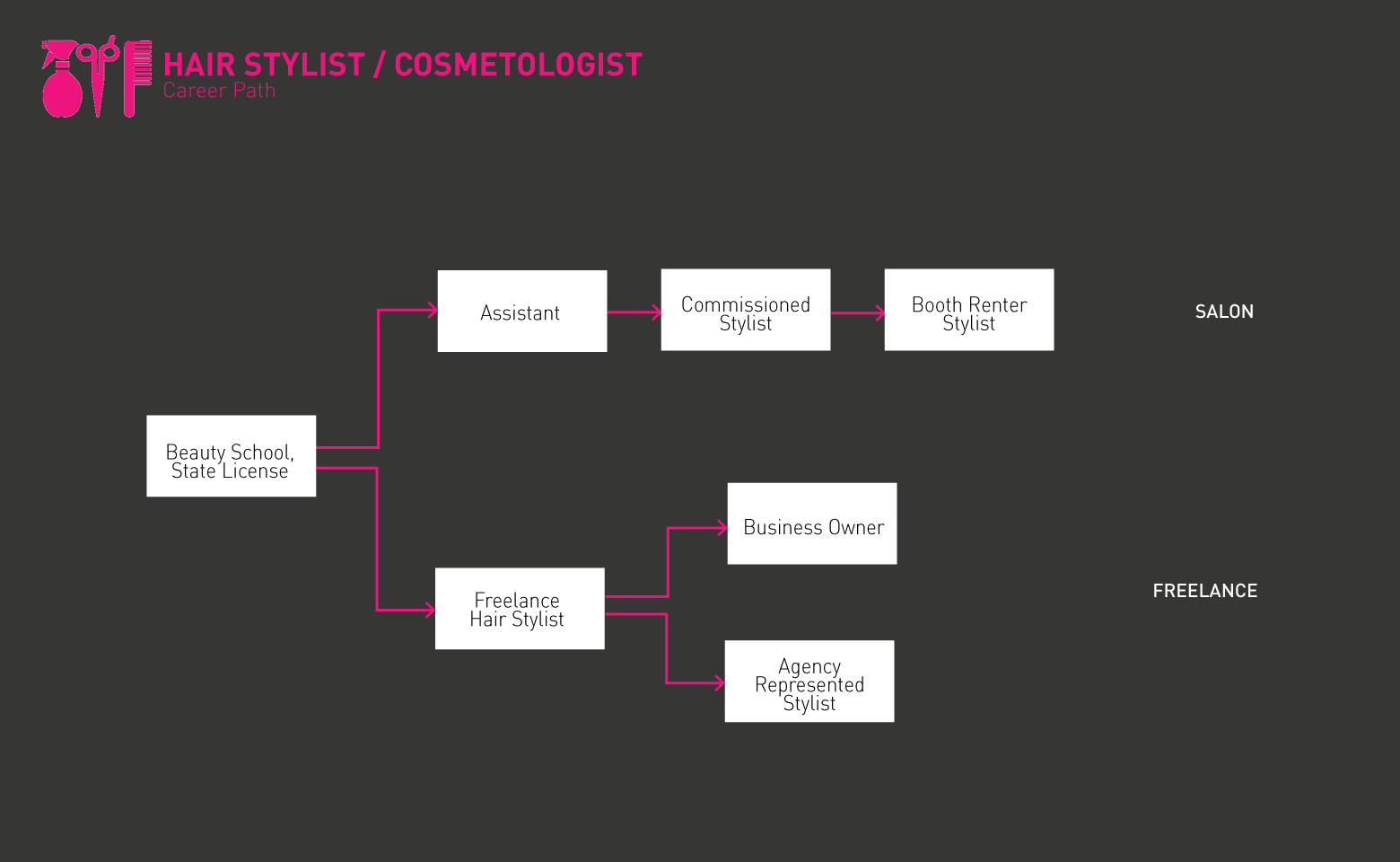 How to Land your 1st job
In this industry the three factors all employers and clientele consider when choosing their stylists are:
Talent
Personality
Professionalism
In many polls and studies, personality and compatibility are surprisingly first on the list when choosing a stylist and can compensate for the other two areas if they are lacking.

As referenced earlier, personality, professionalism and talent obviously speak the loudest in actions but one must also be able to display this in a portfolio, list personal and professional references, articulate one self well in written and spoken form as well in your appearance and conduct. All employers want to see and feel that they can trust a new stylist to build the reputation of the salon, to do excellent work, take care of their customers and treat everything they given as if it were their own.
Ask your network and training program staff if they know about any openings

Attend events, expos, and other relevant gatherings so you can learn and network

Give every client the best service possible so you can earn good word of mouth and strong personal references

Keep in mind that employers view their stylists as representatives of their brand and reputation, so learn about the businesses where you apply for jobs

Employers generally seek a strong mixture of talent, professionalism, and personality

Clients are notoriously selective about who they want working on their hair. Personal compatibility is a key factor!

When putting together a portfolio, find ways to express your personality in creative ways!

Read job posts thoroughly and make sure you meet all listed qualifications

Check out local sites such as

Craigslist

for opportunities, too! 

Study

Hairstylist resume templates

to get ideas

List details about your professional work experiences, formal education, and volunteerism

Link to your

online portfolio

which showcases photos of your work and your reviews!

Review sample

Hairstylist interview questions

to get an idea of what to expect

Practice

mock interviews

so you can present yourself as capable and confident

Stay up-to-date on trends and terminology so you can impress interviewers with your technical knowledge

Don't complain

about former employers or co-workers during interviews! Keep things positive

Review Nails'

How to Ace Your Salon Interview

Consider opening your own

business

with a partner!
What it really takes to make it
Giving each client and service the best and going the extra mile that others often would not.
Always staying updated on your technical skills and maintaining your talents,
Always paying attention to detail in every aspect and never slacking or getting lazy, especially after you've worked your way up.
Always coming up with ways to take your career to the next level and progressive ways to work and serve your clients.
Always remembering why you got into this career.
Not comparing yourself to others but to your former selves and always treating every person you come into contact with with the utmost love and respect.
Honoring your fellow stylists with your words and actions, never gossiping, referring work out and rejoicing with them over their triumphs and accomplishments.
Learn from others: Be humble and fearless enough to ask to assist or shadow other stylists. These opportunities will give one an idea of the different methods, styles of work, styling tips and product knowledge.
This industry will give back every ounce of what you put into it and you will often times see immediate, tangible results and progress - it is what you make it.
Recommended Tools/Resources
Plan B
Alternate careers: Beauty Industry Educator, Makeup Artist, Aesthetician, or Nail Tech
Words of Advice
"Hairstylists and makeup artists are given the most unique and privileged place in people's lives, starting from the outside in. It's through the constant investment of being the best and most equipped you can be that is your key to keeping that access. With such a deemed and trusted place in our client's lives, we have the ability to be a healing and positive source, causing them to feel and view themselves in an entirely new light and empower them with the confidence necessary to succeed in all aspects of their life.  People want to be known, to feel valuable, loved and beautiful - as a artist in this industry you have the privilege to do all those things - and essentially change people's lives on an everyday basis." Rachel Burney, Cosmetologist
Newsfeed Featured Jobs Online Courses and Tools