Spotlights
Similar Titles
Apprise Counselor, Community Health Outreach Worker, Community Health Program Coordinator, Community Health Program Representative, Community Health Promoter, Community Health Worker, Community Nutrition Educator, HIV CTS Specialist (Human Immunodeficiency Virus Counseling and Testing Services Specialist), Outreach Coordinator
Job Description
Health Educators and Community Health Workers have different duties but many of the same goals. They teach individuals how to stay healthy and, in turn, local communities benefit from the net effect of having healthier residents. From physical to mental health, these workers are vital links to information and resources that everyone can learn from to improve their own personal wellness. 
 
They are not nurses or doctors, but instead function in some ways as planners, thinking about both immediate and long-term goals for the people they assist. As strategists they create and evaluate effective programs that guide citizens on the right path to bolster health and help them understand how to avoid potential diseases and disorders. Much of their work relates to being familiar with local cultures and behavioral trends and recognizing the psychology behind the people living in these communities in order to communicate effectively with them. 
Rewarding Aspects of Career
Getting to know your local community and its residents
Helping to educate citizens about ways that will improve their health and quality of life
Contributing to an overall effect of better wellness that impacts future generations
Mitigating the potential spread of contagious diseases through education and awareness
Assisting at-risk and underserved populations who have less access to healthcare options
2019 Employment
127,100
2029 Projected Employment
144,100
The Inside Scoop
Job Responsibilities
Working Schedule
Health Educators work in offices but might need to travel locally as part of their job. Community Health Workers spend even more time out and about, working with people in their community and hosting or attending events. Both roles are full-time, with occasional evening or weekend responsibilities. 
Typical Duties
Create and oversee education and training programs to serve local populations
Determine citizen health and wellness needs; gather health data and study metrics
Build relationships with individuals and groups; keep track of plans and programs 
Promote healthy diets, exercise, and mental wellness measures
Conduct outreach to underserved and at-risk communities
Learn about local resources and direct people to suitable offices, as applicable
Push community leaders to improve and emphasize health policies or fund projects
Follow up with persons in high risk categories to ensure they're on track and making progress on recommended courses of action
Perform simple medical checks and screening
Educate people about various health risks and precautions/preventative measures they can take, such as hygiene, dental care, diet, etc. 
Advise survivors of domestic violence and keep in contact with appropriate agencies
Check-in with women who are pregnant or recently gave birth
Liaison with state agencies, including Medicaid or social services; help individuals become self-sufficient
Additional Responsibilities
Offer feedback to local providers related to access barriers or other problem areas
Be sensitive to cultural differences; work with non-native English speakers to explain programs and how they work
Offer parenting training to include explaining child medical needs such as immunizations
Partner with other health workers on area projects
Serve on or lead health education teams
Attend meetings; advertise services via flyers, social media, and other methods
Skills Needed on the Job
Soft Skills
Compassion
Cultural sensitivity and awareness
Desire and aptitude to help others succeed
Empathy and patience
Great customer service skills
Awareness of signs and symptoms of trauma
Persuasive and motivated
Resilience and composure 
Resourcefulness 
Skills for coordinating and instructing activities
Sound judgment and decision-making, sometimes under pressure
Clear communication skills (being bilingual is a bonus)
Ability to understand the meaning of others when verbal communication is unclear
Understanding of basic psychology
Technical Skills
Familiarity with computers and how to use web resources 
Knowledge of printers, scanners, and photocopy equipment
Spreadsheets and office applications
Medical software such as MEDITECH
Databases such as CDC WONDER, Blackboard
Customer Relationship Management programs
General website-building skills
Different Types of Organizations
Government agencies
Family and social service offices     
Religious organizations    
Hospitals and outpatient care centers    
Expectations and Sacrifices
Health Educators and Community Health Workers often serve on the frontlines, interfacing with individuals and community groups who've encountered significant hardships or barriers to access routine healthcare. In some cases they might engage with persons who've been exposed to illnesses or trauma. These critical yet sometimes underappreciated workers bear an enormous responsibility to help those in need, through education, counseling, support, or even direct general medical care. Sometimes their work can take an emotional toil, depending on the types of cases being handled and how frequently they encounter people who've survived extreme hardships. It's up to the worker to stay resilient and calm, in order to best offer assistance. 
Current Trends
The job outlook for these careers is bright because local governments are recognizing the value of what Health Educators and Community Health Workers bring to the table. By educating people and directing them to proper resources, they're able to improve outcomes and lower overall healthcare costs. 
 
For example, frequent emergency room visits by uninsured persons can be mitigated by aiding at-risk individuals who might struggle with health problems related to their environment and lifestyle. In many situations, community members have come from diverse backgrounds and may experience cultural or language barriers to getting help they need, so these workers can intervene and ensure such members' issues are recognized and taken care of adequately. 
What kinds of things did people in this career enjoy doing when they were young...
Health Educators and Community Health Workers are deeply compassionate people who may have developed their empathy by overcoming challenges of their own. They may have always enjoyed helping others, and perhaps were interested in finding ways to solve problems. They're resilient and optimistic even in the face of adversity. In school they might have enjoyed social studies, biology, nutrition, physical education, or psychology. As "people persons," they're likely outgoing and comfortable working with groups. 
Education and Training Needed
Community Health Workers might only need a high school degree or equivalent, though an associate's degree in related topics can be helpful
Health Educators likely require a bachelor's degree in Health Education to get started, as well as a Certified Health Education Specialist certificate from the National Commission for Health Education Credentialing. This cert must be renewed every five years

An advanced Master Certified Health Education Specialist cert is also available 

Community Health Workers might have to know a second language in some areas
Both roles can expect localized On-The-Job training, with Community Health Workers requiring more than Health Educators. Both may be required to complete additional certifications depending on their specific duties
Health Educators may ultimately need to obtain a graduate degree
Internships are another common option to help learn the ropes
While certifications aren't mandatory, some employers may want to see them completed
Things to look for in a program
Community Health Workers won't need a bachelor's degree, but having some credits or an associate's can be helpful. They should consider a community college offering courses related to the specific duties of positions they're interested in, which can be found in job advertisements
Future Health Educators can review U.S. News' college rankings to find online and on-campus programs in Health Education or similar majors
Remember, just because a school has a high overall rank doesn't mean its Health Education program ranks well, so look at the rankings of both
Check out the university's website to review enrollment, graduation, and diversity statistics and read about their program's research areas and community engagement
Don't forget to see what career resources the school has and what its job placement rates look like. Many programs have strong ties to local employers who hire grads!
Things to do in High School and College
In high school, stock up on courses related to healthcare, biology, nutrition, social studies, and perhaps a foreign language if needed for the area you plan to work
Start getting exposure by volunteering or applying to an internship at local agencies that support health education and community wellness
If there's no time for volunteering or internships, ask to schedule visits to meet with people doing the jobs you're interested in. See if they'll let you shadow them for a day
Sign up for certification programs as soon as you have a sufficient foundation 
Get to really know your community and find out where the biggest problem areas lie
Learn about the various agencies that you'll come into contact with. Understand their functions and how their work might overlap or intersect with your future role
Start growing your professional network as soon as possible!
Study the missions of the various professional organizations related to the job you want:

American College Health Association 
American Public Health Association 
American School Health Association
Association of State and Territorial Health Officials 
Association on Higher Education and Disability 
Wellness Council of America
Typical Roadmap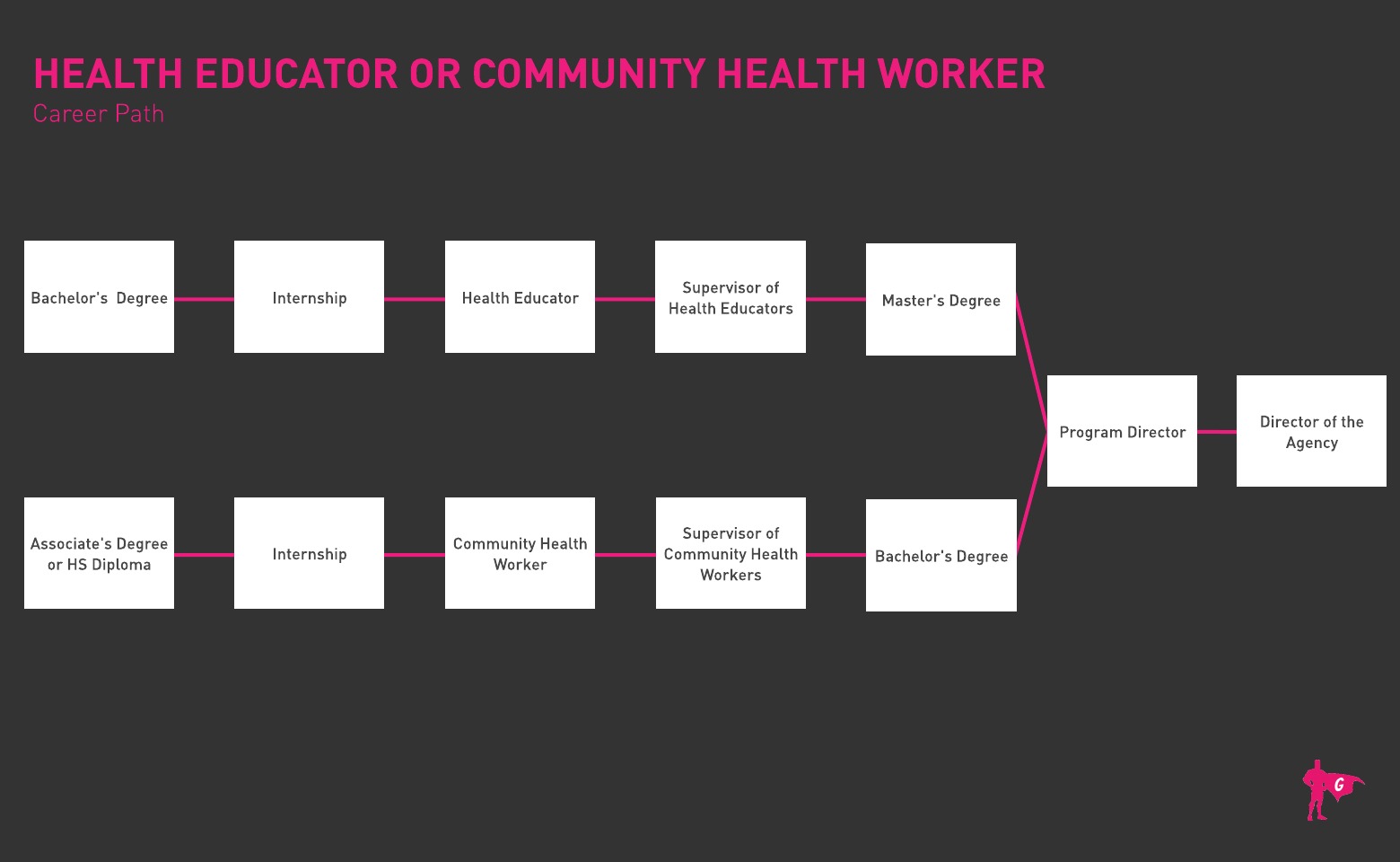 How to land your 1st job
Because of increasing demand for qualified workers in these fields, there could be plenty of future openings...but never take anything for granted!
Health Educators and Community Health Workers have distinct educational requirements. To get hired, complete all necessary education but if possible knock out optional requirements to really stand out to hiring managers
Carefully read all job ads and ensure you meet the listed qualifications before applying
Take note of keywords in ads, and work those same words into your resume!
Include ample details that explain your prior educational and work experiences. Make sure to add specifics related to numbers, dollar amounts, and the impact you made
Employment portals like Indeed.com, Monster, and Glassdoor are great, but don't neglect to use Google Careers and LinkedIn, too!
Max out the power of your network! Up to 80% of jobs are learned about from people you know, according to CNBC
Ask former supervisors and professors if they will act as reference providers or potentially write letters of recommendation for you
Do your homework and be ready for interviews! Read up on new developments, know your intended community and the issues it faces, and practice your interview technique 
Dress like a professional! Check out Indeed's guide on What to Wear for job interviews
How to Climb the Ladder
Health Educators and Community Health Workers operate in an ever-changing environment and must keep up with the times via continual education and training
Knocking out extra certifications is a crucial method of demonstrating your commitment to improvement 
Be a consummate professional and fierce advocate for the people you serve
Maintain an impeccable work ethic and let your integrity guide you as you progress
Build meaningful partnerships with local agencies that are linked to your mission
Learn as much as you can about your community, its needs, obstacles, barriers to access, and any gaps due to inequality issues
Offer superior customer service to everyone you help and treat them the way you'd want to be treated in their circumstance — with respect, understanding, and compassion
Get your name and mission out there! Community leaders must know who you are and what you stand for, so promote yourself and your work
Participate in professional organization conferences and meetings. Establish your reputation outside of your local circle of influence
Write articles, do interviews with local papers, and leverage the power of social media!
Recommended Resources
Websites
American College Health Association 
American Diabetes Association 
American Psychological Association 
American Public Health Association 
American School Health Association
Association of State and Territorial Health Officials 
Association on Higher Education and Disability 
Emergency Nurses Association
National Commission for Health Education Credentialing
Society for Public Health Education
Wellness Council of America
Community Health Workers
Health Education Specialists
Books
Plan B
Health Educators and Community Health Workers can have demanding, sometimes even stressful jobs. They bear a large civic responsibility! These are dream jobs for some, but a bit too much for others. A few alternative careers to consider can be found on the Bureau of Labor Statistics website. It lists the following similar occupations: 
Dietitians and Nutritionists
High School Teachers
Marriage and Family Therapists
Middle School Teachers
Postsecondary Teachers
School and Career Counselors
Social and Human Service Assistants
Social Workers
Substance Abuse, Behavioral Disorder, and Mental Health Counselors
Newsfeed Featured Jobs Online Courses and Tools