Spotlights
Similar Titles
Corporate Recruiter, Employment Representative, HR Analyst, HR Coordinator, HR Generalist, Human Resources Representative, Human Resources Specialist, Personnel Analyst, Personnel Officer, Recruiter
Job Description
Human resources specialists recruit, screen, interview, and place workers in a company or organization. They also may handle human resources work in a variety of other areas, such as employee relations, payroll and benefits, and training.
Rewarding Aspects of Career
"You get to help people find jobs that they might not have found otherwise without you. They usually have been out of the job search process for a long time and they don't know the market. They want to make a move or are looking for a job and you get to make it happen for them." Ryan Woo, Recruiter, DeNA Agency
"The most rewarding aspect of my career is helping people find their dream jobs! I also enjoy finding the right fit for the variety of hiring managers that I work with. As a recruiter, I get a broad view of an organization and I get to see how all the different departments interact with each other. 
My favorite part of my job is being the face of the company, marketing the culture to the candidates, and keeping a pulse on all that is going on with the company that I work for. " Anna Raghavan, Recruiter, Beachbody
The Inside Scoop
Job Responsibilities
Consult with employers to identify employment needs
Interview applicants about their experience, education, and skills
Contact references and perform background checks on job applicants
Inform applicants about job details, such as duties, benefits, and working conditions
Hire or refer qualified candidates for employers
Conduct or help with new employee orientation
Keep employment records and process paperwork
Human resources specialists are often trained in all human resources disciplines and perform tasks throughout all areas of the department. In addition to recruiting and placing workers, human resources specialists help guide employees through all human resources procedures and answer questions about policies. They sometimes administer benefits, process payroll, and handle any associated questions or problems, although many specialists may focus more on strategic planning and hiring instead of administrative duties. They also ensure that all human resources functions comply with federal, state, and local regulations.
"I typically start the day off by checking emails and then going into our Applicant Tracking System to check the list of new applicants for our open positions. I then meet with the hiring managers for any upcoming open roles to get a general sense of what they are looking for in an ideal candidate (in terms of skills and culture fit). After this, I start using various sourcing channels to find the right candidate and then I reach out to them to sell the role to them. I am also in charge of making offers and salary negotiations. I have also done onboarding and orientation in my prior roles." Anna Raghavan, Recruiter, Beachbody
Skills Needed on the Job
Soft Skills
Reading Comprehension 
Critical Thinking
Writing
Interpersonal skills
Decision-making
Detail-oriented
Listening skills: will be interviewing job applicants so must pay careful attention to the candidates' response.
Speaking skills: must be able to clearly convey information.
Technical Skills 
Business intelligence and data analysis software — IBM Cognos Impromptu Hot technology ; MicroStrategy Hot technology ; Oracle Business Intelligence Enterprise Edition Hot technology ; Qlik Tech QlikView Hot technologySee more occupations related to this technology.
Data base user interface and query software — Airtable; Blackboard software; LinkedIn Hot technology ; Oracle software Hot technologySee more occupations related to this technology.
Enterprise resource planning ERP software Hot technology — Microsoft Dynamics GP Hot technology ; NetSuite ERP Hot technology ; Oracle Hyperion Hot technology ; Oracle JD Edwards EnterpriseOne Hot technologySee more occupations related to this technology.
Graphics or photo imaging software — Adobe Systems Adobe Creative Cloud Hot technology ; Adobe Systems Adobe Illustrator Hot technology ; Adobe Systems Adobe Photoshop Hot technology ; SmugMug Flickr Hot technologySee more occupations related to this technology.
Human resources software — ADP Workforce Now Hot technology ; Kronos Workforce HR; Lawson Human Resource Management Suite; Oracle Taleo
Different types of HR specialists
Employment interviewers work in an employment office and interview potential applicants for job openings. They then refer suitable candidates to employers for consideration.  
Recruitment specialists, sometimes known as personnel recruiters, find, screen, and interview applicants for job openings in an organization. They search for job applicants by posting job listings, attending job fairs, and visiting college campuses. They also may test applicants, contact references, and extend job offers.
Placement specialists match employers with qualified jobseekers. They search for candidates who have the skills, education, and work experience needed for jobs, and they try to place those candidates with employers. They also may help set up interviews.
Human resources generalists handle all aspects of human resources work. They may have duties in all areas of human resources including recruitment, employee relations, payroll and benefits, training, and administration of human resources policies, procedures, and programs.
Labor relations specialists interpret and administer a labor contract, regarding issues such as wages and salaries, employee welfare, healthcare, pensions, and union and management practices. They also handle grievance procedures, which are a formal process through which employees can make complaints.
Where do they work?
Staffing Agency: Works for an agency which recruits for many employers (companies).
In-house: Works in the human resources department of one company and recruits new employees for the company (usually a large company).
Expectations/Sacrifices Necessary
Might be some pressure to deliver if you work for an agency. There might be a quota which is a minimum amount of placements you have to make every month. If you work in-house, you won't have that pressure.
Research the agency: There are a lot of new, fly-by-night companies so research the company and see if they have reputable clients and won't shut down anytime soon.
Travel: For some companies you might have to travel to attend job fairs and visit college campuses.
Current Industry Trends
The internet (LinkedIn, Monster) has changed the game for recruitment and placement specialists. You must be able to add much more value to your client or to your company than what the internet can do.
What kinds of things did people in this career enjoy doing when they were young...
"This varies from person to person, but speaking for me, I really enjoyed building things (model cars, Lego cities and homes, etc.). I also enjoyed playing video games with friends."  Javay Walton, Senior Manager, Diversity Equity & Inclusion and Corporate Recruiting, Vituity
Interests: sports, acting, travel, public speaking, networking
2016 Employment
547,800
2026 Projected Employment
586,700
Education Needed
HR Specialists often get a bachelor's in human resources, business, or even communications

O*Net

notes that 47% of HR workers earned a bachelor's, so while it isn't always needed, it can make you more competitive for better jobs

There are numerous

software programs

to be familiar with, such as application server software, business intelligence and data analysis programs, database reporting, document management, spreadsheets, and general office suite 

HR students should also try to get an internship to gain practical, real-world experience within an organization

To boost academic credentials, consider earning a professional certification such as the Society for Human Resource Management's

SHRM Certified Professional

Students can also take ad hoc courses to boost knowledge in a specific area. Classes can be taken at local community colleges 

Sites like

Coursera

also feature dozens of HR-related online short courses
Things to do in High School and College
In school, hone your interpersonal skills and take classes in English, communications, writing, math, business, law, and accounting

Work part-time jobs in HR-related fields, such as customer service or admin assistance, to get experience 

Learn about applicable federal, state, and local employment laws and policies related to rights, benefits, diversity and inclusion, hiring practices, workers' compensation, etc.

Understand

what unions do

and how companies successfully engage with union leaders

Decide if you want to specialize in a particular HR area, such as working for the government, in healthcare, academia, private companies, etc. 

Practice your

phone etiquette

and

customer service

skills 

Decide which learning method works better for you — in-person, online, or hybrid

Work with your academic advisor on appropriate electives to bolster your major

Review the numerous HR-related certification options available. This can help you stand out from the crowd of HR generalists

Note, some certifications require a few years of work experience but learn those requirements so you can plan ahead

HR Specialists love to get together through professional organizations, so find one (or more) to get involved with!

Keep up with industry trends by reading relevant articles (as found in

HR Magazine

) and watching YouTube videos! 
"Begin your search for college early and the major you want to study. Time management skills are underestimated during the high school and college years but are essential in any industry. Be on time – for classes, with projects, with preparing for tests/exams. Take advantage of advanced classes in high school or student life organizations in college. Seek out internship opportunities – a misconception is that your professional experience starts after college. No, it starts now!" Javay Walton, Senior Manager, Diversity Equity & Inclusion and Corporate Recruiting, Vituity
"Internships are important. It would be ideal for someone to find an internship within the HR and Talent Acquisition fields. There are several listings on Indeed and LinkedIn for Internships in the Recruiting fields. Although these internship and volunteer opportunities are highly administrative int he beginning, it is always good to get your foot in the door and talk to people within the organization so that you can get a better idea of the Recruiting industry." Anna Raghavan, Recruiter, Beachbody
Education Stats
13.1% with HS Diploma
9.2% with Associate's
37.9% with Bachelor's
13.2% with Master's
1.9% with Professional
Typical Roadmap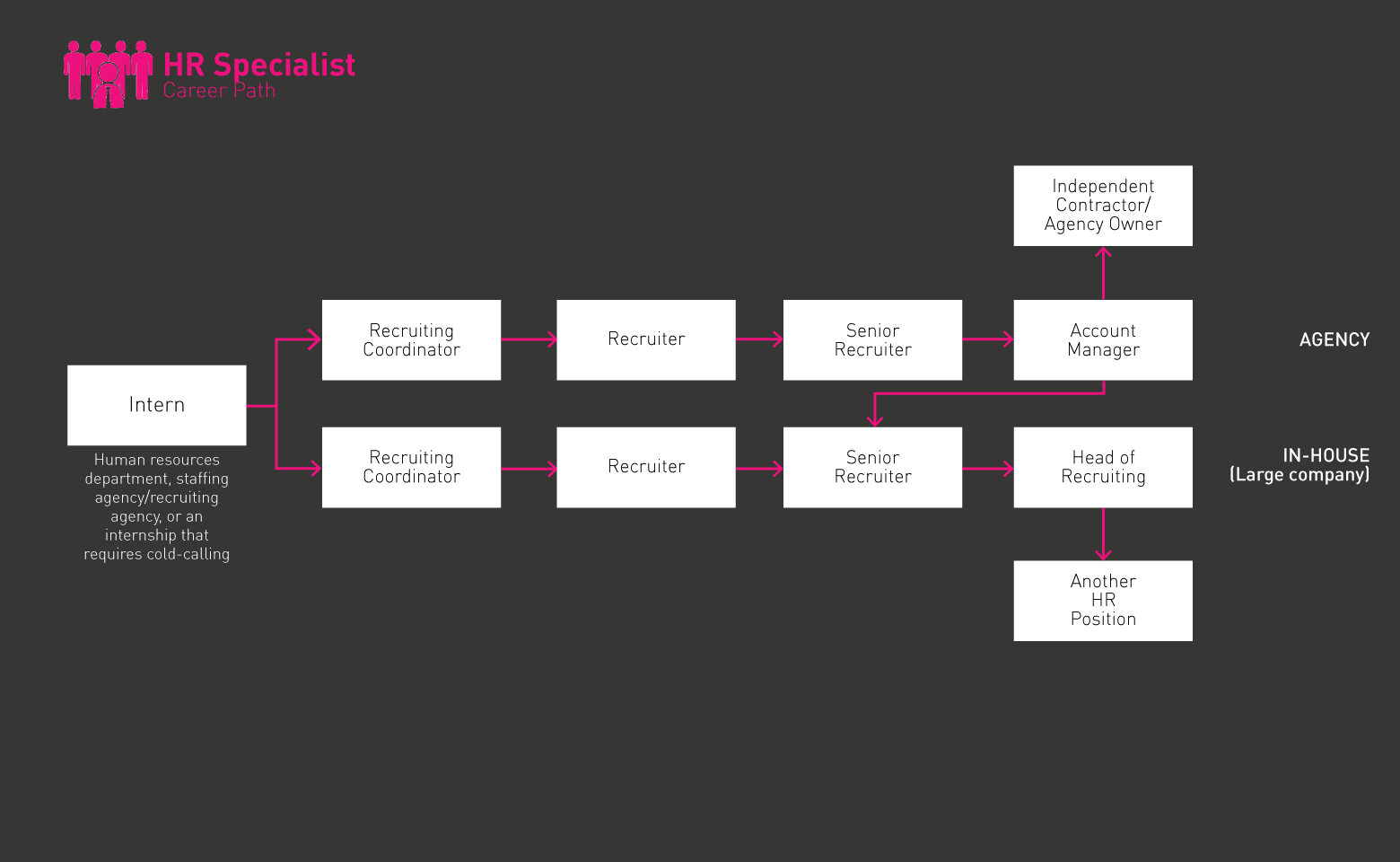 How to Land your 1st job
Intern in human resources or at a company that requires cold-calling.
Apply to both staffing/employment agencies and in-house human resources department at companies. You will mostly like be applying for a "Recruiting Coordinator" entry-level job.

Build connections if you do part-time or volunteer work, so you can gain valuable references and potentially roll into a full-time position with the same organization (if you want)

Let your network know ahead of time when you are about to finish your degree

Work with your school's career center to find jobs, polish your resume, and practice interviewing

Consider where other HR Specialists are working, such as private companies, governmental agencies, higher education institutions, healthcare, and more

Write articles on HR topics. Get published on networking sites like

LinkedIn 

Move to where the jobs are! The Bureau of Labor Statistics notes that the

highest concentration

of jobs for HR Specialists are in Washington D.C., Virginia, Ohio, Washington, and Georgia. The states with the highest employment levels are California, Texas, Florida, New York, and Ohio

Review

HR Specialist resume templates

for ideas

Make certain your resume is impactful, compelling, error-free, and contains plenty of stats and details

Look for opportunities on

Indeed

,

Glassdoor

, or even

Craigslist

for smaller jobs

Ask potential references in advance before giving out their contact info

Review

HR Specialist common interview questions

and think about how you'd answer them!

Practice

mock interviews

so you can present yourself as capable and confident
Read How to Dress for a Job Interview before selecting your wardrobe
"Besides applying online, networking, and using connections to get a job, it is important to read up on the company and the job description carefully. This way, you can tailor your experiences to relate with the job requirements. This will show employers that you have done your research and that you are looking for a long term career path in the Recruiting field. If you don't have much job experience, you should highlight past volunteer and internship experience. " Anna Raghavan, Recruiter, Beachbody
Description of the different positions
Recruiters interface with the talent (employees).  
Account Managers interface with the companies and place the employees in these companies. Their responsibility is also business development which is finding new accounts (companies) to hire their agency for staffing needs.
Qualities of those who climb the ladder
Outgoing
Very proactive
Go-getter
Words of Advice
"Each agency has a different industry focus. Make sure it's an industry you care about. My agency focuses on placing talent in the gaming industry. I have always loved playing games. If you are working for an industry you are passionate about, you will enjoy it and perform better at your job." Ryan Woo, Recruiter, DeNA Agency
"Be Hungry - take advantage of building professional networks and opportunities. Be Humble - remember it is a small world and you never know who knows who and might be able to provide you with a job opportunity in the future, so always be respectful. Be the hardest working person in the room – you may have to make sacrifices (personal and professional) along the way, but never compromise your self-dignity or self-worth!" Javay Walton, Senior Manager, Diversity Equity & Inclusion and Corporate Recruiting, Vituity
Newsfeed Featured Jobs Online Courses and Tools